Enlarge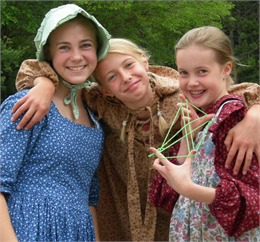 Laura Ingalls Wilder Girls
Three girls sporting Laura Ingalls Wilder attire take part in Old World Wisconsin's World of Little House event
Video: World of Little House
View highlights of what you'll experience in The World of Little House in this YouTube video.
Laura Ingalls Wilder was born in Wisconsin's "Big Woods" in 1867. We've put together a full month of daily activities that let you live like Laura and the Ingalls family and friends. Dress as a character from one of the "Little House" books and receive a $2 discount on individual admission. View or download a detailed lineup of daily activities (PDF 633 KB) throughout the monthlong World of Little House event.
Location
Old World Wisconsin
W372 S9727 Hwy 67
Eagle, WI 53119-9503
Location Information
Old World Wisconsin documents the settlement of 19th- and early 20th-century Wisconsin. It comprises an 1870s crossroads village and 10 ethnic farmsteads located on 576 acres of wooded hills in the Southern Unit of Kettle Moraine State Forest.
Accessibility Information
Reasonable accommodations will be made for individuals requiring wheelchairs for mobility. Trams are equipped to transport visitors using wheelchairs during regular museum operating hours. Call ahead to make arrangements at 262-594-6301.