Enlarge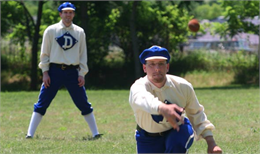 Eagle Diamonds Vintage Base Ball at Old World Wisconsin
A Diamond hurler throws the apple toward the dish while a base tender watches from the side.
Video: Vintage Base Ball
View highlights of what you'll see during a vintage base ball game in this YouTube video.
Timbers will be swinging as Old World Wisconsin's Eagle Diamonds take on their worthy opponents from Wade House in Greenbush, the Wade House Red Jackets. Snag your spot on the grassy Ward School Field hill for the 1:30 pm contest between these two vintage base ball clubs and take in a game played by 1860s rules. Admission to the museum gets you into the game for free.
Next Event in This Series
The next event in this series takes place on Saturday, September 13.
Location
Old World Wisconsin
W372 S9727 Hwy 67
Eagle, WI 53119-9503
Location Information
Old World Wisconsin documents the settlement of 19th- and early 20th-century Wisconsin. It comprises an 1870s crossroads village and 10 ethnic farmsteads located on 576 acres of wooded hills in the Southern Unit of Kettle Moraine State Forest.
Accessibility Information
Reasonable accommodations will be made for individuals requiring wheelchairs for mobility. Trams are equipped to transport visitors using wheelchairs during regular museum operating hours. Call ahead to make arrangements at 262-594-6301.