Enlarge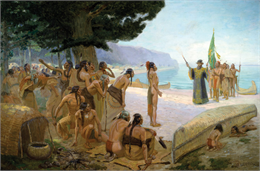 The landfall of Jean Nicolet, 1907, by Edwin Willard Deming. View the original source document: WHI 1870.
Did the French explorer Jean Nicolet really don a Chinese robe when he arrived at Green Bay in 1634, thinking he had reached the fabled land of China? Join historian Patrick Jung and learn how this is just one of several myths that has been repeated about Jean Nicolet for over a century.
While the popular image of Jean Nicolet as an inland Christopher Columbus seeking a passage to China through the Great Lakes has been an integral part of Wisconsin history and lore for many years, it is little more than mythology that has resulted from a misunderstanding of the original historical sources that describe his voyage. Jung's description of Nicolet's journey will demolish this long-cherished myth, but his reinterpretation of Nicolet's story is, in many ways, far more fascinating.
Next Event in This Series
The next event in this series takes place on Tuesday, October 28.
Location
Wisconsin Historical Museum
30 N Carroll St
Madison, WI 53703
Location Information
Four floors of changing exhibit galleries, permanent exhibits and the museum store ― located on Madison's Capitol Square
Accessibility Information
The site is fully accessible to visitors requiring a wheelchair for mobility.