Enlarge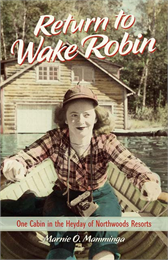 "Return to Wake Robin"
The cover of "Return to Wake
Robin: One Cabin in the Heyday
of Northwoods Resorts"
Bring your lunch and join Northwoods vacationer Marnie Mamminga on a trip through a five-generations tradition of trips to her family's cabin, Wake Robin. The award-winning author of the Wisconsin Historical Society Press book, Return to Wake Robin: One Cabin in the Heyday of Northwoods Retreats, invites you to share in the campfire tales and family cabin memories. A book signing will follow.
This event is part of the Wisconsin History Tour: Sharing Wisconsin's Stories One Community at a Time. As the Wisconsin Historical Society embarks on this Tour, we have hopes to spend time with, and share stories of the past with, communities throughout the state. For a monthlong stay at a time, the Society will bring a handcrafted exhibit to a community — Ephraim being our second stop in July 2014 — to share pieces of our collection we have gathered since our founding in 1846. For five days of our visit, the Tour will offer free programs for the whole family.
The Wisconsin History Tour is generously underwritten, in part, by the Kohler Trust for Preservation with additional support from the Judd S. Alexander Foundation, American Printing, Culver's, Murco Fund, and We Energies Foundation.
Location
Ephraim Village Hall
9996 Water St
Ephraim, WI