Enlarge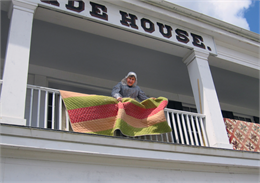 Airing Handmade Quilts
Greenbush, Wisconsin. A woman airs out a handmade quilt from the balcony at the Wade House.
Join us for some spring fun on May 6 and 7 as we celebrate the opening of our grounds for summer. We will be enjoying spring rituals that break us out of the winter doldrums.
We will have historic horse-drawn plowing demonstrations featuring equipment and techniques from the 1850s through the 1930s. The Wade House will also come alive as we open up the kitchen to cook soups made from fresh ingredients (grown right in our gardens) and plant heirloom seeds for the coming season.
Location
Wade House
Wade House Historic Site, W7965 State Hwy 23
Greenbush, WI 53026
Location Information
Wade House, an 1850s stagecoach inn built to serve traffic along the plank road that connected Fond du Lac and Sheboygan, tells the story of frontier entrepreneur Sylvanus Wade and his family during the Civil War years. In addition to the inn, the historic site includes the recently reconstructed Herrling sawmill, one of the few working, water-powered sawmills of its kind in the nation. Wade House is also home to the Wesley Jung Carriage Museum, which houses the state's largest collection of antique carriages and working wagons.
Accessibility Information
Reasonable accommodations will be made for individuals requiring wheelchairs for mobility. Call ahead to make arrangements.