The Civil War era comes to life in this engaging day camp designed just for kids! Children explore the world of Civil War soldiers as this important time period in American history is brought to life. Young soldiers will be on the march - setting up camp one day and writing letters to soldiers the next! The week will conclude with an outdoor picnic to celebrate the soldiers' homecoming, a sure-fire way to bring American history to life!
Enlarge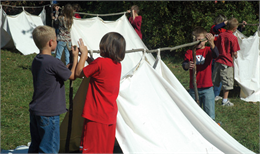 Setting Up Camp
Camp participants explore the world of the Civil War soldier as they set up a dog tent.
Location
Wade House
Wade House Historic Site, W7965 State Hwy 23
Greenbush, WI 53026
Location Information
Wade House, an 1850s stagecoach inn built to serve traffic along the plank road that connected Fond du Lac and Sheboygan, tells the story of frontier entrepreneur Sylvanus Wade and his family during the Civil War years. In addition to the inn, the historic site includes the recently reconstructed Herrling sawmill, one of the few working, water-powered sawmills of its kind in the nation. Wade House is also home to the Wesley Jung Carriage Museum, which houses the state's largest collection of antique carriages and working wagons.
Accessibility Information
Reasonable accommodations will be made for individuals requiring wheelchairs for mobility. Call ahead to make arrangements.