Enlarge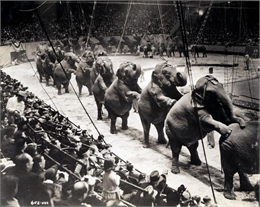 The Ringling Bros. Circus Elephants, 1943
A group of over twenty-six Ringling Brothers, Barnum & Bailey Circus elephants, standing on their rear legs with front legs resting on the elephant ahead. They perform in a circus ring inside New York City's Madison Square Garden while watched by a large audience. View the original source document: WHI 22743
About SPARK!
SPARK! is a free program for people experiencing beginning to mid-stage memory loss and their caregivers. SPARK! programs feature interactive exhibit experiences in a welcoming environment. Specially trained museum educators engage participants in lively discussions, object handling, and other multi-sensory activities. SPARK! is also offered at museums across the state and Minnesota, including the Madison Children's Museum and the Wisconsin Veterans Museum.
Advance registration is required for SPARK! programs. Please see panel on right for details on how to sign up for this month's program.
Program support is provided by Ian's Pizza.
This Month's Theme - Under the Big Top
Discover Wisconsin's circus connections and hear stories of the Ringling Brothers' winter camp in Baraboo.
Next Event in this Series
The next SPARK! program will take place Monday, June 12.
Location
Wisconsin Historical Museum
Wisconsin Historical Museum, 30 N Carroll St
Madison, WI 53703
Location Information
Four floors of changing exhibit galleries, permanent exhibits and the museum store ― located on Madison's Capitol Square
Accessibility Information
The site is fully accessible to visitors requiring a wheelchair for mobility.