Enlarge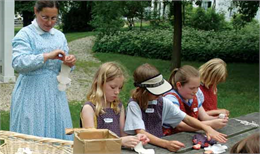 Pioneer Day Camp at Wade House
Sewing is one of the many hands-on activities at Pioneer day camp.
The Pioneer Day Camp introduces children, first-hand, to daily life in Wisconsin nearly 150 years ago.
As they spend their time exploring the daily activities of Wisconsin's early settlers, kids learn the art of blacksmithing, woodworking, candle making, sewing, hearth cooking and much more.
Enlarge
The art of blacksmithing
As they learn about Wisconsin's early settlers, camp participants get to try their hand at blacksmithing.
The program culminates with a thrilling horse-drawn stagecoach journey to Wade House, as many Plank Road travelers once took during the heyday of this historic hotel. Period costumes, friendly staff, and engaging activities make this a fun and educational program that children are sure to enjoy and remember!
Location
Wade House
Wade House Historic Site, W7965 State Hwy 23
Greenbush, WI 53026
Location Information
Wade House, an 1850s stagecoach inn built to serve traffic along the plank road that connected Fond du Lac and Sheboygan, tells the story of frontier entrepreneur Sylvanus Wade and his family during the Civil War years. In addition to the inn, the historic site includes the recently reconstructed Herrling sawmill, one of the few working, water-powered sawmills of its kind in the nation. Wade House is also home to the Wesley Jung Carriage Museum, which houses the state's largest collection of antique carriages and working wagons.
Accessibility Information
Reasonable accommodations will be made for individuals requiring wheelchairs for mobility. Call ahead to make arrangements.