Wade House will celebrate Mr. Wright's birthday with a series of events including a program with Ron McCrea, author of "Building Taliesin: Frank Lloyd Wright's Home of Love and Loss". Utilizing letters, memoirs, contemporary documents, and a stunning assemblage of photographs - many of which have never before been published - author Ron McCrea will tell the fascinating story of building Frank Lloyd Wright's Taliesin, which would be the architect's principal residence for the rest of his life.
Enlarge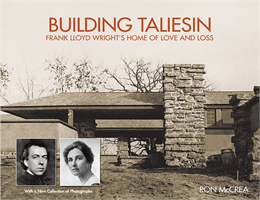 "Building Taliesin"
The cover of "Building Taliesin: Frank Lloyd Wright's Home of Love and Loss"
The book also brings to life Wright's "kindred spirit," "she for whom Taliesin had first taken form," Mamah Borthwick. Wright and Borthwick had each abandoned their families to be together, causing a scandal that reverberated far beyond Wright's beloved Wisconsin valley. The shocking murder and fire that took place at Taliesin in August 1914 brought this first phase of life at Taliesin to a tragic end.
Prior to Mr. McCrea's presentation, guests will be invited to the opening of "A Taliesin Album: Rare Photographs of Frank Lloyd Wright's First Spring Green Home." This exhibit documents the construction of the original Taliesin, the residence/workshop Frank Lloyd Wright designed and built in Spring Green, Wisconsin in 1911-1912. The images provide a rare glimpse of a structure that stood for only two years before being substantially destroyed by an arsonist on August 15, 1914.
For the first time the Museum will also have on display Mr. Wright's 1890 roof-seat omnibus. Restored by Wesley W. Jung in 1967, the omnibus was owned and used by Mr. Wright for many years and will be shown along with the canopy top surrey used by Mr. Wright in the 1957 Spring Green Centennial Parade. A collection of photographs of Wright's carriages and related materials will also be on display.
The next program in the "Frank Lloyd Wright: A Wisconsin Original" monthly speaker series will be on Thursday, July 13 at 7 p.m.
Location
Wade House
Wade House Historic Site, W7965 State Hwy 23
Greenbush, WI 53026
Location Information
Wade House, an 1850s stagecoach inn built to serve traffic along the plank road that connected Fond du Lac and Sheboygan, tells the story of frontier entrepreneur Sylvanus Wade and his family during the Civil War years. In addition to the inn, the historic site includes the recently reconstructed Herrling sawmill, one of the few working, water-powered sawmills of its kind in the nation. Wade House is also home to the Wesley Jung Carriage Museum, which houses the state's largest collection of antique carriages and working wagons.
Accessibility Information
Reasonable accommodations will be made for individuals requiring wheelchairs for mobility. Call ahead to make arrangements.