Enlarge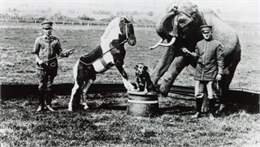 Seils-Sterling Circus
Milt Herriott (at left) and Al Lindemann (at right) pose with a horse, dog, and elephant in costume. 1926 ca. CWi 4045
When it comes to circus heritage, few states compare with Wisconsin. Over 100 shows emanated from within its borders. Communities such as Antigo, Wonewoc, Sparta, Racine, and Janesville can all claim to be the hometown of a circus. Delavan served as the home base at one time or another to 26 shows. Some circuses lasted only a few weeks while others, like the Ringling Brothers, grew to be the standard bearer of the industry. Some were innovators, such as Dan Castello, who convinced P.T. Barnum to come out of retirement and lend his name to a new railroad-based circus that was such an incredible commercial and financial success that it transformed the circus profession forever.
Then there was the Lindemann brothers, Pete, Al, and Bill from Sheboygan. Their show, the "Seils-Sterling Show of a Thousand Wonders," was as innovative and as successful as ever came from the Badger State. For 18 years, the Lindemann brothers successfully played to rural audiences across the Midwest succeeding even during the lean years of the Great Depression. But don't take our word for it. Come to the Wisconsin Historical Museum and listen for yourself to the story of the "The Show of a Thousand Wonders" with Circus World Archivist Pete Shrake.
Bring a lunch to this informal lunch-and-lecture series.
Next Event in the Series
The next event in the series will take place Tuesday, March 21.
Location
Wisconsin Historical Museum
Wisconsin Historical Museum, 30 N Carroll St
Madison, WI 53703
Location Information
Four floors of changing exhibit galleries, permanent exhibits and the museum store ― located on Madison's Capitol Square
Accessibility Information
The site is fully accessible to visitors requiring a wheelchair for mobility.