Enlarge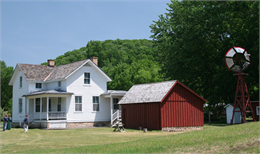 1901 Farmstead at the Stonefield Historic Site
Explore the many facets of the re-created farmstead based on a 1901 Department of Agriculture plan. From the farm house to the hog house, a total of seven buildings can be seen.
Visit Stonefield on this Sunday and enjoy deep discounts on the regular admission. It's our way of showing our appreciation for our past visitors and of welcoming new visitors to the site.
Location
Stonefield
Stonefield, 12195 County Hwy VV
Cassville, WI 53806
Location Information
Stonefield comprises a re-created 1900-vintage rural farming village and the State Agricultural Museum, which traces the history of Wisconsin agriculture from its inception to the 20th century. Stonefield, named after the estate farmed by Wisconsin's first governor Nelson Dewey, also includes Dewey's home site.
Accessibility Information
Reasonable accommodations will be made for individuals requiring wheelchairs for mobility. Call ahead to make arrangements.