Our 41st season opens with sheep, seeds and seeing you!
Celebrate spring with us as we begin our springtime chores! Guests can check out the newest additions to our flock and watch as the sheep get their yearly shearing. See how we transform the wool from the sheep to socks with hands-on experiences for all ages. Then, help prepare the gardens for the growing season and see what's cooking in the kitchen after the long winter season.
Girls Scouts including adult scouts in uniform or wearing clothing with the Girl Scout emblem are Free. See Ticket information for pricing for the rest of the group.
Enlarge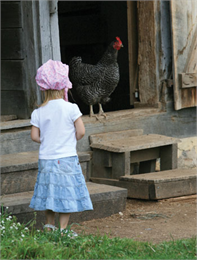 Tour Old World Wisconsin and return to the late 19th century of life on the farm, when waves of immigrants came to America's heartland in search of a better life.
Location
Old World Wisconsin
W372 S9727 Hwy 67
Eagle, WI 53119-9503
Location Information
Old World Wisconsin documents the settlement of 19th- and early 20th-century Wisconsin. It comprises an 1870s crossroads village and 10 ethnic farmsteads located on 576 acres of wooded hills in the Southern Unit of Kettle Moraine State Forest.
Accessibility Information
Reasonable accommodations will be made for individuals requiring wheelchairs for mobility. Trams are equipped to transport visitors using wheelchairs during regular museum operating hours. Call ahead to make arrangements at 262-594-6301.