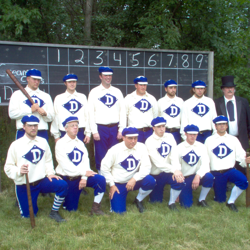 The Eagle Diamonds
The 2016 Eagle Diamonds team.
Experience our National Pastime as it existed just after the Civil War. Watch the Eagle Diamonds Base Ball Club cross bats with an opposing nine then take the field to swing a replica bat or play the field. Remember, no gloves allowed! Learn more about historic base ball.
Next Event in This Series
The next event in this series takes place on Saturday, July 8.
Location
Old World Wisconsin
W372 S9727 Hwy 67
Eagle, WI 53119-9503
Location Information
Old World Wisconsin documents the settlement of 19th- and early 20th-century Wisconsin. It comprises an 1870s crossroads village and 10 ethnic farmsteads located on 576 acres of wooded hills in the Southern Unit of Kettle Moraine State Forest.
Accessibility Information
Reasonable accommodations will be made for individuals requiring wheelchairs for mobility. Trams are equipped to transport visitors using wheelchairs during regular museum operating hours. Call ahead to make arrangements at 262-594-6301.