Enlarge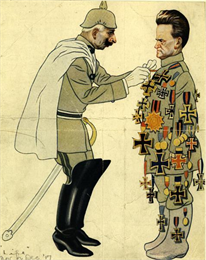 Anti-La Follette Cartoon
A color cartoon depicting Robert M. La Follette, Sr. as pro-German, showing Kaiser pinning medals on him. View the original source document: WHI 3272
Shortly after the United States entered the European War in April 1917, Wisconsin became known as America's "Traitor State." Its large proportion of German citizens, active Socialist party, and anti-war Senator, Robert La Follette, helped create this perception. Some Wisconsinites sought to prove their loyalty and patriotism through sacrifice and hard work; others resorted to vigilantism. Leslie Bellais, Curator of Social History, will discuss the ways a variety of Wisconsin citizens experienced the state's tension-filled atmosphere during the 18 months America participated in World War I.
Bring a lunch to this informal lunch-and-lecture series.
Next Event in the Series
The next event in the series will take place Tuesday, May 2.
Location
Wisconsin Historical Museum
Wisconsin Historical Museum, 30 N Carroll St
Madison, WI 53703
Location Information
Four floors of changing exhibit galleries, permanent exhibits and the museum store ― located on Madison's Capitol Square
Accessibility Information
The site is fully accessible to visitors requiring a wheelchair for mobility.