In 2017 Old World Wisconsin will celebrate the 150th birthday of Wisconsin native Laura Ingalls Wilder.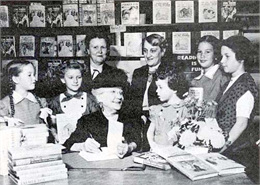 Laura Ingalls Wilder Booksigning November 17, 1952 at Brown Brothers Book Store in Springfield, MO (Credit: Laura Ingalls Wilder Home and Museum, Mansfield, MO.)
"Little House in the Big Woods" has inspired millions of people around the world to learn more about Wisconsin, history and Laura's adventures since it was first published in 1932. Now it's your turn to be a part of Laura's story by participating in "Little House Big Story."
The "Little House Big Story" contest asks people from all over the nation to submit their own story of how Laura Ingalls Wilder inspired them to learn more about Wisconsin, history, or their own family stories. You can write a story or a poem, paint a picture, dance or even put on a play...be creative and have fun!
Old World Wisconsin will select finalists from each category (youth and adult) and on July 22, 2017 a panel of expert judges will select 1 winner from each category as part of our World of Little House event.
Do you have a Big Story to share? We'd love to hear it. Good Luck!
Click HERE for the Contest Entry Packet, which includes submission guidelines and judging criteria.
Sponsored by Old World Foundation, funding Old World Wisconsin with stewardship and integrity since 1984.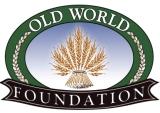 Location
Old World Wisconsin
W372 S9727 Hwy 67
Eagle, WI 53119-9503
Location Information
Old World Wisconsin documents the settlement of 19th- and early 20th-century Wisconsin. It comprises an 1870s crossroads village and 10 ethnic farmsteads located on 576 acres of wooded hills in the Southern Unit of Kettle Moraine State Forest.
Accessibility Information
Reasonable accommodations will be made for individuals requiring wheelchairs for mobility. Trams are equipped to transport visitors using wheelchairs during regular museum operating hours. Call ahead to make arrangements at 262-594-6301.