Enlarge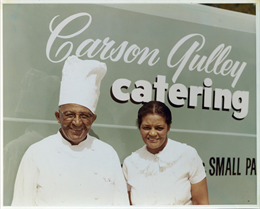 Carson Gulley's Life and Times
Caption: Publicity photo for the Carson and Beatrice Gulley's catering business, ca. 1960. UW-MADISON ARCHIVES
Join us as Scott Seyforth, Assistant Director of Residence Life for Academic Initiatives at UW-Madison, shares stories from the life and times of Carson Gulley.
Though now largely forgotten, UW-Madison chef Carson Gulley was a celebrated figure in the mid-twentieth century known for his groundbreaking efforts crossing racial barriers as a culinary instructor, radio & television celebrity chef, and as a pioneer in the local struggle for equal housing. Gulley used his fame to engage in a series of efforts, some but not all of them successful, to achieve equal standing in Madison and the state. The story of his life provides examples of the persistent practices of segregation and exclusion that African Americans actively challenged in mid-twentieth-century Wisconsin. His is an important part of the still untold story about African Americans in Madison, especially as it pertains to the obstacles they encountered and overcame as they tried to build a good life and participate in the American Dream in this city and state.
Before the presentation, attendees will enjoy a dinner featuring Gulley's favorite recipes that he developed during his time at UW-Madison and featured in his many cookbooks.
Advance registration required for this event. See panel on right for details.
About This Series
Taste Traditions of Wisconsin is a dinner-and-lecture series that explores the rich history, delicious ingredients, and remarkable foodways of Wisconsin.
Location
Wisconsin Historical Museum
Wisconsin Historical Museum, 30 N Carroll St
Madison, WI 53703
Location Information
Four floors of changing exhibit galleries, permanent exhibits and the museum store ― located on Madison's Capitol Square
Accessibility Information
The site is fully accessible to visitors requiring a wheelchair for mobility.