Enlarge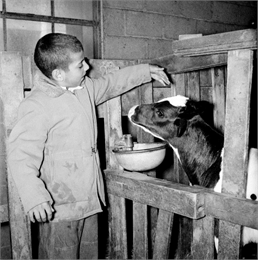 Lapham School Children at Bowman Farm Dairy
Gary Weems, a third grader at Lapham School, pets the head of a heifer calf during a tour of the Bowman Farm Dairy on Fitch Hatchery Road. 1953 ca. View the original source document: WHI 108835
Milk, cheese, butter, and ice cream say Wisconsin more than most other foods. But, how much do you really know about why Wisconsin became the dairy state? Learn about the history and science of dairying in our state and explore our delicious dairy in a whole new whey. We will even take a short walk to tour Fromagination (a cheese shop on the Capitol Square).
This camp is intended for children ages 8-12. Campers are expected to bring a lunch and can leave all electronic devices at home as we are traveling into the past! Campers will take a short walking field trip one block to Fromagination, the rest of the day will be spent in the Wisconsin Historical Museum.
For more information on camp logistics, please refer to our Parent Handbook.
Additional Camps Available
Dairy Discovery will also be offered on June 29. For a full list of Museum Camps, click here.
Location
Wisconsin Historical Museum
Wisconsin Historical Museum, 30 N Carroll St
Madison, WI 53703
Location Information
Four floors of changing exhibit galleries, permanent exhibits and the museum store ― located on Madison's Capitol Square
Accessibility Information
The site is fully accessible to visitors requiring a wheelchair for mobility.