Enlarge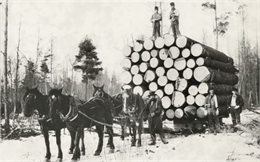 Lumber Sled
Horse-drawn lumber sled loaded with logs. Five lumbermen are standing on and near sled. Date unknown View the original source document: WHI 79289
Wear your flannel and come ready to explore Wisconsin's lumber history. Learn the lingo -- are you a cookie or a river rat? Then, be ready to hunt for the mythical hodag and build yourself a life-size log cabin.
This camp is intended for children ages 8-12. Campers are expected to bring a lunch and can leave all electronic devices at home as we are traveling into the past! Campers will remain in the Wisconsin Historical Museum for the entire day.
For more information on camp logistics, please refer to our Parent Handbook.
Additional Camps Available
Lumber Camp Life will also be offered on July 13 and August 2. For a full list of Museum Camps, click here.
Location
Wisconsin Historical Museum
Wisconsin Historical Museum, 30 N Carroll St
Madison, WI 53703
Location Information
Four floors of changing exhibit galleries, permanent exhibits and the museum store ― located on Madison's Capitol Square
Accessibility Information
The site is fully accessible to visitors requiring a wheelchair for mobility.