Presented by Mark Hertzberg, an author and photographer of three books about Frank Lloyd Wright's work
Enlarge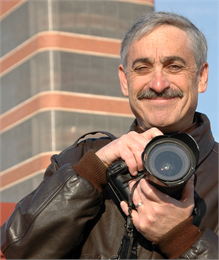 Mark Hertzberg
Author and photographer of three books about Frank Lloyd Wright's work in Racine.
in Racine. Through compelling photographs and stories, learn about Frank Lloyd Wright's built and unrealized commissions in Racine, Wisconsin between 1904 and 1954. Hertzberg's presentation about Wright's work in Racine will showcase every phase of Wright's career after 1900, including Prairie style, a zoned home, Usonian public buildings, and his only realized true taproot tower.
Besides his three books about Frank Lloyd Wright's work in Racine, Hertzberg was also commissioned to write a book about Wright's Penwern estate on Delavan Lake, which will be published by the Wisconsin Historical Society in the fall of 2018.
"Wright in Racine" is part of a series of monthly programs which will be offered as part of Wade House's year-long celebration of the life of Frank Lloyd Wright. The next program in the "Frank Lloyd Wright: A Wisconsin Original" speaker series will be on
Enlarge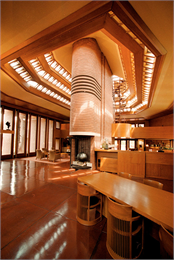 Wingspread
Wind Point, WI. Wingspread, also known as the Herbert F. Johnson House, is a house designed by architect Frank Lloyd Wright and built in 1938-39 near Racine, WI. Photo courtesy of Mark Hertzberg.
Thursday, June 8 at 7 p.m.
In addition to the "Frank Lloyd Wright: A Wisconsin Original" monthly speaker series, the site will honor the legendary architect's birthday by unveiling one of Wright's carriages, a roof-seat omnibus, which was restored by Wesley Jung in 1967 and is part of our Wesley W. Jung Carriage Collection. The omnibus will be unveiled at 6 p.m. on June 8th in celebration of the 150th anniversary of the architect's birth, and the activity will coincide with the opening of a temporary exhibit titled "A Taliesin Album: Rare Photographs of Frank Lloyd Wright's First Spring Green Home", which will be on display at Wade House through the end of October.
Location
Wade House
Wade House Historic Site, W7965 State Hwy 23
Greenbush, WI 53026
Location Information
Wade House, an 1850s stagecoach inn built to serve traffic along the plank road that connected Fond du Lac and Sheboygan, tells the story of frontier entrepreneur Sylvanus Wade and his family during the Civil War years. In addition to the inn, the historic site includes the recently reconstructed Herrling sawmill, one of the few working, water-powered sawmills of its kind in the nation. Wade House is also home to the Wesley Jung Carriage Museum, which houses the state's largest collection of antique carriages and working wagons.
Accessibility Information
Reasonable accommodations will be made for individuals requiring wheelchairs for mobility. Call ahead to make arrangements.