Enlarge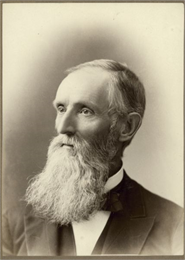 John Bascom, 1883
Head and shoulders portrait of John Bascom. View the original source document: WHI 33717
John Bascom was president of the University of Wisconsin from 1873 to 1887. From his classroom came two students who later shaped Wisconsin history: Robert La Follette, governor and senator, and Charles Van Hise, university president, both from the class of 1879. Professor Hoeveler's book John Bascom and the Origins of the Wisconsin Idea illustrates how Bascom's thought influenced these individuals and helped shape the progressive movement in Wisconsin. Bascom was a philosopher and theologian, and he applied his views on religion, science, and sociology to the political issues of his time. Thus, he championed the causes of temperance, women's rights, and labor. Professor Hoeveler will explain how Bascom's commitments to these reform programs laid the intellectual foundations for the Wisconsin Idea.
David Hoeveler is Distinguished Professor of History at UW-Milwaukee.
Next Event in the Series
The next event in the series will take place Tuesday, June 13.
Location
Wisconsin Historical Museum
Wisconsin Historical Museum, 30 N Carroll St
Madison, WI 53703
Location Information
Four floors of changing exhibit galleries, permanent exhibits and the museum store ― located on Madison's Capitol Square
Accessibility Information
The site is fully accessible to visitors requiring a wheelchair for mobility.