Enlarge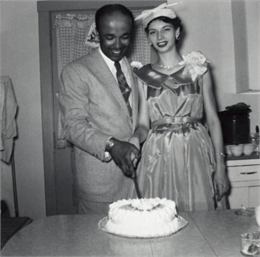 Lewis and LuRay Arms's Wedding Day, 1956
Madison, Wisconsin. Lewis Arms and his new wife LuRay pose in their wedding clothes, cutting the wedding cake. View the original source document: WHI 81078
A bride in a chaste white wedding dress, her face hidden behind a veil, bridesmaids in matching dresses, piles of wedding gifts, all of these have become such entrenched traditions of the wedding ceremony they seem eternal, yet these rituals have existed for less than 200 years. Leslie Bellais, Curator of Social History, will explore how these traditions emerged and why they have fossilized into the wedding rituals we experience today. Bellais will also compare wedding practices to the rituals of courtship, which in contrast have changed and evolved over time.
Next Event in the Series
The next event in the series will take place Tuesday, June 27.
Location
Wisconsin Historical Museum
Wisconsin Historical Museum, 30 N Carroll St
Madison, WI 53703
Location Information
Four floors of changing exhibit galleries, permanent exhibits and the museum store ― located on Madison's Capitol Square
Accessibility Information
The site is fully accessible to visitors requiring a wheelchair for mobility.