Enlarge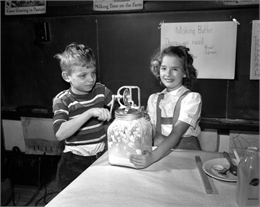 Second Grade Children Making Butter
Second grade children of Lowell School engage in a class project of making butter as part of a dairy study. Warren Oakes, (left) is churning the cream with the help of Kathleen Roman. View the original source document: WHI 68601
Discover Wisconsin's past through its food! The Flavor of Wisconsin for Kids introduces kids to the wide variety of food Wisconsin has to offer. This Story Saturday will focus on the food Wisconsinites are most known for: cheese!
About this Series
The first Saturday of each month will be Story Saturday at the Wisconsin Historical Museum! The FREE program features fun and exciting Wisconsin stories geared toward families and kids. Activities and crafts bring the stories to life!
Enlarge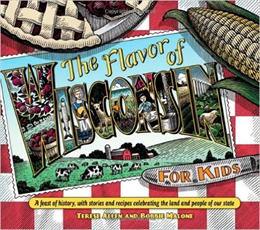 The Flavor of Wisconsin for Kids: A Feast of History, with Stories and Recipes Celebrating the Land and People of Our State
By Terese Allen and Bobbie Malone; Wisconsin Historical Society Press
Next Event in the Series
The next Story Saturday will take place on Saturday, June 3.
Location
Wisconsin Historical Museum
Wisconsin Historical Museum, 30 N Carroll St
Madison, WI 53703
Location Information
Four floors of changing exhibit galleries, permanent exhibits and the museum store ― located on Madison's Capitol Square
Accessibility Information
The site is fully accessible to visitors requiring a wheelchair for mobility.