Enlarge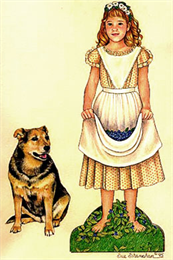 Caddie Woodlawn Paper Doll. It looks like Caddie picked daisies for her hair as well as berries! Her cotton dress dates back to the 1860s. The white cotton pinafore that covers her dress and serves as a basket for the berries dates from 1868. Both are in the textile collection of the Wisconsin Historical Society. Illustration courtesy Sue Shanahan.
The classic story of Caddie Woodlawn has inspired young readers to live adventurously and bravely. Instead of baking, Caddie would spend her time hunting with her brothers. She'd rather spend time with her Native American neighbors than sit and sew with her mother and sisters. Caddie's story comes to life in the Museum; join the adventure!
About this Series
The first Saturday of each month will be Story Saturday at the Wisconsin Historical Museum! The FREE program features fun and exciting Wisconsin stories geared toward families and kids. Activities and crafts bring the stories to life!
Next Event in the Series
The next Story Saturday will take place on Saturday, July 1. Check back soon for more information.
Location
Wisconsin Historical Museum
Wisconsin Historical Museum, 30 N Carroll St
Madison, WI 53703
Location Information
Four floors of changing exhibit galleries, permanent exhibits and the museum store ― located on Madison's Capitol Square
Accessibility Information
The site is fully accessible to visitors requiring a wheelchair for mobility.