Enlarge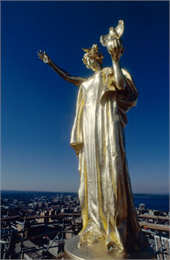 "Wisconsin" Statue on Top of the Wisconsin State Capitol
Close-up of the statue "Wisconsin," created by Daniel Chester French and situated on top of the dome of the Wisconsin State Capitol. By the time the Capitol was under construction (1906), Daniel Chester (1850-1931), like the other artists that worked on the Capitol, had achieved recognition as one of the most accomplished American artists of the period. View the original source document: WHI 122057
Former State Architect Dan Stephans will share the history of the art visible throughout the Wisconsin State Capitol. The artwork that completes the Capitol demonstrates architect George B. Post's skills as a designer. More than any other feature, the symbolism of the fine art in the Capitol establishes the principal themes that impart meaning to the building as a whole. Through its art and architecture, the Capitol embodies the ideals of civic pride, democratic duty, and the functions of good government. Although each of the many pieces of sculpture, the mosaics, and the murals are complete as objects in themselves, as building elements they are thoroughly integrated with the architecture of the building.
Post hired artists of national significance to complete a rich and varied fine arts program. Within a highly collaborative atmosphere, Post established a process that allowed him to maintain a high level of control over the content and the execution of the work.
Bring a lunch to this informal lunch-and-lecture series.
Next Event in the Series
The next event in the series will take place Tuesday, July 18.
Location
Wisconsin Historical Museum
Wisconsin Historical Museum, 30 N Carroll St
Madison, WI 53703
Location Information
Four floors of changing exhibit galleries, permanent exhibits and the museum store ― located on Madison's Capitol Square
Accessibility Information
The site is fully accessible to visitors requiring a wheelchair for mobility.