Enlarge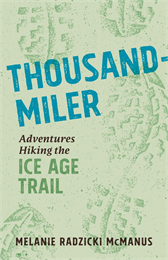 Thousand-Miler: Adventures Hiking the Ice Age Trail
By Melanie Radzicki McManus; Published by the Wisconsin Historical Society Press
In thirty-six thrilling days, presenter Melanie Radzicki McManus hiked 1,100 miles around Wisconsin, landing her in the elite group of Ice Age Trail thru-hikers known as the Thousand-Milers. McManus, author of the Wisconsin Historical Society Press Book Thousand-Miler: Adventures Hiking the Ice Age Trail, will take you with her through Wisconsin's forests, prairies, wetlands, and farms, past the geologic wonders carved by long-ago glaciers, and in the neighborhood bars and gathering places of far-flung small towns. Woven throughout her account are details of the history of the still-developing Ice Age Trail - one of just eleven National Scenic Trails - and accounts of other thru-hikers who accomplished this impressive feat.
Bring a lunch to this informal lunch-and-lecture series.
Next Event in the Series
The next event in the series will take place Tuesday, July 25.
Location
Wisconsin Historical Museum
Wisconsin Historical Museum, 30 N Carroll St
Madison, WI 53703
Location Information
Four floors of changing exhibit galleries, permanent exhibits and the museum store ― located on Madison's Capitol Square
Accessibility Information
The site is fully accessible to visitors requiring a wheelchair for mobility.