Enlarge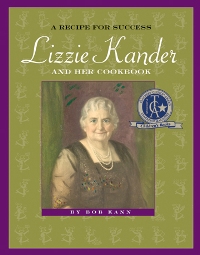 A Recipe for Success: Lizzie Kander and Her Cookbook
By Bob Kann; Published by the Wisconsin Historical Society Press
Bob Kann shares tales from his book, A Recipe for Success: Lizzie Kander and Her Cookbook, which celebrates the life of Milwaukee's early 20th century culinary wonder. Lizzie Kander's cookbook assisted numerous young Jewish immigrant girls to learn American-style cooking and the proceeds helped build Milwaukee's first settlement house and later the Jewish Community Center. The Settlement Cookbook became the most successful fundraising cookbook in history. Join Bob as he shares stories about Lizzie, her cookbook, and life growing up Jewish in America and Milwaukee in the late 19th and early 20th century. Participants are encouraged to bring their own Settlement Cookbooks to the presentation.
Bring a lunch to this informal lunch-and-lecture series.
Next Event in the Series
The next event in the series will take place Tuesday, August 1.
Location
Wisconsin Historical Museum
Wisconsin Historical Museum, 30 N Carroll St
Madison, WI 53703
Location Information
Four floors of changing exhibit galleries, permanent exhibits and the museum store ― located on Madison's Capitol Square
Accessibility Information
The site is fully accessible to visitors requiring a wheelchair for mobility.