Enlarge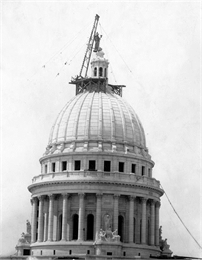 "Wisconsin" Statue on Wisconsin State Capitol
A crane places the gilded bronze statue, "Wisconsin," by Daniel Chester French, on top of the Wisconsin State Capitol dome. View the original source document: WHI 10457
New York architect George B. Post (1837-1913), designer of the Wisconsin State Capitol, was one of the preeminent American architects of his time. His contributions to building technology, the rise of the skyscraper and the practice of architecture are significant. Post designed a wide variety of commercial, institutional, and residential buildings across the eastern half of the country. His association with America's most important artists of the period allowed him to fully integrate art and architecture in his buildings. The crowning achievement of his career, the Capitol, is right here in Madison.
Presented by former Capitol Preservation Architect Charles Quagliana, this program will highlight Post's career, his selection as architect for the Capitol, and the major Capitol design attributes.
Bring a lunch to this informal lunch-and-lecture series.
Next Event in the Series
The next event in the series will take place Tuesday, August 8.
Location
Wisconsin Historical Museum
Wisconsin Historical Museum, 30 N Carroll St
Madison, WI 53703
Location Information
Four floors of changing exhibit galleries, permanent exhibits and the museum store ― located on Madison's Capitol Square
Accessibility Information
The site is fully accessible to visitors requiring a wheelchair for mobility.