Celebrate Midsommar with traditional sauna and Finnish breakfast, tucked in the beauty of the Ketola Immigrant Farmstead.
Enlarge
An intervior view of the Traveling Sauna. View the source here.
Enlarge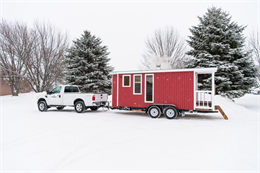 An exterior view of the Traveling Sauna. View the source here.
Arriving at 8 am, before public hours, you will be driven to our 1915 Ketola Finnish Immigrant Farm, where your day will begin. In small groups, you will enjoy a 30 minute sauna in the Traveling Sauna, which is making a stop at Old World Wisconsin as part of a 10,000 mile road trip across the United States to celebrate Finland's 100th Anniversary in 2017. Our Finnish Hosts will share the history and culture of the sauna in Finland before you experience it for yourself.
You will also enjoy a breakfast made on the wood stove in the Ketola kitchen, including Ham and Egg Cassarole, mushroom sauce, baked potato pancakes, bread cheese, pannukakku and pulla bread. Freshly made egg-cleared coffee will be served while you explore the farm and garden with us before the general public is on site. (Due to the traditional menu and cooking techniques, we are unable to accomodate special dietary requests.)
At 10 am you will be driven back to the musum entrance. If you want to enjoy more of Old World Wisconsin, your ticket includes admission for the day.
After purchasing your Midsommar Sauna & Breakfast ticket, we will provide you with more details on suggested clothing to be worn during your sauna.
Location
Old World Wisconsin
W372 S9727 Hwy 67
Eagle, WI 53119-9503
Location Information
Old World Wisconsin documents the settlement of 19th- and early 20th-century Wisconsin. It comprises an 1870s crossroads village and 10 ethnic farmsteads located on 576 acres of wooded hills in the Southern Unit of Kettle Moraine State Forest.
Accessibility Information
Reasonable accommodations will be made for individuals requiring wheelchairs for mobility. Trams are equipped to transport visitors using wheelchairs during regular museum operating hours. Call ahead to make arrangements at 262-594-6301.