Enlarge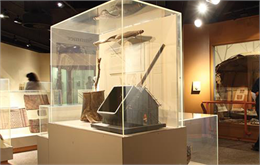 The Busy Year
A view of an exhibit gallery on the second floor of the Wisconsin Historical Museum
Visit from 11 am until 4 pm for fun family activities or self-guiding. Thirty-minute tours occur on the hour from 11 am until 3 pm. We will highlight the coolest things most visitors never notice; we will tell you stories most people never hear; and we will take artifacts out of our closets.
About Doors Open Madison
Doors Open Madison is a free one-day event organized by Downtown Madison Inc. It's a chance to learn about the places that make Madison great. Explore the one-of-a-kind buildings and businesses you might walk or drive by everyday.
Location
Wisconsin Historical Museum
Wisconsin Historical Museum, 30 N Carroll St
Madison, WI 53703
Location Information
Four floors of changing exhibit galleries, permanent exhibits and the museum store ― located on Madison's Capitol Square
Accessibility Information
The site is fully accessible to visitors requiring a wheelchair for mobility.