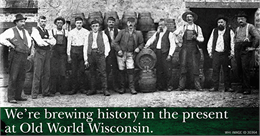 Brewing History
Potosi Brewery employees pose with barrels outside the brewery. View the original source document: WHI 30364
Enjoy the Heirloom Gardens and Join the Beer Guild!

Take a stroll and enjoy a few more hours of our beautiful Crossroads Village gardens as part of Heirloom Garden Weekend on Saturday evening.
If the adults in your group are thirsty, treat yourself to a beer! You can join a meeting of the Old World Wisconisn Beer Guild. Learn about the traditions and Zeremoniell of a Guild and then enjoy a tasting of traditional style beers with our Braumeister. Tickets for tasting are $5.00 You must be 21 to participate.
Seatings are limited and will require advance sign up. Watch for further details of seating times.
The Clausing Cafe will feature picnic type items that guests can purchase to take into the village to enjoy. The cafe will close at 6pm.
Outlying areas of the sites close and transportation ends at 5pm except for a Tram between Ramsey Barn and Harmony until 7pm. Site closes to the General Public at 5pm.
Location
Old World Wisconsin
W372 S9727 Hwy 67
Eagle, WI 53119-9503
Location Information
Old World Wisconsin documents the settlement of 19th- and early 20th-century Wisconsin. It comprises an 1870s crossroads village and 10 ethnic farmsteads located on 576 acres of wooded hills in the Southern Unit of Kettle Moraine State Forest.
Accessibility Information
Reasonable accommodations will be made for individuals requiring wheelchairs for mobility. Trams are equipped to transport visitors using wheelchairs during regular museum operating hours. Call ahead to make arrangements at 262-594-6301.