Dictionary Home | Advanced Search | About the Dictionary | Abbreviations | Turning Points | Suggestions?
Dictionary of Wisconsin History
Search Results for:
Term: Ely, Richard Theodore 1854 - 1943
Definition: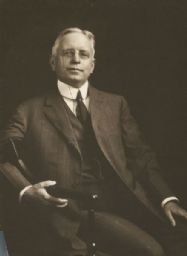 Richard T. Ely, 1910 (WHi-4763)
professor, economist, social reformer, author, b. Ripley, N.Y. He graduated from Columbia College, N.Y. (1876) and Heidelberg Univ. (Ph.D., 1879). Before coming to Wisconsin, Ely taught at Johns Hopkins Univ. (1881-1892), and during the summers lectured at Chautauqua. In the 1880s he began to publish articles and books critical of both laissez-faire economics and materialist socialism. (Two notable works of this period were Recent American Socialism [1884], and The Labor Movement in America [1886]). In place of these deterministic philosophies, Ely advocated social reforms and evolutionary economics which became the forerunners of the theories of progressivism and the welfare state. He accepted the German concept of a scholar's obligation to the state, and it was principally due to his efforts that the American Economic Association was organized (1885), emphasizing the historical and statistical approach and the need for economic reform. He was secretary of this organization (1885-1892), and later president (1899-1901). He was a member of the tax commissions of Baltimore (1885-1886) and Maryland (1886-1888). His religious beliefs and ethical views made him an influential member of the Social Gospel movement; he was a founder and first president of the American Institute for Christian Sociology (1893), secretary of the Christian Social Union, and author of Social Aspects of Christianity (1889). In 1892 university president Thomas C. Chamberlin (q.v.) brought Ely to Wisconsin to organize and direct the School of Economics, Political Science, and History (later divided into various departments). This school, for practical purposes, represented the beginning of the university's graduate program in the social sciences. In his capacity as director, Ely recruited such professors as J. R. Commons (q.v.), E. A. Ross (q.v.), and others, who emphasized the responsibilities of the social sciences to the state and national governments (the "Wisconsin Idea") and who played important roles in the progressive movement. Ely and the professors of the new school also took an active part in the university's extension program and conducted lectures at numerous extension centers. Ely was first president of the American Association for Labor Legislation (1906) and sponsor of the American Bureau of Industrial Research. In 1920 he established the Institute for Research in Land Economics and Public Utilities, associated with but independent from the university. He took this organization to Northwestern Univ. in 1925, and to New York City in 1933. He was professor of economics at Northwestern Univ. (1925-1933), and after 1933 maintained an office in New York City and later served as professor at Columbia. One of the most important figures in American economics, Ely played a primary role in establishing the Univ. of Wisconsin's reputation as a leader in economic research and the training of graduate experts in administration, economics, and state service. Although he later became more conservative in his economic approach, Ely's major contribution as an economist lay in his refusal to accept the economic determinism of laissez-faire and classical economics, his emphasis on the relative nature of economic truth, and his insistence on the efficacy of Christian social reform. Ely also gave the Univ. of Wisconsin occasion to affirm its dedication to academic freedom, when, in 1894 Ely's interest in socialism led state superintendent of public instruction Oliver E. Wells (q.v.) to charge him with teaching and supporting alien and revolutionary doctrines. An investigating committee appointed by the board of regents exonerated Ely in a report which concluded with the famous affirmation of academic freedom now inscribed on a plaque affixed to the university's Bascom Hall. R. T. Ely, Ground under Our Feet (New York, 1938); M. Curti and V. Carstensen, Univ. of Wis. (2 vols., Madison, 1949); Miss. Valley Hist. Review, 37; R. T. Ely Papers.
The Wisconsin Historical Society has manuscripts related to this topic. See the catalog description of the Richard Theodore Ely Papers for details.
View a related article at Wisconsin Magazine of History Archives.
View newspaper clippings at Wisconsin Local History and Biography Articles.
[Source: Dictionary of Wisconsin biography]
10466 records found
"mule" (Civil War)
Limb (Civil War)
"Carryings-on" (Civil War)
"right smart" (Civil War)
Calumet Rifles (Civil War)
Chippewa Valley Guard (Civil War)
Dodgeville Rangers (Civil War)
Evergreens (Civil War)
Grant County Patriots (Civil War)
Green County Volunteers (Civil War)
Jefferson County, Guards (Civil War)
Kickapoo Rangers (Civil War)
Lincolnites (Civil War)
minie ball (Civil War)
Mustered out (Civil War)
Noble Guards (Civil War)
Northern Lights (Civil War)
Omro Union Rifles (Civil War)
Orfordville Volunteers (Civil War)
Oshkosh Volunteers (Civil War)
Ozaukee Rifles (Civil War)
Park City Greys (Civil War)
picket (Civil War)
Pioneer Rifles (Civil War)
Provost-Marshal
rebel (Civil War)
Regiment (Civil War)
Richland County Plowboys (Civil War)
Ruger Guards (Civil War)
sacred soil (Civil War)
Scott's Volunteers (Civil War)
Sheboygan County Volunteers (Civil War)
Shullsburg Light Guard (Civil War)
Siegel Guards (Civil War)
Stoughton Guard (Civil War)
surgeon (Civil War)
Troop (Civil War)
Union Guards, Hanchettville (Civil War)
Watertown American Volunteers (Civil War)
Watson Guards (Civil War)
Waushara and Green Lake County Rangers (Civil Wa
West Bend Union (Civil War)
Whitewater Light Infantry (Civil War)
Wisconsin Rifles (Civil War)
Wisconsin Volunteer (Civil War)
Yanks (Civil War)
"Barstow and the Balance"
"Bow and Arrow" (Historic Marker)
"Feeling mighty poorly" (Civil War)
"Grey Backs" (Civil War)
"Hard Case" (Civil War)
"Horse Sense" (Civil War)
"Jeff Davis' Pets" (Civil War)
"Kissel" (Historic Marker)
"Mess" (Civil War)
100 Day Men
100th Infantry Battalion
1888 Bohemian Schoolhouse (Historic Marker)
1998 Wisconsin Assembly Sesquicentennial Marker (H
9XM-WHA, "The Oldest Station in the Nation" (Histo
Aaron [origin of place name]
abatis (Civil War)
Abbot, Edwin Hale 1834 - 1927
Abbotsford [origin of place name]
Abbotsford, Clark Co.
Abbott [origin of place name]
Abbott, Town of, Sheboygan Co.
Abel, Town of, Manitowoc Co.
Abells Corners, Walworth Co.
Abert, George 1817 - 1890
Abimiek
Ableman [origin of place name]
abolition
Abraham, Harvey R. 1895
Abraham, Henry William 1866 - 1920
Abrahams, Jim 1944 -
Abrahamson, Shirley S. 1933
Abrahamson, Theodore 1900
Abrams, Oconto Co.
Abrams, Town of, Oconto Co.
Ackerville, Washington Co.
Ackley, Town of, Langlade Co.
Ada, Sheboygan Co.
Adams Beach, Shawano Co.
Adams Center (historical), Adams Co.
Adams County
Adams County Rifles (Civil War military unit)
Adams County [origin of place name]
Adams, Adams Co.
Adams, Charles Kendall 1835 - 1902
Adams, Henry Cullen 1850 - 1906
Adams, Thomas Sewall 1873 - 1933
Adams, Town of, Adams Co.
Adams, Town of, Green Co.
Adams, Town of, Jackson Co.
Adams, Walworth Co.
Adams, William 1813 - 1897
Adamsville [origin of place name]
Adario, Town of, Waushara Co.
Addison, Town of, Washington Co.
Addison, Washington Co.
Adell, Sheboygan Co.
Adell, Village of, Sheboygan Co.
Adella Beach, Winnebago Co.
Adelman, Lynn S. 1939 -
Adjutant (Civil War)
Adjutant General (Civil War)
Adler, David 1821 - 1905
Adler, Solomon 1816 - 1890
Adrian, Town of, Monroe Co.
adulteration (dairy)
Advance, Shawano Co.
Adventists in Wisconsin
African American Settlers of Cheyenne Valley (Hist
African Americans in Wisconsin
aft (maritime)
after cabin (maritime)
aftermast (maritime)
aftermost (maritime)
Afton [origin of place name]
Afton, Rock Co.
Agenda, Town of, Ashland Co.
Ager, Waldemar Theodor 1869 - 1941
Agnew [origin of place name]
agriculture in Wisconsin
Ahnapee [origin of place name]
Ahnapee, Town of, Kewaunee Co.
Aide-de-camp (Civil War)
Aikens, Andrew Jackson 1830 - 1909
Ainsworth [origin of place name]
Ainsworth, Ellen 1918 - 1944
Ainsworth, John H. 1940
Ainsworth, Town of, Langlade Co.
Aionez
Akan, Town of, Richland Co.
Akeley, Carl Ethan 1864 - 1926
Alaska, Kewaunee Co.
Alban, Portage Co.
Alban, Town of, Portage Co.
Albany, Green Co.
Albany, Town of, Green Co.
Albany, Town of, Marquette Co.
Albany, Town of, Pepin Co.
Albany, Village of, Green Co.
Albee, George Sumner 1837 - 1898
Albers, Sheryl K. 1954
Alberts, John M. 1933
Albertville, Chippewa Co.
Albion Academy (Historic Marker)
Albion [origin of place name]
Albion [origin of place name]
Albion, Dane Co.
Albion, Town of, Dane Co.
Albion, Town of, Jackson Co.
Albion, Town of, Trempealeau Co.
Albrecht, Max John Frederick 1861 - 1943
Alden, Town of, Polk Co.
Aldens Corners, Dane Co.
Alderley, Dodge Co.
Alexander, Alexander Septimus 1860 - 1935
Alexander, Lewis Miller 1858 - 1934
Alexander, Town of, Brown Co.
Alexander, Walter 1849 - 1926
Alfonsi, Paul R. 1908
Algoma [brief history]
Algoma [origin of place name]
Algoma, Kewaunee Co.
Algoma, Town of, Winnebago Co.
Algonquins
Alice in Dairyland
Alimibegon
Alimiwec
Allen Family (Historic Marker Erected 1976)
Allen Grove [origin of place name]
Allen, Carolyn Blanchard 1921
Allen, Charles Herman(?) 1828 - 1904
Allen, Col. Thomas S. (1825-1905)
Allen, Eau Claire Co.
Allen, Hiram Storrs 1806 - 1886
Allen, William 1825 - 1883
Allen, William Francis 1830 - 1889
Allens Grove, Walworth Co.
Allenton, Washington Co.
Allenville, Winnebago Co.
Alligator (logging)
Allis, Charles 1853 - 1918
Allis, E.P., Company
Allis, Edward Phelps 1824 - 1889
Allis, Louis 1866 - 1950
allotment
Allouez Bay [origin of place name]
Allouez, Brown Co.
Allouez, Claude Jean 1622 - 1689
Allouez, Douglas Co.
Allouez, Town of, Brown Co.
Allouez, Village of, Brown Co.
alluvion, or alluvium (mining)
Alma Center, Jackson Co.
Alma Center, Village of, Jackson Co.
Alma [origin of place name]
Alma, Buffalo Co.
Alma, Town of, Buffalo Co.
Alma, Town of, Jackson Co.
Almena [origin of place name]
Almena, Barron Co.
Almena, Town of, Barron Co.
Almena, Village of, Barron Co.
Almon, Shawano Co.
Almon, Town of, Shawano Co.
Almond, Portage Co.
Almond, Town of, Portage Co.
Almond, Village of, Portage Co.
Alpha [origin of place name]
Alpha, Burnett Co.
Alstad [origin of place name]
Altdorf [origin of place name]
Alto, Fond du Lac Co.
Alto, Town of, Fond du Lac Co.
Altoona [origin of place name]
Altoona, Eau Claire Co.
Alverno, Manitowoc Co.
Alvin, Forest Co.
Alvin, Town of, Forest Co.
Amberg, Marinette Co.
Amberg, Town of, Marinette Co.
Ambridge, Douglas Co.
Ameche, Don 1908 - 1993
American Antiquarian Society
American Association for Labor Legislation (AALL)
American Bowling Congress
American Craftsman (architecture)
American Federation of Labor (AFL)
American foursquare (architecture)
American Fur Company
American Journeys
American Memory Project
American Revolution (in Wisconsin)
American Water Spaniel
americanization
Ameringer, Oscar 1870 - 1943
Amery, Polk Co.
Ames, Jesse Hazen 1875 - 1957
Ames, Merlin Mcmain 1879 - 1950
Amherst Junction, Portage Co.
Amherst Junction, Village of, Portage Co.
Amherst, Portage Co.
Amherst, Town of, Portage Co.
Amherst, Village of, Portage Co.
amidships (maritime)
Amikouets
Amnicon Falls, Douglas Co.
Amnicon [origin of place name]
Amnicon, Town of, Douglas Co.
Amnicon, Town of, Douglas Co.
Anacker, Marquette Co.
Anchorage (historical), Buffalo Co.
Andastoeronnons
Andatahouats
Anderson Trailer Court, Barron Co.
Anderson [origin of place name]
Anderson, Canute 1830 - 1893
Anderson, Gerald K. 1921
Anderson, John 1872 - 1929
Anderson, Lyman F. 1926
Anderson, Norman C. 1928
Anderson, Rasmus Born 1846 - 1936
Anderson, Rock Co.
Anderson, Thomas Carl 1865 - 1948
Anderson, Town of, Burnett Co.
Anderson, Town of, Iron Co.
Anderson, Wendell Abraham 1840 - 1929
Andrea, Joseph F. 1927
Andrews, Frank Edmund 1874 - 1947
Andrews, Roy Chapman (1884 - 1960)
Angelica, Shawano Co.
Angelica, Town of, Shawano Co.
Angelo [origin of place name]
Angelo, Monroe Co.
Angelo, Thomas St. 1889
Angelo, Town of, Monroe Co.
Anglo (Civil War)
Angus, Barron Co.
animalcula (farming)
Anishinabe
Aniwa [origin of place name]
Aniwa, Shawano Co.
Aniwa, Town of, Shawano Co.
Aniwa, Village of, Shawano Co.
Annaton, Grant Co.
Anneke, Fritz 1818 - 1872
Anneke, Mathilde Franziska (Giesler) 1817 - 1884
Annieronnon
annuity payments
Ansley, John D.
Anson, Chippewa Co.
Anson, Leonard Niles 1848 - 1927
Anson, Town of, Chippewa Co.
Anston, Brown Co.
Antaramian, John M. 1954
Antes, Robert Manning 1863 - 1949
Antietam, Battle of
Antigo Silt Loam, State Soil of Wisconsin (Histori
Antigo [brief history]
Antigo [origin of place name]
Antigo, Langlade Co.
Antigo, Town of, Langlade Co.
Anton, Douglas Co.
Apollonia, Rusk Co.
Apostle Islands
Apple Creek, Outagamie Co.
Apple River
Apple River, Town of, Polk Co.
Appleby, John Francis 1840 - 1917
Appleton [brief history]
Appleton [origin of place name]
Appleton, Outagamie Co.
Appomattox Court House, Battle of
Apuckaway, Election precinct of, Marquette Co.
arable (farming)
Arabs in Wisconsin
Arbor Vitae, Town of, Vilas Co.
Arbor Vitae, Vilas Co.
Arcade Acres, Fond du Lac Co.
Arcade, Town of, Marquette Co.
Arcadia [origin of place name]
Arcadia, Town of, Trempealeau Co.
Arcadia, Trempealeau Co.
arch (maritime)
arch board (maritime)
archaeological record
Archaic culture (archaeology)
arched roof (architecture)
architecture in Wisconsin
Arena, Iowa Co.
Arena, Town of, Iowa Co.
Arena, Village of, Iowa Co.
Argonne [origin of place name]
Argonne, Forest Co.
Argonne, Town of, Forest Co.
Argyle, Lafayette Co.
Argyle, Town of, Lafayette Co.
Argyle, Village of, Lafayette Co.
Arkansas Post, Battle of
Arkansaw, Pepin Co.
Arkdale, Adams Co.
Arland, Barron Co.
Arland, Town of, Barron Co.
Arlington, Columbia Co.
Arlington, Town of, Columbia Co.
Arlington, Village of, Columbia Co.
Armenia, Town of, Juneau Co.
Armitager's Rapids
Armitagi, William Edmond 1830 - 1873
Armour, Philip Danforth 1832 - 1901
Armsby, Henry Prentiss 1853 - 1921
Armstrong Creek, Forest Co.
Armstrong Creek, Town of, Forest Co.
Armstrong, Benjamin Green 1820 - 1900
Armstrong, Fond du Lac Co.
Armstrong, Town of, Oconto Co.
Army (Civil War)
Army Corps (Civil War)
Army Lake (historical), Walworth Co.
Arndt, Charles C. P. , died 1842
Arndt, John Penn 1780 - 1861
Arnold, Alexander Ahab 1833 - 1915
Arnold, Chippewa Co.
Arnold, Jonathan Earle 1814 - 1869
Arnott, Portage Co.
arpent (Fr.)
Arpin [origin of place name]
Arpin, Town of, Wood Co.
Arpin, Village of, Wood Co.
Arpin, Wood Co.
Art Deco (architecture)
Arte Moderne (architecture)
Artesia Beach, Fond du Lac Co.
Arthur, Grant Co.
Arthur, Town of, Chippewa Co.
Artillery (Civil War)
Arts and Crafts (architecture)
Ashford (historical), Richland Co.
Ashford [origin of place name]
Ashford, Fond du Lac Co.
Ashford, Town of, Fond du Lac Co.
Ashippun [origin of place name]
Ashippun, Dodge Co.
Ashippun, Town of, Dodge Co.
Ashland County [origin of place name]
Ashland Junction, Bayfield Co.
Ashland [brief history]
Ashland [origin of place name]
Ashland, Ashland Co.
Ashland, Town of, Ashland Co.
Ashley, Marathon Co.
Ashley, William Bliss 1811 - 1893
Ashton Corners, Dane Co.
Ashton, Dane Co.
Ashum, David W. 1854 - 1927
Ashwabena [stream], Brown Co.
Ashwaubenon [origin of place name]
Ashwaubenon, Brown Co.
Ashwaubenon, Town of, Brown Co.
Ashwaubenon, Village of, Brown Co.
Askeaton [origin of place name]
Askeaton, Brown Co.
Aspen [origin of place name]
Aspin, Leslie, 1938-1995.
Assenipoëls
assimilation
Assiniboüles
Assistagueronons
Associated Milk Producers (AMPI)
Astico, Dodge Co.
Astor, Brown Co.
Astor, John Jacob , 1763-1848
Athelstane, Marinette Co.
Athelstane, Town of, Marinette Co.
Athens [origin of place name]
Athens [origin of place name]
Athens, Marathon Co.
Athens, Village of, Marathon Co.
athwartships (maritime)
Atkins, Forest Co.
Atkinson, Henry, 1782-1842
Atkinson, Percy C[Hristopherson] 1867 - 1941
Atkinson, William P. 1901
Atlanta Campaign
Atlanta, Battle of
Atlanta, Town of, Rusk Co.
Atlas, Polk Co.
atlatl
Attica [origin of place name]
Attica, Green Co.
Atwater, Dodge Co.
Atwood, Clark Co.
Atwood, David 1815 - 1889
Aubrey, Richland Co.
Auburn [origin of place name]
Auburn, Town of, Chippewa Co.
Auburn, Town of, Fond du Lac Co.
Auburndale, Town of, Wood Co.
Auburndale, Village of, Wood Co.
Auburndale, Wood Co.
Audubon Society, Wisconsin
Augusta [origin of place name]
Augusta, Eau Claire Co.
Aurora, Florence Co.
Aurora, Town of, Florence Co.
Aurora, Town of, Taylor Co.
Aurora, Town of, Waushara Co.
Aurora, Washington Co.
Auroraville, Waushara Co.
Ausman, La Verne 1930
Austrians in Wisconsin
Auto Race-Green Bay to Madison (HIstoric Marker Er
automobile industry in Wisconsin
Aux Gallait, Election precinct of, Crawford Co.
Avalanche [origin of place name]
Avalanche, Vernon Co.
Avalon, Rock Co.
aviary (farming)
aviation in Wisconsin
Avoca [origin of place name]
Avoca, Iowa Co.
Avoca, Village of, Iowa Co.
Avon, Lafayette Co.
Avon, Rock Co.
Avon, Town of, Rock Co.
Aweatsiwaenr-rhonons
Awishtoyou
Ayoës, Ayowois
Azim, Jr., James N. 1936
Aztalan (archaeological site)
Aztalan State Park (Historic Marker Erected 1964)
Aztalan [origin of place name]
Aztalan, Jefferson Co.
Aztalan, Town of, Jefferson Co.
B.P. (time)
Babb's Crossing [origin of place name]
Babb's Prairie [origin of place name]
Babbitt, Clinton 1831 - 1907
Babbitt, Marvin E. 1902
Babcock [origin of place name]
Babcock, Joseph Weeks 1850 - 1909
Babcock, Stephen Moulton (1843-1931)(Historic Mark
Babcock, Stephen Moulton 1843 - 1931
Babcock, Wood Co.
Babe (logging)
Bablitch, William A. 1941
Bach, Christopher 1835 - 1927
Bache, Soren 1814 - 1890
Bachelor's Grove [origin of place name]
backstay (maritime)
Bacon, Edward Payson 1834 - 1916
Bad Ax Tigers (Civil War military unit)
Bad Ax [origin of place name]
Bad Ax [origin of place name]
Bad Ax, Town of, Vernon Co.
Bad Axe (county)
Bad Axe River, Crawford Co.
Bad Axe, Battle of
Bad River Reservation
Badger Army Ammunition Plant
Badger Battery (Civil War military unit)
Badger Guards (Civil War military unit)
Badger State Flying Artillery (Civil War military
Badger Valley [origin of place name]
badger [origin of name]
Bading, Gerhard Adolph 1870 - 1946
Baensch, Emil 1857 - 1939
Baetz, Henry 1830 - 1910
Baga Town [origin of place name]
Bagley Junction, Marinette Co.
Bagley, Grant Co.
Bagley, Town of, Oconto Co.
Bagley, Village of, Grant Co.
Bailey's Harbor [origin of place name]
Bailey, Col. Joseph (1826-1867)
Bailey, William Francis 1842 - 1915
Baileys Harbor, Door Co.
Baileys Harbor, Town of, Door Co.
Baird, Elizabeth Therese 1810 - 1890
Baird, Henry Samuel 1800 - 1875
Baker, Charles Minton 1804 - 1872
Baker, Joseph 1806 - 1873
Baker, Joseph Stannard 1838 - 1912
Baker, Ray Stannard [David Grayson] 1870 - 1946
Baker, Robert Hall 1839 - 1882
Bakers Corners, Dane Co.
Bakerville, Wood Co.
Balatka, Hans 1826 - 1899
Baldus, Alvin 1926
Baldwin [origin of place name]
Baldwin, St. Croix Co.
Baldwin, Tammy 1962
Baldwin, Town of, St. Croix Co.
Baldwin, Village of, St. Croix Co.
Baldwins Mill, Waupaca Co.
Ball River, La Crosse Co.
Ball-hammer (logging)
ballast (maritime)
ballast (railroads)
balloon frame (architecture)
Ballou, Ashland Co.
Ballou, Daniel W["Ilber","Jr."?] 1824 - 1876
Balmoral, Richland Co.
Balow, Larry C. 1943
Balsam Lake [origin of place name]
Balsam Lake, Polk Co.
Balsam Lake, Town of, Polk Co.
Balsam Lake, Village of, Polk Co.
Bancroft, Levi Horace 1861 - 1948
Bancroft, Portage Co.
Bangor [origin of place name]
Bangor, La Crosse Co.
Bangor, Town of, La Crosse Co.
Bangor, Village of, La Crosse Co.
Banick (logging)
bank (railroads)
Bank Riot (1861)
Banner, Fond du Lac Co.
Bannerman, Waushara Co.
bannerstone (archaeology)
Banta, George Sr. 1857 - 1935
Banzaf, Henry Leo 1865 - 1951
Baptists in Wisconsin
Barabe, Robert F. 1917
Baraboo River, Sauk Co.
Baraboo [brief history]
Baraboo [origin of place name]
Baraboo, Sauk Co.
Baraboo, Town of, Sauk Co.
Baraga, Frederic 1797 - 1868
Baran, Felix 1870 - 1942
Barbee, Lloyd A. 1925 - 2003
Barber, George 1805 - 1881
Barber, Joel Allen 1809 - 1881
Barber, Lucius Israel 1806 - 1889
Barber-chair (logging)
Barca, Peter W. 1955
Barczak, Gary J. 1939
Bardeen, Charles Russell 1871 - 1935
Bardeen, Charles Valdo 1850 - 1903
Bardon, Thomas 1848 - 1923
Bardwell, Walworth Co.
barge (maritime)
Bark Point, Bayfield Co.
Bark River, Town of, Jefferson Co.
barker (logging)
Barksdale, Bayfield Co.
Barksdale, Town of, Bayfield Co.
Barland, Thomas H. 1930
Barlow, Elmer Elbert 1887 - 1948
Barlow, Stephen Steele 1818 - 1900
Barn-boss (logging)
Barnard, Henry 1811 - 1900
Barnes, John 1859 - 1919
Barnes, Lyman Eddy 1855 - 1904
Barnes, Town of, Bayfield Co.
Barneveld, Iowa Co.
Barneveld, Village of, Iowa Co.
Barney, Samuel Stebbins 1846 - 1919
Barntown [origin of place name]
Barnum, Crawford Co.
barque; also bark (maritime)
Barre Mills, La Crosse Co.
Barre, Town of, La Crosse Co.
Barrett, Thomas M. 1953
Barron [origin of place name]
Barron, Barron Co.
Barron, Henry Danforth 1833 - 1882
Barron, Michael J. 1933
Barron, Town of, Barron Co.
Barronett, Barron Co.
Barronett, Town of, Washburn Co.
Barry Corner, Pepin Co.
Barry, Alfred Constantine 1815 - 1888
Barry, Jonathan B. 1945
Barstow, William Augustus 1813 - 1865
Barstow-Bashford Affair (1856)
Bartelme, Town of, Shawano Co.
Bartlett, John Knowlton 1816 - 1889
Bartlett, Tommy 1914 - 1998
Barton, Albert Olaus 1870 - 1947
Barton, Town of, Adams Co.
Barton, Town of, Washington Co.
Barton, Washington Co.
Barwig, Charles 1837 - 1912
basalt (mining)
Basco, Dane Co.
Bascom, John 1827 - 1911
Bashaw [origin of place name]
Bashaw, Burnett Co.
Bashaw, Town of, Washburn Co.
Bashford, Coles 1816 - 1878
Bashford, Robert Mckee 1845 - 1911
Bass Creek [origin of place name]
Bass Lake, Town of, Sawyer Co.
Bass Lake, Town of, Washburn Co.
Bassett, Kenosha Co.
Basswood, Richland Co.
bast (farming)
Batavia [origin of place name]
Batavia, Sheboygan Co.
Bateman, Chippewa Co.
battalion
Battalion (Civil War)
batteau (Fr.)
batten (farming)
Battery (Civil War)
Battle of Bad Axe (Historic Marker Erected 1955)
Battle of Mole Lake (Historic Marker Erected 1962)
Battle of Wisconsin Heights (Historic Marker Erect
Baumgart, James R. 1938
Bavaria, Langlade Co.
Baxter, Dunn Co.
bay (farming)
Bay City [origin of place name]
Bay City, Pierce Co.
Bay Settlement, Brown Co.
Bay Settlement, Town of, Brown Co.
Bay View Rolling Mill (Historic Marker Erected 198
Bay View Tragedy
Bay View's Immigrants (Historic Marker Erected 199
Bay View, Kewaunee Co.
Bay-settlement, Brown Co.
Baye, la
Bayfield County [origin of place name]
Bayfield [brief history]
Bayfield [origin of place name]
Bayfield, Bayfield Co.
Bayfield, Henry Wolsey 1795 - 1885
Bayfield, Town of, Bayfield Co.
bayonet (Civil War)
Bayport, Town of, Ashland Co.
Bayside, Milwaukee Co.
Bayside, Village of, Milwaukee Co.
Bayview, Town of, Bayfield Co.
Beachs Corners, Trempealeau Co.
Beal, Polly W. 1942
Beall, Samuel Wooton[?] 1807 - 1868
beam (maritime)
Bean, Jacob Linsley 1809 - 1855
Bean-hole (logging)
Bear Bluff, Town of, Jackson Co.
Bear Creek Corners, Waupaca Co.
Bear Creek [origin of place name]
Bear Creek, Election precinct of, Richland Co.
Bear Creek, Outagamie Co.
Bear Creek, Town of, Buffalo Co.
Bear Creek, Town of, Pepin Co.
Bear Creek, Town of, Sauk Co.
Bear Creek, Town of, Waupaca Co.
Bear Creek, Village of, Outagamie Co.
Bear Lake, Town of, Barron Co.
Bear Valley, Richland Co.
Bear, Peter D. 1952
Beauharnais, Charles, Marquis de
Beauharnois de la Boische, Charles de, Marquis de
Beaumont, Racine Co.
Beaumont, William, 1785-1853.
Beaux Arts (architecture)
Beaver Brook, Town of, Washburn Co.
Beaver Brook, Washburn Co.
Beaver Creek [origin of place name]
Beaver Dam Rifles (Civil War military unit)
Beaver Dam [brief history]
Beaver Dam [origin of place name]
Beaver Dam, Dodge Co.
Beaver Dam, Town of, Dodge Co.
Beaver Edge, Dodge Co.
Beaver, Marinette Co.
Beaver, Town of, Clark Co.
Beaver, Town of, Marinette Co.
Beaver, Town of, Polk Co.
Beaver, Town of, Washburn Co.
Beck, Joseph David 1866 - 1936
Becker, Dismas 1936
Becker, Washington 1847 - 1929
Beebe, Douglas Co.
Beecher Lake, Marinette Co.
Beecher, Marinette Co.
Beecher, Town of, Marinette Co.
Beechwood [origin of place name]
Beechwood, Sheboygan Co.
Beef Slough (Historic Marker Erected 1976)
Beef Slough War
beekeeping and honey production
beer in Wisconsin
Beetown [origin of place name]
Beetown, Grant Co.
Beetown, Town of, Grant Co.
beeves
Beggs, John Irvin 1847 - 1925
Behnke, Robert E. 1932
Beier, Augustus Leon 1884 - 1940
Beilfuss, Bruce F. 1915
Belcrest, Rock Co.
Belden, Ellsworth Burnett 1866 - 1939
Beldenville, Pierce Co.
Belgian Settlement in Wisconsin (Historic Marker E
Belgians in Wisconsin
Belgium [origin of place name]
Belgium, Ozaukee Co.
Belgium, Town of, Ozaukee Co.
Belgium, Village of, Ozaukee Co.
Bell Center, Crawford Co.
Bell Center, Village of, Crawford Co.
Bell Heights, Outagamie Co.
Bell's Corner [origin of place name]
Bell, Jeannette 1941
Bell, Town of, Bayfield Co.
Bell-ox (logging)
Bellante, Jr., Joseph F. 1932
Belle City Rifles (Civil War military unit)
Belle Fontaine Spring [origin of place name]
Belle Fountain, Columbia Co.
Belle Plaine, Shawano Co.
Belle Plaine, Town of, Shawano Co.
Belleville [origin of place name]
Belleville, Dane Co.
Belleville, Village of, Dane Co.
Bellevue (historical), Town of, Brown Co.
Bellevue, Brown Co.
Bellevue, Town of, Brown Co.
Bellevue, Village of, Brown Co.
Bellinger [origin of place name]
Bellinger, Taylor Co.
Bellview, Town of, Crawford Co.
Bellwood, Douglas Co.
Belly-robber (logging)
Belmont (capitol)
Belmont [origin of place name]
Belmont, Town of, Lafayette Co.
Belmont, Town of, Portage Co.
Belmont, Village of, Lafayette Co.
Belmont-Wisconsin Territory (Historic Marker Erect
Beloit & Madison Railroad Co.
Beloit City Guard (Civil War military unit)
Beloit College (HIstoric Marker Erected 1967)
Beloit [brief history]
Beloit [origin of place name]
Beloit, Rock Co.
Beloit, Town of, Rock Co.
Belting, George B. 1914
Belvidere, Town of, Buffalo Co.
Benderville, Brown Co.
Benet Lake, Kenosha Co.
Beneworth, James 1816 - 187?
Bennett Law
Bennett, Douglas Co.
Bennett, Elhanen Winchester ("Chet") 1832 - 1909
Bennett, Henry Hamilton 1843 - 1908
Bennett, Town of, Douglas Co.
Benoit, Bayfield Co.
Benson, Burnett Co.
Benson, John T. 1937
Benson, Taylor
Benton creek
Benton [origin of place name]
Benton, Lafayette Co.
Benton, Town of, Lafayette Co.
Benton, Village of, Lafayette Co.
Berceau, Terese 1950
berdache (Fr.)
Berdan's Sharpshooters (Civil War military unit)
bere (farming)
Bergen Beach, Fond du Lac Co.
Bergen, Rock Co.
Bergen, Town of, Marathon Co.
Bergen, Town of, Vernon Co.
Berger, David G. 1946
Berger, Meta 1873-1944
Berger, Victor Louis [Luitpold] 1860 - 1929
Bergh, Johan Arndt 1847 - 1927
Berigan, Bernard R. "Bunny" (1908-1942)(Historic M
Berigan, Bunny 1908 - 1942
Berlin Light Guard (Civil War military unit)
Berlin Light Guard (Civil War)
Berlin [origin of place name]
Berlin, Green Lake Co.
Berlin, Town of, Green Lake Co.
Berlin, Town of, Marathon Co.
Berlin, Town of, Waushara Co.
Berliner (food)
Bern, Town of, Marathon Co.
Berndt, William F. 1956
Berry, Town of, Dane Co.
Bertram, Col. Henry (1825-1878)
Best, Jacob Sr. 1786 - 1861
Best, Phillip 1814 - 1869
Bethel, Wood Co.
Bethesda, Waukesha Co.
Bevent, Marathon Co.
Bevent, Town of, Marathon Co.
Bibon [origin of place name]
Bice, Raymond C. 1896
Bidwell, Everett V.
Bies, Garey 1946
big (farming)
Big Bend [origin of place name]
Big Bend, Town of, Rusk Co.
Big Bend, Village of, Waukesha Co.
Big Bend, Waukesha Co.
Big Boy (restaurant)
Big Bull Falls
Big Bull Falls [origin of place name]
Big Bull Falls, Election precinct of, Portage Co.
Big Falls, Town of, Rusk Co.
Big Falls, Village of, Waupaca Co.
Big Falls, Waupaca Co.
Big Flats, Adams Co.
Big Flats, Town of, Adams Co.
Big Patch [origin of place name]
Big Prairie, Waushara Co.
Big Quinnesec Falls, Menominee River
Big Spring, Adams Co.
Big Spring, Town of, Adams Co.
Big-wheels (logging)
Bigpatch, Grant Co.
bilge (maritime)
Billinghurst, Charles 1818 - 1865
Billings Park, Douglas Co.
Bindle (logging)
Bingham, Delbert Elisha 1873 - 1947
Binghamton, Outagamie Co.
Bintliff, Col. James (1824-1901)
Birch Creek, Town of, Chippewa Co.
Birch Island [origin of place name]
Birch [origin of place name]
Birch, Ashland Co.
Birch, Town of, Chippewa Co.
Birch, Town of, Lincoln Co.
Birchwood, Kewaunee Co.
Birchwood, Town of, Washburn Co.
Birchwood, Village of, Washburn Co.
Birchwood, Washburn Co.
bird's-eye view
Bird, Ada 1859 - 1914
Bird, Augustus A. 1802 - 1870
Bird, Claire Brayton 1868 - 1954
Bird, Harlan Page 1838 - 1912
Birge, Edward Asahel 1851 - 1950
Birl (logging)
Birnamwood [origin of place name]
Birnamwood, Shawano Co.
Birnamwood, Town of, Shawano Co.
Birnamwood, Village of, Shawano Co.
Biron [origin of place name]
Biron, Village of, Wood Co.
Biron, Wood Co.
Birthplace of an Airline (Historic Marker Erected
Birthplace of Flag Day (Historic Marker Erected 19
Birthplace of GTE (Historic Marker Erected 1980)
Birthplace of the American Water Spaniel (Historic
Birthplace of the Republican Party (Historic Marke
Bishop's Settlement [origin of place name]
bivouac (Civil War)
Black Bird, Sauk chief, ca. 1734-?
Black Brook, Town of, Polk Co.
Black Creek, Outagamie Co.
Black Creek, Town of, Outagamie Co.
Black Creek, Village of, Outagamie Co.
Black Earth [origin of place name]
Black Earth, Dane Co.
Black Earth, Town of, Dane Co.
Black Earth, Town of, Dane Co.
Black Earth, Village of, Dane Co.
black gang (maritime)
Black Hawk 1767 - 1838
Black Hawk at Turtle Village (Historic Marker Erec
Black Hawk War (1832)
Black Hawk War (Historic Marker Erected 1968)
Black Hawk War Encampment "Burnt Village" (Histori
Black Hawk War Encampment (Historic Marker Erected
Black Hawk [origin of place name]
Black Hawk, Sauk Co.
black history in Wisconsin
Black River
Black River Falls [brief history]
Black River Falls [origin of place name]
Black River Falls, Election precinct of, Crawford
Black River Falls, Jackson Co.
Black River pinery
Black River Rangers (Civil War military unit)
Black River Tigers (Civil War military unit)
Black River Valley (Historic Marker Erected 1976)
Black River, Douglas Co.
Black soldiers in the Civil War
Black Thursday (November 21, 1968)
Black Thursday (October 24, 1929)
Black Wolf Point, Winnebago Co.
Black Wolf [origin of place name]
Black Wolf, Town of, Winnebago Co.
Black Wolf, Winnebago Co.
Black Yagers (Civil War military unit)
Black, John 1827 - 1899
Black, Spencer 1950
Blackbird, 18th-c. Ojibwe chief
Blackhawk Island, Jefferson Co.
Blackstock, Thomas M. 1834 - 1913
Blackwell Junction, Forest Co.
Blackwell, Forest Co.
Blackwell, Town of, Forest Co.
Blaine, John James 1873 - 1934
Blaine, Portage Co.
Blaine, Town of, Burnett Co.
Blair [origin of place name]
Blair, Emma Helen 1851 - 1911
Blair, Trempealeau Co.
Blake, Thomas E. 1902 - 1994
Blanchard, Alvin 1830 - 1910
Blanchard, Town of, Lafayette Co.
Blanchardville [origin of place name]
Blanchardville, Lafayette Co.
Blanchardville, Village of, Lafayette Co.
Blanding [origin of place name]
Blaska, Jerome L. 1919 - 2000
Blatz, Valentin 1826 - 1894
Blenker, Wood Co.
Bleyer, Willard Grosvenor 1873 - 1935
Blind-punk (logging)
Bliss, Howard Festes 1844 - 1919
Blizzard of 1881
block (maritime)
Bloom City, Richland Co.
Bloom, Town of, Richland Co.
Bloomer Prairie, Town of, Chippewa Co.
Bloomer [origin of place name]
Bloomer, Chippewa Co.
Bloomer, Town of, Chippewa Co.
Bloomfield, Town of, Walworth Co.
Bloomfield, Town of, Waushara Co.
Blooming Grove [origin of place name]
Blooming Grove, Town of, Dane Co.
Bloomingdale, Town of, Winnebago Co.
Bloomingdale, Vernon Co.
Bloomington [origin of place name]
Bloomington, Grant Co.
Bloomington, Town of, Buffalo Co.
Bloomington, Town of, Grant Co.
Bloomington, Village of, Grant Co.
Bloomville, Lincoln Co.
Blowhard (Civil War)
Blue Mounds (geology)
Blue Mounds [origin of place name]
Blue Mounds, Dane Co.
Blue Mounds, Town of, Dane Co.
Blue Mounds, Town of, Iowa Co.
Blue Mounds, Village of, Dane Co.
Blue River, Election precinct of, Iowa Co.
Blue River, Grant Co.
Blue River, Grant Co.
Blue River, Town of, Grant Co.
Blue River, Village of, Grant Co.
Blueberry, Douglas Co.
Bluff Siding, Buffalo Co.
Bluff [origin of place name]
Bluffton, Marquette Co.
Bluffview, Sauk Co.
board feet (logging)
board foot (maritime)
boarding schools
Boardman, Charles Ruggles 1860 - 1950
Boardman, Maj. Frederick A. (1832-1863)
Boardman, St. Croix Co.
boatswain (maritime)
Boaz Mastodon (Historic Marker Erected 1995)
Boaz, Richland Co.
Boaz, Village of, Richland Co.
bobber (railroads)
bobstay (maritime)
Boche, Robert M. 1921
Bock, Peter E. 1948
Boeckmann, Vernon R. 1927
Boeppler, William 1863 - 1928
Bohners Lake, Racine Co.
Bohri (historical), Buffalo Co.
Bohunk (logging)
Boiler (logging)
boiler (railroads)
Boiling-up (logging)
Boilvin, Nicolas 1761 - 1827
Bois Brule River
Bolens, Harry Wilbur 1864 - 1944
Bolle, Dale J. 1923
Bolles, Stephen 1866 - 1941
Bolt (logging)
Bolt, Kewaunee Co.
Boltonville, Washington Co.
Bond Law (temperance)
Bond, Josiah 1819 - 1891
Bonduel [origin of place name]
Bonduel, Shawano Co.
Bonduel, Village of, Shawano Co.
Bone Lake, Town of, Polk Co.
Bong, Richard Ira 1920 - 1945
Bonita, Oconto Co.
Bonneval, Forest Co.
boom (logging)
boom (maritime)
Boom Bay [origin of place name]
Boomage (logging)
Boomer (logging)
Boot-jack (logging)
Booth, Charles Asa 1840 - 1913
Booth, Sherman Miller 1812 - 1904
booya (food)
Borcherdt, Frederick 1811 - 1877
Borden, James Benjamin 1869 - 1939
Borea, Douglas Co.
Borg, George M. (1934 - 1971)
Borth, Waushara Co.
Borup, Charles Williamwulff 1806 - 1859
Boscobel [origin of place name]
Boscobel, Grant Co.
Boscobel, Town of, Grant Co.
Bosshard, Otto 1876 - 1943
Bosstown, Richland Co.
bosun (maritime)
Bouchard, Charles J. 1911
Bouck, Gabriel 1828 - 1904
Boulder Junction, Town of, Vilas Co.
Boulder Junction, Vilas Co.
bourgeois (Fr.)
Bovay, Alvan E[arl] 1818 - 1903
Bovee, Marvin Henry 1827 - 1888
Bovina, Town of, Outagamie Co.
bow (maritime)
Bowers, Walworth Co.
Bowler, Shawano Co.
Bowler, Village of, Shawano Co.
Bowman, Francis Favill 1872 - 1952
bowsprit (maritime)
boxcar (railroads)
Boyceville, Dunn Co.
Boyceville, Village of, Dunn Co.
Boyd, Belle, 1844 - 1900
Boyd, Charles Samuel 1871 - 1952
Boyd, Chippewa Co.
Boyd, Village of, Chippewa Co.
Boydtown, Crawford Co.
Boyhood Home of Jeremiah Curtin (1835-1906) (Histo
Boyle, Frank 1945
Boylston Junction, Douglas Co.
Boylston, Douglas Co.
Brackett, Eau Claire Co.
Bracklin, James 1839 - 1900
Bracy [origin of place name]
Braddock, Edward, 1695?-1755.
Bradford, Mary Davison 1856 - 1943
Bradford, Town of, Portage Co.
Bradford, Town of, Rock Co.
Bradley, Ann Walsh 1950
Bradley, Charles Trueworth 1818 - 1893
Bradley, Gordon R. 1921
Bradley, Lincoln Co.
Bradley, Lucas 1809 - 1889
Bradley, Lynde 1878 - 1942
Bradley, Marathon Co.
Bradley, Town of, Lincoln Co.
Bradley, William Cyrus 1858 - 1924
Bradley, William Henry 1838 - 1902
Bragg, Edward S. (1827-1912)(Historic Marker Erect
Bragg, Gen. Edward Stuyvesant (1827-1912)
brain drain
brakeman (railroads)
Brancel, Ben 1950
branch line (railroads)
Branch, Manitowoc Co.
Brand, Sebastian 1830 - 1908
Brandel, John Christian (1842 - 1919)
Brandel, Mary Margaret (1907 - 1993)
Brandemuehl, David A. 1931
Brandenburg, Oscar Dalzelle 1858 - 1930
Brandon [origin of place name]
Brandon, Fond du Lac Co.
Brandon, Town of, Calumet Co.
Brandon, Village of, Fond du Lac Co.
Brannan, Town of, Price Co.
Brannon, Melvin Amos 1865 - 1950
Branstad [origin of place name]
Branstad, Burnett Co.
Brant, Calumet Co.
Brantwood, Price Co.
bratwurst
Braun, Warren D. 1934
Bravo, Ellen Leslie b. March 25th, 1944
Brayton, Aaron Martin 1872 - 1949
Brazeau, Town of, Oconto Co.
Break out (logging)
breastworks (Civil War)
Breck, James Lloyd 1818 - 1876
breeches buoy (maritime)
Breed, Oconto Co.
Breed, Town of, Oconto Co.
Breese, Llywelyn 1833 - 1922
Brennan, James J. 1926
Brentwood, Battle of
Bresette, Walter 1947 - 1999
Breske, Roger M. 1938
brevet (Civil War)
breviary
Brevoort, Maj. Henry B.
Brewer, Richard M. (1850-1878)(Historic Marker Ere
brewing industry in Wisconsin
Briarton, Shawano Co.
Brice Prairie, La Crosse Co.
brick (architecture)
Brickner, George H. 1834 - 1904
bridge (maritime)
Bridge Creek, Town of, Eau Claire Co.
Bridge War (Milwaukee)
Bridgeport, Crawford Co.
Bridgeport, Town of, Crawford Co.
bridges in Wisconsin
Brier, Warren Judson 1850 - 1928
brigade
Brigadier General (Civil War)
brigantine
Briggs, Clare A. (1875-1930)(Historic Marker Erect
Briggs, Jason W. 1821 - 1899
Briggsville [origin of place name]
Briggsville, Marquette Co.
Brigham Park (Historic Marker Erected 1955)
Brigham, Ebenezer 1789 - 1861
Brigham, Jerome Ripley 1825 - 1897
Brigham, Town of, Iowa Co.
Bright, Clark Co.
Brighton Beach, Winnebago Co.
Brighton [origin of place name]
Brighton, Kenosha Co.
Brighton, Town of, Kenosha Co.
Brighton, Town of, Marathon Co.
Brighton, Town of, Winnebago Co.
Brill, Barron Co.
Brillion, Calumet Co.
Brillion, Town of, Calumet Co.
brindle (farming)
Brinton, Beulah (nee Tobey) 1836 - 1928
Brisay de Denonville, Jacques-René, Marquis de Den
Brisbois, Michael [Michel] 1760 - 1837
Brist, Steven C. 1954
Bristol [origin of place name]
Bristol [origin of place name]
Bristol, Kenosha Co.
Bristol, Town of, Dane Co.
Bristol, Town of, Jackson Co.
Bristol, Town of, Kenosha Co.
British Hollow, Grant Co.
Britt, Oren E. 1826 - 1901
Brittingham, Thomas Evans 1860 - 1924
broad gauge (railroads)
Broad-ax (logging)
Broadfoot, Grover L. 1892
Brockhausen, Frederick Carl Jr. 1858 - 1929
Brockville, Town of, St. Croix Co.
Brockway, Jackson Co.
Brockway, Town of, Jackson Co.
Brodhead [origin of place name]
Brodhead, Edward Hallock 1809 - 1890
Brodhead, Green Co.
Brodtville, Grant Co.
Broederville [origin of place name]
Broek, Theodore [Theodorus] van den, 1783-1851
Brokaw, Marathon Co.
Brokaw, Village of, Marathon Co.
Broken Gun (channel)
Brookes, Samuel Marsden 1816 - 1892
Brookfield [brief history]
Brookfield, Town of, Waukesha Co.
Brookfield, Waukesha Co.
Brooklyn [origin of place name]
Brooklyn, Green Co.
Brooklyn, Town of, Green Co.
Brooklyn, Town of, Green Lake Co.
Brooklyn, Town of, Jackson Co.
Brooklyn, Town of, Sauk Co.
Brooklyn, Town of, Washburn Co.
Brooklyn, Village of, Green Co.
Brookmire, Emma F. 1893 - 1944
Brooks, Adams Co.
Brooks, Peter Anthony 1893 - 1948
Brookside, Adams Co.
Brookside, Oconto Co.
Brothertown Indians
Brothertown [origin of place name]
Brothertown, Calumet Co.
Brothertown, Town of, Calumet Co.
Broughton, Charles Elmer 1873 - 1956
Brown County [origin of place name]
Brown Deer, Milwaukee Co.
Brown Deer, Village of, Milwaukee Co.
Brown v. Board of Education (1954)
Brown [Willis], Olympia 1835 - 1926
Brown, Beriah 1815 - 1900
Brown, Charles E. (Charles Edward), 1872-1946.
Brown, Edward Dexter 1824 - 1898
Brown, Emma, 1827-1889
Brown, James Sproat 1824 - 1878
Brown, John Henryhobart 1831 - 1888
Brown, Manny S. 1917
Brown, Neal 1856 - 1917
Brown, Olympia, 1835-1926
Brown, Ron 1946
Brown, Thurlow Weed 1819 - 1866
Brown, Timothy 1889
Browne, Edward L. 1830 - 1925
Browne, Thomas H. 1920
Brownell, Joseph Daniel 1880 - 1949
Browning Ruling (1896)
Browning, Town of, Taylor Co.
Browns Lake, Racine Co.
Brownsville, Dodge Co.
Brownsville, Town of, Adams Co.
Brownsville, Village of, Dodge Co.
Browntown [origin of place name]
Browntown, Green Co.
Browntown, Village of, Green Co.
Brownville, Chippewa Co.
Broydrick, William B. 1948
Bruce, Rusk Co.
Bruce, Village of, Rusk Co.
Bruce, William George 1856 - 1949
Bruemmerville, Kewaunee Co.
Bruhy, Bill B. 1916
Brule River (Historic Marker Erected 1962)
Brule River (Historic Marker Erected 1962)
Brule River (northeastern Wisconsin)
Brule [origin of place name]
Brule, Douglas Co.
Brule, Etienne, 1592?-1632
Brule, Town of, Douglas Co.
Brule-St. Croix Portage (Historic Marker Erected 1
Brule-St. Croix Portage (Historic Marker Erected 1
Brule-St. Croix Waterway (Historic Marker Erected
Brumder, George 1839 - 1910
Bruncken, Ernest 1865 - 1933
Brunet, Jean 1791 - 1877
Brunson, Alfred 1793 - 1882
Brunswick, Town of, Eau Claire Co.
Brush a road (logging)
Brush-snow-fence (logging)
Brushville, Waushara Co.
Brussels, Door Co.
Brussels, Town of, Door Co.
Bryant, Edwin Eustace 1835 - 1903
Bryant, George Edwin 1832 - 1907
Bryant, Langlade Co.
Buade de Frontenac et de Pallau, Louis de, Comte d
Bubble-cuffer (logging)
bubbler
Bubolz, Gordon A. 1905 - 1990
Buchanan, Town of, La Crosse Co.
Buchanan, Town of, Manitowoc Co.
Buchanan, Town of, Outagamie Co.
Buchli, Milton S. 1910
Buck Creek, Richland Co.
Buck, James Smith 1812 - 1892
Buck, Philo Melvin Jr. 1877 - 1950
Buckbee, Waupaca Co.
Buckhorn Corner, Dodge Co.
Bucking-board (logging)
Buckley, James P. 1933
Buckman, Brown Co.
Buckner, Walker Sr. 1838 - 1901
Buckstaff, Florence Griswold [Mrs. George A.] 1866
Buckstaff, John Jr. 1823 - 1900
Bud, Vernon Co.
Budsin, Marquette Co.
Buell, Charles Edwin 1855 - 1938
Buena Park, Racine Co.
Buena Vista Artillery (Civil War military unit)
Buena Vista, Grant Co.
Buena Vista, Town of, Portage Co.
Buena Vista, Town of, Richland Co.
Buena Vista, Town of, St. Croix Co.
Buena Vista, Waukesha Co.
Buettner, Carol A. 1948
buff
Buffalo City [brief history]
Buffalo City, Buffalo Co.
Buffalo County [origin of place name]
Buffalo Lake, Marquette Co.
Buffalo Shore Estates, Marquette Co.
Buffalo, Town of, Buffalo Co.
Buffalo, Town of, Marquette Co.
Buffington, Byron A. 1852 - 1929
bulkhead (maritime)
Bull (logging)
Bull Falls, Town of, Marathon Co.
Bull Run, First Battle of
Bull Run, Second Battle of
Bull, Ole Borneman 1810 - 1880
Bull, Stephen 1822 - 1913
Bull-cook (logging)
Bull-of-the woods (logging)
Bull-skinner (logging)
Bultman, Glenn E. 1940
bulwark (maritime)
Bunching (logging)
Buncombe, Election precinct of, Lafayette Co.
Bundy, Lincoln Co.
bungalow (architecture)
Bungtown [origin of place name]
Bunk (logging)
bunker (maritime)
Bunker Hill, Richland Co.
Bunko (logging)
Bunn, Romanzo 1829 - 1909
Bunyan, Paul
Bunyan, Polk Co.
Burchard, George Washington 1835 - 1921
Burchard, Samuel Dickinson 1836 - 1901
Burgess Corners, Dane Co.
Burgess, Charles Frederick 1873 - 1945
Burke [origin of place name]
Burke, Brian B. 1958
Burke, Dane Co.
Burke, Michael Edmund 1863 - 1918
Burke, Timothy 1886 - 1926
Burke, Town of, Dane Co.
Burkhardt Station, St. Croix Co.
Burkhardt, St. Croix Co.
Burleson, Solomon Stevens 1833 - 1897
Burlington Nothern Ore Docks (Historic Marker Erec
Burlington Rifles (Civil War military unit)
Burlington [brief history]
Burlington [origin of place name]
Burlington, Racine Co.
Burlington, Town of, Kenosha Co.
Burlington, Town of, Racine Co.
Burmaster, Elizabeth 1954
Burnett county [origin of place name]
Burnett [origin of place name]
Burnett, Dodge Co.
Burnett, Thomas Pendleton 1800 - 1846
Burnett, Town of, Burnett Co.
Burnett, Town of, Dodge Co.
Burnham, George 1816 - 1889
Burnham, Guy Miles 1860 - 1939
Burnham, Jonathan Levi 1818 - 1891
Burns, La Crosse Co.
Burns, Timothy 1820 - 1853
Burns, Town of, La Crosse Co.
Burnside [origin of place name]
Burnside, Town of, Trempealeau Co.
Burnt District
Burr Oak, La Crosse Co.
Burrowes, Alexander J. 1853 - 1927
Burton Guards (Civil War military unit)
Burton [origin of place name]
Burton, Grant Co.
Busby, Allen J. 1900
Bush a road (logging)
Bush, the
bushel (maritime)
Bushnell, Allen Ralph 1833 - 1909
Buslett, Ole Amundsen 1855 - 1924
Buss's Corners, Dane Co.
Busseyville, Jefferson Co.
bustard
Butler, Henry Sigourney 1854 - 1938
Butler, James Davie 1815 - 1905
Butler, Town of, Clark Co.
Butler, Village of, Waukesha Co.
Butler, Waukesha Co.
Butman Corners, Trempealeau Co.
Butt (logging)
butte (Fr.)
Butte des Mortes, Town of, Winnebago Co.
Butte des Mortes, Town of, Winnebago Co.
Butte des Morts
Butte Des Morts (Historic Marker Erected 1955)
Butte des Morts Lake, Little [origin of place name
Butte des Morts, Lake [origin of place name]
Butte des Morts, Village, Winnebago Co.
butternut (Civil War)
Butternut [origin of place name]
Butternut, Ashland Co.
Butternut, Town of, Ashland Co.
Butternut, Village of, Ashland Co.
Button, Henry Harrison 1818 - 1890
By-the-piece (logging)
Byers, Mark Rhea 1892 - 1950
Byrds Creek, Richland Co.
Byrnes, John W. 1913
Byron, Fond du Lac Co.
Byron, Town of, Fond du Lac Co.
Byron, Town of, Monroe Co.
cabin (maritime)
Cable, Bayfield Co.
Cable, Town of, Bayfield Co.
caboose (railroads)
cache (Fr.)
Caddie Woodlawn (Historic Marker Erected 1970)
Cadiz, Town of, Green Co.
Cadle, Richard Fish 1796 - 1857
Cadott [origin of place name]
Cadott, Chippewa Co.
Cadott, Village of, Chippewa Co.
Cadotte, Michel 1764 - 1837
Cady, Town of, St. Croix Co.
Cahokia
Cahokias
Cahoon Mine [origin of place name]
Cainsville [origin of place name]
Cainville, Rock Co.
Calamine, Lafayette Co.
Calamus, Town of, Dodge Co.
calcareous rocks (mining)
Caldwell Prairie [origin of place name]
Caldwell, Racine Co.
Caledonia [origin of place name]
Caledonia, Racine Co.
Caledonia, Town of, Columbia Co.
Caledonia, Town of, Racine Co.
Caledonia, Town of, Trempealeau Co.
Caledonia, Town of, Waupaca Co.
Calhoun, Waukesha Co.
Caliminee, Election precinct of, Green Co.
Calking-iron (logging)
Calks (logging)
Callahan, John 1865 - 1956
Callon, Marathon Co.
Callow, William G. 1921
calumet
Calumet and Manitowoc Invincibles (Civil War milit
Calumet County [origin of place name]
Calumet Harbor, Fond du Lac Co.
Calumet, Town of, Fond du Lac Co.
Calumetville, Fond du Lac Co.
Calvary, Fond du Lac Co.
Calvert, La Crosse Co.
Calvert, Walter B. 1904
camber (maritime)
Cambria [origin of place name]
Cambria, Columbia Co.
Cambria, Village of, Columbia Co.
Cambridge [origin of place name]
Cambridge, Jefferson Co.
Cambridge, Village of, Jefferson Co.
Cameron, Angus 1826 - 1897
Cameron, Barron Co.
Cameron, Howard W. 1915
Cameron, Town of, Wood Co.
Cameron, Village of, Barron Co.
Camp Douglas (military installation).
Camp Douglas, Juneau Co.
Camp Douglas, Village of, Juneau Co.
Camp Harvey (Historic Marker Erected 1992)
Camp Lake, Kenosha Co.
Camp Randall
Camp Randall (Historic Marker Erected 1961)
Camp Scott
Camp Utley
Camp Whitcomb, Waukesha Co.
Camp Williams (military installation)
Camp, Hoel Hinman 1822 - 1909
Camp-inspector (logging)
Camp-robber (logging)
Campbell, Henry Colin 1862 - 1923
Campbell, James 1814 - 1883
Campbell, Town of, La Crosse Co.
Campbell, William James 1871 - 1956
Campbellsport, Fond du Lac Co.
Campbellsport, Village of, Fond du Lac Co.
Campia, Barron Co.
canals in Wisconsin
Candrian, Adolph 1850 - 1929
Cane, Arnold J. 1914
Cannon Stone (Historic Marker Erected 1979)
Cannon, Raymond Joseph 1894 - 1951
canot (Fr.)
cant (railroads)
cant frames (maritime)
Cant-dog (logging)
Canthook (logging)
Canton, Barron Co.
Canton, Town of, Buffalo Co.
capital punishment
Capital, Attempted Removal of.
Capitol collapse disaster (1883)
Capitol fire (1904)
Capitols (buildings) in Wisconsin
capstan (maritime)
Captain (Civil War)
Car-Ferry Service (Historic Marker Erected 1964)
Carbon, Town of, Washington Co.
Carcajou, Jefferson Co.
Carey, Eben James 1889 - 1947
Carey, Town of, Iron Co.
Cargill, William Wallace 1844 - 1909
Carhart, John W. 1834 - 1914
Carheil, Fr, Étienne de, 1633-1726
Carl Sandburg Hall (Historic Marker Erected 1975)
Carlsville, Door Co.
Carlton, Town of, Kewaunee Co.
Carmel, Waupaca Co.
Carnegie, Douglas Co.
Carnot, Door Co.
Carol Beach, Kenosha Co.
Caroline, Shawano Co.
Caron, or Carron
Carpenter, Matthew Hale [B. "Carpenter","Decatur M
Carpenter, Stephen Decatur 1821 - 1906
Carpenter, Tim
Carpenter, Town of, Langlade Co.
Carr Creek [origin of place name]
Carr Valley [origin of place name]
Carr, Ezra Slocum 1819 - 1894
Carr, Peter P.
Carramana [origin of place name]
Carriage (Civil War)
carriage and wagon industry in Wisconsin
Carroll College (Historic Marker Erected 1972)
Carrollville, Milwaukee Co.
Carron, Thomas 1752 - 1817
Carson, Town of, Portage Co.
Carter, Forest Co.
Carter, Homer Wright 1847 - 1933
Carter, Iron Co.
Carter, William Edward 1833 - 1905
Cartwright [origin of place name]
Cartwright's Mills [origin of place name]
Carver Grant
Carver, Jonathan 1710 - 1780
Cary, Charles Preston 1856 - 1943
Cary, John Watson 1817 - 1895
Cary, Town of, Wood Co.
Cary, William Joseph 1865 - 1934
Caryville, Dunn Co.
Cascade [origin of place name]
Cascade, Sheboygan Co.
Cascade, Village of, Sheboygan Co.
Casco Junction, Kewaunee Co.
Casco, Kewaunee Co.
Casco, Town of, Kewaunee Co.
Casco, Village of, Kewaunee Co.
Case, Jerome Increase 1819 - 1891
caseous (farming)
Casey, Town of, Washburn Co.
Cashman, Town of, Forest Co.
Cashton [origin of place name]
Cashton, Monroe Co.
Cashton, Village of, Monroe Co.
Casimir, Portage Co.
Caspar Partridge case, 1850-1855
Cass, Lewis, 1782-1866.
casse-tete (Fr.)
Cassel, Town of, Marathon Co.
Cassell Prairie [origin of place name]
Cassell [origin of place name]
Cassell, Iowa Co.
Cassian, Town of, Oneida Co.
cassock
Cassoday, John B. 1830 - 1907
Cassville [origin of place name]
Cassville, Grant Co.
Cassville, Town of, Grant Co.
Cassville, Village of, Grant Co.
Castle Rock (Historic Marker Erected 1967)
Castle Rock [origin of place name]
Castle Rock, Town of, Grant Co.
Castleman, Alfred Lewis 1808 - 1877
castor (Fr.)
Caswell, Lucien Bonaparte 1827 - 1919
Caswell, Town of, Forest Co.
Catamaran (logging)
Cataract, Monroe Co.
Cataract, Town of, Jackson Co.
Catarakouy, Fort
Catawba, Price Co.
Catawba, Town of, Price Co.
Catawba, Village of, Price Co.
Cate, George Washington 1824 - 1905
Cates, Richard L. 1925
Catfish (historical), Dane Co.
Catfish River, Dane Co.
cathead (maritime)
Catholics in Wisconsin
Catlin Act
Catlin, George 1796 - 1872
Catlin, John 1803 - 1874
catlinite
Cato [origin of place name]
Cato, Manitowoc Co.
Cato, Town of, Manitowoc Co.
Catt, Carrie Chapman (1859-1947) (Historic Marker
cattle, wild
cavalry (Civil War)
Cavour, Forest Co.
Cavour, Town of, Forest Co.
Cayuga [origin of place name]
Cayuga, Ashland Co.
Cazenovia, Richland Co.
Cazenovia, Village of, Richland Co.
cdm links
Ceci, Louis J. 1927
Cecil, Shawano Co.
Cecil, Village of, Shawano Co.
Cedar Creek, Washington Co.
Cedar Falls, Dunn Co.
Cedar Grove [origin of place name]
Cedar Grove, Sheboygan Co.
Cedar Grove, Village of, Sheboygan Co.
Cedar Lake, Town of, Barron Co.
Cedar Lake, Washington Co.
Cedar Park, Racine Co.
Cedar Rapids, Town of, Rusk Co.
Cedar, Iron Co.
Cedarburg [brief history]
Cedarburg [origin of place name]
Cedarburg, Ozaukee Co.
Cedarburg, Town of, Ozaukee Co.
Cedarville, Marinette Co.
ceiling (maritime)
Celichowski, Bronislaus 1872 - 1951
cement industry in Wisconsin
Center Valley, Outagamie Co.
Center, Town of, Outagamie Co.
Center, Town of, Rock Co.
Center-jam (logging)
centerboard (maritime)
Centerville [origin of place name]
Centerville [origin of place name]
Centerville, Election precinct of, Grant Co.
Centerville, Grant Co.
Centerville, St. Croix Co.
Centerville, Town of, Manitowoc Co.
Centerville, Town of, Waupaca Co.
Centerville, Trempealeau Co.
Central-Verein
Centralia Pulp and Paper Mill (Historic Marker Ere
Centralia [origin of place name]
Centralia, Town of, Wood Co.
Centre, Town of, Lafayette Co.
centrifuga (maritime)
Centuria, Polk Co.
Centuria, Village of, Polk Co.
Ceramic Arts Studio of Madison (Historic Marker Er
Ceresco
Ceresco (Historic Marker Erected 1972)
Ceresco [origin of place name]
Ceresco, Town of, Fond du Lac Co.
Cha-wa-non, Menominee leader, died ca. 1826
Chadbourne, Paul Ansel 1823 - 1883
Chaffey, Douglas Co.
Chafin, Eugene Wilder 1852 - 1920
Chagouamikon
Chagouemig
chain locke (maritime)
chain plate (maritime)
Chamberlin, Thomas Chrowder 1843 - 1928
Chambers Island [origin of place name]
Chambers Island, Town of, Door Co.
Champion Hill, Battle of
Champion, Brown Co.
Champlain, Samuel de, 1567-1635.
Chancellorsville, Battle of
chandler (maritime)
Chaouanons
Chapel Ridge, Brown Co.
Chapelle, Dickey 1919 - 1965
Chapin, Aaron Lucius 1817 - 1892
Chapman, Chandler Burnell 1815 - 1877
Chapman, Chandler Pease 1844 - 1897
Chapman, Silas 1813 - 1899
Chapple, John Crockett 1876 - 1946
Chapultepee, Trempealeau Co.
charivari
Charlesburg, Calumet Co.
Charlestown, Town of, Calumet Co.
Charlevoix, Fr., Pierre François Xavier de, 1682-1
Charlie Bluff, Rock Co.
Charme, Crawford Co.
Charneski, James R. 1935
Charter Oak Mills (historical), Jackson Co.
Chase, Enoch 1809 - 1892
Chase, Oconto Co.
Chase, Town of, Oconto Co.
Chase, Town of, Trempealeau Co.
Chase, Warren 1813 - 1891
Chaseburg [origin of place name]
Chaseburg, Vernon Co.
Chaseburg, Village of, Vernon Co.
Chattanooga, Battle of
cheese
cheese in Wisconsin
cheesehead
cheesemaking in Wisconsin
Cheeseville, Washington Co.
Chelsea [origin of place name]
Chelsea, Taylor Co.
Chelsea, Town of, Taylor Co.
Chenequa, Village of, Waukesha Co.
Chenequa, Waukesha Co.
Chequamegon
Chequamegon Bay
Chequamegon [origin of place name]
Cherneyville, Kewaunee Co.
Cherokee [origin of place name]
Cherokee, Marathon Co.
Chester, Town of, Adams Co.
Chester, Town of, Dodge Co.
Chetek [brief history]
Chetek [origin of place name]
Chetek, Barron Co.
Chetek, Town of, Barron Co.
Cheveux Releves
Chicago Corners, Outagamie Co.
Chicago Junction, Washburn Co.
Chicago, Kenosha Co.
Chickadee (logging)
Chickamauga, Battle of
Chicog, Town of, Washburn Co.
Chief Lake, Sawyer Co.
Chief Waupaca (Historic Marker Erected 1957)
Chief Win-No-Shik, the Elder (Historic Marker Erec
child of the devil
Child's Station [origin of place name]
Chili, Clark Co.
Chili, Town of, Fond du Lac Co.
Chilsen, Walter J. 1923
Chilton [origin of place name]
Chilton, Calumet Co.
Chilton, Town of, Calumet Co.
Chimney Rock [origin of place name]
Chimney Rock, Town of, Trempealeau Co.
Chippewa City, Town of, Chippewa Co.
Chippewa County [origin of place name]
Chippewa Falls Mill, Election precinct of, Crawfor
Chippewa Falls [brief history]
Chippewa Falls, Chippewa Co.
Chippewa Falls, Town of, Chippewa Co.
Chippewa River
Chippewa River and Menomonie Railway (Historic Mar
Chippewa Valley White Pine (Historic Marker Erecte
Chippewa, Town of, Ashland Co.
Chippewa, Town of, Chippewa Co.
Chittamo [origin of place name]
Chittamo, Washburn Co.
Choate, Langlade Co.
Choate, Leander 1834 - 1909
chord (maritime)
Chore-boy (logging)
Christian Science in Wisconsin
Christiana [origin of place name]
Christiana [origin of place name]
Christiana, Town of, Dane Co.
Christiana, Town of, Vernon Co.
Christie, Clark Co.
Christilla Heights, Rock Co.
Christinos
Christmas tree ship
Christopherson, Jr., Frank W. 1927
Church of Jesus Christ of Latter Day Saints in Wis
Church of Jesus Christ of Latter-day Saints in Wis
Churchill, Frank Flanders 1865 - 1938
churning (dairy)
Chvala, Chuck 1954
Chynoweth, Edna Phillips, 1852-1950
Chynoweth, Herbert William 1848 - 1906
Chynoweth, Mary Hayes (1825-1905)
Cicero, Outagamie Co.
Cicero, Town of, Outagamie Co.
Cinagos
Circus World Museum
Cirilli, Arthur A. 1914
Citizens' Guard (Civil War)
City of Superior, Census district of, Dane Co.
City of the Four Lakes, Census district of, Dane C
City Point, Jackson Co.
City Point, Town of, Jackson Co.
City View Heights, Dane Co.
Civil Rights Movement in Wisconsin
Civil War, statistics and sources
Civil War, Wisconsin troops
Civil War: 1st Light Artillery
Civil War: 1st Infantry
Civil War: 2nd Infantry
Civil War: 3rd Infantry
Civil War: 4th Infantry
Civil War: 5th Infantry
Civil War: 6th Infantry
Civil War: 7th Infantry
Civil War: 8th Infantry
Civil War: 9th Infantry
Civil War: 10th Infantry
Civil War: 11th Infantry
Civil War: 12th Infantry
Civil War: 13th Infantry
Civil War: 14th Infantry
Civil War: 15th Infantry
Civil War: 16th Infantry
Civil War: 17th Infantry
Civil War: 18th Infantry
Civil War: 19th Infantry
Civil War: 1st Heavy Artillery
Civil War: 1st U.S. Sharpshooters, Co. G
Civil War: 20th Infantry
Civil War: 21st Infantry
Civil War: 22nd Infantry
Civil War: 23rd Infantry
Civil War: 24th Infantry
Civil War: 25th Infantry
Civil War: 26th Infantry
Civil War: 27th Infantry
Civil War: 28th Infantry
Civil War: 29th Infantry
Civil War: 29th Infantry, U.S. Colored Troops, Co
Civil War: 2nd Light Artillery
Civil War: 30th Infantry
Civil War: 31st Infantry
Civil War: 32nd Infantry
Civil War: 33rd Infantry
Civil War: 34th Infantry
Civil War: 35th Infantry
Civil War: 36th Infantry
Civil War: 37th Infantry
Civil War: 38th Infantry
Civil War: 39th Infantry
Civil War: 3rd Light Artillery
Civil War: 40th Infantry
Civil War: 41st Infantry
Civil War: 42nd Infantry
Civil War: 43rd Infantry
Civil War: 44th Infantry
Civil War: 45th Infantry
Civil War: 46th Infantry
Civil War: 47th Infantry
Civil War: 48th Infantry
Civil War: 49th Infantry
Civil War: 4th Light Artillery
Civil War: 50th Infantry
Civil War: 51st Infantry
Civil War: 52nd Infantry
Civil War: 53rd Infantry
Civil War: 5th Light Artillery
Civil War: 6th Light Artillery
Civil War: 7th Light Artillery
Civil War: 8th Light Artillery
Civil War: 9th Light Artillery
Civil War: 10th Light Artillery
Civil War: 11th Light Artillery
Civil War: 12th Light Artillery
Civil War: 13th Light Artillery
Civil War: 1st Cavalry
Civil War: 2nd Cavalry
Civil War: 3rd Cavalry
Civil War: 4th Cavalry
Civil War: African American troops
Civil War: Battle Flags
Civil War: Camp Holton (Historic Marker Erected 1
Civil War: draft riots (1862)
Civil War: home front
Civilian Conservation Corps (CCC) in Wisconsin
Clam Falls [origin of place name]
Clam Falls, Polk Co.
Clam Falls, Town of, Polk Co.
Clam Lake, Ashland Co.
clan
Clarenbach, David E. 1953
Clarence [origin of place name]
Clarence, Town of, Washington Co.
Clark [origin of place name]
Clark, Charles Benjamin 1844 - 1891
Clark, Clark Co.
Clark, John 1797 - 1854
Clark, Julius Taylor 1814 - 1908
Clark, Satterlee [Jr.?] 1816 - 1881
Clark, William Walter 1885
Clark, William, 1770-1838.
Clark-Halyard, Ardie 1896 - 1989
Clarke, Bascom B., 1851 - 1929
Clarks Mills, Manitowoc Co.
Clarks Point, Winnebago Co.
Clarkson, Town of, Dane Co.
Clarno [origin of place name]
Clarno, Green Co.
Clarno, Town of, Green Co.
Clary, Dexter 1798 - 1874
Classon, David Guy 1870 - 1930
Clausen, Claus Lauritz 1820 - 1892
Clausen, Frederick Harold 1875 - 1944
Clausing, Alice 1944
Clay Banks, Town of, Door Co.
Clayton, Polk Co.
Clayton, Town of, Crawford Co.
Clayton, Town of, Polk Co.
Clayton, Town of, Winnebago Co.
Clayton, Village of, Polk Co.
Clear Creek, Town of, Eau Claire Co.
Clear Creek, Town of, Eau Claire Co.
Clear Lake, Polk Co.
Clear Lake, Town of, Polk Co.
Clear Lake, Village of, Polk Co.
Clearfield, Town of, Juneau Co.
Clearwater
Clearwater Lake, Oneida Co.
Clearwater [origin of place name]
Clearwater, Town of, Chippewa Co.
Cleary, Michael Joseph 1876 - 1947
Cleghorn, Eau Claire Co.
Clemens, Harold W. 1918
Clement, Town of, Iron Co.
Clements, Sylvester G. 1936
clergy and chaplains (Civil War)
Clermont, Alexis 1808 - 1898
Cleveland [origin of place name]
Cleveland, Manitowoc Co.
Cleveland, Town of, Chippewa Co.
Cleveland, Town of, Jackson Co.
Cleveland, Town of, Langlade Co.
Cleveland, Town of, Marathon Co.
Cleveland, Town of, Taylor Co.
Cleveland, Village of, Manitowoc Co.
Clifford, Gerald Francis 1889 - 1952
Clifford, Lincoln Co.
Clifton, Dane Co. (obsolete)
Clifton, Monroe Co.
Clifton, Town of, Grant Co.
Clifton, Town of, Monroe Co.
Clifton, Town of, Pierce Co.
Clinton [origin of place name]
Clinton, Rock Co.
Clinton, Town of, Barron Co.
Clinton, Town of, Rock Co.
Clinton, Town of, Vernon Co.
Clinton, Village of, Rock Co.
Clintonville [origin of place name]
Clintonville, Waupaca Co.
clipper (maritime)
Clover, Manitowoc Co.
Clover, Town of, Bayfield Co.
Cloverdale, Juneau Co.
Cloverland, Douglas Co.
Cloverland, Town of, Douglas Co.
Cloverland, Town of, Vilas Co.
Clyde, Iowa Co.
Clyde, Kewaunee Co.
Clyde, Town of, Iowa Co.
Clyman Junction, Dodge Co.
Clyman [origin of place name]
Clyman, Dodge Co.
Clyman, Town of, Dodge Co.
Clyman, Village of, Dodge Co.
coaming (maritime)
Coat of Arms, Wisconsin's
Cobb Town, Waupaca Co.
Cobb, Amasa 1823 - 1905
Cobb, Iowa Co.
Cobb, Village of, Iowa Co.
Cobban, Chippewa Co.
cobblestone (architecture)
Coburn, Frank Potter 1858 - 1932
Cochran, Joseph William 1842 - 1914
Cochrane, Buffalo Co.
Cochrane, Village of, Buffalo Co.
Codding, Ichabod 1810 - 1866
Coddington, Portage Co.
Coe, Edwin Delos 1840 - 1909
cofering (mining)
Coffey, John L. 1922
Coggs, G. Spencer 1949
Coggs, Isaac N. 1920
Coggs, Marcia P. 1928
Colburn, Chippewa Co.
Colburn, Town of, Adams Co.
Colburn, Town of, Chippewa Co.
Colby [origin of place name]
Colby, Clark Co.
Colby, Gardner 1810 - 1879
Colby, Town of, Clark Co.
Cold Spring, Jefferson Co.
Cold Spring, Town of, Jefferson Co.
Cold Springs, La Crosse Co.
Cold Springs, Town of, Buffalo Co.
Cold Springs, Town of, St. Croix Co.
Cold War
Cole Historic District (Historic Marker Erected 19
Cole, Azel Dow 1818 - 1885
Cole, Harry Ellsworth 1861 - 1928
Cole, Leon Jacob 1877 - 1948
Cole, Orsamus 1819 - 1903
Coleman, Charles W.
Coleman, Marinette Co.
Coleman, Town of, Marinette Co.
Coleman, Village of, Marinette Co.
Coleman, William 1878 - 1933
Coleman, William Werner 1835 - 1888
Coles Bashford House (Historic Marker Erected 1975
Colfax [origin of place name]
Colfax, Dunn Co.
Colfax, Town of, Dunn Co.
Colfax, Village of, Dunn Co.
Colgate, Waukesha Co.
Collamer [origin of place name]
Collie, George Lucius 1857 - 1954
Collins, Manitowoc Co.
Collins, Robert A. 1924
Colman, Charles Lane 1826 - 1901
Colman, Henry Root 1800 - 1895
Colnik, Cyril 1871 - 1958
Coloma, Town of, Waushara Co.
Coloma, Village of, Waushara Co.
Coloma, Waushara Co.
Colon, Pedro 1968
Colonel (Civil War)
Colonial Revival (architecture)
colonialism
colter (farming)
Columbia County [origin of place name]
Columbia Rifles (Civil War)
Columbia, Clark Co.
Columbus, Columbia Co.
Columbus, Election precinct of, Portage Co.
Columbus, Town of, Columbia Co.
combination (maritime)
Combined Locks, Outagamie Co.
Combined Locks, Village of, Outagamie Co.
Come-and-get-it (logging)
Comfort, Dunn Co.
commercial fruit production
Commercial or Chicago Style (architecture)
commercial vegetable processing
commissioned officer (Civil War)
Commons, John Rogers 1862 - 1945
Commonwealth, Florence Co.
Commonwealth, Town of, Florence Co.
Como, Walworth Co.
Company (Civil War)
company (military)
Company man
Company of One Hundred.
Comrade (Civil War)
Comstock, Barron Co.
Comstock, George Cary 1855 - 1934
Concord, Jefferson Co.
Concord, Town of, Jefferson Co.
concrete (architecture)
conductor (railroads)
conglomerate, crag or puddingstone (mining)
Conkey, Theodore 1819 - 1880
Connor, William Duncan 1864 - 1944
Connorsville, Dunn Co.
Conover [origin of place name]
Conover, Town of, Vilas Co.
Conover, Vilas Co.
Conrad, William Harrison 1888 - 1951
Conradt, Ervin W. 1916
Conrath, Rusk Co.
Conrath, Village of, Rusk Co.
Conroe, Town of, Manitowoc Co.
conscript (Civil War)
conservation movement
consort (maritime)
Constitution of 1846
Constitution of 1848
Conta, Dennis J. 1940
contraband (Civil War)
Converseville [origin of place name]
Cook, Samuel Andrew 1849 - 1918
Cooks Valley, Town of, Chippewa Co.
Cooksville [origin of place name]
Cooksville, Rock Co.
Cooley, Robert Lawrence 1869 - 1944
Coolidge (historical), Price Co.
Coomer [origin of place name]
Coomer, Burnett Co.
Coon Rock, Iowa Co.
Coon Valley [origin of place name]
Coon Valley, Vernon Co.
Coon Valley, Village of, Vernon Co.
Coon, Frederick William 1850 - 1919
Coon, John Williams 1860 - 1934
Coon, Town of, Vernon Co.
Cooper, Henry Allen 1850 - 1931
Coopers Shores, Rock Co.
Cooperstown [origin of place name]
Cooperstown, Manitowoc Co.
Cooperstown, Town of, Manitowoc Co.
Coppens Corner, Brown Co.
Copper Creek [origin of place name]
Copperhead (Civil War)
Coral City [origin of place name]
Coral City, Trempealeau Co.
corbeau (Fr.)
Corby, Ellen 1913 - 1999
Corduroy road (logging)
core (mining)
Corinth, Marathon Co.
Corinth, Second Battle of
Corinth, Siege of
Corliss [origin of place name]
Cormier, Brown Co.
Cornelia, Grant Co.
Cornell [origin of place name]
Cornell, Chippewa Co.
Cornell, Robert J. 1919
Corner-post (survey)
Corning, Town of, Lincoln Co.
Cornish
Cornish in Wisconsin
Cornucopia, Bayfield Co.
Corporal (Civil War)
Corregidor
Cortland (historical), Trempealeau Co.
Corwin (historical), Richland Co.
Coryville, Town of, Kewaunee Co.
Cosgrove, Frank J. 1914
costeaning (mining)
Cothren, Montgomery Morrison 1819 - 1888
Cottage Grove [origin of place name]
Cottage Grove, Dane Co.
Cottage Grove, Town of, Dane Co.
Cottage Grove, Village of, Dane Co.
Cottage Inn, Lafayette Co.
Cottonville, Adams Co.
Couderay [origin of place name]
Couderay, Sawyer Co.
Couderay, Town of, Sawyer Co.
Couderay, Village of, Sawyer Co.
coulee (Fr.)
Coulee Country (HIstoric Marker Erected 1973)
Council Bay, La Crosse Co.
counties in Wisconsin
Country Life Movement
County Line, Oconto Co.
coupler (railroads)
coureurs de bois (Fr.)
court martials (Civil War)
Court Oreilles (Historic Marker Erected 1955)
Courtes Oreilles Lake [origin of place name]
Courtland, Town of, Columbia Co.
Cousin Jack
Cousins [origin of place name]
Coutume de Paris
Cover, Joseph Carmen 1819 - 1872
covered-dish meal (food)
covering board (maritime)
Cowie, Robert Somerville 1873 - 1951
Cowles, Robert L. 1950
Cozy Corner, Douglas Co.
Crabtree, James William 1864 - 1945
Craig, Alexander J. 1823 - 1870
Cramer, William Edward 1817 - 1905
Cramers Corners [origin of place name]
Cranberry Center, Town of, Juneau Co.
Cranberry Culture (Historic Marker Erected 1958)
cranberry industry in Wisconsin
Cranberry Lake, Jefferson Co.
Cranberry Lake, Price Co.
Cranberry Marsh, Sheboygan Co.
Crandall, George Humphrey 1869 - 1938
Crandon [brief history]
Crandon, Forest Co.
Crandon, Town of, Forest Co.
Crane, Frederika (1854-1930)
Cranmoor, Town of, Wood Co.
Cranmoor, Wood Co.
cravat
Crawford County
Crawford County [origin of place name]
Crawford Crossing, Sauk Co.
Crawford, George 1849 - 1927
Crawford, John S. 1923
Crawford, Samuel 1820 - 1861
Crawford, Thomas James 1952
Creager, Marvin H. 1882 - 1954
Cream - Brick Cottages (Historic Marker Erected 19
Cream Brick (Historic Marker Erected 1998)
Cream City
Cream, Buffalo Co.
Crelie, Joseph 1773 - 1866
Crescent Corner, Oneida Co.
Crescent, Chippewa Co.
Crescent, Town of, Oneida Co.
Crestview, Racine Co.
Crestview, Rock Co.
Creviere, John A. 1886 - 1964
Creviere, Marie Schmitt, 1924 - 2002
Creviere, Paul John, Sr. 1924 - 2008
Crex Meadows (Historic Marker Erected 1976)
Crib (logging)
Crib Disaster (Milwaukee)
Crib logs (logging)
Crivitz, Marinette Co.
Crivitz, Town of, Marinette Co.
Crivitz, Village of, Marinette Co.
Croatians in Wisconsin
Crocker, Hans 1815 - 1889
Crooked Lake, Waukesha Co.
Crooks, N. Patrick 1938
Crooks, Ramsay, 1787-1859
cross (mining)
cross bracing (maritime)
Cross Plains, Dane Co.
Cross Plains, Town of, Dane Co.
Cross Plains, Village of, Dane Co.
Cross, James B. 1819 - 1876
Cross, Town of, Buffalo Co.
Crowe, Mickey (1958 - )
Crown-fire (logging)
Crownhart, Charles Henry 1863 - 1930
Cruise (logging)
crummy (railroads)
crushing (mining)
Crystal Lake, Town of, Barron Co.
Crystal Lake, Town of, Marquette Co.
Crystal, Town of, Washburn Co.
Cuba City [origin of place name]
Cuba City, Grant Co.
Cubans in Wisconsin
Cudahy [brief history]
Cudahy [origin of place name]
Cudahy, John 1887 - 1943
Cudahy, Milwaukee Co.
Cudahy, Patrick 1849 - 1919
Cullen, David A. 1960
Cullen, Oconto Co.
culm (farming)
Cumberland, Barron Co.
Cumberland, Town of, Barron Co.
Cunningham, Thomas Jefferson 1852 - 1941
curd (farming)
curd separation (dairy)
curlew
Curley, Robert M. 1922
Curran, Kewaunee Co.
Curran, Town of, Jackson Co.
Currie, George R. 1900
Curry, John Steuart 1897 - 1946
Curtis, Alice B., 1866-1936
Curtiss, Clark Co.
Curtiss, Village of, Clark Co.
Cushing, Lt. Alonzo H. (1841-1863)
Cushing, Polk Co.
Custer, Portage Co.
Cut (logging)
Cut-away-dam (logging)
cut-over
Cutler, Gen. Lysander (1808-1866)
Cutler, Harry Henderson 1859 - 1933
Cutler, Juneau Co.
Cutler, Town of, Juneau Co.
cutover
Cutter, Douglas Co.
cutwater (maritime)
Cylon, St. Croix Co.
Cylon, Town of, St. Croix Co.
Cynagos
Cyrak, Mel J. 1936
Czarnezki, Joseph J. 1954
czarnina (food)
Czechs in Wisconsin
Czechville, Buffalo Co.
Czerwinski, Joseph C. 1944
Dablon (D'Ablon), Fr. Claude, 1619-1697.
Dacada, Sheboygan Co.
Dafoe, Willem 1955 -
Daggett, Samuel Slater 1812 - 1868
Dahl, Andreas Larsen, 1844-1923
Dahl, Ole Rasmussen, 1817 - 1882
Dahl, St. Croix Co.
Dahl, Theodor Halvorson 1845 - 1923
Dahle, Herman Bjorn 1855 - 1920
Dailey, Jr., Paul 1915
Dailey, Lt. Col. Dennis B. (1840-1898)
dairy industry in Wisconsin
Dairyland, Douglas Co.
Dairyland, Town of, Douglas Co.
Dakota, Town of, Waushara Co.
Dakota, Waushara Co.
Daland, William Clifton 1860 - 1921
Dale, Outagamie Co.
Dale, Town of, Outagamie Co.
Daleyville, Dane Co.
Dallas, Barron Co.
Dallas, Election precinct of, Iowa Co.
Dallas, Town of, Barron Co.
Dallas, Town of, Barron Co.
Dallas, Village of, Barron Co.
Dalton, Green Lake Co.
Daly, Tyne 1946 -
Damann, Theodore 1869 - 1946
Damon, Harold E. 1885
Dams on the Mississippi (Historic Marker Erected 1
Danbury, Burnett Co.
Dancy, Marathon Co.
Dandeneau, Marcel 1931
Dane County Guards (Civil War)
Dane County [origin of place name]
Dane, Dane Co.
Dane, Nathan, 1752-1835.
Dane, Town of, Dane Co.
Dane, Village of, Dane Co.
Danes in Wisconsin
Daniells, William Willard 1840 - 1912
Daniels, Edward 1828 - 1916
Daniels, Newell 1828 - 1904
Daniels, Town of, Burnett Co.
Danish Dairy Cooperative (Historic Marker Erected
Dankoler, Harry Edward 1863 - 1955
Danville, Dodge Co.
Darboy, Calumet Co.
Darien [origin of place name]
Darien, Town of, Walworth Co.
Darien, Village of, Walworth Co.
Darien, Walworth Co.
Darling, Alberta 1944
Darling, Mason C. 1801 - 1866
Darling, Town of, Oconto Co.
Darlington Light Infantry (Civil War military unit
Darlington [origin of place name]
Darlington, Lafayette Co.
Darlington, Town of, Lafayette Co.
Darms, John Martin George 1873 - 1946
Dartford [origin of place name]
Dartford, Election precinct of, Marquette Co.
Darwin (historical), Dane Co.
Davidson, James (1854-1922)(Historic Marker Erecte
Davidson, James Henry 1858 - 1918
Davidson, James O. 1854 - 1922
Davidson, John Nelson 1848 - 1945
Davidson, Thomas 1828 - 1895
Davidson, William Fuson ["Commodore"] 1825 - 1887
Davies, John Eugene 1839 - 1900
Davis, Glenn R. 1914 - 1988
Davis, J. Mac 1952
Davis, Jefferson (in Wisconsin)
Davis, John Jefferson 1852 - 1937
Dawes Act (1887)
Dawes, Col. Rufus R. (1838-1899)
Dawn Manor-Site of the Lost City of Newport (Histo
Day, Laurence J. 1913
Day, Roland B. 1919
Day, Town of, Marathon Co.
Daylight-in-the-swamp (logging)
Dayton [origin of place name]
Dayton, Green Co.
Dayton, Town of, Green Lake Co.
Dayton, Town of, Richland Co.
Dayton, Town of, St. Croix Co.
Dayton, Town of, Waupaca Co.
De Forest, Dane Co.
De Forest, Dane Co. [origin of place name]
De Forest, Village of, Dane Co.
De Groat, Col. Charles H. (1838-1904)
De Langlade (Historic Marker Erected 1955)
de Langlade, Charles
De Neveu Lake [origin of place name]
De Pere [brief history]
De Pere [origin of place name]
De Pere, Brown Co.
De Pere, Town of, Brown Co.
De Peyster, Arent Schuyler, 1736 - 1822
De Soto, Crawford Co.
De Soto, Village of, Crawford Co.
De Weerdt, Esther Hurley [Mrs. Ole N.] 1892 - 1953
Deacon-seat (logging)
Dead Lake [origin of place name]
dead man's handle (railroads)
Dead Man's Spring [origin of place name]
Dead-head (logging)
deadeye (maritime)
deadwood (maritime)
Dean House (Historic Marker Erected 1998)
Dean, Nathaniel (1817-1880) (Historic Marker Erect
Dean, Robert W. 1923
Deansville [origin of place name]
Deansville, Dane Co.
Dearholt, Hoyt E. 1879 - 1939
death penalty in Wisconsin
Death's Door
Decatur [origin of place name]
Decatur, Town of, Green Co.
deck (maritime)
Decker Corner, Ozaukee Co.
Decker, Ozaukee Co.
Decker, Russell S. 1953
deckhouse (maritime)
Decorah Beach, Winnebago Co.
Decorah family
Decorah Peak (Historic Marker Erected 1958)
Decorah, Old, 1746?-1836, Ho-Chunk chief
Decorah, One-Eyed, 1772?-1864, Ho-Chunk chief
Decorah, Spoon, 1730?-1816?, Ho-Chunk chief
Decorah, Waukon, 1780?-1868, Ho-Chunk chief
Dedham, Douglas Co.
Deer Creek, Town of, Outagamie Co.
Deer Creek, Town of, Taylor Co.
Deer Lake, Rock Co.
Deer Park, St. Croix Co.
Deer Park, Village of, St. Croix Co.
Deer, Ada, 1935 --
Deerbrook, Langlade Co.
Deerfield [origin of place name]
Deerfield, Dane Co.
Deerfield, Town of, Dane Co.
Deerfield, Town of, Pierce Co.
Deerfield, Town of, Waushara Co.
Deerfield, Village of, Dane Co.
Deering, A.A. 1888
deface (Civil War)
Deininger, David G. 1947
Deitz (Dietz), John F. 1861 - 1924
Dekorra, Columbia Co.
Dekorra, Election precinct of, Portage Co.
Dekorra, Town of, Columbia Co.
Dekoven, James 1831 - 1879
Delafield Fish Hatchery (Historic Marker Erected 1
Delafield [origin of place name]
Delafield, Town of, Waukesha Co.
Delafield, Waukesha Co.
Delavan Lake, Walworth Co.
Delavan [origin of place name]
Delavan's Circus Colony (Historic Marker Erected 1
Delavan's Historic Brick Street (Historic Marker E
Delavan, Town of, Walworth Co.
Delavan, Walworth Co.
Delbern Acres, Dodge Co.
Dell Creek [origin of place name]
Dell Prairie (historical), Adams Co.
Dell Prairie, Town of, Adams Co.
Dellona, Town of, Sauk Co.
dells
Dellton, Sauk Co.
Dellwood, Adams Co.
Dellwood, Sauk Co.
Delmar, Town of, Chippewa Co.
Delong, Delmar E. 1931
Delta, Bayfield Co.
Delta, Town of, Bayfield Co.
Delton [origin of place name]
Delton, Town of, Sauk Co.
Delwiche, Edmond Joseph 1874 - 1950
Democratic Party (in Wisconsin)
Dempsey, Chester E. 1896
Dempsey, Edward Joseph 1878 - 1956
Denmark (Historic Marker Erected 1998)
Denmark, Brown Co.
Denmark, Village of, Brown Co.
Denniston House (Historic Marker Erected 1969)
Densmore, James 1820 - 1889
Denzer [origin of place name]
Denzer, Sauk Co.
Depere
Depere Rifles (Civil War)
depth of hold (maritime)
Derenthal, Oderic Ignaz 1856 - 1934
Derleth, August W. (1909-1971)(Historic Marker Ere
Derleth, August, 1909 - 1971
Dernier ressort (Fr.)
Deronda [origin of place name]
Deronda, Polk Co.
derrick (maritime)
Des Moines River
Des Plaines River, Racine Co.
Desmond, Humphrey Joseph 1858 - 1932
Dessert, Joseph 1819 - 1910
Detroit Harbor, Door Co.
Detroit Island, Green Bay
Deuster, Peter Victor 1831 - 1904
Devil's Chimney
Devil's Lake, Sauk Co.
Devils Corner, Pepin Co.
Devitt, James C. 1929
Dewey Corners, Trempealeau Co.
Dewey's Corners [origin of place name]
Dewey, Douglas Co.
Dewey, Nelson 1813 - 1889
Dewey, Town of, Burnett Co.
Dewey, Town of, Portage Co.
Dewey, Town of, Rusk Co.
Dewhurst, Town of, Clark Co.
dewlap (farming)
Dexter, Fond du Lac Co.
Dexter, Town of, Wood Co.
Dexterville, Wood Co.
Dheinsville Settlement (Historic Marker Erected 19
Dheinsville, Washington Co.
Diamond Bluff, Pierce Co.
Diamond Bluff, Town of, Pierce Co.
Diamond Grove, Election precinct of, Iowa Co.
Diamond Grove, Grant Co.
Diamond Hill [origin of place name]
Dicke, Peter Henry 1822 - 1911
Dickeyville, Grant Co.
Dickeyville, Village of, Grant Co.
Dickson, Robert 1765 - 1823
Diefenbach Corners, Washington Co.
Dieterich, William Herbert 1897
Dietrichson, Johannes Wilhelm Christian 1815 - 188
Dietz, Carl [Petrius?] 1875 - 1957
Dietz, John F. 1861 - 1924
Dilly, Vernon Co.
Dilweg, Gary T. 1937
Dingee, William W. 1831 - 1919
Dionesopulos, Frank G. 1935
disasters in Wisconsin
discharge (Civil War)
Disciples of Christ in Wisconsin
Disco, Jackson Co.
disease and epidemics
Division (Civil War)
division (military)
Dixon Guard (Civil War)
Dixon, Luther Swift 1825 - 1891
Doar, William Thomas 1882 - 1952
Dobie, Barron Co.
Dobie, Douglas Co.
Dobyns, John P. 1944
Dodd, John Morris 1866 - 1950
Dodge Center [origin of place name]
Dodge County Guard (Civil War)
Dodge County [origin of place name]
Dodge's branch (stream)
Dodge's Grove and Fort Union (Historic Marker Erec
Dodge, Henry 1782 - 1867
Dodge, Joseph Thompson 1823 - 1904
Dodge, Joshua Eric 1854 - 1921
Dodge, Town of, Dodge Co.
Dodge, Town of, Trempealeau Co.
Dodge, Trempealeau Co.
Dodge, Trempealeau Co. [origin of place name]
Dodgeville Guards (Civil War)
Dodgeville [brief history]
Dodgeville [origin of place name]
Dodgeville, Iowa Co.
Dodgeville, Town of, Iowa Co.
Doe, Joseph Bodwell 1855 - 1925
Doer, Clifford E. 1920
Doerfler, Christian 1862 - 1934
Doering, Lincoln Co.
Dog (logging)
dog tent (Civil War)
Doll, William De Berge 1897 - 1945
dolphin striker (maritime)
Domschke, Bernard ["Domschcke","Bernhard"] 1827 -
Donald, John Sweet 1869 - 1934
Donald, Taylor Co.
Dongola [origin of place name]
donkey boiler (maritime)
donkey engine (maritime)
Donnelly, Davis A. 1927
Donoghue, Sheehan 1943
Donohue, Jerry Jr. 1885 - 1943
Doodle Book
Doolittle, James Rood 1815 - 1897
Dooney's Siding [origin of place name]
Door county [origin of place name]
Door Creek, Dane Co.
Doran [origin of place name]
Dorchester, Clark Co.
Dorchester, Village of, Clark Co.
Dorff, Eugene 1930
Dorman, Henry
Dorns Faro Springs Beach, Calumet Co.
Dorns Twilight Beach, Calumet Co.
Dorr, Clifford E. 1920
Doty's Island
Doty, James Duane 1799 - 1865
Doty, Town of, Oconto Co.
Dotyville, Fond du Lac Co.
Double-bitted-ax (logging)
Doud, Reuben G. 1830 - 1877
Doudna, Edgar George 1877 - 1948
Douglas Center, Marquette Co.
Douglas [origin of place name]
Douglas, Town of, Marquette Co.
Dousman [origin of place name]
Dousman, Hercules Louis 1800 - 1868
Dousman, John Barrickman 1807 - 1868
Dousman, Village of, Waukesha Co.
Dousman, Waukesha Co.
Dover, Iowa Co.
Dover, Price Co.
Dover, Town of, Buffalo Co.
Dover, Town of, Racine Co.
Dovre, Town of, Barron Co.
Dow riot (1967)
Downer, Jason 1813 - 1883
Downing, Dunn Co.
Downing, Village of, Dunn Co.
Downsville, Dunn Co.
Downtown Sheboygan Falls Historic District (Histor
Doyle, Jessica Laird, 1945-
Doyle, Jim 1945
Doyle, Town of, Barron Co.
Doylestown, Columbia Co.
Doylestown, Village of, Columbia Co.
Draheim, William A. 1898
Drammen, Town of, Eau Claire Co.
Draper Manuscripts
Draper, Lyman Copeland 1815 - 1891
Draper, Sawyer Co.
Draper, Town of, Sawyer Co.
Dray (logging)
Dray-day (logging)
Dray-road (logging)
Dream Dance
drench (farming)
dress parade (Civil War)
Dresser, Polk Co.
Dresser, Village of, Polk Co.
Dreyfus, Lee Sherman 1926-2008
drift (mining)
Driftless Area
drill (Civil War)
Drive (logging)
driving (mining)
Drovers Woods, Dane Co.
Druecker, Ozaukee Co.
Drumlins (Historic Marker Erected 1979)
Drummond [origin of place name]
Drummond's Island
Drummond, Bayfield Co.
Drummond, Town of, Bayfield Co.
Dry sloop (logging)
Drywood, Chippewa Co.
Drzewiecki, Gary F. 1954
Du Bay Trading Post (Historic Marker Erected 1962)
Dubay [Dube), John Baptiste 1810 - 1887
Dubay, Election precinct of, Portage Co.
Dubuque, Julien, 1762-1810
Ducharme, Dominique 1765 - 1853
Duck Creek, Brown Co.
Dudgeon, Matthew Simpson 1871 - 1949
Dudley, Lincoln Co.
due bill (logging)
Dueholm, Robert M. 1945
Duff, Marc C. 1961
Duffey, Thomas J. 1927
Duffle (logging)
Dugdale, Robert Iliff 1868 - 1956
Duggar, Benjamin Minge 1872 - 1956
Dugout (logging)
Duluth [Dulhut], Daniel Greysolon Sieur 1636 - 171
Dunbar, Marinette Co.
Dunbar, Town of, Marinette Co.
Dunbar, Town of, Marinette Co.
Dunbarton, Lafayette Co.
Dundas, Calumet Co.
Dundee, Fond du Lac Co.
Dunkirk, Dane Co.
Dunkirk, Town of, Dane Co.
Dunn County Pinery Rifles (Civil War)
Dunn [origin of place name]
Dunn, Charles 1799 - 1872
Dunn, Town of, Dane Co.
Dunn, Town of, Dunn Co.
Dunnville, Census district of, Dunn Co.
Dunnville, Dunn Co.
Duplainville, Waukesha Co.
Dupont, Town of, Waupaca Co.
Durand [origin of place name]
Durand, Pepin Co.
Durand, Town of, Pepin Co.
Duren, Joanne M. 1931
Durham boat (maritime)
Durham, Waukesha Co.
Durkee, Charles 1805 - 1870
Durward, Bernard Isaac 1817 - 1902
Durwards Glen, Columbia Co.
Dutch Corners, Lincoln Co.
Dutch Gap Canal, Kenosha Co.
Dutch in Wisconsin
Dutch Settlement (Historic Marker Erected 1956)
Dutton, Brother Joseph 1843 - 1931
Duvall, Kewaunee Co.
Duveneck, Manitowoc Co.
Dwinnell, Soloman Ashley 1812 - 1879
Dyckesville, Brown Co.
Dyers Burgh, Election precinct of, Columbia Co.
Dykstra, Clarence Addison 1883 - 1950
Eadsville, Clark Co.
Eagle Company; Eau Claire Badgers (Civil War)
Eagle Diamond
Eagle Island [origin of place name]
Eagle Lake Manor, Racine Co.
Eagle Lake Terrace, Racine Co.
Eagle Lake, Racine Co.
Eagle Mills, Town of, Buffalo Co.
Eagle Point, Chippewa Co.
Eagle Point, Town of, Chippewa Co.
Eagle Point, Town of, Portage Co.
Eagle Regiment (Civil War)
Eagle River [origin of place name]
Eagle River, Town of, Vilas Co.
Eagle River, Vilas Co.
Eagle Township [origin of place name]
Eagle [origin of place name]
Eagle, Town of, Richland Co.
Eagle, Town of, Sauk Co.
Eagle, Town of, Waukesha Co.
Eagle, Village of, Waukesha Co.
Eagle, Waukesha Co.
Eagleton, Chippewa Co.
Eagleville, Waukesha Co.
Earl, Anthony S. 1936
Earl, Washburn Co.
Earles, William Henry 1852 - 1908
Earling, Albert John 1848 - 1925
Early Dutch Settlers (Historic Marker Erected 1996
Early, Michael P. 1918
Earnest, James Harrison 1818 - 1900
Earth Day
Earth-maker
East Bristol, Dane Co.
East Delavan, Walworth Co.
East Eau Claire, Eau Claire Co.
East Ellsworth, Pierce Co.
East End, Douglas Co.
East Farmington, Polk Co.
East Friesland, Columbia Co.
East Krok, Kewaunee Co.
East Troy Railroad (Historic Marker Erected 1973)
East Troy, Town of, Walworth Co.
East Troy, Village of, Walworth Co.
East Troy, Walworth Co.
East Waupun, Dodge Co.
East Winona, Buffalo Co.
Easter Rock, Crawford Co.
Eastern Orthodox in Wisconsin
Eastman, Ben C. 1812 - 1856
Eastman, Crawford Co.
Eastman, George Burden 1811 - 1892
Eastman, Seth 1808 - 1875
Eastman, Town of, Crawford Co.
Eastman, Village of, Crawford Co.
Easton, Adams Co.
Easton, Town of, Adams Co.
Easton, Town of, Marathon Co.
Eaton [origin of place name]
Eaton, Edward Dwight 1851 - 1942
Eaton, Samuel Witt 1820 - 1905
Eaton, Town of, Brown Co.
Eaton, Town of, Clark Co.
Eaton, Town of, Manitowoc Co.
Eaton, Town of, Monroe Co.
Eau Claire County [origin of place name]
Eau Claire Rangers (Civil War)
Eau Claire [brief history]
Eau Claire [origin of place name]
Eau Claire, Eau Claire Co.
Eau Claire, Town of, Eau Claire Co.
Eau Claire, Town of, Marathon Co.
Eau Gallais River
Eau Galle, Dunn Co.
Eau Galle, Town of, Dunn Co.
Eau Galle, Town of, St. Croix Co.
Eau Pleine, Town of, Marathon Co.
Eau Pleine, Town of, Portage Co.
Ebenezer, Jefferson Co.
Eckers Lakeland, Calumet Co.
Economic Recovery Tax Act of 1981
ecu (Fr.)
Eden [origin of place name]
Eden, Fond du Lac Co.
Eden, Town of, Fond du Lac Co.
Eden, Town of, Iowa Co.
Eden, Town of, Jackson Co.
Eden, Village of, Fond du Lac Co.
Edgar Sawyer House (Historic Marker Erected 1997)
Edgar, Marathon Co.
Edgar, Village of, Marathon Co.
Edgerton Art Clay Works (1892-1899)
Edgerton Beach Park, Dane Co.
Edgerton Bible Case
Edgerton [origin of place name]
Edgerton, Benjamin Hyde 1811 - 1886
Edgerton, Elisha W. 1815 - 1904
Edgerton, Rock Co.
Edgewater Beach, Brown Co.
Edgewater, Sawyer Co.
Edgewater, Town of, Sawyer Co.
Edgewood, Waukesha Co.
Edmund, Iowa Co.
Edson, Chippewa Co.
Edson, Town of, Chippewa Co.
Edwards [origin of place name]
Edwards, Benjamin Eugene 1845 - 1916
Edwards, Ira 1893 - 1943
Edwardsville, Election precinct of, Grant Co.
effigy
Effigy Mound culture (archaeology)
Egg Harbor [origin of place name]
Egg Harbor, Door Co.
Egg Harbor, Town of, Door Co.
Egg Harbor, Village of, Door Co.
Egyptian revival (architecture)
Ehle, Ida Pope
Eidsvold, Clark Co.
Eielsen, Elling 1804 - 1883
Eight Corners, Wood Co.
Eikenberry, Jill 1947 -
Eileen, Town of, Bayfield Co.
Eisenstein, Town of, Price Co.
Ekdall [origin of place name]
Ekern, Herman Lewis 1872 - 1954
El Paso, Pierce Co.
El Paso, Town of, Pierce Co.
Ela, Richard Emerson 1812 - 1888
Eland [origin of place name]
Eland, Shawano Co.
Eland, Village of, Shawano Co.
Elba [origin of place name]
Elba, Town of, Dodge Co.
Elcho, Langlade Co.
Elcho, Town of, Langlade Co.
Elconin, Michael H. 1953
Elderon, Marathon Co.
Elderon, Town of, Marathon Co.
Elderon, Village of, Marathon Co.
Eldorado, Fond du Lac Co.
Eldorado, Town of, Fond du Lac Co.
Eldred, Anson 1820 - 1895
Eldredge, Charles Augustus 1820 - 1896
elections in Wisconsin
electrical power in Wisconsin
Eleva [origin of place name]
Eleva, Trempealeau Co.
Eleva, Village of, Trempealeau Co.
Elfers, Earl H. 1913
Elizabeth [origin of place name]
Elizabeth, Town of, St. Croix Co.
Elk Creek, Town of, Buffalo Co.
Elk Creek, Trempealeau Co.
Elk Grove [origin of place name]
Elk Grove, Lafayette Co.
Elk Grove, Town of, Lafayette Co.
Elk Mound, Dunn Co.
Elk Mound, Town of, Dunn Co.
Elk Mound, Village of, Dunn Co.
Elk, Town of, Price Co.
Elkhart Lake, Sheboygan Co.
Elkhart Lake, Village of, Sheboygan Co.
Elkhorn [origin of place name]
Elkhorn, Town of, Walworth Co.
Elkhorn, Walworth Co.
Ella, Pepin Co.
Ellenboro, Grant Co.
Ellenboro, Town of, Grant Co.
Ellington, Town of, Outagamie Co.
Ellis, Albert Gallatin 1800 - 1885
Ellis, Michael G. 1941
Ellis, Portage Co.
Ellison Bay [origin of place name]
Ellison Bay, Door Co.
Ellisville, Kewaunee Co.
Ellsworth, Lemuel 1836 - 1898
Ellsworth, Pierce Co.
Ellsworth, Town of, Pierce Co.
Ellsworth, Village of, Pierce Co.
Elm Grove, Village of, Waukesha Co.
Elm Grove, Waukesha Co.
Elm Tree Corners, Brown Co.
Elmhurst, Langlade Co.
Elmo, Grant Co.
Elmore, Fond du Lac Co.
Elmside, Dane Co.
Elmwood Park, Racine Co.
Elmwood Park, Village of, Racine Co.
Elmwood, Pierce Co.
Elmwood, Village of, Pierce Co.
Elo, Winnebago Co.
Elroy, Juneau Co.
Elroy-Sparta State Trail (Historic Marker Erected
Elroy-Sparta State Trail (Historic Marker Erected
Elton, Langlade Co.
Elton, Town of, Langlade Co.
Elvers, Dane Co.
Ely, Richard Theodore 1854 - 1943
Embarrass River
Embarrass [origin of place name]
Embarrass, Town of, Outagamie Co.
Embarrass, Town of, Waupaca Co.
Embarrass, Village of, Waupaca Co.
Embarrass, Waupaca Co.
Emerald Grove, Rock Co.
Emerald, St. Croix Co.
Emerald, Town of, St. Croix Co.
Emerson, Town of, Iron Co.
Emery, John Quincy 1843 - 1928
Emery, Town of, Price Co.
Emmerich, Marathon Co.
Emmet, Town of, Dodge Co.
Emmet, Town of, Marathon Co.
Emmett [origin of place name]
Empire, Town of, Fond du Lac Co.
Endeavor, Marquette Co.
Endeavor, Village of, Marquette Co.
Enderis, Dorothy 1880 - 1952
engage (Fr.)
Engeleiter, Susan Shannon 1952
Engelmann, Peter 1823 - 1874
engine bed (maritime)
Englewood, Columbia Co.
English immigrants in Wisconsin
English Prairie [origin of place name]
Enterprise, Oneida Co.
Enterprise, Town of, Oneida Co.
entrench (Civil War)
environmental movement
Ephraim, Door Co.
Ephraim, Village of, Door Co.
Episcopals in Wisconsin
Erdman [origin of place name]
Erdman, Sheboygan Co.
Erickson, Town of, Marathon Co.
Erin Corner, St. Croix Co.
Erin Prairie, Town of, St. Croix Co.
Erin, Town of, Washington Co.
Ernst, August Frederic 1841 - 1924
Erpenbach, Jon B. 1961
Erskine, Manessa Berthier 1819 - 1894
Esch, John Jacob 1861 - 1941
Eschikago
Eschweiler, Alexander Chadbourne 1865 - 1940
Eschweiler, Franz Chadbourne 1863 - 1929
Esdaile, Pierce Co.
Esofea, Vernon Co.
espalier (farming)
Essie, Patrick 1953
Estabrook, Charles Edward 1847 - 1918
Estabrook, Experience 1813 - 1894
Estella, Town of, Chippewa Co.
Esterly, George 1809 - 1893
Estonians in Wisconsin
Etherington, George, ca. 1722-1802.
Etna, Lafayette Co.
Ettrick [origin of place name]
Ettrick, Town of, Trempealeau Co.
Ettrick, Trempealeau Co.
Ettrick, Village of, Trempealeau Co.
Eureka Center, Polk Co.
Eureka, Town of, Polk Co.
Eureka, Winnebago Co.
Euren, Kewaunee Co.
European Theater
Evangelicals in Wisconsin
Evans, Curtis Alban 1879 - 1947
Evans, Evan Alfred 1876 - 1948
Evans, Joseph Spragg 1875 - 1948
Evansville [brief history]
Evansville [origin of place name]
Evansville, Rock Co.
Evanswood, Waupaca Co.
Everest, David Clark 1883 - 1955
Everett, Charles Horatio 1855 - 1947
Evergreen Park Cottage Sanatorium (Historic Marker
Evergreen, Marathon Co.
Evergreen, Town of, Langlade Co.
Evergreen, Town of, Washburn Co.
Everson, Harland E. 1917
Evinrude, Ole 1877 - 1934
Evjue, William T., 1882-1970
Ewing, Mark Clayton 1869 - 1922
Excelsior, Richland Co.
Excelsior, Town of, Sauk Co.
executions in Wisconsin
Exeland, Sawyer Co.
Exeland, Village of, Sawyer Co.
Exeter [origin of place name]
Exeter, Green Co.
Exeter, Green Co.
Exeter, Town of, Green Co.
Exile, Pierce Co.
explorers
express train (railroads)
eye stitcher
Faast, Benjamin F. 1884 - 1948
facing (railroads)
factor
factory system (fur trade)
Fair Play, Grant Co.
Fairbanks, Town of, Shawano Co.
Fairburn, Green Lake Co.
Fairchild, Col. Cassius (1829–1868)
Fairchild, Eau Claire Co.
Fairchild, Gov. Lucius (1831-1896)
Fairchild, Hiram Orlando 1845 - 1925
Fairchild, Jairus Cassius 1801 - 1862
Fairchild, Thomas E. 1912
Fairchild, Town of, Eau Claire Co.
Fairchild, Village of, Eau Claire Co.
Fairfield [origin of place name]
Fairfield, Rock Co.
Fairfield, Town of, Dodge Co.
Fairfield, Town of, Sauk Co.
Fairfield, Walworth Co.
Fairplay, Election precinct of, Grant Co.
Fairview Beach, Winnebago Co.
Fairview [origin of place name]
Fairview, Crawford Co.
Fairwater [origin of place name]
Fairwater, Fond du Lac Co.
Fairwater, Village of, Fond du Lac Co.
Falge, Louis 1861 - 1918
Falk, Franz Lorenz 1824 - 1882
Falk, Harold Sands 1883 - 1957
fall (maritime)
Fall Creek [origin of place name]
Fall Creek, Eau Claire Co.
Fall Creek, Town of, Eau Claire Co.
Fall Creek, Village of, Eau Claire Co.
Fall Hall Glen, Jackson Co.
Fall River, Columbia Co.
Fall River, Village of, Columbia Co.
Fallen Rocks, Wisconsin River
Fallen Timbers, Battle of
Falling Waters, Battle of
fallowing (farming)
Fallows, Samuel 1835 - 1922
Falls City, Dunn Co.
Falls of St. Anthony
Falls of St. Croix, Town of, St. Croix Co.
false front or boomtown (architecture)
Falun [origin of place name]
Falun, Burnett Co.
Fancher, Portage Co.
fantail (maritime)
Fantus Report
Fargo, Vernon Co.
farina (farming)
Farley, Chris 1964 - 1997
Farmers Valley, Monroe Co.
Farmers' Guards (Civil War)
Farmersville, Dodge Co.
Farmersville, Town of, Dane Co.
Farmington [origin of place name]
Farmington [origin of place name]
Farmington, Jefferson Co.
Farmington, Town of, Jefferson Co.
Farmington, Town of, La Crosse Co.
Farmington, Town of, Polk Co.
Farmington, Town of, Vilas Co.
Farmington, Town of, Washington Co.
Farmington, Town of, Waupaca Co.
Farnsworth, William 1796 - 1860
Farrar, Charles Samuel 1826 - 1903
Farrington, Edward Holyoke 1860 - 1934
Farrow, Margaret A. 1934
Farwell's Mill, Dane Co.
Farwell, Leonard James 1819 - 1889
Farwell, Town of, Vernon Co.
Fassett, Norman Carter 1900 - 1954
fastening (maritime)
Father Caspar Rehrl (Historic Marker Erected 1991)
Father Samuel Mazzuchelli (Historic Marker Erected
Father Solanus Casey (1870 - 1957)
fathom
fattigmanns bakkels (food)
Favill, Stephen 1823 - 1906
Faville, John 1847 - 1927
Favre, Brett Lorenzo, 1969 -
Fayette, Lafayette Co.
Fayette, Town of, Lafayette Co.
federal (architecture)
Federal Guards (Civil War)
feed crops
Feinberg, Milton
Feingold, Russell D. 1953
Felder, Emma 1927 - 2008
feldspar (mining)
Fellows (historical), Rock Co.
Fence, Florence Co.
Fence, Town of, Florence Co.
Fender-boom (logging)
Fenenga, Melmon Jacob 1858 - 1933
Fennimore [origin of place name]
Fennimore, Grant Co.
Fennimore, Town of, Grant Co.
Fenwood, Marathon Co.
Fenwood, Village of, Marathon Co.
Ferber, Edna, 1885-1968
Fergus, Scott C. 1955
fermented milk (dairy)
Fern, Florence Co.
Fern, Town of, Florence Co.
Ferrall, R. Michael 1936
Ferry, George Bowman 1851 - 1918
Ferryville [origin of place name]
Ferryville, Crawford Co.
Ferryville, Village of, Crawford Co.
fetch (maritime)
fetlock (farming)
fettle, fettling (railroads)
Fever River [origin of place name]
Fever River, Town of, Iowa Co.
Fiedler, Otho August 1873 - 1948
Fields, Daniel B. 1952
fieldstone (architecture)
Fifield [origin of place name]
Fifield, Price Co.
Fifield, Samuel S. 1839 - 1915
Fifield, Town of, Price Co.
Fillmore, John Comfort 1843 - 1898
Fillmore, Washington Co.
Finagle (Civil War)
Finch, Asahel Jr. 1809 - 1883
Finch, Town of, Jefferson Co.
Fink, Albert 1867 - 1950
Finley, Juneau Co.
Finley, Town of, Juneau Co.
Finney, Frederick Norton 1832 - 1916
Finns in Wisconsin
Fire Nation
firebox (railroads)
fireman (railroads)
fires in Wisconsin
First African American Church Built in Wisconsin (
First Capitol
First Church of Christ Scientist (Historic Marker
First Electric Street Railway (Historic Marker Ere
First Forest Patrol Flight (Historic Marker Erecte
First Kindergarten (Historic Marker Erected 1957)
First Lake, Census district of, Dane Co.
First Milwaukee Cargo Pier (Historic Marker Erecte
first rate (Civil War)
First Rural Zoning Ordinance (Historic Marker Erec
first school in Wisconsin
First State Fair, October 1-2, 1851 (Historic Mark
First State Normal School (Historic Marker Erected
First Swedish Settlers in Wisconsin (Historic Mark
First Teachers' Training School in Wisconsin (Hist
First Ward, Calumet Co.
First [sic] Workers' Compensation Law (Historic M
firsts
Fischer, Daniel 1952
Fish (logging)
fish boil (food)
Fish Creek [origin of place name]
Fish Creek, Door Co.
fish fry (food)
Fish Trap, Town of, Sawyer Co.
Fish, Carl Russell 1876 - 1932
Fish, Irving Andrews 1881 - 1948
Fish, Ody J., 1925 --
Fisherville, Manitowoc Co.
fishing industry in Wisconsin
Fisk, Theodore 1859 -
Fisk, Winnebago Co.
Fitch, Charles W. 1819 - 1899
Fitch, Grant 1859 - 1940
Fitchberg, Town of, Dane Co.
Fitchburg, Dane Co.
fittings (maritime)
Fitzgerald, Jeff 1966
Fitzgerald, Scott L. 1963
Fitzgerald, Winnebago Co.
Five Corners, Outagamie Co.
Five Corners, Shawano Co.
Five Nations Confederacy
Five Points, Dane Co.
Five Points, Grant Co.
Five Points, Richland Co.
Flambeau, Town of, Price Co.
Flambeau, Town of, Rusk Co.
Flambeau, Town of, Vilas Co.
flank (farming)
Flannigan, Allen J. 1909
flatcar (railroads)
Flemish Bastard
Flieth, Town of, Marathon Co.
Flintrop, Richard A. 1945
Flintville [origin of place name]
Flintville, Brown Co.
flitch (farming)
flocculent (farming)
floods in Wisconsin
flookan (mining)
Flora Fountain, Grant Co.
Flora [origin of place name]
Flora, Town of, Sauk Co.
Florence County [origin of place name]
Florence [origin of place name]
Florence, Florence Co.
Florence, Town of, Florence Co.
fluke (maritime)
Flume (logging)
fluted (archaeology)
flying junction (railroads)
Flynn, Gerald T. 1910
Flynn, James T. 1944
Fogo, William Montgomery 1841 - 1903
folle avoine (Fr.)
Folle Avoines, Fol Avoine, Folle Avoine
following (maritime)
Folsom culture (archaeology)
Folsom, Vernon Co.
Fond du Lac Badgers (Civil War)
Fond du Lac County [origin of place name]
Fond du Lac [brief history]
Fond du Lac [origin of place name]
Fond du Lac, Fond du Lac Co.
Fond du Lac, Town of, Fond du Lac Co.
Fond du Lac, Village of, La Pointe Co.
Fontana, Walworth Co.
Fontana-on-Geneva Lake, Village of, Walworth Co.
Fontanne, Lynn 1887 - 1983
Fontenoy, Brown Co.
Footville [origin of place name]
Footville, Rock Co.
Footville, Village of, Rock Co.
forage (Civil War)
Ford, Town of, Taylor Co.
Ford, Winifred 1876 - 1957
Fordham (historical), Adams Co.
fore (maritime)
forecastle (maritime)
Forest County [origin of place name]
forest fires in Wisconsin
Forest Glen Beach, Green Lake Co.
Forest Junction, Calumet Co.
forest products
Forest Restoration - The Beginning (Historic Marke
Forest Union Rifles (Civil War)
Forest [origin of place name]
Forest, St. Croix Co.
Forest, Town of, Fond du Lac Co.
Forest, Town of, Richland Co.
Forest, Town of, St. Croix Co.
Forest, Town of, Vernon Co.
Forestville, Door Co.
Forestville, Town of, Door Co.
Forestville, Village of, Door Co.
Forsyth, Thomas, 1771-1833.
Forsyth, Town of, Green Lake Co.
Fort Armstrong
Fort Atkinson [brief history]
Fort Atkinson [origin of place name]
Fort Atkinson, Jefferson Co.
Fort Blue Mounds
Fort Catarokouy
Fort Crawford
Fort Crevecoeur
Fort Dearborn
Fort Defiance (Historic Marker Erected 1995)
Fort Duquesne
Fort Edward Augustus
Fort Frontenac
Fort Hamilton
Fort Howard, Brown Co.
Fort Kaministiquia
Fort Koshkonong (Historic Marker Erected 1966)
Fort La Baye
Fort LeSueur
Fort Mackinac
Fort McCoy
Fort Miami
Fort Michilimackinac
Fort Orange
Fort Perrot
Fort Piankeshaw
Fort Pitt
Fort Shelby
Fort Snelling
Fort St. Antoine
Fort St. Croix
Fort St. Francois
Fort St. Joseph
Fort St. Louis
Fort St. Nicolas
Fort Wayne
Fort Winnebago
Fort Winnebago (Historic Marker Erected 1957)
Fort Winnebago, Town of, Columbia Co.
Fortis, Louis G. 1947
forts
forty (survey)
forty-eighters
forward (maritime)
Forward, Dane Co.
Foster Junction, Ashland Co.
Foster [origin of place name]
Foster's Ferry [origin of place name]
Foster, Carlton 1826 - 1901
Foster, Eau Claire Co.
Foster, Edward Augustus 1829 - 1902
Foster, Nathaniel Caldwell 1834 - 1923
Foster, Town of, Clark Co.
Foti, Steven M. 1958
Fountain City [origin of place name]
Fountain City, Buffalo Co.
Fountain prairie, Columbia Co.
Fountain Prairie, Town of, Columbia Co.
Fountain Valley, Waushara Co.
Fountain, Town of, Fond du Lac Co.
Fountain, Town of, Juneau Co.
Four Corners, Burnett Co.
Four Corners, Langlade Co.
Four Corners, Monroe Co.
Four Lakes
Four Lakes, City of the
Four Legs, Ho-Chunk chief, dates unverified
four-foot (railroads)
Four-Wheel Drive (Historic Marker Erected 1960)
Four-Wheel Drive Auto Company
Fourier, Charles, 1772-1837
Fourth Ward, Calumet Co.
Fowler, Chester Almeron 1862 - 1948
Fox and Wisconsin River Improvement Company
Fox Creek, Polk Co.
Fox Indians
Fox Lake (body of water), Dodge Co.
Fox Lake Junction, Dodge Co.
Fox Lake [origin of place name]
Fox Lake, Town of, Dodge Co.
Fox Lake, village, Dodge Co.
Fox Point [origin of place name]
Fox Point, Milwaukee Co.
Fox Point, Village of, Milwaukee Co.
Fox River (east-central Wisconsin)
Fox River (SE Wisconsin and NE Illinois)
Fox River Zouaves; North Wisconsin Tigers (Civil W
Fox River, Election precinct of, Marquette Co.
Fox River, Kenosha Co.
Fox Wars (ca. 1710-1740)
Fox, Albert Charles 1878 - 1934
Fox, Thomas P. 1946
Fox-Irish Cemetery (Historic Marker Erected 1997)
Foxboro, Douglas Co.
Foxhollow, Rock Co.
Foxmoor Hills, Dane Co.
Frackelton, Susan, 1848 - 1932
Frame, Andrew Jay 1844 - 1932
frames (maritime)
frametops (maritime)
Francis Creek [origin of place name]
Francis Creek, Manitowoc Co.
Francis Creek, Village of, Manitowoc Co.
Frank Holton Company
Frank, Glenn 1887 - 1940
Frank, Kurt A. 1945
Frank, Louis Frederick 1857 - 1918
Frank, Michael 1804 - 1894
Frankfort, Town of, Marathon Co.
Frankfort, Town of, Pepin Co.
Frankfurth, William 1829 - 1891
Franklin [brief history]
Franklin [origin of place name]
Franklin [origin of place name]
Franklin, Election precinct of, Iowa Co.
Franklin, Jackson Co.
Franklin, Milwaukee Co.
Franklin, Sheboygan Co.
Franklin, Town of, Jackson Co.
Franklin, Town of, Kewaunee Co.
Franklin, Town of, Manitowoc Co.
Franklin, Town of, Milwaukee Co.
Franklin, Town of, Sauk Co.
Franklin, Town of, Vernon Co.
Franks, Jacob 1760 - 1840
Franksville, Racine Co.
Franzen, Town of, Marathon Co.
Fraser, Thomas 1820 - 1893
Fratney, Frederick 1815 - 1855
Frazer Corners, Shawano Co.
Frear, James Archibald 1861 - 1939
Frederic, Polk Co.
Frederic, Village of, Polk Co.
Fredericksburg, Battle of
Frederickton, Town of, Kewaunee Co.
Fredonia, Ozaukee Co.
Fredonia, Town of, Ozaukee Co.
Fredonia, Village of, Ozaukee Co.
Free Soil Party
Freedom from Federal Supervision Act (1953)
Freedom [origin of place name]
Freedom, Outagamie Co.
Freedom, Town of, Forest Co.
Freedom, Town of, Outagamie Co.
Freedom, Town of, Sauk Co.
Freehoff, William Adolph 1889 - 1950
Freeman, Langlade Co.
Freeman, Town of, Crawford Co.
Freese, Stephen J. 1960
Freethinkers in Wisconsin
Freistadt, Ozaukee Co.
Fremont Guards (Civil War)
Fremont Rifles (Civil War)
Fremont, Town of, Clark Co.
Fremont, Town of, Waupaca Co.
Fremont, Village of, Waupaca Co.
Fremont, Waupaca Co.
French Creek [origin of place name]
French in Wisconsin
French Island, La Crosse Co.
French Town, Town of, Chippewa Co.
Frenchville, Trempealeau Co.
Frey, Frank Jacob 1859 - 1937
Freya [origin of place name]
Frick, William Keller 1850 - 1918
Friedman, Oliver Albert 1893 - 1957
Friend, Jacob Elias 1857 - 1912
Friendship, Adams Co.
Friendship, Town of, Fond du Lac Co.
Friendship, Village of, Adams Co.
Friesland, Columbia Co.
Friesland, Village of, Columbia Co.
Frisby, Leander Franklin 1825 - 1889
Friske, Donald 1961
Frisked (logging)
Fritschel, Herman Lawrence 1869 - 1957
Froehlich, Harold V. 1932
Frog (logging)
Frog Bay [origin of place name]
Frog Creek, Town of, Washburn Co.
Frost, William Dodge 1867 - 1957
Frostville, Oconto Co.
Fry, Rupert F. 1871 - 1935
Fugitive Slave Act
Fuller, Margaret, 1810-1850
Fuller, Oliver Clyde 1860 - 1942
Fullsavoines
Fulton, Rock Co.
Fulton, Town of, Rock Co.
fur farming
fur trade companies
furloughs (Civil War)
fusee (Fr.)
Fusseder, Francis 1825 - 1888
Fussville, Waukesha Co.
Fusée (Fr.)
futtock (maritime)
G.A.R.
Gaar, John 1887 - 1973
gable (architecture)
gad (mining)
Gaenslen, Frederick Julius 1877 - 1937
gaff (maritime)
gaff-topsail (maritime)
Gagen [origin of place name]
Gagen, Daniel 1835 - 1908
Gagen, Oneida Co.
Gagen, Town of, Langlade Co.
Gagen, Town of, Oneida Co.
Gagin, William P. 1916
gale (maritime)
Gale, George 1816 - 1868
Gale, Town of, Trempealeau Co.
Gale, Zona 1874 - 1938
Galena
galena (mining)
Galena Light Guard; LaCrosse Light Guard (Civil Wa
Galesville [origin of place name]
Galesville, Trempealeau Co.
galley (maritime)
Galli, G. Fred 1902
Galloway, Marathon Co.
Gallun, August Frederick 1834 - 1912
Galpin, Charles Josiah 1864 - 1947
gambrel roof (architecture)
gandy dancer (railroads)
Gandy-dancer (logging)
Ganfield, William Arthur 1873 - 1940
Gangway (logging)
Gard, John 1963
Garden Valley, Town of, Jackson Co.
Garden Village, Rock Co.
Gardner [origin of place name]
Gardner, Town of, Door Co.
Garfield, Portage Co.
Garfield, Town of, Jackson Co.
Garfield, Town of, Polk Co.
Garland, Hamlin 1860 - 1940
Garland, Hamlin (1860-1940)(Historic Marker Erecte
garnet (mining)
Garnet, Fond du Lac Co.
Garrison [origin of place name]
Garrison, Frank 1852 - 1905
Garth [origin of place name]
Garth, Schuyler Edward 1898 - 1947
gas stations in Wisconsin
Gaslyn [origin of place name]
Gates, James Leslie 1850 - 1911
gauge (railroads)
Gaulke, Ellsworth K. 1925
gay history in Wisconsin
Gay Purge of 1962
Gay's Mill [origin of place name]
Gaylord, Adj. Gen. Augustus (1826-1901)
Gays Mills Apple Orchards (Historic Marker Erected
Gays Mills, Crawford Co.
Gays Mills, Village of, Crawford Co.
Gee, Harvey F. 1908
Gehrmann, Bernard E. 1920
Gein, Edward 1906 - 1984
Geist, Walter 1894 - 1951
Gelatt, Roland Bernard 1856 - 1917
genealogy
General (Civil War)
General Allotment Act (1887)
General Mitchell Field (Historic Marker Erected 19
General Motors plant, Janesville
Genesee Depot, Waukesha Co.
Genesee, Town of, Waukesha Co.
Genesee, Waukesha Co.
Geneva Independents (Civil War)
Geneva [origin of place name]
Geneva, Town of, Walworth Co.
Genoa City, Walworth Co.
Genoa [origin of place name]
Genoa, Town of, Vernon Co.
Genoa, Vernon Co.
Genoa, Village of, Vernon Co.
Gens de Mer
Gentile League
Genzmer, Elmer L. 1903
George, Gary R. 1954
Georgetown, Grant Co.
Georgetown, Town of, Polk Co.
Georgetown, Town of, Price Co.
Gerlach, Chester A. 1947
German Renaissance Revival (architecture)
German-English Academy
Germania, Iron Co.
Germania, Marquette Co.
Germania, Town of, Shawano Co.
Germans in Wisconsin
Germantown [origin of place name]
Germantown, Richland Co.
Germantown, Town of, Juneau Co.
Germantown, Town of, Washington Co.
Germantown, Village of, Washington Co.
Germantown, Washington Co.
Geske, Janine P. 1949
Gessert, Harry L.
Gettelman, Adam 1847 - 1925
Gettysburg, Battle of
Geuder, William 1852 - 1903
ghee (dairy)
Gibbsville [origin of place name]
Gibbsville, Sheboygan Co.
Gibbsville, Town of, Sheboygan Co.
Gibraltar, Town of, Door Co.
Gibson [origin of place name]
Gibson, Lawrence R. 1912
Gibson, Town of, Manitowoc Co.
Giddings Mills [origin of place name]
Giddings [origin of place name]
Gideons
Gielow, Curt 1945
Giese, Kenyon E. 1933
Gilbert, Edward Martinius 1875 - 1956
Gilbert, Frank Lynch 1864 - 1930
Gilbert, Lincoln Co.
Gilbert, William 1827 - 1900
Gile, Iron Co.
Gill's Landing [origin of place name]
Gill's Rock [origin of place name]
Gill, Col. Charles R. (1830–1883)
Gill, Thomas Henry A. 1858 - 1940
Gillespie, Ezekiel (1818-1892)
Gillett, Oconto Co.
Gillett, Town of, Oconto Co.
Gillingham, Richland Co.
Gills Landing, Waupaca Co.
Gills Rock, Door Co.
Gilman [origin of place name]
Gilman, Taylor Co.
Gilman, Taylor Co. [origin of place name]
Gilman, Town of, Pierce Co.
Gilman, Village of, Taylor Co.
Gilmanton, Buffalo Co.
Gilmanton, Town of, Buffalo Co.
Gilmantown, Town of, Buffalo Co.
Gilmore, Eugene Allen 1871 - 1953
Gilson, Earl 1923
Gilson, Norman Shepard 1839 - 1914
Gimmestad, Lars Monsen 1868 - 1943
Gingles, Town of, Ashland Co.
ginseng
Ginty, George Clay 1840 - 1890
Girard, Town of, Marinette Co.
girt (farming)
Give-her-snoose (logging)
Gladstone Beach, Fond du Lac Co.
Glandon, Marathon Co.
Glasgow [origin of place name]
Gleason [origin of place name]
Gleason, Lincoln Co.
Glen Flora, Rusk Co.
Glen Flora, Village of, Rusk Co.
Glen Haven, Grant Co.
Glen Haven, Town of, Grant Co.
Glen Oak, Marquette Co.
Glenbeulah [origin of place name]
Glenbeulah, Sheboygan Co.
Glenbeulah, Village of, Sheboygan Co.
Glencoe, Buffalo Co.
Glencoe, Town of, Buffalo Co.
Glendale, Milwaukee Co.
Glendale, Monroe Co.
Glendale, Town of, Monroe Co.
Glenmore, Brown Co.
Glenmore, Town of, Brown Co.
Glenn Oaks Beach, Jefferson Co.
Glenwood City, St. Croix Co.
Glenwood [origin of place name]
Glenwood, Town of, St. Croix Co.
Glidden, Ashland Co.
Glidden, Carlos 1834 - 1877
Globe, Clark Co.
Glode, Menominee leader, d. 1804
Glory of the Morning, Ho-chunk peace chief, dates
Glover, Arthur James 1873 - 1949
Glover, Joshua
Glover, St. Croix Co.
glume (farming)
Goerke's Corners [origin of place name]
Goerkes Corner, Waukesha Co.
Goethel, Karl J. 1930
Goetsch, Robert G. 1933
Goetz, George Washington 1856 - 1897
Goetz, Town of, Chippewa Co.
Gogebic Boom (mining)
Gogebic Iron Range (Historic Marker Erected 1962)
Gogebic Range
Gogebic [origin of place name]
Gold Lake, Jefferson Co.
Golden Fleece Awards
Goldenthal, Washington Co.
Goll, Marinette Co.
gondola (railroads)
Gonski, Casimir 1869 - 1946
Good Roads Movement
Goodell, Rhoda Livinia 1839 - 1880
Goodland, Walter Samuel 1862 - 1947
Goodman, Marinette Co.
Goodman, Town of, Marinette Co.
Goodnow, Oneida Co.
Goodrich Ferry [origin of place name]
Goodrich, Albert Edgar 1826 - 1885
Goodrich, Joseph 1800 - 1867
Goodrich, Patricia A. 1933
Goodrich, Taylor Co.
Goodrich, Town of, Taylor Co.
Gooseberry Bay [origin of place name]
Gooseville, Sheboygan Co.
Gordon [origin of place name]
Gordon [origin of place name]
Gordon, Douglas Co.
Gordon, Myron L. 1918
Gordon, Philip 1886 - 1948
Gordon, Town of, Ashland Co.
Gordon, Town of, Douglas Co.
gorget
Gorrell, James, dates unverified
Goss, Benjamin Franklin 1823 - 1893
Gotham [origin of place name]
Gotham, Richland Co.
Gothic revival (architecture)
Gottlieb, Mark 1956
Governor James Taylor Lewis (1819-1904) (Historic
Governor Lewis (Historic Marker Erected 1995)
Governor Rusk (Historic Marker Erected 1958)
Governor's Commission on Human Rights
Governor's Guard (Civil War)
governors
Gower, John C. 1941
Goyke, Gary R. 1947
Graass, Frank N. 1885
grab bar (railroads)
Grabner [Graebner], August Lawrence 1849 - 1904
Grading-crew (logging)
Grady, Daniel Henry 1872 - 1954
Grady, Warren A. 1924
Grafton [origin of place name]
Grafton, Ozaukee Co.
Grafton, Town of, Ozaukee Co.
Grafton, Village of, Ozaukee Co.
Graham Corners, Fond du Lac Co.
Graham, Heather 1970 -
Graham, Robert 1826 - 1892
gramineou (farming)
Grand Army Home (Historic Marker Erected 1988)
Grand Army of the Republic
Grand Chute
Grand Chute, Town of, Outagamie Co.
Grand Crossing, La Crosse Co.
Grand Kaukalin, Town of, Outagamie Co.
Grand Marsh, Adams Co.
Grand Marsh, Town of, Adams Co.
Grand Portage
Grand Rapids
Grand Rapids, Election precinct of, Portage Co.
Grand Rapids, Town of, Wood Co.
Grand Springs, Dane Co.
Grand View, Bayfield Co.
Grand View, Town of, Bayfield Co.
Grandfather Bull Falls
Granger Movement
Granite City (historical), Waupaca Co.
Granite Heights, Marathon Co.
Granite Quarry (historical), Waupaca Co.
Grant Country Grays (Civil War)
Grant County Sixth (Civil War)
Grant County Union Guards (Civil War)
Grant County [origin of place name]
Grant River, Grant Co.
Grant, Albert Weston 1856 - 1930
Grant, Alexander R. 1925
Grant, Bud (Harold Peter Grant, Jr.) 1920 -
Grant, Town of, Clark Co.
Grant, Town of, Dunn Co.
Grant, Town of, Iowa Co.
Grant, Town of, Monroe Co.
Grant, Town of, Portage Co.
Grant, Town of, Rusk Co.
Grant, Town of, Shawano Co.
Granton, Clark Co.
Granton, Village of, Clark Co.
Grantsburg [origin of place name]
Grantsburg, Burnett Co.
Grantsburg, Town of, Burnett Co.
Grantsburg, Village of, Burnett Co.
Granville, Milwaukee Co.
Granville, Town of, Milwaukee Co.
Grass Island, Green Bay
Gratiot [origin of place name]
Gratiot, Henry 1789 - 1836
Gratiot, Lafayette Co.
Gratiot, Town of, Lafayette Co.
Gratiot, Village of, Lafayette Co.
Gratiot/Gratiot's Grove, Election precinct of, Iow
Gravesville [origin of place name]
Gravesville, Calumet Co.
Gray, Hamilton Hunter 1827 - 1902
Gray, John R. 1925
Graytown, Barron Co.
Great Buffalo (Ke-Che-Waish-Ke Or Bezhike) 1759 -
Great Depression
Great Divide (Historic Marker Erected 1979)
Great Lakes Intertribal Council
Great Migration
Great River
Greco, Angelo F. 1925
Greek revival (architecture)
Greeks in Wisconsin
Green Bay (body of water)
Green Bay (city), Brown Co.
Green Bay Ethnic Trail (Historic Marker Erected 19
Green Bay Packers
Green Bay Packers (Historic Marker Erected 1977)
Green Bay pinery
Green Bay Union Guards (Civil War)
Green Bay [brief history]
Green Bay [origin of place name]
Green Bay, Town of, Brown Co.
Green County [origin of place name]
Green Grove, Town of, Clark Co.
Green Lake (body of water)
Green Lake County [origin of place name]
Green Lake Terrace, Green Lake Co.
Green Lake [origin of place name]
Green Lake, Election precinct of, Marquette Co.
Green Lake, Green Lake Co.
Green Lake, Town of, Green Lake Co.
Green Valley, Shawano Co.
Green Valley, Town of, Marathon Co.
Green Valley, Town of, Shawano Co.
Green, Mark A. 1960
Green, William T. 1860 - 1911
greenbacks (Civil War)
Greenbush Addition, Dane Co.
Greenbush, Sheboygan Co.
Greenbush, Town of, Sheboygan Co.
Greendale, Milwaukee Co.
Greendale, Village of, Milwaukee Co.
Greene County Guards (Civil War)
Greene, Thomas Arnold 1827 - 1894
Greene, Walter S. 1834 - 1891
Greenfield [brief history]
Greenfield, Milwaukee Co.
Greenfield, Milwaukee Co. [origin of place name]
Greenfield, Sauk Co. [origin of place name]
Greenfield, Town of, Dane Co.
Greenfield, Town of, La Crosse Co.
Greenfield, Town of, Milwaukee Co.
Greenfield, Town of, Monroe Co.
Greenfield, Town of, Sauk Co.
Greenfield: The Last Town in Milwaukee County (His
Greenhorn (Civil War)
Greenleaf, Brown Co.
greenstone (mining)
Greenville, Election precinct of, Green Co.
Greenville, Outagamie Co.
Greenville, Town of, Outagamie Co.
Greenwood, Clark Co.
Greenwood, Town of, Pierce Co.
Greenwood, Town of, Taylor Co.
Greenwood, Town of, Vernon Co.
Greenwood, Vernon Co.
Greenwyck, Green Lake Co.
Gregorville, Kewaunee Co.
Gregory, Charles Noble 1851 - 1932
Gregory, Horace 1898 - 1982
Gregory, John Goadby 1856 - 1947
Greider, Gerald A. 1923
Grellton, Jefferson Co.
Gresham, Shawano Co.
Gresham, Village of, Shawano Co.
Greulich, August 1813 - 1893
Griffin, Ezra Leonard 1821 - 1892
Griffin, Michael 1842 - 1899
Grignon, Augustin, 1780-1860.
Grignon, Charles Augustin, 1808 - 1862
Grignon, Pierre Sr. 1740 - 1795
Grimms, Manitowoc Co.
Grindstone Lake [origin of place name]
Griswold, Harry Wilbur 1886 - 1939
Griswold, Hattie [Tyng] 1840 - 1909
Grobschmidt, Richard A. 1948
Gronemus, Barbara 1931
Gronouski, John A., 1919-
Groppi, Father James, 1930-1985
Groseilliers, Medard Chouart, Sieur Des 1618 - 168
Groshek, Leonard A. 1913
gross tonnage (maritime)
Grothman, Glenn 1955
Grottkau, Paul 1846 - 1898
ground swell (maritime)
Ground-loader (logging)
grout (architecture)
Grover, Herbert J. 1937
Grover, Town of, Marinette Co.
Grover, Town of, Taylor Co.
Grow, Town of, Rusk Co.
Grub-stake (logging)
Gruszynski, Stan 1949
Guenther, Richard William 1845 - 1913
Guenther, Town of, Marathon Co.
Gugler Lithographic Company
Guiles, Jon R. 1945
Gull Lake, Town of, Washburn Co.
gulp of ore (mining)
Gunderson, Scott L. 1956
Gunderson, Steven 1951
Gundrum, Mark 1970
Gunther, Theodore (1826 0 1885)
gunwale (maritime)
Guppey, Gen. Joshua J. (1820-1893)
Gurley, Zenas Hovey 1801 - 1871
Gurney, Iron Co.
Gurney, Town of, Iron Co.
gusset (maritime)
Guthrie, Waukesha Co.
Haan, William George 1863 - 1924
Haas, Carl De 1816 - 1875
Haas, Francis Joseph 1889 - 1953
Haase, Robert D. 1923
habitant (Fr.)
hack (railroads)
Hackett, Town of, Price Co.
hackle (farming)
Hackley, Town of, Vilas Co.
Hadley, Jackson 1815 - 1867
Haevers Corners, Brown Co.
Hager City, Pierce Co.
Hagerman, James John 1838 - 1909
Hahn, Eugene 1929
Haight, Theron Wilber 1840 - 1913
Hainesville [origin of place name]
Halder, Marathon Co.
Haldimand, Frederick, 1718-1791
Hale Corner, Eau Claire Co.
Hale [origin of place name]
Hale, Town of, Trempealeau Co.
Hale, Trempealeau Co.
Hales Corners [origin of place name]
Hales Corners, Milwaukee Co.
Hales Corners, Village of, Milwaukee Co.
Half Moon Lake, Town of, Eau Claire Co.
Half Moon, Town of, Eau Claire Co.
half-timber (architecture)
Hall, Albert, 1881 - 1936
Hall, Arnold Bennett 1881 - 1936
Hall, Deirdre 1947 -
Hall, Sherman 1800 - 1879
Hallie, Chippewa Co.
Hallie, Town of, Chippewa Co.
Hallows, E. Harold 1904
Halsey, Town of, Marathon Co.
Hambrecht, George Philip 1871 - 1943
Hamburg, Marathon Co.
Hamburg, Town of, Marathon Co.
Hamburg, Town of, Vernon Co.
Hamilton Creek
Hamilton [origin of place name]
Hamilton's Diggings
Hamilton, Fond du Lac Co.
Hamilton, Gen. Charles Smith (1822-1891)
Hamilton, James Edward 1852 - 1940
Hamilton, Leo Richard 1927
Hamilton, Ozaukee Co.
Hamilton, Town of, Brown Co.
Hamilton, Town of, La Crosse Co.
Hamilton, William Stephen 1797 - 1850
Hamline [origin of place name]
Hammel, Town of, Taylor Co.
Hammond, St. Croix Co.
Hammond, Town of, St. Croix Co.
Hammond, Village of, St. Croix Co.
Hampden [origin of place name]
Hampden, Town of, Columbia Co.
Hamples Corner, Outagamie Co.
Hanaway, Donald J. 1933
Hanchett, Luther 1825 - 1862
Hancock, Town of, Waushara Co.
Hancock, Village of, Waushara Co.
Hancock, Waushara Co.
Hand holt (logging)
Hand-pike (logging)
Handley, John Joseph 1876 - 1941
Handrick, Joseph W. 1965
Handy-rod (logging)
Hanerville, Dane Co.
Haney [origin of place name]
Haney, Town of, Crawford Co.
Hang-up (logging)
hanging knees (maritime)
hank (maritime)
Hanks, Lucien Mason 1868 - 1950
Hanks, Stanley Charles 1872 - 1945
Hanley, Leo B. 1908
Hanley, Miles Lawrence 1893 - 1954
Hanna, Daniel D. 1923
Hannan, John Joseph 1866 - 1946
Hannibal, Taylor Co.
Hanover [origin of place name]
Hanover, Rock Co.
Hanover, Town of, Rock Co.
Hans Addition, Rock Co.
Hansen [origin of place name]
Hansen, Conner T. 1913
Hansen, Dave 1947
Hansen, John R. 1917
Hansen, Robert W. 1911
Hansen, Town of, Wood Co.
Hansen, William C. 1891
Hanson, Doris
Hanson, Magnus (1822-1881)
Haraszthy [De Moksca), Agoston 1812 - 1869
Harbor Springs, Winnebago Co.
Hard (money)
Hard-wood (logging)
Hardie, Keith 1910
Hardin, Town of, Marquette Co.
Harding, Town of, Lincoln Co.
Hardscrabble, Grant Co.
hardtack (Civil War)
Hardtack-outfit (logging)
Hardwood Island [origin of place name]
Harer, Robert W. 1941
Harmon (historical), Washburn Co.
Harmony Grove, Columbia Co.
Harmony Hill, Crawford Co.
Harmony, Marinette Co.
Harmony, Town of, Polk Co.
Harmony, Town of, Price Co.
Harmony, Town of, Rock Co.
Harmony, Town of, Vernon Co.
Harnack, Mildred Fish 1902-1943
Harnden, Henry 1823 - 1900
Harnischfeger, Henry 1855 - 1930
Harper, Cornelius Allen 1864 - 1951
Harper, Hugh A. 1885
Harriman, Col. Samuel (1826-1897)
Harrington, Timothy Louis 1866 - 1947
Harris Township [origin of place name]
Harris, Charles Kassell 1865 - 1930
Harris, Joseph Sr. 1813 - 1889
Harris, Town of, Marquette Co.
Harrison, Calumet Co.
Harrison, Lincoln Co.
Harrison, Mark Robert 1819 - 1894
Harrison, Town of, Burnett Co.
Harrison, Town of, Calumet Co.
Harrison, Town of, Grant Co.
Harrison, Town of, Lincoln Co.
Harrison, Town of, Marathon Co.
Harrison, Town of, Waupaca Co.
Harrisville, Marquette Co.
Harsdorf, Sheila E. 1956
Harshaw, Oneida Co.
Hart, Edwin Bret 1874 - 1953
Hartford [brief history]
Hartford [origin of place name]
Hartford, Town of, Washington Co.
Hartford, Washington Co.
Hartland [origin of place name]
Hartland, Town of, Pierce Co.
Hartland, Town of, Shawano Co.
Hartland, Village of, Waukesha Co.
Hartland, Waukesha Co.
Harvey Zouaves (Civil War)
Harvey, Cordelia (1824–1895)
Harvey, Cordelia (Historic Marker Erected 1991)
Harvey, Gov. Louis P. (1820-1862)
Harvey, Lorenzo Dow 1848 - 1922
Harwood, Frank James 1855 - 1940
Hasenohrl, Donald W. 1935
Haskell, Col. Frank A. (1828-1864)
Haskins, Charles H. 1830 - 1910
Haskins, Herbert Eugene 1869 - 1953
Hastings, Edwin George 1872 - 1953
Hastings, Samuel Dexter 1816 - 1903
hatch (maritime)
Hatchville, Dunn Co.
Hatfield, Jackson Co.
Hatlestad, Oil Jensen 1823 - 1892
Hatley, Marathon Co.
Hatley, Village of, Marathon Co.
Hatton (historical), Waupaca Co.
Hatton, William H. 1856 - 1937
Haudenosaunee
Hauer, Sawyer Co.
Haugen, Barron Co.
Haugen, Nils Pederson 1849 - 1931
Haugen, Village of, Barron Co.
Haugh, Paul 1896
Hauke, Thomas A. 1938
haulm (farming)
Hauser, Jacob 1845 - 1931
Haven, Sheboygan Co.
Haven, Spencer 1868 - 1938
Haversack (Civil War)
Hawkins Corner, Pepin Co.
Hawkins, Rusk Co.
Hawkins, Town of, Rusk Co.
Hawkins, Village of, Rusk Co.
Hawley, Col. William (1824-1873)
hawsepipes (maritime)
hawser (maritime)
Hawthorne, Douglas Co.
Hawthorne, Town of, Douglas Co.
Hay Creek, Eau Claire Co.
Hay River, Town of, Dunn Co.
Hay Stack Corner, Sawyer Co.
Hayen, Sheboygan Co.
Hayes, Oconto Co.
Hayes, William Arthur 1866 - 1942
Hayton, Calumet Co.
Hayward [brief history]
Hayward [origin of place name]
Hayward, Sawyer Co.
Hayward, Town of, Sawyer Co.
Hazel Green [origin of place name]
Hazel Green, Grant Co.
Hazel Green, Town of, Grant Co.
Hazel Green, Village of, Grant Co.
Hazelhurst, Oneida Co.
Hazelhurst, Town of, Oneida Co.
Hazeltine [Haseltine], Ira Sherwin 1821 - 1899
Hazeltine, Mary Emogene 1868 - 1949
Hazelton, George Cochrane 1832 - 1922
Hazelton, Gerry Whiting 1829 - 1920
Hazelwood (Historic Marker Erected 1966)
Hazen, Chester 1824 - 1900
Head of Platte, Election precinct of, Grant Co.
head-bars
headland (farming)
Heafford Junction, Lincoln Co.
Heart Prairie, Walworth Co.
Hearthstone
Heath Mills, Jefferson Co.
Heath, Frederick Faries 1864 - 1954
heathery (farming)
Hebl, Tom 1945
Hebron, Jefferson Co.
Hebron, Town of, Jefferson Co.
Hecht, Ben 1894 - 1964
heel (maritime)
Heffernan, Nathan S. 1920
Heffron, Waushara Co.
Heg, Col. Hans Christian (1829-1863)
Heg, Even Hansen 1790 - 1850
Hegg [origin of place name]
Hegg, Trempealeau Co.
Heil, Julius Peter 1876 - 1949
Heileman, Gottlieb 1824 - 1878
Heine, Freidrich Wilhelm 1845 - 1921
Heinemann, Benjamin 1850 - 1919
Heinzen, Raymond F. 1918
Heiss, Michael 1818 - 1890
Helbach, David 1948
Held, James E. 1938
Helena, Census district of, Sauk Co.
Helena, Election precinct of, Iowa Co.
Helena, Iowa Co.
Helenville [origin of place name]
Helenville, Jefferson Co.
helm (maritime)
Helvetia, Town of, Waupaca Co.
Hematite, Florence Co.
Hemlock Island [origin of place name]
Hemlock, Clark Co.
Hemlock, Town of, Wood Co.
hemp
Hempsted, Henry N. 1830 - 1898
Hendee, Kirby 1923
Hendren, Town of, Clark Co.
Hengell, Henry Charles 1877 - 1937
Hennepin, Louis, 1640-1705?
Henni, John Martin 1805 - 1881
Henrietta (historical), Richland Co.
Henrietta, Town of, Richland Co.
Henry, Glenn L. 1921
Henry, Joseph, 1797-1878
Henry, Marguerite 1902 - 1997
Henry, William 1794 - 1853
Henry, William Arnon 1850 - 1932
Henrysville, Brown Co.
Hephner, Gervase A. 1936
Herbster, Bayfield Co.
Heritage Hill State Park (Historic Marker Erected
Herman Center, Dodge Co.
Herman [origin of place name]
Herman, Town of, Dodge Co.
Herman, Town of, Shawano Co.
Herman, Town of, Sheboygan Co.
Herold, Buffalo Co.
Herrington, La Crosse Co.
Hersey, St. Croix Co.
Hertel [origin of place name]
Hertel, Burnett Co.
Hewett, Town of, Clark Co.
Hewitt, Town of, Clark Co.
Hewitt, Town of, Marathon Co.
Hewitt, Village of, Wood Co.
Hewitt, Wood Co.
Hickory Corners, Oconto Co.
Hickory Grove, Grant Co.
Hickory Grove, Manitowoc Co.
Hickory Grove, Town of, Grant Co.
Hickory Hills, Dane Co.
Hicks, Emmett Reuben 1854 - 1925
Hicks, John 1847 - 1917
High Bridge [origin of place name]
High Bridge, Ashland Co.
High Cliff (historical), Calumet Co.
High Victorian (architecture)
Highground Veterans Memorial (Historic Marker Erec
Highland Beach, Calumet Co.
Highland Guards (Civil War)
Highland Park, Fond du Lac Co.
Highland Shore, Winnebago Co.
Highland Springs, Census district of, Dane Co.
Highland, Iowa Co.
Highland, Town of, Crawford Co.
Highland, Town of, Douglas Co.
Highland, Town of, Grant Co.
Highland, Town of, Iowa Co.
Highland, Village of, Iowa Co.
Highway Marking (Historic Marker Erected 1956)
Highwood, Dane Co.
Hilbert Junction, Calumet Co.
Hilbert, Calumet Co.
Hilbert, Village of, Calumet Co.
Hilburn, Walworth Co.
Hiles, Forest Co.
Hiles, George 1825 - 1896
Hiles, Town of, Forest Co.
Hiles, Town of, Wood Co.
Hill Point, Sauk Co.
Hill, Charles Lewis 1869 - 1957
Hill, Horatio 1815 - 1867
Hill, Rosa Minoka 1876 - 1952
Hill, Town of, Price Co.
Hill, Warren Brown 1861 - 1934
Hillcrest, Douglas Co.
Hillemann, Henry A. 1928
Hillsboro, Town of, Vernon Co.
Hillsboro, Vernon Co.
Hillsborough [origin of place name]
Hillsdale, Barron Co.
Hillsdale, Town of, Sauk Co.
Hillside Home School
Hillside, Dane Co.
Hilton Estates, Dane Co.
Hines, Douglas Co.
Hines, Edward 1863 - 1931
Hines, J.A. 1927
Hingham [origin of place name]
Hingham, Sheboygan Co.
Hinkfuss, Rosemary T. 1931
Hinkley, George Madison 1832 - 1905
Hintz, Oconto Co.
Hinz, Emil A. 1889
hip roof (architecture)
Hipke, Gilbert J. 1898
Hiroquois
Hirshheimer, Albert 1840 - 1924
Hirst, Arthur Roscoe 1881 - 1932
Hispanic Americans in Wisconsin
Hisrich, Joseph C. 1942
Historic Cedarburg (Historic Marker Erected 1988)
Historic District Architecture (Historic Marker Er
Historic Mineral Point (Historic Marker Erected 19
Historic Oosterburg (Historic Marker Erected 1997)
Historic Thiemsville (Historic Marker Erected 1998
Hitt, Henry D. 1823 - 1907
hivernant (Fr.)
Hixon, Gideon Cooley 1826 - 1892
Hixon, Town of, Clark Co.
Hixson, Hiram Frank 1858 - 1894
Hixton, Jackson Co.
Hixton, Town of, Jackson Co.
Hixton, Village of, Jackson Co.
Hmong
Ho-Chunk Indians
Ho-Chunk Treaty of 1837
Hoan, Daniel W., 1881-1961.
Hoard, Halbert Louis 1861 - 1933
Hoard, Town of, Clark Co.
Hoard, William Dempster 1836 - 1918
Hobart (historical), Town of, Brown Co.
Hobart, Brown Co.
Hobart, Col. Harrison C. (1815-1902)
Hobart, Town of, Brown Co.
Hobart, Village of, Brown Co.
Hobbins, Joseph 1816 - 1894
Hochheim, Dodge Co.
Hochkammer, Jon H. 1956
hock (farming)
hodag
Hodgson Guards (Civil War)
Hodgson, Albert James 1858 - 1943
Hoepkers Corners, Dane Co.
Hofa Park, Shawano Co.
Hoffman Corners, Dane Co.
Hogarty, Marathon Co.
hogger (railroads)
Hohlfeld, Alexander Rudolf 1865 - 1956
hoist (maritime)
Holcombe, Chippewa Co.
Holcombe, Town of, Chippewa Co.
hold (maritime)
Holiday Heights, La Crosse Co.
Holiday Hills, Rock Co.
Holland [origin of place name]
Holland, Brown Co.
Holland, Town of, Brown Co.
Holland, Town of, La Crosse Co.
Holland, Town of, Sheboygan Co.
Hollandale, Iowa Co.
Hollandale, Village of, Iowa Co.
Hollander, Walter G. 1896
Hollister, Langlade Co.
holm (farming)
Holmen, La Crosse Co.
Holmen, Village of, La Crosse Co.
Holmes, Frederick Lionel 1883 - 1946
Holocaust Survivors in Wisconsin
Holperin, James C. 1950
Holschbach, Vernon W. 1926
Holt & Balcom Logging Camp No. 1 (Historic Marker
Holt, Frank Oscar 1883 - 1948
Holt, Marathon Co.
Holt, William Arthur 1865 - 1953
Holton, Edward Dwight 1815 - 1892
Holton, Town of, Marathon Co.
Holts Landing, Ashland Co.
Holway, Town of, Taylor Co.
Holy Cross, Ozaukee Co.
Holy Hill
Holzhuber, Franz, 1826 - 1898
home front
Home of Governor Harvey (Historic Marker Erected 1
Homer, Grant Co.
Homestead Act (1862)
Homestead, Town of, Florence Co.
Homme, Even Johnson 1843 - 1903
Honadel, Mark R. 1956
Honey Creek [origin of place name]
Honey Creek, Town of, Sauk Co.
Honey Creek, Walworth Co.
Honey Lake, Racine Co.
Hooper, Jessie Annette Jack [Mrs. Ben Hooper] 1865
Hooper, Moses 1835 - 1932
Hoopers Mill, Jefferson Co.
Hoot-nanny (logging)
Hop Raising (Historic Marker Erected 1959)
Hope, Dane Co.
Hopewell (archaeology)
Hopkins, Benjamin Franklin 1829 - 1870
Hopkins, David R. 1938
Hopkins, James Campbell 1819 - 1877
Hopokoekau Beach, Fond du Lac Co.
hopper (farming)
Horicon Guards (Civil War)
Horicon Marsh (Historic Marker Erected 1959)
Horicon Marsh, or Lake
Horicon [origin of place name]
Horicon, Dodge Co.
Horlick, William 1846 - 1936
Horlicksville [origin of place name]
horn timber (maritime)
Horn, Frederick William 1815 - 1893
hornblende (mining)
Horner, John Scott 1802 - 1883
Horns Corners, Ozaukee Co.
Horse Creek, Polk Co.
Horseman, Barron Co.
horsepower (maritime)
Horton, Alonzo E. 1813 - 1909
Hortonia, Town of, Outagamie Co.
Hortonville Teachers' Strike
Hortonville, Outagamie Co.
Hortonville, Village of, Outagamie Co.
hot dish (food)
Hot-pond (logging)
Hotchkiss, William Otis 1878 - 1954
hotels in Wisconsin
Houdini, Harry 1874 - 1926
Hough, Maxine 1961
Houghton Point [origin of place name]
Houlton, St. Croix Co.
Houser, Walter L. 1855 - 1928
Hoven, Timothy T. 1963
How, Town of, Oconto Co.
How-Beckman Mill (Historic Marker Erected 1997)
Howard's Grove [origin of place name]
Howard, Brown Co.
Howard, Chippewa Co.
Howard, Town of, Brown Co.
Howard, Town of, Chippewa Co.
Howard, Town of, Oconto Co.
Howard, Town of, Sheboygan Co.
Howard, Village of, Brown Co.
Howards Grove, Sheboygan Co.
Howards Grove, Village of, Sheboygan Co.
Howe, James Henry 1827 - 1893
Howe, Timothy Otis 1816 - 1883
howitzer (Civil War)
Hoxie, Vinnie Ream 1847 - 1914
Hoy, Philo Romayne 1816 - 1892
Hoyme, Gjermund 1847 - 1902
Hoyt, Edith Evans [Mrs. Judson E.] 1862 - 1951
Hoyt, Iron Co.
Hoyt, John Wesley 1831 - 1912
Hub City, Richland Co.
Hubbard, Town of, Dodge Co.
Hubbard, Town of, Rusk Co.
Hubbell, Levi 1808 - 1876
Hubbleton, Jefferson Co.
Huber, Gregory B. 1956
Huber, Henry Allen 1869 - 1933
Hubertus, Washington Co.
Hubler, Mary 1952
Hudd, Thomas Richard 1835 - 1896
Hudnall, George B[Rinton?] Mcclellan 1864 - 1936
Hudson Bay Company
Hudson County Guards (Civil War)
Hudson [brief history]
Hudson [origin of place name]
Hudson, St. Croix Co.
Hudson, Town of, St. Croix Co.
Hudson, Town of, Walworth Co.
Huebsch, Michael D. 1964
Huebschmann, Franz 1817 - 1880
Huelsman, Joanne B. 1938
Hughes, Town of, Bayfield Co.
Hughey, Taylor Co.
Huibregtse, Harold F. 1907
Huilsburg [origin of place name]
Huilsburg, Dodge Co.
Hulce, Tom 1953 -
hull (maritime)
Hull [origin of place name]
Hull, Merlin 1870 - 1953
Hull, Town of, Marathon Co.
Hull, Town of, Portage Co.
Hulls Crossing, Sheboygan Co.
Hulst, Nelson Powell 1842 - 1923
Humbird, Clark Co.
Humboldt, Brown Co.
Humboldt, Town of, Brown Co.
Humphrey, George Colvin 1875 - 1947
Humphrey, Herman Leon 1830 - 1902
Hundertmark, Jean L. 1954
Hundred Associates, Company of.
Hundred Day Men
Hungarians in Wisconsin
Hunt, W. Ben 1888 – 1970
Hunt, Walter Henry 1868 - 1942
Hunter, Jeffrey 1926 - 1969
Hunter, Town of, Sawyer Co.
Hunting, Shawano Co.
Huntington, St. Croix Co.
Hurley [origin of place name]
Hurley, Iron Co.
Hurley, Michael Angelo 1840 - 1917
Hurleytown [origin of place name]
Huron, Chippewa Co.
Hurons
Hurricane, Election precinct of, Grant Co.
Hurricane, Grant Co.
Husher, Racine Co.
Husting, Paul Oscar Adolph 1866 - 1917
Hustisford, Dodge Co.
Hustisford, Town of, Dodge Co.
Hustisford, Village of, Dodge Co.
Hustler, Juneau Co.
Hustler, Village of, Juneau Co.
Hutchins, Frank Avery 1851 - 1914
Hutchins, Town of, Shawano Co.
Hutchinson, Town of, Shawano Co.
Hutchison, David E. 1943
Hutnik, Willis J. 1915
Hutter, William Herman 1875 - 1951
Hyde, Iowa Co.
Hyer, George 1819 - 1872
ice harvesting industry in wisconsin
Ice-guards (logging)
Icelanders in Wisconsin
Idlewild, Door Co.
Idlewood Beach, Sheboygan Co.
Iduna [origin of place name]
Iduna, Trempealeau Co.
Ihde, Herman 1877 - 1943
Illinois Territory
Illinois, Lake
Ilsley, Charles Ferdinand 1827 - 1904
Imalone, Rusk Co.
immigration (19th-Century)
immigration (20th-Century)
In Service To Their Country (Historic Marker Erect
Inama, Adelbert 1798 - 1879
inboard (maritime)
Independence [origin of place name]
Independence, Trempealeau Co.
Indian agencies in Wisconsin
Indian agency
Indian agents
Indian Creek, Polk Co.
Indian Crossing [origin of place name]
Indian Ford [origin of place name]
Indian Heights, Dane Co.
Indian Hills, Green Lake Co.
Indian Lake Passage (Historic Marker Erected 1997)
Indian Removal Act (1830)
Indian Reorganization Act (1934)
Indian schools in Wisconsin
Indian Shores, Winnebago Co.
Indian treaties
Indiana Territory
Indianford, Rock Co.
Industrial Commission
Industrial School for Boys
Industrial School for Girls
infantry (Civil War)
Influenza Epidemic of 1918
Ingersoll, Chalmers 1838 - 1908
Ingersoll, Marathon Co.
Ingle, Columbia Co.
Ingram, Orrin Henry 1830 - 1918
Ingram, Rusk Co.
Ingram, Village of, Rusk Co.
initial point (survey)
Inlet, Walworth Co.
Inmansville, Rock Co.
Ino, Bayfield Co.
Institute, Door Co.
intendant (Fr.)
International Harvester Company
International Style (architecture)
Interurban Bridge (Historic Marker Erected 1997)
Interwald [origin of place name]
Interwald, Taylor Co.
Invention of the Typewriter (Historic Marker Erect
inventions
Iola, Town of, Waupaca Co.
Iola, Village of, Waupaca Co.
Iola, Waupaca Co.
Iometah, Menominee leader, c. 1772-1867
Iowa County Courthouse (Historic Marker Erected 19
Iowa County [origin of place name]
Ipswich, Lafayette Co.
Ireland, Walter J. F. 1923
Irish in Wisconsin
Irish Regiment (Civil War)
Irma, Lincoln Co.
Iron Belt, Iron Co.
Iron Brigade
Iron County [origin of place name]
Iron Creek, Census district of, Dunn Co.
Iron Mining in Wisconsin (Historic Marker Erected
Iron Ridge, Dodge Co.
Iron Ridge, Village of, Dodge Co.
Iron River [origin of place name]
Iron River, Bayfield Co.
Iron River, Town of, Bayfield Co.
Iron [origin of place name]
ironclad (Civil War)
Ironton [origin of place name]
Ironton, Sauk Co.
Ironton, Town of, Sauk Co.
Ironton, Village of, Sauk Co.
Iroquois League, or Confederacy
Iroquois Wars
Irvin, David 1794 - 1872
Irvine, Chippewa Co.
Irvine, Thomas 1841 - 1930
Irvine, William 1851 - 1927
Irving, Jackson Co.
Irving, Roland Duer 1847 - 1888
Irving, Town of, Jackson Co.
Irvington [origin of place name]
Irvington, Dunn Co.
Irwin, Robert, jr.
Isaar, Outagamie Co.
Isabelle, Town of, Pierce Co.
Island Beach, Winnebago Co.
Island Lake, Rusk Co.
Island No. 10, Battle of
Island Park, Winnebago Co.
island platform (railroads)
Isle Royale
Islinois
Italianate (architecture)
Italians in Wisconsin
Itasca [origin of place name]
Itasca, Douglas Co.
Ithaca, Richland Co.
Ithaca, Town of, Richland Co.
Iuka, Battle of
Iverson, Andreas Michael 1823 - 1907
Iverson, Donald L. 1923
Ives Grove, Racine Co.
Ives, Racine Co.
Ixonia, Jefferson Co.
Ixonia, Town of, Jefferson Co.
Jack-pot (logging)
Jackamonis, Ed G. 1939
Jackson County Rifles (Civil War)
Jackson County [origin of place name]
Jackson [origin of place name]
Jackson, James Albert 1840 - 1921
Jackson, Joseph 1812 - 1881
Jackson, Jr., Robert L. 1936
Jackson, Mortimer Melville 1809 - 1889
Jackson, Town of, Adams Co.
Jackson, Town of, Burnett Co.
Jackson, Town of, La Crosse Co.
Jackson, Town of, Washington Co.
Jackson, Village of, Washington Co.
Jackson, Washington Co.
Jacksonport [origin of place name]
Jacksonport, Door Co.
Jacksonport, Town of, Door Co.
Jacksonville, Monroe Co.
Jacobs, Herbert Henry 1864 - 1948
Jacobs, Town of, Ashland Co.
Jacobs, William Henry 1831 - 1882
Jahnke, Franklin M. 1900
James, Ada (1876-1952)(Historic Marker Erected 199
James, Ada Lois 1876 - 1952
James, Edwin, 1797-1861 
Jamestown, Grant Co.
Jamestown, Town of, Grant Co.
Janesville City Zouaves (Civil War)
Janesville Light Guard (Civil War)
Janesville Rangers (Civil War)
Janesville Tank Company (Historic Marker Erected 1
Janesville Volunteers (Civil War)
Janesville [brief history]
Janesville [origin of place name]
Janesville, Rock Co.
Janesville, Town of, Rock Co.
Janssen, Edward H. 1815 - 1877
Jaronitzky, June 1938
Jarreau, Al 1940 -
Jastrow, Joseph 1863 - 1944
Jauch, Robert 1945
jayhawker (Civil War)
Jefferson County [origin of place name]
Jefferson Junction, Jefferson Co.
Jefferson Prarie Settlement (Historic Marker Erect
Jefferson, Jefferson Co.
Jefferson, Thomas (descendants in Wisconsin)
Jefferson, Town of, Green Co.
Jefferson, Town of, Jefferson Co.
Jefferson, Town of, Monroe Co.
Jefferson, Town of, Vernon Co.
Jeffery, Thomas B. 1845 - 1910
Jeffris [origin of place name]
Jeffris, Lincoln Co.
Jenkins, James Graham 1834 - 1921
Jenkins, John James 1843 - 1911
Jenkinsville, Lafayette Co.
Jennings [origin of place name]
Jennings, Oneida Co.
Jenny Bull Falls
Jenny, Town of, Lincoln Co.
Jens, Salome 1935 -
Jensen, Scott R. 1960
Jericho, Calumet Co.
Jericho, Waukesha Co.
Jersey City, Lincoln Co.
Jerusalem Corners [origin of place name]
Jeskewitz, Suzanne 1942
Jesuit Relations
Jesuits
Jewett, Milo Parker 1808 - 1882
Jewett, St. Croix Co.
Jews in Wisconsin
jib (maritime)
Jim Falls, Chippewa Co.
Jim's Falls [origin of place name]
Jimmy the Groundhog
Jimtown, Richland Co.
Job-shark (logging)
Jobber's-sun (logging)
Joe Must Go movement
Joel, Polk Co.
Jogues, Fr. Isaac, 1607-1646
Johannesburg, St. Croix Co.
John F. Deitz: "Battle of Cameron Dam" (Historic M
John Muir Country (Historic Marker Erected 1969)
John Muir View (Historic Marker Erected 1955)
Johnnie (Civil War)
Johnsburg, Fond du Lac Co.
Johnson Creek [origin of place name]
Johnson Creek, Jefferson Co.
Johnson Creek, Village of, Jefferson Co.
Johnson, Alfred Stanley, jr. 1863 - 1932
Johnson, Burdette Jay 1826 - 1902
Johnson, Daniel Harris 1825 - 1900
Johnson, Gary K. 1939
Johnson, Jay W. 1943
Johnson, John Anders 1832 - 1901
Johnson, John, dates unverified
Johnson, Lawrence H. 1908
Johnson, Lester R. 1901
Johnson, Marathon Co.
Johnson, Raymond C. 1936
Johnson, Robert I. 1928
Johnson, Samuel Curtis 1833 - 1919
Johnson, Town of, Marathon Co.
Johnson, Town of, Wood Co.
Johnson, Warren S. 1847 - 1911
Johnson, William A. 1922
Johnsonville [origin of place name]
Johnsonville, Sheboygan Co.
Johnsrud, Duwayne 1943
Johnston, Kirsten 1967 -
Johnston, Robert Alexander 1846 - 1907
Johnston, Robert G. 1957
Johnston, Rod
Johnstown Center, Rock Co.
Johnstown, Rock Co.
Johnstown, Town of, Polk Co.
Johnstown, Town of, Rock Co.
Joliet, Louis
Jolliet, Louis 1645 - 1700
Jonas, Charles 1840 - 1896
Jones, Benjamin 1795 - 1881
Jones, Burr W. 1846 - 1935
Jones, Chester Lloyd 1881 - 1941
Jones, George W. (1853 - 1935)
Jones, George Wallace 1804 - 1896
Jones, Granville Duane 1856 - 1924
Jones, James Monroe 1824 - 1898
Jones, Jenkin Lloyd 1843 - 1918
Jones, John Reynolds (1851 - 1928)
Jones, Joseph E. 1914
Jones, Lewis Ralph 1864 - 1945
Jones, Milo Cornelius 1849 - 1919
Jones, Nellie [Sawyer] Kedzie 1858 - 1956
Jones, William Arthur 1844 - 1912
Jonesdale, Iowa Co.
Jonesville [origin of place name]
jongleur (Fr.)
Jonson's Rapids
Jordan, Portage Co.
Jordan, Town of, Green Co.
Joss, Addie 1880 - 1911
Joss, Adrian "Addie" (Historic Marker Erected 1986
Juda, Green Co.
Juday, Chancey 1871 - 1944
Judd, Truman H. 1817 - 1884
Judicial Council
Jug Prairie [origin of place name]
Jump River [origin of place name]
Jump River, Taylor Co.
Jump River, Town of, Taylor Co.
Jumper (logging)
junction (railroads)
Junction City, Portage Co.
Junction, Clark Co.
June [origin of place name]
Juneau County Rifles (Civil War)
Juneau County [origin of place name]
Juneau [origin of place name]
Juneau, Dodge Co.
Juneau, Solomon 1793 - 1856
Juneau, Town of, Dodge Co.
Jung, Phillip 1845 - 1911
Junior Loyalty Legion
Juniper, Town of, Ashland Co.
Junkermann, Otto C.
Jussen, Edmund 1830-1891
Kabler, Beatrice Ann Parks. 1928-
Kaczmarek, Jane
Kading, Charles August 1874 - 1956
Kafka, Lawrence J. 1898
Kahl, William C. 1908
Kahlenberg, Louis Albrecht 1870 - 1941
Kaiser (historical), Price Co.
Kakalin
kalacky (food)
Kalinke, Marathon Co.
Kanavas, Theodore J. 1961
Kander, Lizzie Black, 1858-1940
Kansasville, Racine Co.
Kaokias
Karlen, Jacob 1840 - 1920
Karlsborg [origin of place name]
Kaskaskias
Kasten Jr., Robert W. 1942
Kasten, William A. 1956
Kastenmeier, Robert W. 1924
Katakittekon Lake.
Katakittekon region
Katinka Village, Vilas Co.
Katzer, Frederick Xavier 1844 - 1903
Kaufert, Dean R. 1957
Kaufman, Eugene S. 1922
Kaukalin, Town of, Outagamie Co.
Kaukauna [brief history]
Kaukauna [origin of place name]
Kaukauna, Outagamie Co.
Kaukauna, Town of, Outagamie Co.
Kaun, Hugo Wilhelm Ludwig 1863 - 1932
Kavanaugh, William C. 1914
Kawaguesaga-Lake [origin of place name]
Kedrowski, David R. 1942
Kedzie, Neal J. 1956
Keegan, Jr., Earl 1921
keel (maritime)
keelboat (maritime)
keelson (maritime)
Keene, Portage Co.
Keenville, Winnebago Co.
Keep, Albert 1826 - 1907
Keeshaynic River, Marquette Co.
Keesus [origin of place name]
Kegonsa (lake) [origin of place name]
Kegonsa, Dane Co.
Keith (historical), Forest Co.
Kekoskee, Dodge Co.
Kekoskee, Village of, Dodge Co.
Kellman, Norris J. 1898
Kellner, Portage Co.
Kellners Corners, Manitowoc Co.
Kellnersville, Manitowoc Co.
Kellnersville, Village of, Manitowoc Co.
Kellogg, Amherst Willoughby 1829 - 1923
Kellogg, Ansel Nash 1832 - 1886
Kellogg, Ansel Wales 1821 - 1870
Kellogg, Col. John A. (1828 - 1883)
Kellogg, Louise Phelps 1862 - 1942
Kellogg, Rufus Bela 1837 - 1891
Kelly Brook, Oconto Co.
Kelly, Juneau Co.
Kelly, Marathon Co.
Kelly, Patrick 1792 - 1858
Kelly, Patrick H. 1890
Kelly, Town of, Bayfield Co.
Kelso, Carol 1945
Kemper Hall (Historic Marker Erected 1979)
Kemper, Jackson 1789 - 1870
Kempster, Langlade Co.
Kempster, Walter 1841 - 1918
Kendall (township) [origin of place name]
Kendall (village) [origin of place name]
Kendall, Monroe Co.
Kendall, Town of, Lafayette Co.
Kendall, Village of, Monroe Co.
Kendziorski, Casimir 1898
Kennan, Kossuth Kent (1852-1933)
Kennan, Price Co.
Kennan, Thomas Lathrop 1827 - 1920
Kennan, Town of, Price Co.
Kennan, Village of, Price Co.
Kennedy, Price Co.
Kennesaw Mountain, Battle of
Kenongamong Lake, Racine Co.
Kenosha County [origin of place name]
Kenosha [brief history]
Kenosha [origin of place name]
Kenosha, Kenosha Co.
Kensington Rune Stone
Kenyon, (Charles) Kyle (1924-1996)
Keokuk, Sauk chief, 1780?-1848.
Keowns, Washington Co.
Keppler, Ernest C. 1918
Kerkman, Samantha 1974
Kerwin, James Charles 1850 - 1921
Keshena Falls, Menominee Co.
Keshena [origin of place name]
Keshena, Menominee Co.
Keshena, Town of, Shawano Co.
Kessler, Frederick P. 1940
Kestell, Steve 1955
Kewaskum [origin of place name]
Kewaskum, Town of, Washington Co.
Kewaskum, Village of, Washington Co.
Kewaskum, Washington Co.
Kewaunee County [origin of place name]
Kewaunee Gold Excitement
Kewaunee River
Kewaunee [brief history]
Kewaunee [origin of place name]
Kewaunee, Kewaunee Co.
Kewaunee, Town of, Brown Co.
Kewaunee, Town of, Kewaunee Co.
Keweenaw Peninsula
Keyes, Elisha Williams 1828 - 1910
Keyeser, Columbia Co.
Keyesville, Jefferson Co.
Keyesville, Richland Co.
Keystone, Town of, Bayfield Co.
Kickapoo Indians
Kickapoo River
Kickapoo [origin of place name]
Kickapoo, Town of, Vernon Co.
Kickbush, August 1828 - 1901
Kieckhefer, Ferdinand August William 1852 - 1919
Kiekhoefer, William Henry 1883 - 1951
Kiel [brief history]
Kiel, Manitowoc Co.
Kieler, Grant Co.
Kikapous
Kilataks
Kilbourn [origin of place name]
Kilbourn, Byron 1801 - 1870
Kilbourntown (Historic Marker Erected 1998)
Kilbourntown (Historic Marker Erected 1998)
Kilbournville, Racine Co.
Kilby
Kildare, Town of, Juneau Co.
Kilgore, Damon Y[Oung?] 1827 - 1888
kiliou
Kill-dad (logging)
Kimball, Alanson Mellen 1827 - 1913
Kimball, Iron Co.
Kimball, Town of, Iron Co.
Kimberly, John Alfred 1838 - 1928
Kimberly, Outagamie Co.
Kimberly, Village of, Outagamie Co.
Kincaid, Lloyd H. 1925
Kind, Ron 1963
king post (maritime)
King, Charles 1844 - 1933
King, Franklin Hiram 1848 - 1911
King, Gen. Rufus (1814-1876)
King, Town of, Lincoln Co.
King, Waupaca Co.
Kings Corners [origin of place name]
Kingsbridge, Manitowoc Co.
Kingsley Bend Indian Mounds (Historic Marker Erect
Kingsley Corners, Dane Co.
Kingston [origin of place name]
Kingston, Green Lake Co.
Kingston, Town of, Green Lake Co.
Kingston, Town of, Juneau Co.
Kingston, Town of, Sauk Co.
Kingston, Village of, Green Lake Co.
Kinney, Kathy 1954 -
kinnickinnic
Kinnickinnic [origin of place name]
Kinnickinnic, Town of, St. Croix Co.
Kinnikinnic, Town of, Milwaukee Co.
Kinnikinnic, Town of, St. Croix Co.
Kinnikinnic, Town of, St. Croix Co.
Kinsman, Delos Oscar 1868 - 1948
Kintz, Milford C. 1903
Kinzie, John Harris 1803 - 1865
Kinzie, Juliette Augusta, 1806-1870
Kionconan
Kiouanan
Kirby, Michael G. 1952
Kirby, Monroe Co.
Kirchhayn, Washington Co.
Kiskakons
Kiskaouets
Kissel, Louis 1839 - 1908
kitchi
Kitchi Okima
Kitchigamick Indians
Kittle, William 1861 - 1942
Kleczka, Gerald D. 1943
Kleczka, Jerry 1943
Klevenville, Dane Co.
Klicka, George H. 1934
Klingler, Emil F. (1887 - ?)
Klondike, Kenosha Co.
Klondike, Oconto Co.
Kloten, Calumet Co.
Klug, Scott L. 1953
Klusman, Judith 1956
Knaggs Ferry (Historic Marker Erected 1955)
Knapp, Dunn Co.
Knapp, Gilbert 1798 - 1887
Knapp, John Holly [Jr.] 1825 - 1888
Knapp, Stout & Co.
Knapp, Town of, Jackson Co.
Knapp, Village of, Dunn Co.
knee (maritime)
Kneeland, James 1816 - 1899
Kneeland, Moses 1809 - 1864
Kneeland, Racine Co.
Knellsville, Ozaukee Co.
Knight, John Henry 1836 - 1903
Knight, Town of, Iron Co.
Knights of Labor
Knights of St. Crispin
knot (maritime)
Knot-bumper (logging)
Knowles, Dodge Co.
Knowles, Robert P. 1916
Knowles, Warren P. 1908
Knowlton, James H. 1813 - 1879
Knowlton, Marathon Co.
Knowlton, Town of, Marathon Co.
Knowlton, Wiram 1816 - 1863
Knox, Randall S. 1949
Knox, Town of, Price Co.
Knutson, Milo G. 1918
Kodan, Kewaunee Co.
Koenig, Joseph 1858 - 1929
Koepenick, Langlade Co.
Koeppen, George 1833 - 1897
Kohl, Herbert H. 1935
Kohler Strike
Kohler [origin of place name]
Kohler, John Michael 1844 - 1900
Kohler, Marie Christine 1876 - 1943
Kohler, Ozaukee Co.
Kohler, Ruth Miriam [De Young] 1906 - 1953
Kohler, Sheboygan Co.
Kohler, Village of, Sheboygan Co.
Kohler, Walter Jodok 1875 - 1940
Kohlsville, Washington Co.
Kolb, Brown Co.
Kolberg, Door Co.
Komensky, Town of, Jackson Co.
Kordus, Robert P. 1939
Korean War
Korean War (Historic Marker Erected 1990)
Koro, Winnebago Co.
Korpela, Ernest J. 1936
Koshkonong creek, Dane Co.
Koshkonong Manor, Jefferson Co.
Koshkonong Mounds, Jefferson Co.
Koshkonong [origin of place name]
Koshkonong, Jefferson Co.
Koshkonong, Town of, Jefferson Co.
Koss, Rudolph Alexander 1823 - 1894
Kossuth [origin of place name]
Kossuth, Town of, Columbia Co.
Kossuth, Town of, Fond du Lac Co.
Kossuth, Town of, Manitowoc Co.
Kostuck, John T. 1892
Krakow, Shawano Co.
Kraut, Hans Baptiste 1881 - 1947
Krautbauer, Francis Xavier 1824 - 1885
Krawczyk, Judy 1939
Kreibich, Robin G. 1959
Kreinersville [origin of place name]
Kreiter Piano Company
Kremers, Edward 1865 - 1941
Kremlin, Marinette Co.
Kreul, Richard 1924
Kreuser, James E. 1961
Kreutzer, Andrew Laurence 1862 - 1944
Krez, Conrad 1828 - 1897
kringle (food)
Kroghville, Jefferson Co.
Krok, Kewaunee Co.
Krok, Town of, Kewaunee Co.
Kronenwetter (historical), Town of, Marathon Co.
Kronenwetter [origin of place name]
Kronenwetter, Marathon Co.
Kronenwetter, Town of, Marathon Co.
Kronenwetter, Village of, Marathon Co.
Kronshage, Theodore Jr. 1869 - 1934
Krosnicki, Kathleen A. 1950
Krueger, Clifford W. 1918
Krug, Shirley 1958
Kruger [origin of place name]
krumkake (food)
Krumrey, Henry 1852 - 1922
Krusick, Peggy 1956
Kruszka, Michael 1860 - 1918
Kryszak, Mary [Olszewski] 1876 - 1945
Ku Klux Klan in Wisconsin
Kumlien, Thure Ludwig Theodore 1819 - 1888
Kunde, Kenneth 1916
Kundig, Martin 1805 - 1879
Kunesh, Brown Co.
Kunicki, Walter J. 1958
Kurth (historical), Clark Co.
Kurz, Henry 1826 - 1906
Kustermann, Gustav 1850 - 1919
Kuypers, John Anton 1869 - 1940
l'Eau Claire
La Crosse Boiling Water Reactor (Historic Marker E
La Crosse County
La Crosse County [origin of place name]
La Crosse [brief history]
La Crosse [origin of place name]
La Crosse, La Crosse Co.
La Crosse, Town of, La Crosse Co.
La Farge, Vernon Co.
La Farge, Village of, Vernon Co.
La Fave, John 1949
La Follette, Belle Case, 1859-1931
La Follette, Bronson C. 1936
La Follette, Douglas J.
La Follette, Philip Fox, 1897-1965
La Follette, Robert Marion Sr. (1855-1925)(Histori
La Follette, Robert Marion Sr. 1855 - 1925
La Follette, Robert Marion, Jr., 1895 - 1953
La Follette, Town of, Burnett Co.
La Follette, Town of, Forest Co.
La Grange [origin of place name]
La Grange, Col. Oscar H. (1837-1915)
La Grange, Town of, Monroe Co.
La Grange, Town of, Walworth Co.
La Grange, Walworth Co.
La Pointe County (obsolete)
La Pointe [origin of place name]
La Pointe, Ashland Co.
La Pointe, Town of, Ashland Co.
La Prairie [origin of place name]
La Prairie, Town of, Rock Co.
La Ronde, Louis Denis De 1675 - 1741
La Rue [origin of place name]
La Salle (explorer)
La Valle [origin of place name]
La Valle, Sauk Co.
La Valle, Town of, Sauk Co.
La Valle, Village of, Sauk Co.
Laatsch, James F. 1940
labor movement in Wisconsin
Labraugh Lake, Waukesha Co.
Lac Court Oreilles Reservation
Lac de Boeuf
Lac du Flambeau (Historic Marker Erected 1956)
Lac du Flambeau Reservation
Lac du Flambeau [origin of place name]
Lac du Flambeau, Town of, Vilas Co.
Lac du Flambeau, Vilas Co.
Lac La Belle, Village of, Waukesha Co.
Lac La Belle, Waukesha Co.
Lac Vieux Desert (Historic Marker Erected 1960)
Lac Vieux Desert, Vilas Co.
Lacher, John Henry Alois 1856 - 1936
lacrosse (game)
Lacrosse (place name)
Ladd, Azel Parkhurst 1811 - 1854
Ladoga, Fond du Lac Co.
Ladwig, Bonnie L. 1939
Lady Elgin (shipwreck, 1860)
Ladysmith [brief history]
Ladysmith [origin of place name]
Ladysmith, Rusk Co.
Lafayette County [origin of place name]
Lafayette [origin of place name]
Lafayette, Town of, Chippewa Co.
Lafayette, Town of, Monroe Co.
Lafayette, Town of, Walworth Co.
Lafollette
Lahontan, Baron, (Lom D'Arce De Lahontan, Louis Ar
Laird, Melvin R. 1922 -
Lake Beulah, Walworth Co.
Lake Church, Ozaukee Co.
Lake Como, Walworth Co.
Lake Delton [brief history]
Lake Delton, Sauk Co.
Lake Elkheart [origin of place name]
Lake Emily (historical), Portage Co.
Lake Five, Waukesha Co.
Lake Geneva, Walworth Co.
Lake Geneva, Walworth Co. [origin of place name]
Lake Hallie, Chippewa Co.
Lake Hallie, Village of, Chippewa Co.
Lake Holcombe, Town of, Chippewa Co.
Lake Koshkonong Effigy Mounds (Historic Marker Ere
Lake Koshkonong, Jefferson Co.
Lake Lac La Belle, Jefferson Co.
Lake Lawn, Walworth Co.
Lake Maria, Election precinct of, Marquette Co.
Lake Mendota [origin of place name]
Lake Mills [origin of place name]
Lake Mills, Jefferson Co.
Lake Mills, Town of, Jefferson Co.
Lake Namekagon [origin of place name]
Lake Nebagamain [origin of place name]
Lake Nebagamon, Douglas Co.
Lake Nebagamon, Village of, Douglas Co.
Lake Nemahbin [origin of place name]
Lake of the Illinois
Lake Owen (historical), Bayfield Co.
Lake Owen, Bayfield Co.
Lake Pepin
Lake Pepin (Historic Marker Erected 1955)
Lake Ripley (body of water), Jefferson Co.
Lake Ripley (Historic Marker Erected 1955)
Lake Ripley, Jefferson Co.
Lake Shangrila, Kenosha Co.
Lake St. Clair
Lake Superior [origin of place name]
Lake Tomahawk, Oneida Co.
Lake Tomahawk, Town of, Oneida Co.
Lake Waubesa [origin of place name]
Lake Waubesa, Dane Co.
Lake Wazeecha, Wood Co.
Lake Windsor, Dane Co.
Lake Winnebago
Lake Wisconsin, Columbia Co.
Lake Wissota, Chippewa Co.
Lake, Town of, Marinette Co.
Lake, Town of, Milwaukee Co.
Lake, Town of, Price Co.
Lakefield, Ozaukee Co.
Lakeland, Town of, Barron Co.
Lakeland, Town of, Barron Co.
Lakeport, Pepin Co.
Lakeside, Town of, Douglas Co.
Laketown, Town of, Polk Co.
Lakeview (historical), La Crosse Co.
Lakeview, Dane Co.
Lakewood Estates, Green Lake Co.
Lakewood, Oconto Co.
Lakewood, Town of, Oconto Co.
Lalemant, Fr. Jérôme (Hierosme), 1593-1673
Lallensack, Francis J. 1916
Lalumiere, Stanislaus Petty 1822 - 1895
Lamar, Polk Co.
Lamartine [origin of place name]
Lamartine, Fond du Lac Co.
Lamartine, Town of, Fond du Lac Co.
Lamb, Eugene M. 1910
Lamberton [origin of place name]
Lamont, Lafayette Co.
Lamont, Town of, Lafayette Co.
Lamoreux, Silas Wright 1843 - 1909
Lampert, Florian 1863 - 1930
Lampson, Washburn Co.
Lanark, Town of, Portage Co.
Lancaster Junction, Grant Co.
Lancaster [brief history]
Lancaster [origin of place name]
Lancaster, Election precinct of, Grant Co.
Lancaster, Grant Co.
Land Grant Scandal
Land O' Lakes, Town of, Vilas Co.
Land O' Lakes, Vilas Co.
land office
land-carriage
Lander Guards (Civil War)
Lander, Town of, Grant Co.
Landreth, Albert 1858 - 1899
Landstad, Shawano Co.
Laneville, Pepin Co.
Laney, Shawano Co.
Lange, Louie Augustus 1854 - 1917
Langeland, Knud 1813 - 1888
Langenberg, Conrad (1830-1899)
Langes Corners, Brown Co.
Langlade County Forest: Wisconsin's First County F
Langlade [origin of place name]
Langlade, Charles Michel 1729 - 1801
Langlade, Langlade Co.
Langlade, Town of, Langlade Co.
Langner, Arnold W. F. 1925
Lannon Stone (Historic Marker Erected 1979)
Lannon [origin of place name]
Lannon, Village of, Waukesha Co.
Lannon, Waukesha Co.
Lansing, Town of, Outagamie Co.
Lant, Town of, Eau Claire Co.
Laona Junction, Forest Co.
Laona School Forest (Historic Marker Erected 1975)
Laona, Forest Co.
Laona, Town of, Forest Co.
Laper, Jr., Oscar A. 1915
Lapham Junction, Jackson Co.
Lapham Peak (Historic Marker Erected 1995)
Lapham's Peak [origin of place name]
Lapham, Increase Allen 1811 - 1875
Lapointe
Lark, Brown Co.
Larrabee, Charles Hathaway 1820 - 1883
Larrabee, Manitowoc Co.
Larrabee, Town of, Waupaca Co.
Larsen, Lawrence R. 1897
Larsen, Marty 1905
Larsen, Winnebago Co.
Larsen, [Peter) Laur[Entius] 1833 - 1915
Larson, Gustus Ludvig 1881 - 1953
Larson, Ludvig Conrad 1899 - 1953
Larson, Robert J. 1932
LaRue, Sauk Co.
LaSalle, Robert Rene Cavelier, sieur de, 1643 - 16
Lasee, Alan J. 1937
Lasee, Frank G. 1961
Lasleys Point, Winnebago Co.
Lassa, Julie M. 1970
Last Covered Bridge (Built 1876, retired 1962) (Hi
Lathan, Raymond Lee 1915
Lathrop, John Hiram 1799 - 1866
Lathrop, Stephen Pearl 1816 - 1854
Latin, Jacquelyn J. 1952
Lato, Stanley J. 1924
Latvians in Wisconsin
Laubenheimer, Jacob George 1874 - 1936
Lauderdale, Walworth Co.
Laudolff Beach, Fond du Lac Co.
Laun, Jr., Alfred A. 1905
launch (maritime)
Lauri, Carl E. 1924
Laurieville, Town of, Door Co.
Lautenschlager, Peggy A. 1955
Law and Order League
Law, James Richard 1885 - 1952
Lawe, George William 1810 - 1895
Lawe, John 1780 - 1846
Lawler, John 1832 - 1891
Lawrence Prairie, Census district of, Dane Co.
Lawrence, Marquette Co.
Lawrence, Town of, Brown Co.
Lawrence, Town of, Rusk Co.
Lawson, Alfred W. (1869 - 1954)
Lawson, Publius Virgilius 1853 - 1920
Lawton, Barbara 1951
Lawton, Pierce Co.
Layfayette Rifles (Civil War)
Layton, Frederick 1827 - 1919
Lazich, Mary A. 1952
Le Jeune, Fr. Paul, 1591-1664
Le Marchand de Lignery, Constant c.1663 - 1731
Le Marchand de Lignery, François-Marie, 1703 -1759
Le Mercier, Fr., 1604-1690
Le Sueur, Pierre 1657 - 1705
lea (farming)
Leach, Eugene Walter 1857 - 1938
Lead Mine, Lafayette Co.
lead region
league
League of Nations
League of Women Voters
Leahy, William D., Fleet Admiral, U.S. Navy (1875-
Lean, John S. 1851 - 1948
Lebanon [origin of place name]
Lebanon, Dodge Co.
Lebanon, Town of, Dodge Co.
Lebanon, Town of, Waupaca Co.
Ledgeview, Town of, Brown Co.
Lee, Joseph 1942
Lee, Mordecai 1948
Leean, Joseph 1942
Leeds, Columbia Co.
Leeds, Town of, Columbia Co.
Leef [origin of place name]
Leeman, Outagamie Co.
lefse (food)
Legler, Henry Eduard 1861 - 1917
Lehigh, Barron Co.
Lehman, John W. 1945
Lehman, Michael A. 1943
Leibham, Joseph K. 1969
Leidersdorf, Bernhard 1837 - 1912
Leipsig, Dodge Co.
Leith, Charles Kenneth 1875 - 1956
Leland [origin of place name]
Leland, Sauk Co.
Lemahieu, Daniel R. 1946
Lemington, Sawyer Co.
Lemonweir River
Lemonweir, Juneau Co.
Lemonweir, Town of, Juneau Co.
Lemonweir, Town of, Sauk Co.
Lena, Oconto Co.
Lena, Town of, Oconto Co.
Lena, Village of, Oconto Co.
Lennox, Oneida Co.
Lenroot, Irvine Luther 1869 - 1949
Lenroot, Town of, Sawyer Co.
Leola, Town of, Adams Co.
Leon [origin of place name]
Leon, Monroe Co.
Leon, Town of, Monroe Co.
Leon, Town of, Waushara Co.
Leonard, Jerris 1931
Leonard, William Ellery 1876 - 1944
Leonards Point, Winnebago Co.
Leonards, Bayfield Co.
Leopold, Stephen R. 1944
Leopold, [Rand] Aldo 1887 - 1948
Leopolis, Shawano Co.
Lepak, David J. 1959
LeRoy, Dodge Co.
Leroy, Election precinct of, Columbia Co.
Leroy, Town of, Dodge Co.
Leroy, Town of, Monroe Co.
Leroy, Town of, Polk Co.
Lesbian, Gay, Bisexual and Transgender (LGBT) Righ
Leslie, Lafayette Co.
Lessor, Town of, Shawano Co.
Lester, Charles Stanley 1846 - 1913
Lester, Clarence Brown 1877 - 1951
Levalley, Christopher Warren 1833 - 1918
Levander, Harry O. 1901
level junction (railroads)
Leverich, James Earl
Levis, Jackson Co.
Levis, Town of, Clark Co.
Levitan, Solomon 1862 - 1940
Levy, John Meyer 1820 - 1910
Lewis Guards (Civil War)
Lewis' Landing [origin of place name]
Lewis, Gov. James Taylor (1819-1904)
Lewis, James Otto 1799 - 1858
Lewis, James R. 1936
Lewis, Margaret S. 1954
Lewis, Polk Co.
Lewis, Theodore Gorman 1890 - 1934
Lewison, Bernard
Lewiston, Columbia Co.
Lewiston, Town of, Columbia Co.
Lexington, Town of, Marquette Co.
Leyden, Rock Co.
Liberace 1919 - 1987
Liberty Corners, Kenosha Co.
Liberty Grove, Town of, Door Co.
Liberty Pole, Vernon Co.
Liberty [origin of place name]
Liberty, Town of, Grant Co.
Liberty, Town of, Manitowoc Co.
Liberty, Town of, Outagamie Co.
Liberty, Town of, Vernon Co.
Liberty, Vernon Co.
libraries in Wisconsin
Lien, Edgar E. 1936
lieue (Fr.)
Lieutenant (Civil War)
Lieutenant Colonel (Civil War)
lighter (maritime)
Lilly Lake [origin of place name]
Lily, Langlade Co.
Lily, Town of, Langlade Co.
Lima Center, Rock Co.
Lima [origin of place name]
Lima, Pepin Co.
Lima, Town of, Calumet Co.
Lima, Town of, Grant Co.
Lima, Town of, Pepin Co.
Lima, Town of, Rock Co.
Lima, Town of, Sheboygan Co.
Lime industry in Wisconsin
Lime Ridge [origin of place name]
Lime Ridge, Sauk Co.
Lime Ridge, Village of, Sauk Co.
Lime, Town of, Fond du Lac Co.
limpa (food)
Lincoln County [origin of place name]
Lincoln Guards (Civil War)
Lincoln [origin of place name]
Lincoln, Abraham (in Wisconsin)
Lincoln, Kewaunee Co.
Lincoln, Town of, Adams Co.
Lincoln, Town of, Bayfield Co.
Lincoln, Town of, Buffalo Co.
Lincoln, Town of, Burnett Co.
Lincoln, Town of, Eau Claire Co.
Lincoln, Town of, Forest Co.
Lincoln, Town of, Kewaunee Co.
Lincoln, Town of, Monroe Co.
Lincoln, Town of, Polk Co.
Lincoln, Town of, Trempealeau Co.
Lincoln, Town of, Vilas Co.
Lincoln, Town of, Wood Co.
Lincoln, Town of, Wood Co.
Lind [origin of place name]
Lind, Burnett Co.
Lind, Town of, Waupaca Co.
Linden Beach, Fond du Lac Co.
Linden [origin of place name]
Linden, Iowa Co.
Linden, Town of, Adams Co.
Linden, Town of, Iowa Co.
Linden, Town of, Portage Co.
Linden, Village of, Iowa Co.
Lindina, Juneau Co.
Lindina, Town of, Juneau Co.
Lindsay, Edmond James 1838 - 1924
Lindsey, Wood Co.
line (unit of measure)
Lingren, Ronald H. 1935
Liniwek
Linn Township [origin of place name]
Linn, Town of, Walworth Co.
Linton, Barbara J. 1952
Linton, Ralph 1893 - 1953
Linton, Walworth Co.
Linwood, Town of, Portage Co.
Lipscomb, Jr., Mark G. 1935
Liquor Riot (1850)
Lisbon, Town of, Juneau Co.
Lisbon, Town of, Waukesha Co.
Litchfield [origin of place name]
Lithuanians in Wisconsin
Litscher, Leroy "Pete" 1939
Little Black, Taylor Co.
Little Black, Town of, Taylor Co.
Little Bohemia raid
Little Bull Falls, Census district of, Portage Co.
Little Bull Rapids
Little Chicago, Marathon Co.
Little Chute, Outagamie Co.
Little Chute, Village of, Outagamie Co.
Little Eau Claire, Marathon Co.
Little Falls, Polk Co.
Little Falls, Town of, Monroe Co.
Little Grant, Town of, Grant Co.
Little Green Lake, Marquette Co.
Little Hope, Waupaca Co.
Little Kaukaulin Rapids
Little Norway, Dane Co.
Little Point, Winnebago Co.
Little Prairie, Walworth Co.
Little Priest, Ho-Chunk chief
Little Quinnesec Falls, Menominee River
Little Rapids, Brown Co.
Little Rice, Town of, Oneida Co.
Little River, Town of, Oconto Co.
Little Rose, Marathon Co.
Little Round Lake, Sawyer Co.
Little Sturgeon, Door Co.
Little Suamico, Oconto Co.
Little Suamico, Town of, Oconto Co.
Little Waupon, Portage Co.
Little Wolf (historical), Waupaca Co.
Little Wolf, Town of, Waupaca Co.
Livingston, Grant Co.
Livingston, Village of, Grant Co.
livre (Fr.)
Lizard Mound County Park (Historic Marker Erected
local train (railroads)
Lochner, John Frederick Carl 1822 - 1902
Lock-down (logging)
Lockhaven, Town of, Vernon Co.
Lockwood, James Henry 1793 - 1857
Loddes Mill [origin of place name]
Loddes Mill, Sauk Co.
lodes (mining)
Lodi, Columbia Co.
Lodi, Town of, Columbia Co.
Loeffelholz, Gabe 1940
Loevenhart, Arthur Solomon 1878 - 1929
log construction (architecture)
Log jam (logging)
Log-drive (logging)
Logan, Ben 1920 -
Logan, Oconto Co.
Loganville, Sauk Co.
Loganville, Village of, Sauk Co.
logging in Wisconsin
logmark (logging)
Lohrville, Village of, Waushara Co.
Lohrville, Waushara Co.
Lombard, Clark Co.
Lombardi, Vincent Thomas 1913 - 1970
Lomira [origin of place name]
Lomira, Dodge Co.
Lomira, Town of, Dodge Co.
Lomira, Village of, Dodge Co.
London, Dane Co.
Lone Rock [origin of place name]
Lone Rock, Juneau Co.
Lone Rock, Richland Co.
Lone Rock, Village of, Richland Co.
Long Lake, Florence Co.
Long Lake, Town of, Florence Co.
Long Lake, Town of, Vilas Co.
Long Lake, Town of, Washburn Co.
long lots
Longfellow's Madison Poem
Longwood, Clark Co.
Longwood, Town of, Clark Co.
Lookout, Buffalo Co.
Loomis, Marinette Co.
Loomis, Orland Steen 1893 - 1942
Loomis, Town of, Washburn Co.
Lorain, Town of, Polk Co.
Lord, Clifford Lee, 1912 - 1980
Lorenz, Richard 1858 - 1915
Loreta, Sauk Co.
Loretta, Sawyer Co.
Loretta, Town of, Sawyer Co.
Loretto [origin of place name]
Lorge, William D. 1960
Lorimar Estates, Racine Co.
Lorman, Barbara K. 1932
Lorman, Milton 1927
Lost Lake [origin of place name]
Lost Lake, Dodge Co.
Lothian, Thomas A. 1928
Lotto, Myron P. 1925
Lotz, Oscar 1880 - 1953
Loucks, Steven 1961
Louis Corners, Manitowoc Co.
Louis, Theodore 1829 - 1907
Louisburg, Grant Co.
Lourigan, Joseph 1901
Louvigny, Louis de la Porte de,
Lovass [origin of place name]
Love, William De Loss 1819 - 1898
Lovejoy, Allen Perry 1825 - 1904
Low Cloud, Charles Round 1872 - 1949
Lowe, Town of, Portage Co.
Lowell, Dodge Co.
Lowell, Mass.
Lowell, Town of, Dodge Co.
Lowell, Village of, Dodge Co.
Lowville [origin of place name]
Lowville, Columbia Co.
Lowville, Town of, Columbia Co.
Loyal, Clark Co.
Loyal, Town of, Clark Co.
Loyd, Richland Co.
Lublin [origin of place name]
Lublin, Taylor Co.
Lublin, Village of, Taylor Co.
Lucas, Town of, Dunn Co.
Lucey, Patrick J. 1918
Luck [origin of place name]
Luck, Polk Co.
Luck, Town of, Polk Co.
Luck, Village of, Polk Co.
Luckhardt, Esther Doughty
Luco, Fond du Lac Co.
Ludington, Eau Claire Co.
Ludington, Harrison 1812 - 1891
Ludington, Nelson 1818 - 1883
Ludington, Town of, Eau Claire Co.
Luebke, William 1906
Luedke, Herman August 1850 - 1917
Luedtke, Paul A. 1888
Lufkin, Eau Claire Co.
Lugerville, Price Co.
lumbering in Wisconsin
Lumberjack (logging)
Lumberjacks' nicknames (logging)
Lumberman (logging)
Lummpkin, Hope Henry 1882 - 1932
Lunch (logging)
Lund, Einer Peter 1903
Lund, Pierce Co.
Lunds, Shawano Co.
Luning, Frederick August 1811 - 1861
Lunt, Alfred 1893 - 1977
lupulin (farming)
Lustron (architecture)
lutefisk (food)
Luther College (Historic Marker Erected 1977)
Luther, Ernest Leonard 1868 - 1953
Lutheran Hill, Dane Co.
Lutherans in Wisconsin
Luxembourgers in Wisconsin
Luxemburg, Kewaunee Co.
Luxemburg, Town of, Kewaunee Co.
Luxemburg, Village of, Kewaunee Co.
Lykens, Polk Co.
Lymantown, Price Co.
Lynch, Richard J. 1921
Lynch, Thomas 1844 - 1898
Lynde, William Pitt 1817 - 1885
Lyndhurst, Shawano Co.
Lyndon Dale, Dodge Co.
Lyndon Station, Juneau Co.
Lyndon Station, Village of, Juneau Co.
Lyndon, Town of, Juneau Co.
Lyndon, Town of, Sheboygan Co.
Lynn, Clark Co.
Lynn, James J. 1916
Lynn, Town of, Clark Co.
Lynne, Town of, Oneida Co.
Lynxville [origin of place name]
Lynxville, Crawford Co.
Lynxville, Town of, Crawford Co.
Lynxville, Village of, Crawford Co.
Lyon Guards (Civil War)
Lyon Light Guard (Civil War)
Lyon's Pinery Battery (Civil War)
Lyon, Lucius, 1800-1851
Lyon, William Penn 1822 - 1913
Lyons (township) [origin of place name]
Lyons [origin of place name]
Lyons, Town of, Walworth Co.
Lyons, Walworth Co.
Lysne, Per 1880 - 1947
Mabel Tainter Memorial (Historic Marker Erected 19
Macalister, James 1840 - 1913
Macarthur Square (Historic Marker Erected 1979)
Macfayden, Alexander 1879 - 1936
Machias, Town of, Eau Claire Co.
Mack, John Givan Davis 1867 - 1924
Mackford [origin of place name]
Mackford, Town of, Green Lake Co.
Mackie Spring [origin of place name]
Mackinac Island
Mackinac Island [origin of place name]
Mackinaw
Mackinaw (logging)
Mackinaw boat
Mackville, Outagamie Co.
MacMurray, Fred 1908 - 1991
Macquarrie, Gordon 1900 - 1956
Macy, John B. 1799 - 1856
Madeleine Island
Madeline Island
Madeline Island (Historic Marker Erected 1956)
Madeline Island (Historic Marker Erected 1961)
Madeline Island [origin of place name]
Madge, Town of, Washburn Co.
Madge, Washburn Co.
Madison Alliance for Homosexual Equality (MAHE)
Madison Guard (Civil War)
Madison Sharp-shooters (Civil War)
Madison [brief history]
Madison [origin of place name]
Madison, Dane Co.
Madison, Election precinct of, Dane Co.
Madison, Town of, Dane Co.
Madsen, Manitowoc Co.
Magnolia station [origin of place name]
Magnolia, Rock Co.
Magnolia, Town of, Rock Co.
Magnuson, Sue R. 1952
Magoon, Henry Sterling 1832 - 1889
Mahican
Maiden Rock (Historic Marker Erected 1966)
Maiden Rock [origin of place name]
Maiden Rock, Pierce Co.
Maiden Rock, Town of, Pierce Co.
Maiden Rock, Village of, Pierce Co.
Maier, Henry W. 1918
main deck (maritime)
Main Street Historic District, Stoughton (Historic
Main, Angie Kumlien [Mary Angela (Kumlien) Main] 1
mainchains (maritime)
Maine Settlement [origin of place name]
Maine, Town of, Marathon Co.
Maine, Town of, Outagamie Co.
mainline (railroads)
mainmast (maritime)
maize
Major "Dick" Bong (Historic Marker Erected 1957)
Major (Civil War)
Major General (Civil War)
Make her out (logging)
Malhominis
Malhonmines
Mallwood, Rock Co.
Malone, Fond du Lac Co.
Malone, Town of, St. Croix Co.
Malvern, Oneida Co.
Man-catcher (logging)
Manawa [origin of place name]
Manawa, Waupaca Co.
Manchester [origin of place name]
Manchester, Green Lake Co.
Manchester, Town of, Calumet Co.
Manchester, Town of, Green Lake Co.
Manchester, Town of, Jackson Co.
Manders, Adrian J. 1912
Manders, Verna M. 1920
Manel, Francis 1864 - 1928
Mangekekias
mangeur de lard (Fr.)
manitou
Manitou Island [origin of place name]
Manitou, Town of, Brown Co.
Manitowish River [origin of place name]
Manitowish Waters, Town of, Vilas Co.
Manitowish Waters, Vilas Co.
Manitowish [origin of place name]
Manitowish, Iron Co.
Manitowoc and Kewanee County Guards (Civil War)
Manitowoc and the Car Ferries (Historic Marker Ere
Manitowoc County [origin of place name]
Manitowoc Rapids, Manitowoc Co.
Manitowoc Rapids, Town of, Manitowoc Co.
Manitowoc Submarines (Historic Marker Erected 1989
Manitowoc [brief history]
Manitowoc [origin of place name]
Manitowoc's Maritime Heritage (Historic Marker Ere
Manitowoc, Manitowoc Co.
Manitowoc, Town of, Manitowoc Co.
Mann, Marathon Co.
mansard roof (architecture)
Manske, John T. 1952
Manson (historical), Oneida Co.
Mantouechs
manufacturing in Wisconsin
Manville, Charles Brayton 1834 - 1927
Mapes, David Parshall 1798 - 1890
Maple Beach, Rock Co.
Maple Bluff, Dane Co.
Maple Bluff, Village of, Dane Co.
Maple Creek, Town of, Outagamie Co.
Maple Grove, La Crosse Co.
Maple Grove, Manitowoc Co.
Maple Grove, Town of, Barron Co.
Maple Grove, Town of, Manitowoc Co.
Maple Grove, Town of, Shawano Co.
Maple Grove, Town of, Vilas Co.
Maple Heights, Calumet Co.
Maple Hill, Chippewa Co.
Maple Plain, Town of, Barron Co.
maple syrup industry
Maple Valley, Town of, Oconto Co.
Maple, Douglas Co.
Maple, Town of, Douglas Co.
Maplehurst, Taylor Co.
Maplehurst, Town of, Taylor Co.
Mapleton, Waukesha Co.
Maplewood, Door Co.
Maquanego, Town of, Waukesha Co.
Marathon City, Marathon Co.
Marathon County [origin of place name]
Marathon, Marathon Co.
Marathon, Town of, Marathon Co.
Marble (historical), Waupaca Co.
Marblehead, Fond du Lac Co.
Marcellon [origin of place name]
Marcellon, Columbia Co.
Marcellon, Town of, Columbia Co.
March Rapids, Marathon Co.
Marchetti, Louis 1846 - 1931
Marching 12th (Civil War)
Marching 12th (Civil War)
Marcklein, Bernhard Gustav 1848 - 1915
Marcy, Waukesha Co.
Marengo, Ashland Co.
Marengo, Town of, Ashland Co.
Maribel, Manitowoc Co.
Maribel, Village of, Manitowoc Co.
Marietta [origin of place name]
Marietta, Town of, Crawford Co.
Marin, Joseph, dates unverified
Marin, Paul, 1692-1753
Marinette County [origin of place name]
Marinette [brief history]
Marinette [origin of place name]
Marinette, Marinette Co.
Marinette, Queen [Marinette Chevalier Jacobs] 1793
Marinette, Town of, Brown Co.
Marinette, Town of, Marinette Co.
Marinuka [origin of place name]
Marion [origin of place name]
Marion, Town of, Grant Co.
Marion, Town of, Juneau Co.
Marion, Town of, Waushara Co.
Marion, Waupaca Co.
Markesan, Green Lake Co.
Marks, Solon 1827 - 1914
Markton, Langlade Co.
marl (farming)
marl (mining)
Marlands, Vilas Co.
Marlatt, Abby Lillian 1869 - 1943
Marlatt, Walter Thomas 1874 - 1925
Marotz, Robert G. 1921
Maroumine
Marquette (Historic Marker Erected 1957)
Marquette County [origin of place name]
Marquette Jolliet Expedition (Historic Marker Erec
Marquette, Green Lake Co.
Marquette, Jacques 1637 - 1675
Marquette, Town of, Green Lake Co.
Marquette, Village of, Green Lake Co.
Marr, Carl Von 1858 - 1936
Marsh, Cutting 1800 - 1873
Marshall Township [origin of place name]
Marshall [origin of place name]
Marshall, Dane Co.
Marshall, Rouget De Lisle 1847 - 1922
Marshall, Samuel 1820 - 1907
Marshall, Town of, Richland Co.
Marshall, Town of, Rusk Co.
Marshall, Village of, Dane Co.
Marshfield [origin of place name]
Marshfield, Town of, Fond du Lac Co.
Marshfield, Town of, Wood Co.
Marshfield, Wood Co.
Marshland, Buffalo Co.
Marshland, Town of, Burnett Co.
Marsterson, Town of, Vernon Co.
Marston Spring [origin of place name]
Marston [origin of place name]
Marston, Town of, Sauk Co.
Martell Township [origin of place name]
Martell, Pierce Co.
Martell, Town of, Pierce Co.
Martin, David O. 1931
Martin, Deborah Beaumont 1858 - 1931
Martin, James Baynard 1814 - 1878
Martin, Jerome A. 1908
Martin, John E. 1891
Martin, Joseph 1878 - 1946
Martin, Morgan Lewis 1805 - 1887
Martinsville, Dane Co.
Martintown, Green Co.
Marxville, Dane Co.
Marytown, Fond du Lac Co.
Mascoutins
Maskoutech
Mason, Bayfield Co.
Mason, Town of, Bayfield Co.
Mason, Town of, Bayfield Co.
Mason, Town of, Brown Co.
Mason, Village of, Bayfield Co.
Masonic Home (Historic Marker Erected 1958)
Mass transportation in Wisconsin
mast (maritime)
master (maritime)
mastodon
Match-i-ku-is
mate (maritime)
Math, Richard P. 1932
Mather, Juneau Co.
Mathews, Vincent R. 1912
Mathie, Karl 1866 - 1938
Mato, Louis V. 1903
Matteson [origin of place name]
Matteson, Town of, Waupaca Co.
mattock (farming)
Mattoon, Shawano Co.
Mattoon, Village of, Shawano Co.
Matty, Richard P. 1932
Mau-quo-pin-e-no
Maughstown
Maunesha River
Maunesha [origin of place name]
Maurer, Irving 1879 - 1942
Maurer, John J. 1922
Mauston [origin of place name]
Mauston, Juneau Co.
Mauthe, William 1873 - 1942
Mauvaise River
maw (farming)
Mawikwe Bay [origin of place name]
Maxfield, John B. (1818-1906)
Maxon, Densmore William 1820 - 1887
Maxville, Buffalo Co.
Maxville, Town of, Buffalo Co.
May Corner, Marinette Co.
May Riot (1886)
May [origin of place name]
Mayer, Stephan F. 1854 - 1935
Mayfield [origin of place name]
Mayfield, Washington Co.
Mayhew [origin of place name]
Mayhews (historical), Walworth Co.
Mayville [origin of place name]
Mayville, Dodge Co.
Mayville, Town of, Clark Co.
Mayville, Town of, Shawano Co.
Mazomanie (Historic Marker Erected 1996)
Mazomanie [origin of place name]
Mazomanie, Dane Co.
Mazomanie, Town of, Dane Co.
Mazomanie, Village of, Dane Co.
Mazzuchelli, Samuel Charles 1806 - 1864
McAllister, Marinette Co.
Mcarthur, Arthur 1815 - 1896
McArthur, Gen. Arthur (1845-1912)
Mccallum, Scott 1950
Mccann, James A. 1924
Mccanna, Charles B. 1851 - 1913
Mccarthy, Charles 1873 - 1921
McCarthy, Joseph, 1908 - 1957
McCartney, Grant Co.
Mccaskill, Virgil Everett 1866 - 1922
Mcclain, Edward F. 1935
McClellan, Town of, Wood Co.
McCloy, William Ashby, 1913-2000
McCord, Lincoln Co.
Mccord, Myron Hawley 1840 - 1908
Mccormick, John E. 1924
Mccormick, Robert Laird 1847 - 1911
Mccormick, Terri
Mccoy, Robert Bruce 1867 - 1926
McCracken, Guy (ca. 1861 - 1931)
Mccreery, Maud [Leonard] 1883 - 1938
Mcdill, Alexander Stuart 1822 - 1875
Mcdill, John Rich 1860 - 1934
Mcdougal, Milton 1917
McDowell [origin of place name]
Mcessy, Earl F.
Mcewen, John L. 1928
McFarland, Dane Co.
McFarland, Village of, Dane Co.
Mcgavick, Alexander Joseph 1863 - 1948
Mcglachlin, Edward 1840 - 1931
Mcgovern, Francis Edward 1866 - 1946
Mcgregor, Duncan 1836 - 1921
McGrew (historical), Richland Co.
Mcindoe, Walter Duncan 1819 - 1872
Mckay, J. Curtis 1926
McKay, William
McKee, Lt. Col. David (1828-1862)
Mckenna, Dale T. 1937
McKinley, Polk Co.
McKinley, Town of, Polk Co.
McKinley, Town of, Taylor Co.
Mclenegan, Charles Edward 1858 - 1920
McMillan, Marathon Co.
McMillan, Town of, Marathon Co.
McMynn, John Gibson 1824 - 1900
McNaughton [origin of place name]
McNaughton, Oneida Co.
Mcparland, Leland S. 1896
McVicar, Angus Boyd, 1903 - 1964
Meacham, Town of, Walworth Co.
Mead, Daniel Webster 1862 - 1948
Mead, Town of, Clark Co.
Meadow Valley, Juneau Co.
Meadowbrook, Town of, Sawyer Co.
Meadowmere (Historic Marker Erected 1955)
Meanwell, Walter Ernest 1884 - 1953
Mears, Helen Farnsworth 1872 - 1916
meat packing industry
Meaux, Thomas W. 1954
Mecan, Marquette Co.
Mecan, Town of, Marquette Co.
Medary, La Crosse Co.
Medary, Town of, La Crosse Co.
medecin (Fr.)
Medford [origin of place name]
Medford, Taylor Co.
Medford, Town of, Taylor Co.
Medina Junction, Winnebago Co.
Medina [origin of place name]
Medina, Outagamie Co.
Medina, Town of, Dane Co.
Medina, Town of, Outagamie Co.
Medinger, John Donald 1948
Meehan, Portage Co.
Meeker, Moses 1790 - 1865
Meeker, Washington Co.
Meekers Grove, Lafayette Co.
Meeme Poll House (Historic Marker Erected 1998)
Meeme [origin of place name]
Meeme, Manitowoc Co.
Meeme, Town of, Manitowoc Co.
Meenon, Town of, Burnett Co.
Meeuwsen, Terry Anne (born 1949)
Meggers, Calumet Co.
Megnon [origin of place name]
Meir, Golda (1898-1978) (Historic Marker Erected 1
Meir, Golda, l898-1978.
Mellen [origin of place name]
Mellen, Ashland Co.
Melms, Edmund [Ludwig Robert Paul) Theodore 1874 -
Melnik, Manitowoc Co.
Melrose Park, Winnebago Co.
Melrose, Jackson Co.
Melrose, Town of, Jackson Co.
Melrose, Village of, Jackson Co.
Melvin, Thomas T. 1937
Melvina, Monroe Co.
Melvina, Village of, Monroe Co.
Memee Creek, Sheboygan Co.
Menard, Fr. Rene, 1605-1661
Menard, Mary Ann, early 19th c.
Menasha Guards (Civil War)
Menasha [brief history]
Menasha [origin of place name]
Menasha, Town of, Winnebago Co.
Menasha, Winnebago Co.
Menchalville, Manitowoc Co.
Mendota Beach, Dane Co.
Mendota Guard (Civil War)
Menekaune [origin of place name]
Menominee Indians
Menominee Reservation (Historic Marker Erected 195
Menominee River
Menominee Treaty of 1831
Menominee Treaty of 1836
Menominee Treaty of 1848
Menominee, Town of, Brown Co.
Menominee, Town of, Menominee Co.
Menomonee Falls, Menomonee River
Menomonee Falls, Village of, Waukesha Co.
Menomonee Falls, Waukesha Co.
Menomonee, Election precinct of, Crawford Co.
Menomonee, Town of, Waukesha Co.
Menomoneeville
Menomonie Junction, Dunn Co.
Menomonie [brief history]
Menomonie [origin of place name]
Menomonie, Dunn Co.
Menomonie, Town of, Dunn Co.
Menos, Gus G. 1920
Mentor, Town of, Clark Co.
Mentor, Town of, Milwaukee Co.
Mequon River
Mequon [brief history]
Mequon [origin of place name]
Mequon, Ozaukee Co.
Mequon, Town of, Ozaukee Co.
Mercer, Iron Co.
Mercer, Town of, Iron Co.
Meridean, Dunn Co.
meridian (survey)
Merkel, Kenneth J. 1926
Merkt, John L. 1946
Merriam, Williah R. 1894
Merrill Park (Historic Marker Erected 1997)
Merrill [brief history]
Merrill [origin of place name]
Merrill, Lincoln Co.
Merrill, Sherburn Sanborn 1818 - 1885
Merrill, Town of, Lincoln Co.
Merrillan (origin of place name)
Merrillan, Jackson Co.
Merrillan, Village of, Jackson Co.
Merrimac, Sauk Co.
Merrimac, Town of, Sauk Co.
Merrimac, Village of, Sauk Co.
Merrimack [origin of place name]
Merriman, William Edward 1825 - 1892
Merton [origin of place name]
Merton, Town of, Waukesha Co.
Merton, Village of, Waukesha Co.
Merton, Waukesha Co.
Mertz, Edward F. 1890
Merville Springs [origin of place name]
Merz, Louis L. 1908
Mesconsing
Meskwaki Indians
Mesquakie Indians
Messmer, Sebastian Gebhard 1847 - 1930
Messmore Guards (Civil War)
metamorphic rocks (mining)
Metchigamias
Meteor, Sawyer Co.
Meteor, Town of, Sawyer Co.
metis (Fr.)
Metomen [origin of place name]
Metomen, Town of, Fond du Lac Co.
Metoxen, John 1770 - 1858
Metz, Sharon 1934
Metz, Winnebago Co.
Metzner Act
Meunier, Alex J. 1897
Mexicans in Wisconsin
Meyer, Balthasar Henry 1866 - 1954
Meyer, Dan 1949
Meyer, Mark 1963
Meyerhofer, Lee P. 1964
Miamis
mica (mining)
mica slate (mining)
Michigan Island [origin of place name]
Michigan Territory
Michilimakinac County
Michilimakinak
midden (archaeology)
Middle Inlet, Marinette Co.
Middle Inlet, Town of, Marinette Co.
Middle Ridge, La Crosse Co.
Middle Village, Menominee Co.
Middlefort [origin of place name]
Middleport, Ashland Co.
Middleton Junction, Dane Co.
Middleton [brief history]
Middleton, Dane Co.
Middleton, Town of, Dane Co.
Middleton, Town of, Portage Co.
Middletown, Town of, Marquette Co.
Midewiwin
Midland, Town of, Douglas Co.
midships (maritime)
Midway, La Crosse Co.
Mielke, Janet Soergel 1937
Mifflin, Iowa Co.
Mifflin, Town of, Iowa Co.
Mikana, Barron Co.
Milan, Marathon Co.
milch (farming)
Miles, Marinette Co.
Milford, Jefferson Co.
Milford, Town of, Jefferson Co.
Military Ridge Road
Military River Crossing (Historic Marker Erected 1
military road
Milk strikes, 1933
Mill Bluff (HIstoric Marker Erected 1963)
Mill Center, Brown Co.
Mill Creek (historical), Richland Co.
Mill Creek Community, Portage Co.
Mill Creek, Election precinct of, Green Co.
Milladore [origin of place name]
Milladore, Town of, Wood Co.
Milladore, Village of, Wood Co.
Milladore, Wood Co.
Millard, Walworth Co.
mille (Fr.)
Mille Lac
Miller [origin of place name]
Miller, Andrew Galbraith 1801 - 1874
Miller, Frederick 1824 - 1888
Miller, Frederick Charles 1906 - 1954
Miller, George Peckham 1858 - 1931
Miller, Jess 1884
Miller, Lucas Mitiades 1824 - 1902
Miller, Marjorie "Midge" 1922
Miller, Mark 1943
Miller, Roswell 1843 - 1913
Miller, Wesson Gage 1822 - 1893
Miller, William Snow 1858 - 1939
Millersville [origin of place name]
Millhome, Manitowoc Co.
Mills Law
Mills on the Creek (Historic Marker Erected 1997)
Mills, Charles Henry 1873 - 1937
Mills, Joseph Trotter 1811 - 1897
Mills, Simeon, 1810 - 1895
Mills, Town of, Washburn Co.
Millston, Jackson Co.
Millston, Town of, Jackson Co.
Milltown [origin of place name]
Milltown, Polk Co.
Milltown, Town of, Polk Co.
Milltown, Town of, Shawano Co.
Milltown, Village of, Polk Co.
Millville [origin of place name]
Millville, Census district of, Manitowoc Co.
Millville, Grant Co.
Millville, Town of, Grant Co.
Milton House (HIstoric Marker Erected 1961)
Milton Junction, Rock Co.
Milton [origin of place name]
Milton, Rock Co.
Milton, Town of, Buffalo Co.
Milton, Town of, Buffalo Co.
Milton, Town of, Rock Co.
Milwaukee & Horicon Railroad
Milwaukee & Missississippi Railroad
Milwaukee & Watertown Railroad
Milwaukee 14
Milwaukee and Rock River Canal
Milwaukee Braves
Milwaukee Brewers
Milwaukee Bucks
Milwaukee County
Milwaukee County [origin of place name]
Milwaukee County's First Airport (Historic Marker
Milwaukee Downer College (Historic Marker Erected
Milwaukee German Turners (Civil War)
Milwaukee Handicraft Project
Milwaukee Interurban Terminal (Historic Marker Ere
Milwaukee Light Guard (Civil War)
Milwaukee Regiment (Civil War)
Milwaukee Riflemen (Civil War)
Milwaukee Union Rifles (Civil War)
Milwaukee United School Integration Committee (MUS
Milwaukee Zouaves (Civil War)
Milwaukee [brief history]
Milwaukee [origin of place name]
Milwaukee, Town of, Milwaukee Co.
Milwaukee-Downer College
Minahan, Robert Emmet 1858 - 1935
Minahan, Victor Ivan 1881 - 1954
Minandeau, Jean Baptiste
Minawa Beach, Fond du Lac Co.
Mindoro, La Crosse Co.
Miner, Henry Austin 1829 - 1932
mineral district
Mineral Point [origin of place name]
Mineral Point, Green Co.
Mineral Point, Iowa Co.
Mineral Point, Town of, Iowa Co.
Miners' Guard (Civil War)
Minersville, Ashland Co.
Minertown [origin of place name]
mining in northern Wisconsin
mining in southwestern Wisconsin
miniskoick
Minnesota Junction, Dodge Co.
Minocqua [origin of place name]
Minocqua, Oneida Co.
Minocqua, Town of, Oneida Co.
Minong [origin of place name]
Minong, Town of, Washburn Co.
Minong, Village of, Washburn Co.
Minong, Washburn Co.
Minoqua [origin of place name]
Minor, Edward Sloman 1840 - 1924
mint
Mireau, George 1888
Mirro Aluminum Company
Misha Mokwa [origin of place name]
Misha Mokwa, Buffalo Co.
Mishicot [origin of place name]
Mishicot, Manitowoc Co.
Mishicot, Town of, Manitowoc Co.
Mishicot, Village of, Manitowoc Co.
Mishicott, Town of, Manitowoc Co.
Mishike [origin of place name]
Mission of St. Francois Xavier (Historic Marker Er
missionary
Missionary Ridge, Battle of
Missisakis
Mississippi River Parkway: First Project (Historic
Mississippi River [origin of place name]
Mississippian culture (archaeology)
Mitchell, Alexander 1817 - 1887
Mitchell, John Lendrum 1842 - 1904
Mitchell, Town of, Sheboygan Co.
Mitchell, William, 1879 - 1936
Mitchigami
Mitscher, Marc A., Admiral, U.S. Navy (1887-1947)(
Mittness, Lewis T. 1929
Mix, Edward Townsend 1831 - 1890
mixed-blood
mizzen (maritime)
mizzenmast (maritime)
Modena, Buffalo Co.
Modena, Town of, Buffalo Co.
Moe Settlement (historical), Columbia Co.
Moeller, Gustave 1881 - 1931
Moen, Rodney C. 1937
Moeville, Pierce Co.
Moga-Shooch
Mogilka, David R. 1915
Mohawk [origin of place name]
Mohegan
Mohican
Mohn, Leo O. 1925
Mohrsville [origin of place name]
moiety
Moingwenas
Mole Lake Ojibwe
Mole Lake [origin of place name]
Mole Lake, Forest Co.
Molepske, Jr., Louis John 1974
Molinaro, George 1902
Molitor, Town of, Taylor Co.
Monahan, James Gideon 1855 - 1923
Monberg, Lawrence 1900 - 1983
Monches [origin of place name]
Monches, Waukesha Co.
Mondovi [origin of place name]
Mondovi, Buffalo Co.
Mondovi, Town of, Buffalo Co.
Monfort [origin of place name]
Monico, Oneida Co.
Monico, Town of, Oneida Co.
Monona [brief history]
Monona [origin of place name]
Monona, Dane Co.
Monongahela Rlver
Monroe Center, Adams Co.
Monroe County Voluneers (Civil War)
Monroe County [origin of place name]
Monroe [brief history]
Monroe [origin of place name]
Monroe, Green Co.
Monroe, Town of, Adams Co.
Monroe, Town of, Green Co.
Montana, Buffalo Co.
Montana, Town of, Buffalo Co.
Montello [origin of place name]
Montello, Marquette Co.
Montello, Town of, Marquette Co.
Monterey, Waukesha Co.
Monteville, Town of, Trempealeau Co.
Montfort, Grant Co.
Montfort, Village of, Grant Co.
Montgomery, Phil 1957
Montgomeryville, Crawford Co.
Monticello, Green Co.
Monticello, Town of, Lafayette Co.
Monticello, Village of, Green Co.
Montoville [origin of place name]
Montpelier, Town of, Kewaunee Co.
Montreal River [origin of place name]
Montreal, Iron Co.
Montreal, Town of, Iron Co.
Montrose [origin of place name]
Montrose, Dane Co.
Montrose, Town of, Dane Co.
Moody, Jim 1935
Moon Valley, Sauk Co.
Moon, Delos Rensselaer 1835 - 1898
Moon, Marathon Co.
moor (maritime)
Moore, Annie Aubertine [Woodward] 1841 - 1929
Moore, Benjamin Franklin 1819 - 1904
Moore, Gwendolynne S. 1951
Moore, Ransom Asa 1861 - 1941
Moore, William (1827-1862)
mooring bitt (maritime)
Moose Junction, Douglas Co.
Moquah [origin of place name]
Moquah [origin of place name]
Moquah, Bayfield Co.
Morand, first name unverified
Moravians in Wisconsin
Morehouse, Frederic Cook 1868 - 1932
Morgan, Oconto Co.
Morgan, Richard Thomas 1829 - 1905
Morgan, Shawano Co.
Morgan, Town of, Oconto Co.
Morgan, Town of, Sheboygan Co.
Mormons in Early Wisconsin (Historic Marker Erecte
Moro [origin of place name]
Morris [origin of place name]
Morris, Johnnie Elaine 1951
Morris, Lucy E. Smith, 1850-1935
Morris, Lucy Smith (1850-1935)(Historic Marker Ere
Morris, Town of, Shawano Co.
Morrison, Brown Co.
Morrison, Kathryn 1942
Morrison, Town of, Brown Co.
Morrisonville, Dane Co.
Morse [origin of place name]
Morse, Ashland Co.
Morse, Elmer Addison 1870 - 1945
Morse, Town of, Ashland Co.
Mortimer, Mary 1816 - 1877
Morton Corner, Pierce Co.
Morton, Earl D. 1918
Moscow, Iowa Co.
Moscow, Town of, Iowa Co.
Moscow, Town of, Polk Co.
Mosel [origin of place name]
Mosel, Sheboygan Co.
Mosel, Town of, Sheboygan Co.
Moser, William R. 1927
Mosinee [brief history]
Mosinee [origin of place name]
Mosinee, Marathon Co.
Mosinee, Town of, Marathon Co.
Mosling, Oconto Co.
Mosse, George Lachmann 1918 - 1999
Moundsville [origin of place name]
Moundville, Election precinct of, Dane Co.
Moundville, Town of, Marquette Co.
Mount Calvary, Fond du Lac Co.
Mount Calvary, Village of, Fond du Lac Co.
Mount Hope Corners, Eau Claire Co.
Mount Hope, Grant Co.
Mount Hope, Town of, Grant Co.
Mount Hope, Village of, Grant Co.
Mount Horeb [origin of place name]
Mount Horeb, Dane Co.
Mount Horeb, Village of, Dane Co.
Mount Ida, Grant Co.
Mount Ida, Town of, Grant Co.
Mount Morris, Town of, Waushara Co.
Mount Morris, Waushara Co.
Mount Pleasant (historical), Town of, Racine Co.
Mount Pleasant, Racine Co.
Mount Pleasant, Town of, Green Co.
Mount Pleasant, Village of, Racine Co.
Mount Sterling [origin of place name]
Mount Sterling, Crawford Co.
Mount Sterling, Village of, Crawford Co.
Mount Tabor, Vernon Co.
Mount Vernon [origin of place name]
Mount Vernon, Dane Co.
Mount View, Marathon Co.
Mount Zion, Crawford Co.
Mountain, Oconto Co.
Mountain, Town of, Oconto Co.
Mouth of St. Croix, Election precinct of, St. Croi
Moyer, Raymond J. 1926
Mt. Hope, Town of, Grant Co.
Mt. Ida, Town of, Grant Co.
Mt. Morris, Town of, Waushara Co.
Mt. Pleasant, Town of, Green Co.
Mt. Pleasant, Town of, Racine Co.
Mud Creek, Census district of, Dunn Co.
Mueller, Alexander 1872 - 1935
Mueller, Ervin 1904
Mueller, John Gottlieb 1813 - 1893
Muir, John 1838 - 1914
Mukwa, Town of, Waupaca Co.
Mukwonago Lake, Waukesha Co.
Mukwonago [origin of place name]
Mukwonago, Town of, Waukesha Co.
Mukwonago, Village of, Waukesha Co.
Mukwonago, Waukesha Co.
Mulder, Leland E. 1925
Mullet River, Sheboygan Co. [origin of place name]
mullion (farming)
Munh, Emanuel 1806 - 1899
Munro, Dana Carleton 1866 - 1933
Munsee Indians
Munson, Oliver Goldsmith 1856 - 1933
Munts, Mary Lou 1924
Murat, Taylor Co.
Murat, William M. 1957
Murphy Corner, Outagamie Co.
Murphy, James William 1858 - 1927
Murphy, John T. 1860 - 1932
Murphy, Roger P. 1923
Murray, Eldon 1930 - 2007
Murray, Reid Fred 1887 - 1952
Murray, Thomas B. 1938
Murry, Rusk Co.
Murry, Town of, Rusk Co.
Muscoda [origin of place name]
Muscoda, Grant Co.
Muscoda, Town of, Grant Co.
Muscoda, Village of, Grant Co.
Museum of Medical Progress (Historic Marker Erecte
Muskeg [origin of place name]
Muskeg, Bayfield Co.
Muskego [brief history]
Muskego [origin of place name]
Muskego, Town of, Waukesha Co.
Muskego, Waukesha Co.
muskellunge
Muskos River
Musquakies
musqueton (Fr.)
Musser, Terry M. 1947
Muzzle-loaders (logging)
Mygatt's Corners (Mount Pleasant Township) [origin
Myhra, Norman L. 1925
Mylrea, William Henry 1853 - 1916
Myra, Washington Co.
Myrick, Harry Pierce 1857 - 1916
Myrick, Nathan 1822 - 1903
Méchéygan, Lake
Nabob [origin of place name]
Nabob, Washington Co.
Nadoneceronon
Nadouaichs
Nadouaissioux
Nagawicka Lake, Waukesha Co.
Nagawicka [origin of place name]
Nager, Edward 1927
Naleid, Roy E. 1901
Namakagon [origin of place name]
Namakagon, Town of, Bayfield Co.
Namekagon (town and river) [origin of place name]
Namekagon River (Historic Marker Erected 1967)
Namekagon, Bayfield Co.
Namekagon, Town of, Bayfield Co.
Namekagon-Court Oreilles Portage (Historic Marker
Namewilinis
Namur, Door Co.
Nancy, Town of, Washburn Co.
nanicular (farming)
Nansouaketons
naphtha (maritime)
Naples, Town of, Buffalo Co.
narrow gauge (railroads)
Narrows Creek, Sauk Co.
Nasbro, Dodge Co.
Nasewaupee [origin of place name]
Nasewaupee, Town of, Door Co.
Nash, Charles Dennis 1819 - 1897
Nash, Charles W. 1864 - 1948
Nash, Philleo 1909
Nash, William Francis 1847 - 1916
Nashotah (Town) [origin of place name]
Nashotah House
Nashotah Lakes, Waukesha Co.
Nashotah Mission (Historic Marker Erected 1968)
Nashotah, Village of, Waukesha Co.
Nashotah, Waukesha Co.
Nashville, Forest Co.
Nashville, Town of, Forest Co.
Nasonville [origin of place name]
Nasonville, Wood Co.
Nass, Stephen L. 1952
Nation's First Cooperative Generating Station (His
Nation's First Watershed Project (Historic Marker
National Soldiers' Home (Historic Marker Erected 1
National Soldiers' Home (Milwaukee)
National Women's Party
nativism
Nattestad, Ole Knudsen 1807 - 1886
Natural Bridge, Richland Co.
Naugart, Marathon Co.
Navarino, Brown Co.
Navarino, Town of, Brown Co.
Nebagamon, Town of, Douglas Co.
Necedah [origin of place name]
Necedah, Juneau Co.
Necedah, Town of, Juneau Co.
Necedah, Village of, Juneau Co.
Neda, Dodge Co.
Neenah Guards (Civil War)
Neenah Rifles (Civil War)
Neenah River
Neenah [brief history]
Neenah [origin of place name]
Neenah, Town of, Winnebago Co.
Neenah, Winnebago Co.
Neillsville [origin of place name]
Neillsville, Clark Co.
Nekimi [origin of place name]
Nekimi, Town of, Winnebago Co.
Nekoosa Junction, Wood Co.
Nekoosa [origin of place name]
Nekoosa, Wood Co.
Nelma, Forest Co.
Nelsen, Betty Jo 1935
Nelson Dewey-First Governor of Wisconsin (Historic
Nelson [origin of place name]
Nelson, Adolphys Peter 1872 - 1927
Nelson, Buffalo Co.
Nelson, Gaylord A. 1916-2005
Nelson, George Bliss 1876 - 1943
Nelson, John Mandt 1870 - 1955
Nelson, Town of, Buffalo Co.
Nelson, Village of, Buffalo Co.
Nelsonville (historical), Eau Claire Co.
Nelsonville, Portage Co.
Nelsonville, Village of, Portage Co.
Nemadji River [origin of place name]
Nemahbin Lakes
Nemahbin, Town of, Milwaukee Co.
Nemodji, Town of, Douglas Co.
Nenno, Washington Co.
Neoclassical Revival (architecture)
neophyte
Neopit, Menominee Co.
Neopit, Menominee leader, ?-1913
Neopope, Sauk warrior, dates unverified
Neosho [origin of place name]
Neosho, Dodge Co.
Neosho, Village of, Dodge Co.
Nepeuskun, Town of, Winnebago Co.
Nepiciriniens
Nepissings
Neptune, Richland Co.
Nerike, Pierce Co.
Neshkoro [origin of place name]
Neshkoro, Marquette Co.
Neshkoro, Town of, Marquette Co.
Neshkoro, Village of, Marquette Co.
Neshonoc [origin of place name]
Neshonoc, Town of, La Crosse Co.
Neshoto, Manitowoc Co. [origin of place name]
net tonnage (maritime)
Neubauer, Jeffrey A. 1955
Neuern, Kewaunee Co.
Neumann, Mark W. 1954
Neva Corners, Langlade Co.
Neva township [origin of place name]
Neva, Langlade Co.
Neva, Town of, Langlade Co.
Nevada, Green Co.
Neville, Arthur Courtenay 1850 - 1929
Nevin, James 1854 - 1921
Nevins, Clark Co.
New Amsterdam, La Crosse Co.
New Auburn [origin of place name]
New Auburn, Chippewa Co.
New Auburn, Village of, Chippewa Co.
New Berlin, Town of, Waukesha Co.
New Berlin, Waukesha Co.
New Boston, Town of, Brown Co.
New Buffalo [origin of place name]
New Buffalo, Town of, Sauk Co.
New Cassel [origin of place name]
New Chester (historical), Adams Co.
New Chester, Town of, Adams Co.
New City (historical), Trempealeau Co.
New Denmark, Town of, Brown Co.
New Dexter, Town of, Wood Co.
New Diggings, Lafayette Co.
New Diggings, Town of, Lafayette Co.
New Fane, Fond du Lac Co.
New France
New Franken, Brown Co.
New Glarus (Historic Marker Erected 1962)
New Glarus [origin of place name]
New Glarus, Green Co.
New Glarus, Town of, Green Co.
New Glarus, Village of, Green Co.
New Haven [origin of place name]
New Haven, Town of, Adams Co.
New Haven, Town of, Dunn Co.
New Holstein [brief history]
New Holstein, Calumet Co.
New Holstein, Town of, Calumet Co.
New Hope, Portage Co.
New Hope, Town of, Portage Co.
New Lisbon, Election precinct of, Grant Co.
New Lisbon, Juneau Co.
New London [origin of place name]
New London, Waupaca Co.
New Lyme, Town of, Monroe Co.
New Mason, Town of, Bayfield Co.
New Milladore, Town of, Wood Co.
New Miner, Juneau Co.
New Munster, Kenosha Co.
New Paris, Sheboygan Co.
New Post, Sawyer Co.
New Prospect, Fond du Lac Co.
new red sandstone (mining)
New Remington, Town of, Wood Co.
New Richmond Cyclone (Historic Marker Erected 1997
New Richmond tornado (1899)
New Richmond, St. Croix Co.
New Rome (historical), Adams Co.
New Rome, Adams Co.
New Rudolph, Town of, Wood Co.
New Seneca, Town of, Wood Co.
New Sigel, Town of, Wood Co.
New Sweden
New Vesper, Town of, Wood Co.
New Wood, Town of, Wood Co.
New York Indians
New York Recording Laboratories
Newald, Forest Co.
Newald, Town of, Forest Co.
Newark Valley, Town of, Adams Co.
Newark, Rock Co.
Newark, Town of, Rock Co.
Newark, Town of, Washington Co.
Newbold, Oneida Co.
Newbold, Town of, Oneida Co.
Newburg, Village of, Washington Co.
Newburg, Washington Co.
Newhall House fire (1883)
Newhall, Daniel 1821 - 1895
Newman, Alfred William 1834 - 1898
Newport [origin of place name]
Newport, Town of, Columbia Co.
Newry, Vernon Co.
Newton Corners, Jefferson Co.
Newton [origin of place name]
Newton, Manitowoc Co.
Newton, Town of, Manitowoc Co.
Newton, Town of, Marquette Co.
Newton, Vernon Co.
Newtonburg, Manitowoc Co.
Newville, Rock Co.
Niagara (shipwreck, 1856)
Niagara, Marinette Co.
Niagara, Town of, Marinette Co.
Niagara, Village of, Marinette Co.
Nichols Shore Acres, Winnebago Co.
Nichols, Outagamie Co.
Nichols, Village of, Outagamie Co.
Nicholson, Isaac Lea 1884 - 1906
Nicholson, Kenneth 1901
Nicholson, Waupaca Co.
Nickels, Justin Michael, 1987-
Nicolet National Forest (Historic Marker Erected 1
Nicolet, Jean 1598 - 1642
Niebler, John H. 1941
Niedecker, Lorine (1903-1970)(Historic Marker Erec
Niedecker, Lorine, 1903-1970
Nieman, Lucius William 1857 - 1935
Nikolay, Frank L. 1922
Nineteenth Amendment
Nipisiriniens
Nischke, Ann 1951
Nitschke, Elmer C. 1911
Nix Corner, Eau Claire Co.
Noah's Bluff [origin of place name]
Nobleton, Washburn Co.
Nohl, Mary Louise 1914 - 2001
Nohr, Harry 1897 - 1976
Nojoshing [origin of place name]
Nokomis, Town of, Oneida Co.
Nolen, John 1869 - 1937
non-commissioned officers (Civil War)
Noonan, Josiah A. 1813 - 1882
Noque, Bay of
Noquet Islands
Noquets
Noquias
Nora, Dane Co.
Nordberg, Bruno Victor 1858 - 1924
Norma, Chippewa Co.
Normal school
Norman, Kewaunee Co.
Norquist, John O. 1949
Norrie, Marathon Co.
Norrie, Town of, Marathon Co.
Norse Pottery (1903-1913)
Norske, Waupaca Co.
North Andover, Grant Co.
North Bay, Door Co.
North Bay, Racine Co.
North Bay, Village of, Racine Co.
North Bend, Jackson Co.
North Bend, Town of, Jackson Co.
North Bend, Town of, Washington Co.
North Bloomfield, Walworth Co.
North Branch, Jackson Co.
North Bristol, Dane Co.
North Cape, Racine Co.
North Clayton, Crawford Co.
North Crandon, Town of, Forest Co.
North Creek, Trempealeau Co.
North Eau Claire, Town of, Eau Claire Co.
North Fond du Lac, Fond du Lac Co.
North Fond du Lac, Village of, Fond du Lac Co.
North Freedom [origin of place name]
North Freedom, Sauk Co.
North Freedom, Village of, Sauk Co.
North Grimms, Manitowoc Co.
North Hall (Historic Marker Erected 1974)
North Hudson, St. Croix Co.
North Hudson, Village of, St. Croix Co.
North La Crosse, La Crosse Co.
North Lake, Waukesha Co.
North Lancaster, Town of, Grant Co.
North Leeds, Columbia Co.
North Lowell, Dodge Co.
North Menomonie, Dunn Co.
North Pepin, Town of, Dunn Co.
North Prairie, Village of, Waukesha Co.
North Prairie, Waukesha Co.
North Readfield, Waupaca Co.
North Red Wing, Pierce Co.
North Sea
North Shore, Jefferson Co.
North Star Rifles (Civil War)
North Star, Portage Co.
North Tomah, Monroe Co.
North West Company
North York, Ashland Co.
North, Sterling, 1906-1974
northeaster (maritime)
Northeim, Manitowoc Co.
Northern Highland (Historic Marker Erected 1956)
Northern Wisconsin Center For The Developmentally
Northfield, Jackson Co.
Northfield, Town of, Jackson Co.
Northfield, Town of, Monroe Co.
Northland College (Historic Marker Erected 1976)
Northland, Waupaca Co.
Northline, St. Croix Co.
Northport, Door Co.
Northport, Waupaca Co.
Northwest Ordinance (Ordinance of 1787)
Northwest Portal of Wisconsin (Historic Marker Ere
Northwest Territory
Northwestern Regiment; Wisconsin Regulars (Civil W
Northwoods Beach, Sawyer Co.
Norton, Dunn Co.
Norwalk [origin of place name]
Norwalk, Monroe Co.
Norwalk, Village of, Monroe Co.
Norway Grove, Dane Co.
Norway Ridge, Monroe Co.
Norway Settlement, Census district of, Dane Co.
Norway [origin of place name]
Norway, Town of, Jackson Co.
Norway, Town of, Racine Co.
Norwegians in Wisconsin
Norwich, Town of, Waushara Co.
Norwood, Town of, Langlade Co.
Nose-bag (logging)
Notestein, Barbara 1949
Nowakowski, Richard C. 1933
Nowell (historical), Waupaca Co.
Noyes, George Henry 1849 - 1916
Nugent, William P. 1917
Nuttelman, Norbert 1911
Nutter, Edmondson John Masters 1879 - 1953
Nutterville, Marathon Co.
Nye, Edgar Wilson ("Bill Nye") 1850 - 1896
Nye, Edgar Wilson (1850-1896) (Historic Marker Ere
Nye, Polk Co.
O'Brien, Leo P. 1893
O'Clair (city, river, etc.)
O'Claire
O'Connor, James L. 1859 - 1931
O'Keefe, Georgia (1887 - 1996)
O'Konski, Alvin E. 1904
O'Malley, David D. 1912
O'Neill, James 1810 - 1882
O'Plaine river
O'Shea, Michael Vincent 1866 - 1932
Oak Center, Fond du Lac Co.
Oak Creek [brief history]
Oak Creek, Milwaukee Co.
Oak Creek, Town of, Milwaukee Co.
Oak Grove (historical), Eau Claire Co.
Oak Grove [origin of place name]
Oak Grove, Dodge Co.
Oak Grove, Town of, Barron Co.
Oak Grove, Town of, Dodge Co.
Oak Grove, Town of, Eau Claire Co.
Oak Grove, Town of, Pierce Co.
Oak Hall, Dane Co.
Oak Hill, Jefferson Co.
Oak Island [origin of place name]
Oak Knoll, Dane Co.
Oak Knoll, Waukesha Co.
Oak Orchard, Oconto Co.
Oak, Town of, Rock Co.
Oakdale, Monroe Co.
Oakdale, Town of, Monroe Co.
Oakdale, Village of, Monroe Co.
Oakfield, Fond du Lac Co.
Oakfield, Town of, Fond du Lac Co.
Oakfield, Village of, Fond du Lac Co.
Oakland Heights, Dane Co.
Oakland [origin of place name]
Oakland, Burnett Co.
Oakland, Jefferson Co.
Oakland, Town of, Burnett Co.
Oakland, Town of, Douglas Co.
Oakland, Town of, Jefferson Co.
Oakley, Green Co.
Oakridge, Pierce Co.
Oaks [origin of place name]
oakum (maritime)
Oakwood, Milwaukee Co.
Oakwood, Winnebago Co.
Oasis, Town of, Waushara Co.
oats, wild
Oberle, Eugene W. 1929
Obey, David R. (b. 1938)
obsidian
occident, occidentale (Fr.)
Oconomowoc Lake, Village of, Waukesha Co.
Oconomowoc Lake, Waukesha Co.
Oconomowoc Rifles (Civil War)
Oconomowoc [brief history]
Oconomowoc [origin of place name]
Oconomowoc, Town of, Waukesha Co.
Oconomowoc, Waukesha Co.
Oconto County [origin of place name]
Oconto Falls, Oconto Co.
Oconto Falls, Town of, Oconto Co.
Oconto Irish Guards (Civil War)
Oconto River Drivers (Civil War)
Oconto River [origin of place name]
Oconto [origin of place name]
Oconto, Oconto Co.
Oconto, Town of, Brown Co.
Oconto, Town of, Oconto Co.
Ocooch Mountains (Historic Marker Erected 1998)
Ocooch [origin of place name]
octagon (architecture)
Octagon House (Historic Marker Erected 1957)
Octanaks
Odanah [origin of place name]
Odanah, Ashland Co.
Odell, Emery Alvin 1871 - 1953
Oelhafen, John 1836 - 1923
Oestreicher, John C. 1936 - 2011
Offner, Paul 1942
Ogalla, Census district of, Dunn Co.
Ogantz [origin of place name]
Ogdensburg, Village of, Waupaca Co.
Ogdensburg, Waupaca Co.
Ogema [origin of place name]
Ogema, Price Co.
Ogema, Town of, Price Co.
Ogg, Frederick Austin 1878 - 1951
Ohl, Henry Jr. 1873 - 1940
Oil City, Monroe Co.
oilcloth (Civil War)
oiler (maritime)
Ojatinons
Ojibwa, Sawyer Co.
Ojibwa, Town of, Sawyer Co.
Ojibwe Indians
Ojibwe Treaty of 1837
Ojibwe Treaty of 1842
Ojibwe Treaty of 1854
Okauchee Lake
Okauchee Lake, Waukesha Co.
Okauchee [origin of place name]
Okauchee, Waukesha Co.
Okee [origin of place name]
Okee, Columbia Co.
Olbrich, Michael Balthasar 1881 - 1929
Old Abe, the War Eagle
Old Albertville, Chippewa Co.
Old Ashippun, Dodge Co.
Old Chief, Menominee leader, d. 1826
Old Copper culture (archaeology)
Old Copper Culture Cemetery (Historic Marker Erect
Old Deerfield, Dane Co.
Old Fort [origin of place name]
Old Fort, Ashland Co.
Old Lebanon, Dodge Co.
Old Military Road (Historic Marker Erected 1955)
Old Military Road (Historic Marker Erected 1961)
Old Muskego (Historic Marker Erected 1963)
Old North Point Water Tower (Historic Marker Erect
Old Stockade Site (Historic Marker Erected 1954)
Old Tyrone (historical), Dunn Co.
Old Wade House State Park (Historic Marker Erected
Old World Wisconsin
Olin, John Myers 1851 - 1924
Olio, Town of, Sheboygan Co.
Oliver [origin of place name]
Oliver, Douglas Co.
Oliver, Village of, Douglas Co.
Olivet, Pierce Co.
Olsen, Luther S. 1951
Olson, Jack B. 1920
Olson, Julius Emil 1858 - 1944
Olson, Russell A. 1924
Oma, Town of, Iron Co.
Omernick, Raymond J. 1923
Omro [origin of place name]
Omro, Town of, Winnebago Co.
Omro, Winnebago Co.
Onalaska [brief history]
Onalaska [origin of place name]
Onalaska, La Crosse Co.
Onalaska, Town of, La Crosse Co.
Oneida County [origin of place name]
Oneida Indians
Oneida Street Station, T.M.E.R. and L. Co. (Histor
Oneida [origin of place name]
Oneida, Brown Co.
Oneida, Town of, Outagamie Co.
Oneota tradition (archaeology)
Onion River, Sheboygan Co. [origin of place name]
Onnontaeronnons or Ontationoué
Ono, Pierce Co.
Onontio
Ontario [origin of place name]
Ontario, Town of, Waushara Co.
Ontario, Vernon Co.
Ontario, Village of, Vernon Co.
Ontonagan
Ontonagon River [origin of place name]
Oostburg, Sheboygan Co.
Oostburg, Village of, Sheboygan Co.
Opitz, David W. 1945
Orange Mill, Juneau Co.
Orange, Town of, Burnett Co.
Orange, Town of, Juneau Co.
Orchard Grove, Washington Co.
Ordfordville [origin of place name]
Ordinance of 1787
Ordre Royal et Militaire de Saint-Louis (Croix de
Ordway, Moses 1788 - 1870
Oregon, Dane Co.
Oregon, Town of, Dane Co.
Oregon, Village of, Dane Co.
Orfordville, Rock Co.
Orfordville, Village of, Rock Co.
orient, orientale (Fr.)
Orienta, Town of, Bayfield Co.
Origin of Cedar Creek (Historic Marker Erected 199
orignal (Fr.)
Orihula, Town of, Winnebago Co.
Orihula, Winnebago Co.
oriniack (Fr.)
Orion, Richland Co.
Orion, Town of, Richland Co.
Orlich, Sam L. 1939
Orléans Island
Ormsby, Langlade Co.
Orton, Harlow South 1817 - 1895
Orva, Iron Co.
Orwell, Town of, Racine Co.
Osborn, Joseph Horatio 1822 - 1892
Osborn, Town of, Outagamie Co.
Oscar Mayer Wiener Song
Osceola [origin of place name]
Osceola, Election precinct of, St. Croix Co.
Osceola, Polk Co.
Osceola, Town of, Fond du Lac Co.
Osceola, Town of, Polk Co.
Osceola, Village of, Polk Co.
Oschwald, Ambrose 1801 - 1873
Osconston
Oshaukuta, Columbia Co.
Oshkosh Woodworkers' Strike (1898)
Oshkosh [brief history]
Oshkosh [origin of place name]
Oshkosh, Menominee chief, 1795 - 1858
Oshkosh, Town of, Winnebago Co.
Oshkosh, Winnebago Co.
osier (farming)
Osman, Manitowoc Co.
Osseo [origin of place name]
Osseo, Trempealeau Co.
Ossin River, Washington Co.
ostensorium
Ostrander, Waupaca Co.
Otchagra
Otis, Lincoln Co.
Otjen, Theobald 1851 - 1924
Otonkah
Otsego [origin of place name]
Otsego, Columbia Co.
Otsego, Town of, Columbia Co.
Ott, Alvin R. (Al) 1949
Ottawa Indians
Ottawa [origin of place name]
Ottawa, Town of, Waukesha Co.
Ottawa, Waukesha Co.
Otte, Clifford 1933
Otter Creek, Election precinct of, Iowa Co.
Otter Creek, Town of, Dunn Co.
Otter Creek, Town of, Eau Claire Co.
Otter People
Otterville [origin of place name]
Otteson, Jakob Aall 1825 - 1904
Ottman Corners, Pierce Co.
Otumba, Town of, Door Co.
Oubache
Ouiatenons
Ouinibegouc
Ouinibegoutz
Ouinipegouek
Ouisconching
Ouisconsin
Ouisconsin, Town of, Iowa Co.
Oulu, Bayfield Co.
Oulu, Town of, Bayfield Co.
Oumalouminek
Oumiamis
Oumiamiwek
Ounepigon (Lake)
Ourada, Thomas D. 1958
Ourtown, Sheboygan Co.
Ousakis
Outagamie County [origin of place name]
Outagamis
Outaouak
Outaoüas
outboard (maritime)
Outdoor Recreation Act Program (ORAP)
Outehipoues
Outer Island [origin of place name]
outing system
Over-run (logging)
Owen, Clark Co.
Owen, David Dale 1807 - 1860
Owen, Walter Cecil 1868 - 1934
Owen, William E. 1888
Owens, Carol 1931
Owens, Richard Griffith 1811 - 1882
Oxbo, Sawyer Co.
Oxford, Marquette Co.
Oxford, Town of, Marquette Co.
Oxford, Village of, Marquette Co.
Ozaukee County [origin of place name]
Ozaukee Guards (Civil War)
Pabst Theater (Historic Marker Erected 1992)
Pabst, Frederick 1836 - 1904
Pabst, Frederick, Captain (1836-1904) (Historic Ma
Pabst, Gustave G. 1866 - 1943
Pabst, Norman W. 1905 - 1989
Pabst, Richard E. 1933
Pacific, Town of, Columbia Co.
Packard, Marinette Co.
Packard, Wesley L. 1918
Packing-the-rigging (logging)
Packs (logging)
Packwaukee [origin of place name]
Packwaukee, Marquette Co.
Packwaukee, Town of, Marquette Co.
paczki (food)
pad (farming)
paddock (farming)
Paddock Lake, Kenosha Co.
Paddock Lake, Village of, Kenosha Co.
Padus, Forest Co.
Padway, Joseph Arthur 1891 - 1947
Paeschke, Charles August 1857 - 1935
Page, Town of, Buffalo Co.
Pail and Shovel Party
Paine, Byron 1827 - 1871
Paine, Col. Halbert E. (1826-1905)
Paine, Edward Lathrop 1801 - 1893
Pakegama Lake [origin of place name]
Paleoindian culture (archaeology)
pallasado
Palmer, Henry 1827 - 1895
Palmer, Henry L. 1819 - 1909
Palmer, St. Croix Co.
Palmer, William Fink 1855 - 1933
Palmyra, Jefferson Co.
Palmyra, Town of, Jefferson Co.
Palmyra, Village of, Jefferson Co.
panary (farming)
Panic of 1837
Pansey [origin of place name]
Panther Intaglio (Historic Marker Erected 1960)
pantograph (railroads)
Panyack Lake, Racine Co.
Panys
Panzer, Frank E. 1890
Panzer, Mary E. 1951
Paoli, Dane Co.
paper industry in Wisconsin
Paquette, Pierre 1799? - 1836
Paramount records
Pardeeville [origin of place name]
Pardeeville, Columbia Co.
Pardeeville, Village of, Columbia Co.
parfleche (Fr.)
Parfreyville [origin of place name]
Parfreyville, Waupaca Co.
Paris [origin of place name]
Paris, Kenosha Co.
Paris, Town of, Grant Co.
Paris, Town of, Kenosha Co.
Park Falls, Price Co.
Park Place Homes, Douglas Co.
Park Ridge, Portage Co.
Park Ridge, Village of, Portage Co.
Park, Byron Beach 1858 - 1939
Park, Roswell 1807 - 1869
Parker, George Safford 1863 - 1937
Parkhurst, Helen 1887 - 1973
Parkin, John 1918
Parkinson, Daniel Morgan 1790 - 1868
Parkland, Douglas Co.
Parkland, Town of, Douglas Co.
Parkman Club
Parnell [origin of place name]
parole (military)
Parrish, Langlade Co.
Parrish, Town of, Langlade Co.
parroquets
parterre (farming)
Parys, Ronald G. 1938
Pasaukie, Town of, Brown Co.
pastern (farming)
pasteurization (dairy)
Patch Grove [origin of place name]
Patch Grove, Grant Co.
Patch Grove, Town of, Grant Co.
Patch Grove, Village of, Grant Co.
patent
Patton, James Edward 1832 - 1904
Patzau, Douglas Co.
Patzer, Conrad E. 1862 - 1932
Paukotuk, Winnebago Co.
Paul, George Howard 1826 - 1890
Paul, Les 1915 - 2009
Paulson, David E. 1931
pause
Paxson, Frederick Logan 1877 - 1948
Payne, Henry Clay 1843 - 1904
pays d'en haut (Fr.)
Peabody, Arthur 1858 - 1942
Pearl Fishing
Pearl-diver (logging)
Pearson, Langlade Co.
peavey (logging)
Peavey (logging)
Peavey [Peavy], Hubert Haskell 1881 - 1937
Pebble Valley, Dane Co.
Pecatonica River, Green Co. [origin of place name]
Peck Cabin (Historic Marker Erected 1998)
Peck Township [origin of place name]
Peck, George Wilbur 1840 - 1916
Peck, Roseline [Willard] [Mrs. Eben Peck) 1808 - 1
Peck, Town of, Langlade Co.
Peckatonica River
Peckham, Elizabeth Maria Gifford 1854 - 1940
Peckham, Elizabeth ["Lila"] 1843 - 1871
Peckham, George Williams 1845 - 1914
Peddlar's Creek, Election precinct of, Iowa Co.
Peebles, Fond du Lac Co.
Peeksville [origin of place name]
Peeksville, Ashland Co.
Peeksville, Town of, Ashland Co.
Peet [origin of place name]
Pekatonica, Town of, Iowa Co.
Pelecky, Stan T. 1934
Pelican Lake, Oneida Co.
Pelican Lake, Town of, Forest Co.
Pelican, Town of, Forest Co.
Pelican, Town of, Oneida Co.
Pell Lake, Walworth Co.
Pella, Shawano Co.
Pella, Town of, Shawano Co.
Pellant, Howard F. 1911
pelleterie (Fr.)
Peloquin, Bruce S. 1936
Pelée
Pembine [origin of place name]
Pembine, Marinette Co.
Pembine, Town of, Marinette Co.
Penah
Pence, Iron Co.
Pence, Town of, Iron Co.
Pendarvis
Pennings, Bernard Henry 1861 - 1955
Pennington, Price Co.
Penokee [origin of place name]
Pensaukee [origin of place name]
Pensaukee, Oconto Co.
Pensaukee, Town of, Oconto Co.
Peorias
Pepikokias
Pepin County [origin of place name]
Pepin [origin of place name]
Pepin, Pepin Co.
Pepin, Town of, Pepin Co.
Pepin, Village of, Pepin Co.
Peplin, Marathon Co.
per diem (railroads)
Perala, Reino A. 1915
perche (Fr.)
Percival, James Gates 1795 - 1856
Percussion, Election precinct of, Iowa Co.
Pere Marque'ite and Sieur Jolliet (Historic Marker
period revival (architecture)
Perkins, Town of, Clark Co.
Perkinstown, Taylor Co.
Perley [origin of place name]
Perote (historical), Menominee Co.
Perrot's Post (Historic Marker Erected 1963)
Perrot, Nicolas 1644 - 1717
Perry [origin of place name]
Perry's Mills [origin of place name]
Perry, Melvin Withington 1864 - 1951
Perry, Town of, Brown Co.
Perry, Town of, Dane Co.
Perry, Town of, Pierce Co.
Perryville, Battle of
Pershing, Town of, Taylor Co.
Peru, Portage Co.
Peru, Town of, Dunn Co.
Peru, Town of, Portage Co.
Peshtaka River
Peshtigo Fire
Peshtigo Fire Cemetery (Historic Marker Erected 19
Peshtigo River
Peshtigo [brief history]
Peshtigo [origin of place name]
Peshtigo, Marinette Co.
Peshtigo, Town of, Marinette Co.
Petak, George 1949
Petenwell Lake [origin of place name]
Peter, George 1859 - 1950
Petersburg [origin of place name]
Petersburg, Crawford Co.
Petersburg, Siege of
Peterson, Francis L. 1904
Peterson, James D.H. 1894
Peterson, Merlin J. 1901
Peterson, Richard E. 1920
Petersville (historical), Waupaca Co.
Petes Landing, Ashland Co.
Petit Rocher, Wisconsin River
Petite Gres, Wisconsin River
Peto
Petri, Thomas E. 1940
Petrified Man Hoax
petroglyph
Petrowski, Jerry 1950
Pettis, Mark L. 1950
Petty Acres, Dane Co.
Petuns
Pewaugan Lake, Winnebago Co.
Pewaukee Lake, Waukesha Co.
Pewaukee West, Waukesha Co.
Pewaukee [brief history]
Pewaukee [origin of place name]
Pewaukee, Town of, Waukesha Co.
Pewaukee, Village of, Waukesha Co.
Pewaukee, Waukesha Co.
Pewit's Nest
Peyton, Douglas Co.
Pfister, Charles [Frederick] 1859 - 1927
Pfister, Guido 1818 - 1889
phalanx
Phantom Lake [origin of place name]
Pheasant Branch Encampment (Historic Marker Erecte
Pheasant Branch, Dane Co.
Phelps [origin of place name]
Phelps, Town of, Vilas Co.
Phelps, Vilas Co.
Philipp, Emanuel Lorenz 1861 - 1925
Phillips Fire (Historic Marker Erected 1957)
Phillips [origin of place name]
Phillips, Price Co.
Phillips, Vel 1924
Phipps, Sawyer Co.
Phlox, Langlade Co.
Phoenix (shipwreck, 1847)
Piacenza, Winnebago Co.
Piankeshaws
Piastre (Fr.)
piastre (Fr.)
Pickard, Josiah Little 1824 - 1914
Pickerel, Langlade Co.
Pickett, Winnebago Co.
pictograph
Picture(d) Rocks, Michigan
Pie-fork (logging)
piece (Fr.)
pied (Fr.)
Piehl, Town of, Oneida Co.
Pier, Kate [Hamilton] 1845 - 1925
Pierce County [origin of place name]
Pierce, Solon Wesley 1831 - 1903
Pierce, Town of, Kewaunee Co.
Pierce, Town of, La Crosse Co.
Pierceville, Dane Co.
Pierre Esprit Radisson and Medart Grosellieres (Hi
pigeon
Pigeon Falls, Trempealeau Co.
Pigeon Falls, Village of, Trempealeau Co.
Pigeon Island [origin of place name]
Pigeon River [origin of place name]
Pigeon, Town of, Trempealeau Co.
Pike Creek
Pike Creek [origin of place name]
Pike Lake, Marathon Co.
Pike Lake, Town of, Marathon Co.
Pike Lake, Washington Co.
Pike River, Bayfield Co.
Pike, Town of, Kenosha Co.
Pike-pole (logging)
Pikeville, Kenosha Co.
pillage (Civil War)
Pilot Knob (historical), Adams Co.
pilothouse (maritime)
Pilsen, Kewaunee Co.
Pilsen, Town of, Bayfield Co.
Pine Bend
Pine Bluff, Dane Co.
Pine Creek (historical), Trempealeau Co.
Pine Creek, Town of, Taylor Co.
Pine Creek, Trempealeau Co.
Pine Grove, Brown Co.
Pine Grove, Chippewa Co.
Pine Grove, Town of, Portage Co.
Pine Knob, Crawford Co.
Pine Lake, Iron Co.
Pine Lake, Town of, Marquette Co.
Pine Lake, Town of, Oneida Co.
Pine Lake, Waukesha Co.
Pine River, Election precinct of, Richland Co.
Pine River, Lincoln Co.
Pine River, Richland Co.
Pine River, Town of, Lincoln Co.
Pine River, Town of, Waushara Co.
Pine River, Waushara Co.
Pine Valley, Town of, Clark Co.
Pinehurst, Chippewa Co.
pinery
Pinney, Silas U. 1833 - 1899
pinte (Fr.)
Pious, Lois 1938
Pipe, Fond du Lac Co.
Pipersville, Jefferson Co.
pirogue (Fr.)
Pishtaka River, Racine Co. [origin of place name]
pistole (Fr.)
piston (railroads)
Pitt, Yvonne (Yvonnie, Vonnie) Jean b. 1928-
Pittsfield, Brown Co.
Pittsfield, Town of, Brown Co.
Pittsville [origin of place name]
Pittsville, Wood Co.
Plache, Kimberly M. 1961
Plain [origin of place name]
Plain, Sauk Co.
Plain, Village of, Sauk Co.
Plainfield [origin of place name]
Plainfield, Town of, Waushara Co.
Plainfield, Village of, Waushara Co.
Plainfield, Waushara Co.
Plainville, Adams Co.
Plale, Jeffrey T. 1968
plank road
Plankinton, John 1820 - 1891
plants, native
Plantz, Samuel 1859 - 1924
Plat, Washington Co.
plate (maritime)
Platoon (Civil War)
Platte Mounds
Platte River, Grant Co.
Platte, Town of, Iowa Co.
Platteville [brief history]
Platteville [origin of place name]
Platteville, Grant Co.
Platteville, Town of, Grant Co.
Pleasant Point, Green Lake Co.
Pleasant Prairie [origin of place name]
Pleasant Prairie, Kenosha Co.
Pleasant Prairie, Town of, Kenosha Co.
Pleasant Prairie, Village of, Kenosha Co.
Pleasant Ridge African American Community (Histori
Pleasant Ridge, Grant Co.
Pleasant Ridge, Iowa Co.
Pleasant Springs [origin of place name]
Pleasant Springs, Town of, Dane Co.
Pleasant Valley, Election precinct of, Columbia Co
Pleasant Valley, Election precinct of, Grant Co.
Pleasant Valley, Election precinct of, Marquette C
Pleasant Valley, Town of, Eau Claire Co.
Pleasant Valley, Town of, Pierce Co.
Pleasant Valley, Town of, St. Croix Co.
Pleasant Valley, Vernon Co.
Pleasantville, Trempealeau Co.
pledget (farming)
Plewa, John R. 1945
plomb (Fr.)
Plombon, David 1961
Plouff, Joe 1950
plover
Plover Portage, Election precinct of, Portage Co.
Plover [origin of place name]
Plover, Portage Co.
Plover, Town of, Marathon Co.
Plover, Town of, Portage Co.
Plover, Village of, Portage Co.
Plugtown, Crawford Co.
Plum City, Pierce Co.
Plum City: Early History (Historic Marker Erected
Plum Lake, Town of, Vilas Co.
Plumb Plan
Plummer Point, Winnebago Co.
plunder (Civil War)
plus (Fr.)
Plymouth [origin of place name]
Plymouth, Sheboygan Co.
Plymouth, Town of, Juneau Co.
Plymouth, Town of, Rock Co.
Plymouth, Town of, Sheboygan Co.
Pocan, Mark 1964
Point au Sale, Green Bay
Point Basse (Historic Marker Erected 1963)
Point Comfort, Winnebago Co.
Pointe Bas [origin of place name]
Pokegama River and Bay [origin of place name]
Pokegama, Douglas Co.
Pokegama, Town of, Douglas Co.
Pokelogan (logging)
Pokerville, Dane Co.
Poland, Brown Co.
Polar [origin of place name]
Polar, Langlade Co.
Polar, Town of, Langlade Co.
Pole Cat Crossing, Burnett Co.
Pole-ax (logging)
Poles in Wisconsin
Political Equality League
Polk County [origin of place name]
Polk [origin of place name]
Polk, Town of, Washington Co.
pollard (farming)
Polley, Taylor Co.
Polonia, Portage Co.
Pomeroy, Marcus Mills ["Brick"] 1833 - 1896
Pommerening, Glen E. 1927
Pond, James Burton 1838 - 1903
Poniatowski, Marathon Co.
Pontiac, Ottawa Chief, 1720?-1769
pontoon (Civil War)
pony boiler (maritime)
Poor-box (logging)
Pope-Roberts, Sondy 1950
Poplar, Douglas Co.
Poplar, Village of, Douglas Co.
Poplawski, Stephen J. 1885 - 1956
Popple River, Forest Co.
Popple River, Town of, Forest Co.
population of Wisconsin, 1820-1990
porcelain
Porcupine River
Porcupine, Pepin Co.
Porlier, Jacques 1765 - 1839
port (maritime)
Port Andrew, Richland Co.
Port Arthur, Rusk Co.
Port des Morts
Port Edwards [origin of place name]
Port Edwards, Town of, Wood Co.
Port Edwards, Village of, Wood Co.
Port Edwards, Wood Co.
Port Gibson, Battle of
Port Hope, Town of, Columbia Co.
Port Hudson, Siege of
Port Washington [brief history]
Port Washington [origin of place name]
Port Washington, Ozaukee Co.
Port Washington, Town of, Ozaukee Co.
Port Wing, Bayfield Co.
Port Wing, Town of, Bayfield Co.
Portage City Guards (Civil War)
Portage City, Town of, Columbia Co.
Portage County [origin of place name]
Portage Prairie, Election precinct of, Columbia Co
Portage [brief history]
Portage [origin of place name]
Portage, Columbia Co.
Portage, Town of, Portage Co.
Porter [origin of place name]
Porter's Grove, Election precinct of, Iowa Co.
Porter, Cloyd A. 1935
Porter, Town of, Rock Co.
Porterfield, Marinette Co.
Porterfield, Town of, Marinette Co.
Porters, Rock Co.
Portland, Jefferson Co.
Portland, Monroe Co.
Portland, Town of, Calumet Co.
Portland, Town of, Dodge Co.
Portland, Town of, Monroe Co.
Poskin [origin of place name]
Poskin, Barron Co.
Post Lake [origin of place name]
Post Lake, Langlade Co.
Postville, Green Co.
pot (Fr.)
Potato River [origin of place name]
potatoes
Potawatomi Indians
Potawatomi Island [origin of place name]
Potosi Badgers (Civil War)
Potosi [origin of place name]
Potosi, Grant Co.
Potosi, Town of, Grant Co.
Potosi, Village of, Grant Co.
Potter Lake, Walworth Co.
Potter Law (1874)
Potter, Calumet Co.
Potter, Calvin 1945
Potter, John Fox 1817 - 1899
Potter, John M. 1924
Potter, Rosemary 1952
Potter, Village of, Calumet Co.
Potters' Emigration Society (Historic Marker Erect
pottery and earthenware industry in Wisconsin
Poualak
pouce (Fr.)
Pound, Marinette Co.
Pound, Thaddeus Coleman 1833 - 1914
Pound, Town of, Marinette Co.
Pound, Village of, Marinette Co.
Pouteouatamis
Poux
Powell, David Franklin ["White Beaver"] 1847 - 190
Powell, Iron Co.
Power, Frederick Belding 1853 - 1927
Powers Lake, Kenosha Co.
Powers, Mike 1962
Poy Sippi [origin of place name]
Poy Sippi, Waushara Co.
Poygan Lake, Winnebago Co.
Poygan Paygrounds (Historic Marker Erected 1956)
Poygan [origin of place name]
Poygan, Town of, Winnebago Co.
Poynette [origin of place name]
Poynette, Columbia Co.
Poynette, Village of, Columbia Co.
Poysippi, Town of, Waushara Co.
Poysippi, Waushara Co.
Praag, Buffalo Co.
Prairie Corners, Grant Co.
Prairie Du Chien (Historic Marker erected 1962)
Prairie du Chien [origin of place name]
Prairie du Chien, Battle of (1814)
Prairie du Chien, Crawford Co.
Prairie du Chien, Town of, Crawford Co.
Prairie du Sac, Sauk Co.
Prairie du Sac, Sauk Co. [origin of place name]
Prairie du Sac, Town of, Sauk Co.
Prairie du Sac, Village of, Sauk Co.
Prairie Farm, Barron Co.
Prairie Farm, Town of, Barron Co.
Prairie Farm, Village of, Barron Co.
Prairie Grove, Battle of
Prairie La Crosse, La Crosse Co.
Prairie Lake, Town of, Barron Co.
Prairie School (architecture)
Prairie View Heights, Dane Co.
Prairie Village, Town of, Milwaukee Co.
Prairie, Election precinct of, Lafayette Co.
Prairieville
Prairieville, Town of, Waukesha Co.
Prairieville, village, Waukesha Co.
Pratt Junction, Oneida Co.
Pratt, Morris (1820-1902)
Pratt, Town of, Bayfield Co.
Pray, Jackson Co.
Pre-exemption Law (1841)
Preble [origin of place name]
Preble, Brown Co.
Preble, Town of, Brown Co.
Prentice [origin of place name]
Prentice, Price Co.
Prentice, Town of, Price Co.
Prentice, Village of, Price Co.
Presbyterians in Wisconsin
Prescott [origin of place name]
Prescott, Pierce Co.
Prescott, Town of, Pierce Co.
Presidential Visits to Madison
Presque Isle [origin of place name]
Presque Isle, Town of, Vilas Co.
Presque Isle, Vilas Co.
Preston [origin of place name]
Preston, Grant Co.
Preston, Town of, Adams Co.
Preston, Town of, Trempealeau Co.
Prestonville [origin of place name]
Preus, Adolph Carl 1814 - 1878
Preus, Herman Amberg 1825 - 1894
Price County [origin of place name]
Price [origin of place name]
Price, Jackson Co.
Price, Town of, Jackson Co.
Price, Town of, Langlade Co.
Price, William Thompson 1824 - 1886
Priebe, Kenneth E. 1912
primary elections in Wisconsin
primary rocks (mining)
Primrose Lutheran Church (Historic Marker Erected
Primrose [origin of place name]
Primrose, Dane Co.
Primrose, Town of, Dane Co.
Princeton, Green Lake Co.
Princeton, Town of, Green Lake Co.
Prisoners of War (Historic Marker Erected 1990)
prisons in Wisconsin
Pritchard, John 1884
Pritzlaff, Fred C. 1861 - 1931
Pritzlaff, John 1820 - 1900
private (Civil War)
Prize-logs (logging)
probang (farming)
Progressive Movement
Prohibition
Project Sanguine
Prophet, The (Shawnee), 1768-1834
Prophet, The (Winnebago)
Prospect, Waukesha Co.
Prosser, Jr., David T. 1942
Protheroe, Daniel 1866 - 1934
Prown, Katherine Hemple 1963 -
Proxmire, William 1915-
Puan, Puans, Puants
Puankikias
Puckaway Lake, Marquette Co. [origin of place nam
Pucketville, Pierce Co.
puddingstone (mining)
Puelicher, John Huegin 1869 - 1935
Puerto Ricans in Wisconsin
Pukwana Beach, Fond du Lac Co.
Pulaski, Brown Co.
Pulaski, Town of, Iowa Co.
Pulaski, Village of, Brown Co.
Pulcifer, Shawano Co.
Pulp, Florence Co.
Punk (logging)
Purdy, Vernon Co.
Purdy, William T. 1882 - 1918
Pureair, Bayfield Co.
put about (maritime)
Putnam, Henry Cleveland 1832 - 1912
pyrites (mining)
Quackenbush, Robert L. 1923
Quarles, Joseph Very 1843 - 1911
Quarlls (Quarrels, Quarles), Caroline, (ca. 1824 -
quarried stone (architecture)
Quarry, Manitowoc Co.
quarrying industry in Wisconsin
quarter-section (survey)
Quartermaster (Civil War)
quartz (mining)
Queen Anne (architecture)
Queenstown, Taylor Co.
Queues-coupees
Quicapou
Quick, William F. 1909
quicklime (farming)
Quincy (historical), Adams Co.
Quincy, Town of, Adams Co.
Quiner, Edwin Bryant (1816-1868)
Quiner, Emily (or Emelie) 1839 - 1919
Quinn, Jerome
Quinnesec [origin of place name]
Quinney, Calumet Co.
Quinney, Electa, 1802-1885
Quinney, John W. 1797 - 1855
Quisisana [origin of place name]
Quitquioc, Sheboygan Co.
R.R.V.U.R.R.
rabbet (maritime)
Race, John A. 1914
Racine County [origin of place name]
Racine Raiders Football Club, Inc.
Racine [brief history]
Racine, Racine Co.
Racine, Town of, Racine Co.
racquettes (Fr.)
Radcliffe, John Q. 1920
Radcliffe, Margaret Porter
Radisson, Pierre Esprit 1636 - 1710
Radisson, Sawyer Co.
Radisson, Town of, Sawyer Co.
Radisson, Village of, Sawyer Co.
Radisson-Groseilliers Fort (Historic Marker Erecte
Radosevich, Michele G. 1947
Radspur, Bayfield Co.
Radtke, Randall J. 1951
Rafn, Carl Christian, 1795-1864
Rafting on the Mississippi (Historic Marker Erecte
Ragueneau, Fr. Paul, 1608-1680
rail (maritime)
railroad disasters in Wisconsin
railroads in Wisconsin
Raimey, Mabel Wanda (1895-1986) (Historic Marker E
Rainbow Beach, Winnebago Co.
Raintree, Dane Co.
Randall Guard (Civil War)
Randall Zouaves (Civil War)
Randall [origin of place name]
Randall [origin of place name]
Randall, Burnett Co.
Randall, Clifford Ellsworth 1876 - 1934
Randall, Gov. Alexander W. (1819-1872)
Randall, Town of, Kenosha Co.
Randolph, Columbia Co.
Randolph, Town of, Columbia Co.
Randolph, Village of, Dodge Co.
Random Lake [origin of place name]
Random Lake, Sheboygan Co.
Random Lake, Village of, Sheboygan Co.
range (survey)
Range Line Lake [origin of place name]
Range, Polk Co.
Rangeline, Marathon Co.
Rankin, Joseph 1833 - 1886
Rankin, Kewaunee Co.
Rankin, Walter Laurie 1841 - 1910
Rantoul, Town of, Calumet Co.
Rantz, Oneida Co.
Rapides des Peres - Voyageur Park (Historic Marker
rasade (Fr.)
Raskin, Ellen 1928 - 1984
Rasmusen, Holger B. 1894
Rat River, Town of, Marinette Co.
Rathbun (Mitchell township) [origin of place name]
Rawley Point Lighthouse (Historic Marker Erected 1
Ray, Town of, Dane Co.
Raymond [origin of place name]
Raymond, Racine Co.
Raymond, Town of, Racine Co.
Raymore, Monroe Co.
Read, Sister Joel (Janice) 1926 -
Readfield, Waupaca Co.
Readstown [origin of place name]
Readstown, Vernon Co.
Readstown, Village of, Vernon Co.
Reaume, Charles 1752 - 1821
Reber, Louis Ehrhart 1858 - 1948
Recall Elections (in Wisconsin)
Reckon (Civil War)
reconnoitre (Civil War)
Red Arrow Division
Red Banks (Historic Marker Erected 1957)
Red Banks, Brown Co.
Red Banks, Waupaca Co.
Red Bird, Ho-Chunk chief, 1788 - 1828
Red Cedar River
Red Cedar, Dunn Co.
Red Cedar, Town of, Dunn Co.
Red Cliff Reservation
Red Cliff Reservation [origin of place name]
Red Cliff, Bayfield Co.
Red Cloud Park (Historic Marker Erected 1957)
Red Cloud, Mitchell Jr. (1925-1950) (Historic Mark
Red Dog, Election precinct of, Grant Co.
Red Mound, Vernon Co.
Red Ocher culture (archaeology)
Red River Campaign
Red River, Shawano Co.
Red River, Town of, Kewaunee Co.
Red Rock, Lafayette Co.
Red Springs, Town of, Shawano Co.
Redgranite, Village of, Waushara Co.
Redgranite, Waushara Co.
Redville [origin of place name]
Reed, Crawford Co.
Reed, Curtis 1815 - 1895
Reed, George 1807 - 1883
Reed, Harrison 1813 - 1899
Reed, William W. 1825 - 1916
Reedsburg [origin of place name]
Reedsburg, Sauk Co.
Reedsburg, Town of, Sauk Co.
Reedsville [origin of place name]
Reedsville, Manitowoc Co.
Reedsville, Village of, Manitowoc Co.
Reefer (logging)
Reese, Oliver William, 1924 - 2005
Reeseville [origin of place name]
Reeseville, Dodge Co.
Reeseville, Election precinct of, Iowa Co.
Reeseville, Village of, Dodge Co.
Reeve, Barron Co.
refasten (maritime)
Reformed Churches in Wisconsin
Reger, Fred C. 1916
regiment
Regina, Shawano Co.
Rehnquist, William H., 1924-2005
Reich Mobile Home Park, Green Lake Co.
Reich, Frank Albert 1884 - 1946
Reid, Alexander James 1846 - 1910
Reid, Town of, Marathon Co.
Reifs Mills, Manitowoc Co.
Reighmoor, Winnebago Co.
Reilly, Michael Kieran 1869 - 1944
Reinsch, Paul Samuel 1869 - 1923
relocation
Remington, Town of, Wood Co.
Renards
rennet (dairy)
Republican Party
Requa, Jackson Co.
Reseburg, Clark Co.
Reseburg, Town of, Clark Co.
Reserve, Sawyer Co.
Reserve, Town of, Sawyer Co.
Rest Areas on the I-Roads (Historic Marker Erected
restaurants in Wisconsin
Retreat, Vernon Co.
Reuss, Henry S. 1912-2002
reveille (Civil War)
Revolutionary War Veterans (Historic Marker Erecte
Rewey [origin of place name]
Rewey, Iowa Co.
Rewey, Village of, Iowa Co.
Rexford, Eben Eugene 1848 - 1916
Reymert, James De Noon 1821 - 1896
Reynolds, Edwin 1831 - 1909
Reynolds, John W. 1921
Reynolds, Martin L. 1950
Reynolds, Tom 1956
Rhine, Sheboygan Co.
Rhine, Town of, Sheboygan Co.
Rhineland, Town of, Fond du Lac Co.
Rhinelander [origin of place name]
Rhinelander, Oneida Co.
Rhoades, Kitty 1951
Rhode, Paul Peter 1871 - 1945
Rhodes Station (in Caledonia Township) [origin of
Rib Falls, Marathon Co.
Rib Falls, Town of, Marathon Co.
Rib Lake Lumber Company (Historic Marker Erected 1
Rib Lake [origin of place name]
Rib Lake, Taylor Co.
Rib Lake, Town of, Taylor Co.
Rib Lake, Village of, Taylor Co.
Rib Mountain, Marathon Co.
Rib Mountain, Town of, Marathon Co.
Rice Lake [brief history]
Rice Lake [origin of place name]
Rice Lake, Barron Co.
Rice Lake, Town of, Barron Co.
Rice Lake, Town of, Barron Co.
Rice, Ora R. 1885
Rich, Martin 1835 - 1915
Richards, Harry Sanger 1868 - 1929
Richards, Jon 1963
Richardson, Polk Co.
Richardson, Robert Kimball 1876 - 1952
Richardsonian Romanesque revival (architecture)
Richfield, Town of, Adams Co.
Richfield, Town of, Washington Co.
Richfield, Town of, Wood Co.
Richfield, Washington Co.
Richford, Town of, Waushara Co.
Richford, Waushara Co.
Richland Center [origin of place name]
Richland Center, Richland Co.
Richland County
Richland County Scott Guard; Turner Company (Civil
Richland County [origin of place name]
Richland, Town of, Richland Co.
Richland, Town of, Rusk Co.
Richmond Township [origin of place name]
Richmond [origin of place name]
Richmond, Election precinct of, Richland Co.
Richmond, Town of, Richland Co.
Richmond, Town of, Shawano Co.
Richmond, Town of, St. Croix Co.
Richmond, Town of, Walworth Co.
Richmond, Walworth Co.
Richwood, Dodge Co.
Richwood, Town of, Richland Co.
rick (farming)
Rick (logging)
Ricker Bay, Winnebago Co.
Riddles, Libby (born 1956)
Ridge Road
Ridgeland, Dunn Co.
Ridgeland, Village of, Dunn Co.
Ridgetop, Florence Co.
Ridgeville, Town of, Monroe Co.
Ridgeway, Iowa Co.
Ridgeway, Town of, Iowa Co.
Ridgeway, Village of, Iowa Co.
Riding the Interurban (Historic Marker Erected 199
Riehle, Ben A. 1897
Rietbrock [origin of place name]
Rietbrock, Town of, Marathon Co.
riffles
rig (maritime)
Rigaud de Vaudreuil de Cavagnial, Pierre de, Marqu
Rigaud de Vaudreuil, Philippe de, Marquis de Vaudr
rigging (maritime)
Riley, Antonio R. 1963
Riley, Dane Co.
Rincker, Leroy Carl 1896 - 1953
Rindisbacher, Peter 1806 - 1834
Ring, Winnebago Co.
Ringle [origin of place name]
Ringle, Marathon Co.
Ringle, Town of, Marathon Co.
Ringling Brothers Circus (Historic Marker Erected
Ringling [Rungeling], Albert 1852 - 1916
Ringlingville
Rio (Town of Otsego) [origin of place name]
Rio Creek, Kewaunee Co.
Rio, Columbia Co.
Rio, Village of, Columbia Co.
Riplinger, Clark Co.
Ripon College (Historic Marker Erected 1972)
Ripon Guards (Civil War)
Ripon Rifles (Civil War)
Ripon [origin of place name]
Ripon, Fond du Lac Co.
Ripon, Town of, Fond du Lac Co.
Rising Sun [origin of place name]
Rising Sun, Crawford Co.
Risser, Fred 1927
River drive (logging)
River Falls [origin of place name]
River Falls, Pierce Co.
River Falls, Town of, Pierce Co.
River Hills, Milwaukee Co.
River Hills, Village of, Milwaukee Co.
river pigs (logging)
River Sackers (Civil War)
Rivermoor, Winnebago Co.
Riverside, Burnett Co.
Riverside, Lafayette Co.
Riverview, Douglas Co.
Riverview, Town of, Oconto Co.
Riverwood Estates, Dane Co.
Riviere au Boeuf
Road gang (logging)
road monkey (logging)
roads in Wisconsin (early)
roads in Wisconsin (modern)
Roberts Lake [origin of place name]
Roberts, St. Croix Co.
Roberts, Village of, St. Croix Co.
Roberts, Virgil 1922
Robertson, Alan S. 1941
Robertson, Town of, Lincoln Co.
Robinson, Charles D. 1822 - 1886
Robinson, John H. 1955
Robinson, Robert P. 1884 - 1953
Robson, Judith Biros
Roche a Cri (historical), Adams Co.
Roche a Cri Creek [origin of place name]
Roche-A-Cri State Park (Historic Marker Erected 19
Rochester, Racine Co.
Rochester, Town of, Racine Co.
Rochester, Village of, Racine Co.
Rock County [origin of place name]
Rock Creek, Town of, Dunn Co.
Rock Elm, Pierce Co.
Rock Elm, Town of, Pierce Co.
Rock Falls, Dunn Co.
Rock Falls, Town of, Lincoln Co.
Rock Island
Rock Island [origin of place name]
Rock Lake, Jefferson Co.
Rock Mill (Historic Marker Erected 1998)
Rock River
Rock River Industry (Historic Marker Erected 1982)
Rock Springs [origin of place name]
Rock Springs, Sauk Co.
Rock Springs, Village of, Sauk Co.
Rock [origin of place name]
Rock, Town of, Rock Co.
Rock, Town of, Wood Co.
Rockaway Beach, Calumet Co.
Rockaway Beach, Winnebago Co.
Rockbridge (Historic Marker Erected 1998)
Rockbridge, Richland Co.
Rockbridge, Town of, Richland Co.
Rockdale, Dane Co.
Rockdale, Village of, Dane Co.
Rockfield, Washington Co.
Rockland Township [origin of place name]
Rockland, La Crosse Co.
Rockland, Town of, Brown Co.
Rockland, Town of, Manitowoc Co.
Rockland, Village of, La Crosse Co.
Rockmont, Douglas Co.
Rockport, Rock Co.
rockshelter
Rockton, Vernon Co.
Rockville, Grant Co.
Rockville, Manitowoc Co.
Rockwood, Manitowoc Co.
Rocky Corners, Marathon Co.
Rocky Run, Columbia Co.
Rocky Run, Portage Co.
rod (survey)
Rodell, Eau Claire Co.
Rodney (historical), Waushara Co.
Roessler, Carol A. 1948
Roethe, Henry Edgar 1866 - 1939
Rogan Act
Rogers, Samuel N. Sr. (1760-1852), Soldier of the
Rogers, William J. 1930
Rogersville, Fond du Lac Co.
Roggensack, Patience Drake 1940
Rogneys (historical), Jackson Co.
Rohan, Sue 1952
Rohl, Edwin C. 1908
Rohner, Henry 1919
Rolette, [Jean] Joseph 1781 - 1842
Rolle, Dale J. 1923
Rolle, Everett E. 1919
Rolling Acres, Dane Co.
Rolling Ground, Crawford Co.
Rolling Prairie, Dodge Co.
rolling stock (railroads)
Rolling, Town of, Langlade Co.
Romance, Vernon Co.
Romanesque revival (architecture)
Rome, Jefferson Co.
Rome, Town of, Adams Co.
Rome, Town of, Dane Co.
Romell, Louis C. 1899
rommegrot (food)
room and space (maritime)
Rooney [origin of place name]
Rooney, James F. 1935
Roosevelt, Oneida Co.
Roosevelt, Theodore (assassination attempt)
Roosevelt, Town of, Burnett Co.
Roosevelt, Town of, Taylor Co.
Root River, Racine Co. [origin of place name]
Root, Eleazer 1802 - 1887
Rosalietown [origin of place name]
Rose Lawn, Shawano Co.
Rose, David Stuart 1856 - 1932
Rose, Town of, Waushara Co.
Rosecrans, Manitowoc Co.
Roseleip, Gordon W. 1912
Rosenberry Act
Rosendale Center, Fond du Lac Co.
Rosendale Township [origin of place name]
Rosendale, Fond du Lac Co.
Rosendale, Town of, Fond du Lac Co.
Rosendale, Village of, Fond du Lac Co.
Rosenzweig, Peggy A. 1936
rosette (food)
Rosewood, Racine Co.
Roshell, Marvin J. 1932
Rosholt [origin of place name]
Rosholt, Portage Co.
Rosholt, Village of, Portage Co.
Rosiere, Door Co.
Ross Crossing, Green Co.
Ross, Edward Allsworth 1866 - 1951
Ross, John Donald 1841 - 1917
Ross, Town of, Forest Co.
Ross, Vernon Co.
Ross, William 1888 - 1951
roster (Civil War)
Rostok, Kewaunee Co.
Roth, Toby 1938
Rothschild, Marathon Co.
Rothschild, Village of, Marathon Co.
Rothwell, Angus B. 1905
round forty (logging)
Round Lake [origin of place name]
Round Lake, Town of, Sawyer Co.
Rountree, John Hawkins 1805 - 1890
Rouse Simmons (ship)
Rouse, Iron Co.
Route (logging)
Route of Abraham Lincoln, 1832 and 1859 (Historic
Rowley's Bay [origin of place name]
Rowley, Town of, Manitowoc Co.
Rowleys Bay, Door Co.
Roxbury [origin of place name]
Roxbury, Dane Co.
Roxbury, Town of, Dane Co.
Roy's Bay (Madeline Island) [origin of place name]
Royalton, Town of, Waupaca Co.
Royalton, Waupaca Co.
Rozellville, Marathon Co.
Rube, Manitowoc Co.
Rubicon River, Dodge Co.
Rubicon [origin of place name]
Rubicon, Dodge Co.
Rubicon, Town of, Dodge Co.
Rubin, Ben 1887 - 1942
Rublee, Horace 1829 - 1896
Ruby, Chippewa Co.
Ruby, Town of, Chippewa Co.
Rubys Corner, Marinette Co.
rudder (maritime)
Rude, Brian D. 1955
Rudolph, Town of, Wood Co.
Rudolph, Village of, Wood Co.
Rudolph, Wood Co.
Rueping [Ruping], William ["Heinrich","Wilhelm"] 1
Rugby Junction, Washington Co.
Ruger, Gen. Thomas H. (1833-1907)
Rum River (Minnesota)
rumpelkammer
Rural Electrification (Historic Marker Erected 196
Rural, Waupaca Co.
Rush Lake [origin of place name]
Rush Lake, Winnebago Co.
Rush River, Town of, St. Croix Co.
Rushford, Town of, Winnebago Co.
Rusk County [origin of place name]
Rusk, Dunn Co.
Rusk, Gov. Jeremiah M. (1830-1893)
Rusk, Town of, Burnett Co.
Rusk, Town of, Rusk Co.
Russell [origin of place name]
Russell [origin of place name]
Russell, Harry Luman 1866 - 1954
Russell, Town of, Bayfield Co.
Russell, Town of, Lincoln Co.
Russell, Town of, Sheboygan Co.
Russell, Trempealeau Co.
Russians in Wisconsin
Rustic Road (Historic Marker Erected 1976)
Rusy, Benjamin Franklin 1894 - 1953
Rutkowski, James A. 1942
Rutland [origin of place name]
Rutland, Dane Co.
Rutland, Town of, Dane Co.
Rutledge, Grant Co.
Rutter (logging)
Ryan, Edward George 1810 - 1880
Ryan, Mark W. 1924
Ryan, Paul 1970
Ryan, Samuel [Jr.] 1824 - 1907
Ryans Corner, Kewaunee Co.
Ryba, John Joseph 1929
Ryczek, Ervin John 1909
S.S. Badger (Historic Marker Erected 1998)
S.S. Meteor: Last of the Whalebacks (Historic Mar
Sabin, Ellen Clara 1850 - 1949
Sabin, Richland Co.
sac (Fr.)
Sacker (logging)
Sackville, Town of, Ozaukee Co.
Sacques
Sacramento, Town of, Waushara Co.
Sacramento, Waushara Co. [origin of place name]
Saint Anna, Calumet Co.
Saint Anthony, Washington Co.
Saint Catherines Bay, Calumet Co.
Saint Cloud, Fond du Lac Co.
Saint Cloud, Village of, Fond du Lac Co.
Saint Croix Falls, Polk Co.
Saint Croix Falls, Town of, Polk Co.
Saint Francis River (Minnesota)
Saint Francis [brief history]
Saint Francis, Milwaukee Co.
Saint Germain, Town of, Vilas Co.
Saint Germain, Vilas Co.
Saint John's Infirmary (Historic Marker Erected 19
Saint John, Calumet Co.
Saint Joseph, La Crosse Co.
Saint Joseph, Town of, St. Croix Co.
Saint Kilian, Fond du Lac Co.
Saint Lawrence, Town of, Waupaca Co.
Saint Lawrence, Washington Co.
Saint Louis River
Saint Marie, Town of, Green Lake Co.
Saint Martins, Milwaukee Co.
Saint Marys, Monroe Co.
Saint Michaels, Washington Co.
Saint Nazianz, Manitowoc Co.
Saint Nazianz, Village of, Manitowoc Co.
Saint Peter, Fond du Lac Co.
Saint Rose, Grant Co.
Sakis
Salem Oaks, Kenosha Co.
Salem [origin of place name]
Salem, Kenosha Co.
Salem, Pierce Co.
Salem, Town of, Kenosha Co.
Salem, Town of, Pierce Co.
saleratus
Salisbury, Rollin D. 1858 - 1922
Salmo, Bayfield Co.
Salomon Guards (Civil War)
Salomon, Col. Charles Eberhardt (1824-1881)
Salomon, Gen. Frederick (1826-1897)
Salomon, Gov. Edward (1828-1909)
Salona, Door Co.
salvage (maritime)
Salzmann, Joseph 1819 - 1874
Sampson (logging)
Sampson, Oconto Co.
Sampson, Town of, Chippewa Co.
Sampson, William Harkness 1808 - 1892
Sanasarian, Harout O. 1944
Sanborn [origin of place name]
Sanborn, Albert Whittemore 1853 - 1937
Sanborn, Arthur Loomis 1850 - 1920
Sanborn, Ashland Co.
Sanborn, Town of, Ashland Co.
Sand Bay, Bayfield Co.
Sand Bay, Town of, Kewaunee Co.
Sand Creek, Dunn Co.
Sand Creek, Town of, Dunn Co.
Sand Lake, Polk Co.
Sand Lake, Town of, Burnett Co.
Sand Lake, Town of, Forest Co.
Sand Lake, Town of, Sawyer Co.
Sand Prairie, Richland Co.
Sanders, Charles R. 1950
Sanders, Col. Horace T. (1820-1865)
Sanderson, William E. 1902 - 1952
Sandstone Bluff, Green Lake Co.
Sandusky, Battle of
Sandusky, Sauk Co.
Sandy Hook, Grant Co.
Sandy Lake Tragedy
Sanford, Albert Hart 1866 - 1956
sanitary commission
Saratoga [origin of place name]
Saratoga, Town of, Wood Co.
Sarona, Town of, Washburn Co.
Sarona, Washburn Co.
Satherley, Arthur E., 1889 - 1986
Sauerhering, Edward 1864 - 1924
sauerkraut (food)
Sauk and Fox Treaty of 1804 (St. Louis)
Sauk City [origin of place name]
Sauk City, Sauk Co.
Sauk County Rifles (Civil War)
Sauk County [origin of place name]
Sauk Indians
Sauk Prairie, Sauk Co.
Sauk Trail Beach, Ozaukee Co.
Saukenuk
Saukville, Ozaukee Co.
Saukville, Town of, Ozaukee Co.
Saukville, Village of, Ozaukee Co.
Sault Saint Louis
Sault Sainte Marie
Sault, The
Saulteurs, "Nation of the Sault"
Saunders, Douglas Co.
Sauntry, Douglas Co.
Savannah, Grant Co.
Savoy (historical), Buffalo Co.
Sawyer (logging)
Sawyer County [origin of place name]
Sawyer, Philetus 1816 - 1900
Saxeville, Town of, Waushara Co.
Saxeville, Waushara Co.
Saxon, Iron Co.
Saxon, Town of, Iron Co.
Saxonburg, Town of, Manitowoc Co.
Saylesville, Dodge Co.
Saylesville, Waukesha Co.
Sayner [origin of place name]
Sayner, Vilas Co.
Scale-rule (logging)
scaler (logging)
Scanawan, Town of, Lincoln Co.
Scandihoovian-dynamite (logging)
Scandinavia [origin of place name]
Scandinavia, Town of, Waupaca Co.
Scandinavia, Village of, Waupaca Co.
Scandinavia, Waupaca Co.
scantlings (maritime)
Scarboro Creek
scarph (maritime)
Schadeberg, Henry C. 1913
Schaeffer, Jr., Frank E. 1905
Schafer, Chuck 1963
Schafer, Joseph 1867 - 1941
Schandein, Emil 1840 - 1888
Schaus, Thomas M. 1937
Schey Acres, Dane Co.
Schilling, Robert 1843 - 1922
Schinner, Augustine Francis 1863 - 1937
Schleisingerville, Washington Co. [origin of place
Schlesinger, Ferdinand 1851 - 1921
Schleswig [origin of place name]
Schleswig, Town of, Manitowoc Co.
Schley, Town of, Lincoln Co.
Schlitz, Joseph 1831 - 1875
Schlueter, Fred W. 1895
Schmedeman, Albert George 1864 - 1946
Schmeichel, Ewald J. 1889
Schmidt Corner, Waupaca Co.
Schmidt, Carl Henry 1835 - 1888
Schmidt, Charles J. 1907
Schmidt, Earl William 1936
Schmidt, Gary J. 1947
Schmidt, Robert 1913
Schnappsville, Marathon Co.
Schneeberg, Ervin F. 1919
Schneider, George John 1877 - 1939
Schneider, Joseph 1845 - 1927
Schneider, Marlin D. 1942
Schneiders, Lolita 1931
Schneyville, Green Co.
Schober, John C. 1951
Schoeffler, Moritz 1813 - 1875
Schoepke, Town of, Oneida Co.
Schofield [origin of place name]
Schofield, Marathon Co.
Schooff, Dan 1971
School Consolidation (Historic Marker Erected 1964
school forests
School Hill, Manitowoc Co.
School Land Scandal
school lands
school section (survey)
Schoolcraft, Henry Rowe, 1793 - 1864
schooner (maritime)
schooner-barge (maritime)
Schorer, Mark 1908 - 1977
Schowalter, Elmer J. 1894
Schowalter, Herbert J. 1927
Schreiber, Martin J. 1939
Schricker, Kenneth 1921
Schroeder, Frederick C. 1910
Schuele, Wilfred 1906
Schuette, J[Oachim] H[Einrich] 1821 - 1908
Schultz, Dale W. 1953
Schultz, Green Co.
Schurz, Carl (1829-1906)
Schurz, Margarethe [Meyer] (Mrs. Carl Schurz) 1833
Schwartz, Jerome T. 1951
Schwebach, James 1847 - 1921
Schwefel, William S. 1902
scion (farming)
Scissor-bill (logging)
Scocos, John A. 1956
Scofield, Edward 1842 - 1925
Scotch Giant (F.W. Shadick)
Scots in Wisconsin
Scott [origin of place name]
Scott [origin of place name]
Scott, Almere L. 1877 - 1946
Scott, Thomas B. 1829 - 1886
Scott, Town of, Brown Co.
Scott, Town of, Burnett Co.
Scott, Town of, Columbia Co.
Scott, Town of, Crawford Co.
Scott, Town of, La Crosse Co.
Scott, Town of, Lincoln Co.
Scott, Town of, Monroe Co.
Scott, Town of, Portage Co.
Scott, Town of, Sheboygan Co.
Scott, Walter E. 1911 - 1983
Scott, William Amasa 1862 - 1944
Scotts Junction, Monroe Co.
scow (maritime)
Screech-cat (logging)
scroll head (maritime)
scullery (farming)
scuppers (maritime)
Seaman, Gilbert Edmund 1869 - 1941
Seaman, William Henry 1842 - 1915
Searing, Edward 1835 - 1898
secede; secessions (Civil War)
secesh (Civil War)
Sechlerville, Jackson Co.
Second Empire (architecture)
Second Ward, Calumet Co.
secondary strata (mining)
Section (Civil War)
section (survey)
section lines (survey)
Sedgwick, Ashland Co.
sedimentary rocks (mining)
Seeley, Sawyer Co.
Seery, Thomas 1945
Seide, Herman Otto 1886 - 1943
Seidel, Emil 1864 - 1947
Seif, Town of, Clark Co.
Seils-Sterling Circus (Historic Marker Erected 197
Selective logging (logging)
Sell, Hildegarde, 1906 - 2005
Sell, Ronald A. 1945
Seminary Springs, Dane Co.
Senate, Town of, Chippewa Co.
Seneca, Crawford Co.
Seneca, Town of, Crawford Co.
Seneca, Town of, Green Lake Co.
Seneca, Town of, Shawano Co.
Seneca, Town of, Wood Co.
Senn, Nicholas, M.D. (1844-1908) (Historic Marker
Sensenbrenner Jr., F. James 1943
Sensenbrenner, Frank Jacob 1864 - 1952
septentrionale (Fr.)
Seratti, Lorraine M. 1949
Serbians in Wisconsin
Sergeant (Civil War)
serpentine (mining)
Sessions Prairie [origin of place name]
seton (farming)
Sevastopol [origin of place name]
Sevastopol, Town of, Door Co.
Seven Mile Creek, Town of, Fond du Lac Co.
Seven Mile Creek, Town of, Juneau Co.
Severance, Juliet H. 1833 - 1919
Severson, Herman John 1869 - 1950
Sextonville, Richland Co.
Seymour [origin of place name]
Seymour, Eau Claire Co.
Seymour, Outagamie Co.
Seymour, Town of, Eau Claire Co.
Seymour, Town of, Lafayette Co.
Seymour, Town of, Outagamie Co.
Shabaz, John C. 1931
Shabine Lake
Shady Dell, Grant Co.
Shady Side (historical), Walworth Co.
shaft (maritime)
shaft (mining)
shaft log (maritime)
Shake (logging)
Shake - Rag Street (Mineral Point) [origin of plac
shake roof (architecture)
Shaker Rag (Historic Marker Erected 1951)
Shamrock, Jackson Co.
Shanagolden, Ashland Co.
Shanagolden, Town of, Ashland Co.
Shangri La Point, Winnebago Co.
Shannon, Susan Jane 1952
Shantytown
Shantytown, Marathon Co.
Sharon Township [origin of place name]
Sharon, Town of, Marquette Co.
Sharon, Town of, Portage Co.
Sharon, Town of, Walworth Co.
Sharon, Village of, Walworth Co.
Sharon, Walworth Co.
Shaw Landing, Waupaca Co.
Shaw, Daniel 1813 - 1881
Shaw, George Bullen 1854 - 1894
Shawanaw, Town of, Shawano Co.
Shawano (Historic Marker Erected 1956)
Shawano County [origin of place name]
Shawano Lake
Shawano [brief history]
Shawano, Shawano Co.
Shawano, Town of, Shawano Co.
Shawtown, Eau Claire Co.
Sheboygan County [origin of place name]
Sheboygan Falls, Sheboygan Co.
Sheboygan Falls, Town of, Sheboygan Co.
Sheboygan Indian Mound Park (Historic Marker Erect
Sheboygan River
Sheboygan Tigers (Civil War)
Sheboygan [brief history]
Sheboygan, Sheboygan Co.
Sheboygan, Town of, Sheboygan Co.
Sheehan, James Patrick 1866 - 1936
sheepshead
Shelby, La Crosse Co.
Shelby, Town of, La Crosse Co.
Sheldon, John P. 1792 - 1871
Sheldon, Rusk Co.
Sheldon, Town of, Monroe Co.
Sheldon, Village of, Rusk Co.
Shell Lake [origin of place name]
Shell Lake, Town of, Washburn Co.
Shell Lake, Washburn Co.
Shennington, Monroe Co.
Shepard, Eugene S. 1854 - 1923
Shepley, Shawano Co.
Sheppard, Jackson Co.
Sheridan, Town of, Dunn Co.
Sheridan, Waupaca Co.
Sherman [origin of place name]
Sherman, Benjamin Franklin 1836 - 1915
Sherman, Gary E. 1949
Sherman, Town of, Clark Co.
Sherman, Town of, Dunn Co.
Sherman, Town of, Iron Co.
Sherman, Town of, Sheboygan Co.
Sherry Junction, Langlade Co.
Sherry [origin of place name]
Sherry, Laura [Case] 1873 - 1947
Sherry, Town of, Wood Co.
Sherry, Wood Co.
Sherwood Forest Heights, Dane Co.
Sherwood Forest, Green Lake Co.
Sherwood Forest, Town of, Clark Co.
Sherwood Glen, Dane Co.
Sherwood, Calumet Co.
Sherwood, Clark Co.
Sherwood, Town of, Clark Co.
Sherwood, Village of, Calumet Co.
Shibilski, Kevin 1961
Shields [origin of place name]
Shields, Town of, Dodge Co.
Shields, Town of, Marquette Co.
shilling
Shilling, Jennifer 1969
Shiloh, Battle of
shingle style (architecture)
shinplasters
Shiocton [origin of place name]
Shiocton, Outagamie Co.
Shiocton, Village of, Outagamie Co.
shipbuilding in Wisconsin
Shipman, Stephen Vaughn 1825 - 1905
shipwrecks in Wisconsin
Shirley, Brown Co.
shivaree
Shivering Sands [origin of place name]
shoal (maritime)
shock (farming)
Shoe Lake [origin of place name]
Shoeing-tree (logging)
Shoemaker Point, Door Co.
Shoemaker, Richard A. 1951
Sholes, Charles Clark 1816 - 1867
Sholes, Christopher Latham 1819 - 1890
shoofly (railroads)
shoot (rapids)
Shopiere [origin of place name]
Shopiere, Rock Co.
Shorewood Armory (Historic Marker Erected 1998)
Shorewood High School (Historic Marker Erected 199
Shorewood Hills, Dane Co.
Shorewood Hills, Village of, Dane Co.
Shorewood Village Hall (Historic Marker Erected 19
Shorewood, Milwaukee Co.
Shorewood, Village of, Milwaukee Co.
Shortville, Clark Co.
Shot Tower (Historic Marker Erected 1977)
Shoto, Manitowoc Co.
Showerman, Grant 1870 - 1935
shroud (maritime)
Shullsburg [origin of place name]
Shullsburg, Lafayette Co.
Shullsburg, Town of, Lafayette Co.
Shurbert, Floyd E. 1900
sicowet
Sicula, Paul E. 1939
Side-jam (logging)
siding (railroads)
Sidney, Clark Co.
Siebecker, Robert George 1854 - 1922
sieges (Civil War)
Sigel Guard (Civil War)
Sigel Regiment (Civil War)
Sigel, Town of, Chippewa Co.
Sigel, Town of, Wood Co.
Siggenauk, Ojibwe chief
Silbaugh, Rudy 1930
silex (mining)
Silica, Fond du Lac Co.
Silver Cliff, Town of, Marinette Co.
Silver Creek [origin of place name]
Silver Creek, Sheboygan Co.
Silver Lake [origin of place name]
Silver Lake, Kenosha Co.
Silver Lake, Village of, Kenosha Co.
Silver Lake, Waushara Co.
Silver Mound (Historic Marker Erected 1977)
Silver Mound [origin of place name]
Simmons, Zalmon Gilbert 1828 - 1910
simple minerals (mining)
Sinagos
Sinicki, Christine 1960
Sinipee, Grant Co.
Sinking of the Lady Elgin (Historic Marker Erected
Sinsinawa [origin of place name]
Sinsinawa, Grant Co.
Sinsiniwa Mound, Grant Co.
Sioux Creek, Town of, Barron Co.
Sioux Uprising (1862)
Sioux, Bayfield Co.
Siren [origin of place name]
Siren, Burnett Co.
Siren, Town of, Burnett Co.
Siren, Village of, Burnett Co.
Siresville [origin of place name]
Siskiwit Bay [origin of place name]
Sissabagama Lake [origin of place name]
Sister Bay, Door Co.
Sister Bay, Village of, Door Co.
Sisters, The (islands)
Site of Fort St. Antoine 1686 (Historic Marker Ere
Site of the First Norwegian Lutheran Church of the
six-foot (railroads)
Skanawan, Town of, Lincoln Co.
Skavlem, Halvor Lars 1846 - 1939
Skedaddle (Civil War)
Skid (logging)
Skid-grease (logging)
Skid-road (logging)
Skillet Creek Falls [origin of place name]
Skindrud, Richard A. 1944
Skinner's, Town of, Iowa Co.
Skinner, Ernest Brown 1863 - 1935
skirmishes (Civil War)
Slab City, Shawano Co.
Slabtown, Jefferson Co.
Slaby, John W. 1934
Slades Corners, Kenosha Co.
Slash (logging)
slate. (mining)
Slateford, Lafayette Co.
Slaughter, Moses Stephen 1860 - 1923
slavery in Wisconsin
Sleigh (logging)
Slichter, Charles Sumner 1864 - 1946
Sligo [origin of place name]
Slinger [origin of place name]
Slinger, Village of, Washington Co.
Slinger, Washington Co.
Sloan, Andrew Scott 1820 - 1895
Sloan, Ithamar Conkey 1822 - 1898
slot (farming)
Slovaks in Wisconsin
Slovan, Kewaunee Co.
Slovenians in Wisconsin
Sluice-gate (logging)
Smelser's Grove, Election precinct of, Grant Co.
Smelser, Town of, Grant Co.
Smith Landing, Pierce Co.
Smith, "Red" (Walter W.) 1905 - 1982
Smith, Abraham Hyatt 1814 - 1892
Smith, Abram Daniel 1811 - 1865
Smith, Arthur Oliver 1859 - 1913
Smith, Augustus Ledyard 1833 - 1902
Smith, Charles P. 1926
Smith, Dena A. 1899
Smith, Erastus Gilbert 1855 - 1937
Smith, George Baldwin 1823 - 1879
Smith, Henry Jr. 1838 - 1916
Smith, Hiram 1817 - 1890
Smith, Hiram 1829 - 1900
Smith, John Melgar 1872 - 1947
Smith, Jr., Charles F. 1918
Smith, Patricia Spafford 1925
Smith, Reeder 1804 - 1892
Smith, Walter Mcmynn 1869 - 1938
Smith, Warren Robert 1889 - 1957
Smith, William E. 1824 - 1883
Smith, William Rudolph 1787 - 1868
Smith, Winfield 1827 - 1899
Smithfield, Outagamie Co.
Snag (logging)
Snake-room (logging)
Snell, Marathon Co.
Snell, Mariette Huntly
Snells, Winnebago Co.
Snib (logging)
Sniderville, Brown Co.
Snoose (logging)
Snorting -pole (logging)
Snow a road (logging)
Snow, Benjamin Warner 1860 - 1928
Snowmobile (Historic Marker Erected 1975)
Snows Corner, Pierce Co.
Snubber (logging)
snuff-dipping (Civil War)
snus
Snyder, Harry G. 1938
Soaking Mountain
Sobieski Corners, Oconto Co.
Sobieski, Oconto Co.
Sobocinski, Sherman R. 1927
social security
socialism in Milwaukee
Society of Jesus (Societas Jesu, "S.J.")
soft (money)
Soft-wood (logging)
Soglin, Paul, 1945 -
Soik, Nile W. 1923
Sokaogon (Mole Lake) Reservation
Sokolowski, George 1917
sol (Fr.)
Soldiers Grove Origins (Historic Marker Erected 19
Soldiers Grove, Crawford Co.
Soldiers Grove, Village of, Crawford Co.
Solid-jam (logging)
Solie, Denise L. 1954
Solon Springs [origin of place name]
Solon Springs, Douglas Co.
Solon Springs, Town of, Douglas Co.
Solon Springs, Village of, Douglas Co.
Somers [origin of place name]
Somers, Kenosha Co.
Somers, Peter J. 1850 - 1924
Somers, Town of, Kenosha Co.
Somerset, St. Croix Co.
Somerset, Town of, St. Croix Co.
Somerset, Village of, St. Croix Co.
Somo, Town of, Lincoln Co.
Sonnontoueronnons
Sono Junction, St. Croix Co.
Soperton, Forest Co.
Sorting-jack (logging)
sou (Fr.)
Soucie, Kevin 1954
Souligny, 18th-c. French trader
Souligny, Menominee leader, 1785-1864
South Beaver Dam, Dodge Co.
South Byron, Fond du Lac Co.
South Chase, Oconto Co.
South Fork, Town of, Rusk Co.
South Greenville Grange No. 225 (Historic Marker E
South Itasca, Douglas Co.
South Kenosha, Kenosha Co.
South Lancaster, Town of, Grant Co.
South Madison, Dane Co.
South Milwaukee, Milwaukee Co.
South Mountain, Battle of
South Randolph, Dodge Co.
South Range, Douglas Co.
South Range, Town of, Douglas Co.
South Superior, Douglas Co.
South Wayne, Lafayette Co.
South Wayne, Village of, Lafayette Co.
Southerners in Wisconsin
Southport, Town of, Kenosha Co.
Southside Historic District (Historic Marker Erect
Southside Historic District Parks (Historic Marker
Southwest Fur Company
Sowinski, Sylvester J. 1923 - 1986
Spahn, Warren Edward 1921 - 2003
Spalding's creek
Spanish American War, Wisconsin in
spar (maritime)
spar deck (maritime)
Sparta, Monroe Co.
Sparta, Town of, Monroe Co.
Spaulding, Jackson Co.
specie
Speck Oaks, Jackson Co.
Spence Park (Historic Marker Erected 1978)
Spencer, Marathon Co.
Spencer, Town of, Marathon Co.
Spencer, Village of, Marathon Co.
Spider Lake, Town of, Sawyer Co.
Spider Lake, Town of, Vilas Co.
Spill-way (logging)
Spillner, Joan Wade 1962
spiral wood auger (maritime)
Spirit Falls, Lincoln Co.
Spirit Rock (Historic Marker Erected 1963)
Spirit, Price Co.
Spirit, Town of, Price Co.
Split Rock, Shawano Co.
split roof (architecture; logging)
Spokeville, Clark Co.
Spoon (logging)
Spooner [origin of place name]
Spooner, John Coit 1843 - 1919
Spooner, Town of, Washburn Co.
Spooner, Washburn Co.
Spooner, Wyman 1795 - 1877
Spotsylvania, Battle of
Spotted Arm (Broken Arm), Ho-Chunk chief
Sprague, Juneau Co.
Spread Eagle, Florence Co.
Spring Bank Park, Monroe Co.
Spring Brook, Town of, Dunn Co.
Spring Brook, Town of, Langlade Co.
Spring Brook, Town of, Washburn Co.
Spring Green, Sauk Co.
Spring Green, Town of, Sauk Co.
Spring Green, Village of, Sauk Co.
Spring Grove, Green Lake Co.
Spring Grove, Town of, Green Co.
Spring Lake Township [origin of place name]
Spring Lake, Town of, Pierce Co.
Spring Lake, Waushara Co.
Spring Prairie Township [origin of place name]
Spring Prairie, Town of, Walworth Co.
Spring Prairie, Walworth Co.
Spring Street (Milwaukee) [origin of place name]
Spring Valley [origin of place name]
Spring Valley, Election precinct of, Iowa Co.
Spring Valley, Manitowoc Co.
Spring Valley, Pierce Co.
Spring Valley, Rock Co.
Spring Valley, Town of, Rock Co.
Spring Valley, Village of, Pierce Co.
Spring Water Township [origin of place name]
Spring-break-up (logging)
Springbluff (historical), Adams Co.
Springbrook [origin of place name]
Springbrook, Town of, Washburn Co.
Springbrook, Washburn Co.
Springdale (historical), Buffalo Co.
Springdale, Town of, Dane Co.
Springer, Thomas J. 1968
Springfield Corners, Dane Co.
Springfield, Election precinct of, Columbia Co.
Springfield, Town of, Dane Co.
Springfield, Town of, Jackson Co.
Springfield, Town of, Marquette Co.
Springfield, Town of, St. Croix Co.
Springfield, Town of, Wood Co.
Springfield, Walworth Co.
Springstead, Iron Co.
Springvale, Town of, Columbia Co.
Springvale, Town of, Fond du Lac Co.
Springville, Town of, Adams Co.
Springville, Vernon Co.
Springwater, Town of, Waushara Co.
Sprinkler (logging)
Spruce, Oconto Co.
Spruce, Town of, Oconto Co.
Squad (Civil War)
squall (maritime)
square rig (maritime)
squatter
St. Anthony, Falls of
St. Anthony, Town of, Crawford Co.
St. Clair, Arthur, 1734-1818
St. Cosme, Fr. Jean François Buisson de, dates unv
St. Croix County [origin of place name]
St. Croix Falls [origin of place name]
St. Croix Falls, Town of, Polk Co.
St. Croix Lake (upper) [origin of place name]
St. Croix National Scenic Riverway
St. Croix pinery
St. Croix Reservation
St. Croix River
St. Croix River (Historic Marker Erected 1956)
St. Esprit, La Pointe de (mission)
St. Esprit, River of
St. Francis Xavier (mission)
St. Germaine, Town of, Vilas Co.
St. Ignace (mission)
St. James (mission)
St. John's Military Academy (Historic Marker Erect
St. Joseph, Town of, St. Croix Co.
St. Lawrence, Town of, Waupaca Co.
St. Marie [origin of place name]
St. Marie, Town of, Green Lake Co.
St. Mark (mission)
St. Martin, Alexis
St. Peters
Staadts (historical), Marathon Co.
Stack, Edward 1918
Stafford, William Henry 1869 - 1957
Stag trousers (logging)
stalactite. (mining)
Stalbaum, Lynn E. 1920
Stalbaum, Merrill 1911
Stambaugh, Samuel C.
Stanberry, Washburn Co.
stanchion (maritime)
standard gauge (railroads)
Stanfold, Town of, Barron Co.
Stangelville, Kewaunee Co.
Stanley [origin of place name]
Stanley, Chippewa Co.
Stanley, Lemuel Castle 1828 - 1909
Stanley, Town of, Barron Co.
Stanton [origin of place name]
Stanton, St. Croix Co.
Stanton, Town of, Dunn Co.
Stanton, Town of, St. Croix Co.
Star Lake, Vilas Co.
Star Prairie, St. Croix Co.
Star Prairie, Town of, St. Croix Co.
Star Prairie, Village of, St. Croix Co.
starboard (maritime)
Starbuck, Frank Washburn 1845 - 1929
Stark, Town of, Vernon Co.
Starks, Oneida Co.
Starkweather Creek [origin of place name]
Starkweather, John Converse 1830 - 1890
Starr, Elisha 1806 - 1893
Staskunas, Anthony J. 1961
State Center [origin of place name]
State Historical Society (Historic Marker Erected
State Line Rifles (Civil War)
State Line [origin of place name]
State Line, Kenosha Co.
State Line, Town of, Vilas Co.
State Park Movement in Wisconsin - Interstate Park
Statesburg, Outagamie Co.
Staton Guards (Civil War)
Stauffer, Christ M. 1896
stay (maritime)
steam barge (maritime)
steamer; steamship (maritime)
Stearns, Green Co.
Stearns, John William 1839 - 1909
Stearns, Lutie Eugenia 1866 - 1943
Stebbinsville, Rock Co.
Steiger, William Albert, 1938-1978.
Steinbrink, John P. 1949
Steinhilber, Jack D. 1931
Steinmetz, Donald W. 1924
Steinthal, Manitowoc Co.
Stella, Town of, Oneida Co.
stem (maritime)
stempost (maritime)
Stephenson, Isaac 1829 - 1918
Stephenson, Town of, Marinette Co.
Stephensville, Outagamie Co.
Stepp, Cathy 1963
Sterling Hall bombing
Sterling Township [origin of place name]
Sterling, John Whelan 1816 - 1885
Sterling, Town of, Polk Co.
Sterling, Town of, Vernon Co.
stern (maritime)
sternpost (maritime)
Stetsonville [origin of place name]
Stetsonville, Taylor Co.
Stetsonville, Village of, Taylor Co.
Stettin (historical), Marathon Co.
Stettin, Town of, Marathon Co.
Steuben, Crawford Co.
Steuben, Village of, Crawford Co.
Stevens Hill, Door Co.
Stevens Point [brief history]
Stevens Point [origin of place name]
Stevens Point, Portage Co.
Stevens Point, Town of, Portage Co.
Stevens Prairie, Census district of, Dunn Co.
Stevens, Brooks 1911-1995
Stevens, Edmond Ray 1869 - 1930
Stevens, John 1840 - 1920
Stevenson, Leslie R. 1915
Stevenstown, La Crosse Co.
Stewart, Alexander 1829 - 1912
Stewart, Alva 1821 - 1889
Stewart, James M. 1936
Stick Style (architecture)
stifle (farming)
Stiles Junction, Oconto Co.
Stiles, Oconto Co.
Stiles, Town of, Oconto Co.
Stinnett, Town of, Washburn Co.
Stitt, Donald K. 1944
Stitzer [origin of place name]
Stitzer, Grant Co.
Stockbridge Indians
Stockbridge [origin of place name]
Stockbridge, Calumet Co.
Stockbridge, Town of, Calumet Co.
Stockbridge, Village of, Calumet Co.
Stockholm, Pepin Co.
Stockholm, Town of, Pepin Co.
Stockholm, Village of, Pepin Co.
stockless anchor (maritime)
Stockton, Portage Co.
Stockton, Town of, Portage Co.
Stoddard, Thomas Benton 1800 - 1876
Stoddard, Vernon Co.
Stoddard, Village of, Vernon Co.
Stone Lake, Sawyer Co.
Stone Lake, Town of, Washburn Co.
Stone, Dane Co.
Stone, Jeff 1961
Stone, Jesse 1836 - 1902
Stone, John Nelson 1835 - 1919
Stonebank, Waukesha Co.
Stonefield
Stones River, Battle of
Stony Beach, Winnebago Co.
Storrow, Samuel Appleton 1787-1837
Storrs Lake, Milton (Historic Marker Erected 1976)
Stoughton Light Guard (Civil War)
Stoughton [brief history]
Stoughton [origin of place name]
Stoughton, Dane Co.
Stout, Henry Lane 1814 - 1900
Stout, James Huff 1848 - 1910
stovewood (architecture)
Stow, Alexander Wolcott 1805 - 1854
Stowell, John Maxwell 1824 - 1907
Stower, Harvey 1944
straggler (Civil War)
Strang, James Jesse 1813 - 1856
strata (mining)
Stratford, Marathon Co.
Stratford, Village of, Marathon Co.
Strawbridge, Lafayette Co.
Street, Joseph Montfort 1780 - 1840
Stretching Waters [origin of place name]
Strickland, Rusk Co.
Strickland, Town of, Rusk Co.
stringer (maritime)
Strohl, Joseph A. 1946
Strong's Landing
Strong, Henry Partridge 1832 - 1883
Strong, Marshall Mason 1813 - 1864
Strong, Moses Mccure 1810 - 1894
Strongs Prairie, Adams Co.
Strongs Prairie, Town of, Adams Co.
structural glass (architecture)
Struebing, Wilmer H. 1910
Strum [origin of place name]
Strum, Trempealeau Co.
Strum, Village of, Trempealeau Co.
Stubbs, Town of, Rusk Co.
stucco (architecture)
Stucki, Jacob 1857 - 1930
stumpage (logging)
Sturdevant, Lafayette Monroe 1856 - 1923
Sturdy Oaks (Civil War)
Sturgeon Bay (body of water)
Sturgeon Bay [brief history]
Sturgeon Bay [origin of place name]
Sturgeon Bay, Door Co.
Sturgeon Bay, Town of, Door Co.
Sturgeon Falls, Menominee River
Sturtevant, John Loomis 1865 - 1939
Sturtevant, Racine Co.
Sturtevant, Village of, Racine Co.
Suamico (historical), Town of, Brown Co.
Suamico [origin of place name]
Suamico, Brown Co.
Suamico, Town of, Brown Co.
Suamico, Town of, Oconto Co.
Suamico, Village of, Brown Co.
suburbs in Wisconsin
Suder, Scott 1968
suffrage
sugar
Sugar Bush, Brown Co.
Sugar Bush, Outagamie Co.
Sugar Camp, Oneida Co.
Sugar Camp, Town of, Oneida Co.
Sugar Creek [origin of place name]
Sugar Creek, Town of, Walworth Co.
Sugar Grove, Vernon Co.
Sugar Island (Lebanon) [origin of place name]
Sugar Island, Dodge Co.
Sugar River, Census district of, Dane Co.
Sugar River, Election precinct of, Green Co.
Sugar River, Green Co.
Sullivan, Jefferson Co.
Sullivan, Town of, Jackson Co.
Sullivan, Town of, Jefferson Co.
Sullivan, Village of, Jefferson Co.
Sullivan, William T. 1894
Summer White House - 1928 (Historic Marker Erected
Summerville, Rock Co.
Summit Corners, Waukesha Co.
Summit Lake, Langlade Co.
Summit, Town of, Douglas Co.
Summit, Town of, Juneau Co.
Summit, Town of, Langlade Co.
Summit, Town of, Waukesha Co.
Sumner Township [origin of place name]
Sumner, Barron Co.
Sumner, Daniel Hadley 1837 - 1903
Sumner, Town of, Barron Co.
Sumner, Town of, Jefferson Co.
Sumner, Town of, Trempealeau Co.
Sumpter [origin of place name]
Sumpter, Town of, Sauk Co.
Sun Prairie [origin of place name]
Sun Prairie, Dane Co.
Sun Prairie, Town of, Dane Co.
Sunburst, Dane Co.
Sunflower, Oneida Co.
Sunnyside, Douglas Co.
Sunrise Bay, Winnebago Co.
Sunset Beach, Calumet Co.
Sunset Beach, Dodge Co.
Sunset Point (historical), La Crosse Co.
Sunset Point, Winnebago Co.
Sunset, Marathon Co.
Superior Village, Douglas Co.
Superior [origin of place name]
Superior, Douglas Co.
Superior, Town of, Douglas Co.
Superior, Village of, Douglas Co.
surfman (maritime)
Suring, Oconto Co.
Suring, Village of, Oconto Co.
survey, rectangular
Sussex (steamship)
Sussex, Village of, Waukesha Co.
Sussex, Waukesha Co.
Sussman, Norman 1905
Sutherland, Bayfield Co.
sutler
Suydam, John Voorhees 1810 - 1885
Swamp (logging)
Swamp Lake [origin of place name]
swamper (logging)
Swan Lake
Swan, Marathon Co.
Swan, Monroe 1937
sward (farming)
swath (farming)
Sweda, Joseph 1926
Swedes in Wisconsin
Sweeper (logging)
sweeps
Sweet, Alanson 1804 - 1891
Sweet, Col. Benjamin (1832-1874)
Sweetheart City, Marinette Co.
Swing-dingle (logging)
Swingle, Frank Bell 1874 - 1956
Swiss in Wisconsin
Swiss, Town of, Burnett Co.
switchman (railroads)
Swoboda, Lary J. 1939
Syene (historical), Dane Co.
syenite and sienite (mining)
Sykes, Diane S. 1957
Sykora, Tom 1946
Sylvan Mounds, Jefferson Co.
Sylvan Shores, Green Lake Co.
Sylvan, Richland Co.
Sylvan, Town of, Richland Co.
Sylvania, Racine Co.
Sylvester Township [origin of place name]
Sylvester [origin of place name]
Sylvester, Town of, Green Co.
Sylvester, Town of, Waushara Co.
Symco, Waupaca Co.
syphon; siphon (maritime)
tabac (Fr.)
Tabor [origin of place name]
Tabor, Racine Co.
tackle (maritime)
tactics (Civil War)
Tadoussac
Tadych, Albert R. 1932
Taegesville, Marathon Co.
Taft, Town of, Taylor Co.
Taft-Harltey Act
Tafton, Town of, Grant Co.
Tainter Lake, Dunn Co.
Tainter, Andrew 1823 - 1899
Tainter, Jeremiah Burnham 1836 - 1920
Tainter, Town of, Dunn Co.
Taliesin
Tallmadge, Nathaniel Pitcher 1795 - 1864
Talon, Jean, comte d'Orsainville (c.1625-1694)
Talsky, George J. 1899
Tamarack, Trempealeau Co.
Tamarois
Tamms, Erwin G. 1931
tank top (maritime)
Tank, Nils Otto 1800 - 1864
Tanktown [origin of place name]
Tanner, Herbert Battles 1859 - 1933
Tannery Town, Ashland Co.
tanning and leather processing
taps and dies (maritime)
Tarrant, Pepin Co.
tassels (farming)
Tatum, Arthur Lawrie. 1884 - 1955
Taus, Manitowoc Co.
Tavera, Richland Co.
Taways
Taycheedah [origin of place name]
Taycheedah, Fond du Lac Co.
Taycheedah, Town of, Fond du Lac Co.
Taycheedahff [origin of place name]
Taychoperah
Taylor County [origin of place name]
Taylor, David 1818 - 1891
Taylor, Horace Adolphus 1837 - 1910
Taylor, Jackson Co.
Taylor, Lena C. 1966
Taylor, Town of, Sheboygan Co.
Taylor, Town of, Washington Co.
Taylor, Village of, Jackson Co.
Taylor, William Robert 1820 - 1909
Taylors Corners, Dane Co.
Tchidouakouongues
Te Winkle, William P. 1954
Teasdale, Howard (1855 - 1936)
Tecumseh, Shawnee War Chief (c.1768-1813)
Tehan, Robert, 1905-1975.
Tell Sharpshooters (Civil War)
Tell, Buffalo Co.
temperance
temperance movement in Wisconsin
ten-foot (railroads)
Tenney, Horace Addison 1820 - 1906
Tennyson, Grant Co.
Tennyson, Village of, Grant Co.
Teotsa, Rock Co.
termination
terra cotta (architecture)
terrace (farming)
territorial governor
territory
Terry, Earle Melvin 1879 - 1929
Terry, Walter E.
tertiary strata (mining)
Tesmer, Louise M.
Tess Corners, Waukesha Co.
Texas, Town of, Marathon Co.
Thayer, Eugene Butler 1853 - 1931
Thayer, Jesse B. 1845 - 1910
The "Dinky" (Historic Marker Erected 1989)
The Alexander Noble House (Historic Marker Erected
The Bad River (Historic Marker Erected 1957)
The Baraboo Range (Historic Marker Erected 1958)
The Battle of St. Croix Falls (Historic Marker Ere
The Circus (Historic Marker Erected 1970)
The Cobban Bridge (Historic Marker erected 1986)
The Coulee Region (Historic Marker Erected 1975)
The Dells, Town of, Sauk Co.
The Driftless Area (Erected 1983)
The Gideons (Historic Marker Erected 1958)
The Hodag (Historic Marker Erected 1973)
The Home of Colby Cheese (Historic Marker Erected
The Homme Homes (Historic Marker Erected 1973)
The Ice Cream Sundae (Historic Marker Erected 1973
The Iron Brigade (Historic Marker Erected 1992)
The John Mann House (Historic Marker Erected 1998)
The Lower Narrows (Historic Marker Erected 1996)
The McCoy Farmhouse (Historic Marker Erected 1998)
The McGilvray "Seven Bridges Road" (Historic Marke
The Medal of Honor (Historic Marker Erected 1990)
The Merrimac Ferry (Historic Marker Erected 1973)
The Military Road (Historic Marker Erected 1975)
The Name "Wisconsin" (Historic Marker Erected 1994
The Oldest Lutheran Church in Wisconsin (Historic
The Orchards of Door County (Historic Marker Erect
The Outlet Mound (Historic Marker Erected 1998)
The Passenger Pigeon (Historic Marker Erected 1973
The Point of Beginning (Historic Marker Erected 19
The Pursuit West (Historic Marker Erected 1998)
The Raube Road Site (Historic Marker Erected 1998)
The Sand Counties-Aldo Leopold Territory (Historic
The Saukville Trails (Historic Marker Erected 1998
The Smoker, Ho-Chunk chief
The Solomon Juneau House (Historic Marker Erected
The Spark (Historic Marker Erected 1957)
The Superior Entry (Historic Marker Erected 1976)
The U.S. Military at Turtle Village (Historic Mark
The University of Wisconsin-Milwaukee (Historic Ma
The University of Wisconsin-Oshkosh (Historic Mark
The University of Wisconsin-Superior (Historic Mar
The Upper Mississippi (Historic Marker Erected 198
The Valley View State (Historic Marker Erected 198
The Winnebago Trail (Historic Marker Erected 1978)
The Wisconsin River (Historic Marker Erected 1982)
theaters in Wisconsin
Theno, Daniel U. 1947
Theresa Station, Dodge Co.
Theresa [origin of place name]
Theresa, Dodge Co.
Theresa, Town of, Dodge Co.
Theresa, Village of, Dodge Co.
Thiensville, Ozaukee Co.
Thiensville, Village of, Ozaukee Co.
Third Lake Passage (Historic Marker Erected 1998)
Third Ward fire (Milwaukee, 1892)
Third Ward Fire: 1892 (Historic Marker Erected 199
Third Ward, Calumet Co.
Thirty-Second Division Memorial Highway (Historic
Thirty-Second Division Memorial Highway (Historic
Thiry Daems, Kewaunee Co.
Thomas, Ormsby Brunson 1832 - 1904
Thomas, Town of, Rusk Co.
Thompson, Barbara 1924
Thompson, Carl W. 1914
Thompson, George 1918
Thompson, John C[Ameron] 1872 - 1934
Thompson, Robert M. 1927
Thompson, Tommy G. 1941
Thompson, Washington Co.
Thompsonville [origin of place name]
Thompsonville, Racine Co.
Thomson, Alexander Mcdonald 1822 - 1898
Thomson, Vernon W. 1905
Thornapple Creek
Thornapple, Rusk Co.
Thornapple, Town of, Rusk Co.
Thornton, Shawano Co.
Thorp, Clark Co.
Thorp, Joseph G. 1812 - 1895
Thorp, Town of, Clark Co.
Thorstein Veblen (1857-1929) (Historic Marker Erec
Three Lakes, Oneida Co.
Three Lakes, Town of, Oneida Co.
Three Rivers (Trois-Rivières)
through platform (railroads)
Thunder, Betsy
Thwaites, Reuben Gold 1853 - 1913
Ti-Cho-Rah, Election precinct of, Marquette Co.
Tibbets, Walworth Co.
Tichigan, Racine Co.
Tiffany, Rock Co.
Tiffany, Town of, Dunn Co.
Tigers (Civil War)
Tigerton, Shawano Co.
Tigerton, Village of, Shawano Co.
Tilden, Chippewa Co.
Tilden, Town of, Chippewa Co.
Tilleda, Shawano Co.
timber frame (architecture)
Timberland [origin of place name]
Timberland, Burnett Co.
timeline of Wisconsin history, 1622-1699
timeline of Wisconsin history, 1700-1749
timeline of Wisconsin history, 1750-1783
timeline of Wisconsin history, 1784-1835
timeline of Wisconsin history, 1836-1899
timeline of Wisconsin history, 1900 -1999
Timlin, William Henry 1852 - 1916
Timme, Ernst Gerhardt 1843 - 1923
Timmerman, Lawrence W. 1910
Tioga, Clark Co.
Tionnontate
Tipler, Florence Co.
Tipler, Town of, Florence Co.
Tisch Mills [origin of place name]
Tisch Mills, Manitowoc Co.
Tish-shar-gon Lake, Racine Co.
Titanic (Wisconsin passengers)
Tittemore, James Nelson 1864 - 1949
Titus, William Albert 1868 - 1951
tobacco industry
Tobiasz, Raymond J. 1916
Tobin, Kenosha Co.
toise (Fr.)
Token Creek [origin of place name]
Token Creek, Dane Co.
Tomah (Historic Marker Erected 1959)
Tomah [brief history]
Tomah [origin of place name]
Tomah, Menominee leader, ca. 1752 - 1818
Tomah, Monroe Co.
Tomah, Town of, Monroe Co.
Tomahawk Lake, Town of, Oneida Co.
Tomahawk [origin of place name]
Tomahawk, Lincoln Co.
Tomahawk, Town of, Lincoln Co.
Tonet, Kewaunee Co.
Tony, Rusk Co.
Tony, Village of, Rusk Co.
top-loader (logging)
topmast (maritime)
Topside, Bayfield Co.
Torkelson, Martin W. (1878-1963)(Historic Marker E
tornadoes in Wisconsin
Torun, Portage Co.
Totagatic River [origin of place name]
tourism in Wisconsin
Tow-head (logging)
Tow-team (logging)
Towerville, Crawford Co.
Towns, Debi 1956
Townsend, John F. 1938
Townsend, Oconto Co.
Townsend, Town of, Oconto Co.
township
Tracy, Clarissa Tucker 1818 - 1905
Trade Lake [origin of place name]
Trade Lake, Burnett Co.
Trade Lake, Town of, Burnett Co.
Trade River, Burnett Co.
trade unions in Wisconsin
Tragedy of the Siskiwit (Historic Marker Erected 1
Tragedy of War (Historic Marker Erected 1998)
Trail Discovery (Historic Marker Erected 1998)
trainman (railroads)
Trane, Reuben Nicholas 1886 - 1954
transition rocks (mining)
transom (maritime)
trap, or trapean rocks (mining)
traverse
Travis, David M. 1948
Travois (logging)
Treaty of 1825 (Prairie du Chien)
Treaty of 1827 (Butte des Morts)
Treaty of 1829 (Prairie du Chien)
Treaty of 1832 (Fort Armstrong)
Treaty of 1833 (Chicago)
Treaty of the Cedars (Historic Marker Erected 1958
Tredway Pumas (Civil War)
Tredway Rifles (Civil War)
Trees for Tomorrow
Trego, Town of, Washburn Co.
Trego, Washburn Co.
Tregoning, Joseph E. 1941
Trek Bicycle Corporation
Tremain, Ben 1888
Tremble, Brown Co.
Trempealeau County [origin of place name]
Trempealeau River
Trempealeau, Town of, Buffalo Co.
Trempealeau, Town of, Trempealeau Co.
Trempealeau, Trempealeau Co.
Trempealeau, Village of, Trempealeau Co.
trench (farming)
Trenton, Pierce Co.
Trenton, Town of, Dodge Co.
Trenton, Town of, Pierce Co.
Trenton, Town of, Washington Co.
Treutel, Arthur H. 1897
Trever, Albert Augustus 1874 - 1940
Trevino, Buffalo Co.
Trevor, Kenosha Co.
Trimbelle, Pierce Co.
Trimbelle, Town of, Pierce Co.
Trinke, William F. 1897
Trip-boom (logging)
triple-expansion steam engine (maritime)
Tripoli, Lincoln Co.
Tripp, Town of, Bayfield Co.
Trippville, Vernon Co.
Trois-Rivieres
Troop Encampment (Historic Marker Erected 1998)
Tropman, Peter J. 1944
Trough-roof (logging)
Troupes de la Marine (Compagnies Franches de la Ma
Trow (historical), Clark Co.
Troy Center, Walworth Co.
Troy [origin of place name]
Troy, Town of, Sauk Co.
Troy, Town of, St. Croix Co.
Troy, Town of, Walworth Co.
Troy, Walworth Co.
Truax, Eau Claire Co.
True, Town of, Rusk Co.
Truesdell, Kenosha Co.
Truman, Lafayette Co.
trunk (maritime)
Tuczynski, Phillip James 1947
tug; tugboat (maritime)
Tuleta Hills, Green Lake Co.
Tunbridge, Town of, Jefferson Co.
Tunnel City, Monroe Co.
Tunnelville, Richland Co.
Turba, Wilfrid J. 1928
Turn (logging)
turn of the bilge (maritime)
Turneaure, Frederick Eugene 1866 - 1951
Turner, Andrew Jackson 1832 - 1905
Turner, Frederick Jackson (1861-1932) (Historic Ma
Turner, Frederick Jackson 1861 - 1932
Turner, Robert L. 1947
turntable (railroads)
Turtle Lake [origin of place name]
Turtle Lake, Barron Co.
Turtle Lake, Rock Co.
Turtle Lake, Town of, Barron Co.
Turtle Lake, Village of, Barron Co.
Turtle, Town of, Rock Co.
Turville Point, Madison
Tuscobia [origin of place name]
Tuscobia, Barron Co.
Tustin, Waushara Co.
Tweedy, John Hubbard 1814 - 1891
Twelve Corners, Outagamie Co.
Twelve Mile Bluff [origin of place name]
Twin Bluffs, Richland Co.
Twin Grove, Green Co.
Twin Lakes, Kenosha Co.
Twin Lakes, Village of, Kenosha Co.
Twin Lakes, Waukesha co.
Twin Rivers, Census district of, Manitowoc Co.
Twin Rivers, Manitowoc Co.
Twin Town, Barron Co.
Two Creeks [origin of place name]
Two Creeks, Manitowoc Co.
Two Creeks, Town of, Manitowoc Co.
Two Rivers [brief history]
Two Rivers [origin of place name]
Two Rivers, Manitowoc Co.
Two Rivers, Town of, Manitowoc Co.
Tyler Forks, Iron Co.
typewriter
Tyran, Florence Co.
U-boats
Ubet, Polk Co.
Uehling, Robert O. 1915
Uihlein, August 1842 - 1911
Ulao, Ozaukee Co.
Ulichny, Barbara L. 1947
Ulrich, John 1828 - 1894
underground railroad in Wisconsin
Underheim, Gregg 1950
Underhill, Oconto Co.
Underhill, Town of, Oconto Co.
unemployment compensation
Union Center, Juneau Co.
Union Center, Village of, Juneau Co.
Union Church [origin of place name]
Union Church, Racine Co.
Union Grove, Racine Co.
Union Grove, Village of, Racine Co.
Union Light Guard (Civil War)
Union, Eau Claire Co.
Union, Grant Co.
Union, Rock Co.
Union, Town of, Burnett Co.
Union, Town of, Crawford Co.
Union, Town of, Door Co.
Union, Town of, Eau Claire Co.
Union, Town of, Jefferson Co.
Union, Town of, Pierce Co.
Union, Town of, Rock Co.
Union, Town of, Vernon Co.
Union, Town of, Waupaca Co.
unions in Wisconsin
Unitarians in Wisconsin
United Brethrens in Wisconsin
Unity [origin of place name]
Unity, Clark Co.
Unity, Town of, Clark Co.
Unity, Town of, Trempealeau Co.
Unity, Village of, Clark Co.
Universalists in Wisconsin
university lands
Unonius, Gustaf Elias Marius 1810 - 1902
Upham Township [origin of place name]
Upham, Don Alonzo Joshua 1809 - 1877
Upham, Town of, Langlade Co.
Upham, William Henry 1841 - 1924
UPPER FOX RIVER Erected 1957
Upper French Creek, Trempealeau Co.
Upper Nations
Upson, Iron Co.
Urban, Frank H. 1930
Urne, Buffalo Co.
Usher, Ellis Baker 1852 - 1931
Utica, Dane Co.
Utica, Town of, Crawford Co.
Utica, Town of, Winnebago Co.
Utica, Waukesha Co.
Utley, Green Lake Co.
Utley, William L. 1814 - 1887
Utopians in Wisconsin
Utowana Beach, Calumet Co.
Utter's Corners, Walworth Co.
Valders, Manitowoc Co.
Valders, Village of, Manitowoc Co.
Valentine, Richard 1847 - 1925
Valley Junction, Monroe Co.
Valley, Vernon Co.
Valmy, Door Co.
Valton, Sauk Co.
Van Akkeren, Terry 1954
Van Buren, Grant Co.
Van Buskirk, Iron Co.
Van Dreel, Mary Lou E. 1935
Van Dyke, John Henry 1823 - 1909
Van Dyne, Fond du Lac Co.
Van Gorden, Heron A. "Pink" 1926
Van Hise Rock (Historic Marker Erected 1997)
Van Hise, Charles Richard 1857 - 1918
Van Hollen, John C. 1933
Van Kooy, Cornelia 1885 - 1945
Van Meter, Abraham Chenoweth ["Abe C."] 1842 - 189
Van Pelt, William K. 1905
Van Roy, Karl 1938
Van Schaick, Isaac W. 1817 - 1901
Van Sistine, Jerome 1926
Van Vechten, Helen Bruneau
Vance Creek, Town of, Barron Co.
Vandenbroek, Town of, Outagamie Co.
Vander Loop, William N. 1932
Vanderperren, Cletus 1912
Vandewalker, Nina Catherine 1857 - 1934
Vang, Chia Y. b. 1971
Vaudreuil, Jackson Co.
Vaughn, Town of, Iron Co.
Veazie, Town of, Washburn Co.
Veblen, Thorstein 1857-1929
Veedum, Wood Co.
Veefkind, Clark Co.
Vergeront, Susan B. 1945
Vermilion Sea
Vermont [origin of place name]
Vermont, Dane Co.
Vermont, Town of, Dane Co.
Vernon County
Vernon County [origin of place name]
Vernon, Town of, Waukesha Co.
Vernon, Waukesha Co.
Verona [origin of place name]
Verona, Dane Co.
Verona, Town of, Adams Co.
Verona, Town of, Dane Co.
Verwyst, Chrysostom Adrian 1841 - 1925
Vesper, Town of, Wood Co.
Vesper, Village of, Wood Co.
Vesper, Wood Co.
Veteran [origin of place name]
veteranize (Civil War)
Vicksburg, Assault on
Vicksburg, Siege of
Victoria, Sr. Mary 1868-1962
Victory Center, Washington Co.
victory gardens
Victory Heights, Rock Co.
Victory, Vernon Co.
Vieau, Jacques 1757 - 1852
Vienna [origin of place name]
Vienna [origin of place name]
Vienna, Town of, Dane Co.
Vietnam War
Vieux Caron, Menominee leader, died ca. 1780
Vignes, Door Co.
Viking, Pierce Co.
Vilas County [origin of place name]
Vilas Township [origin of place name]
Vilas, Dane Co.
Vilas, Joseph, Jr. 1832 - 1905
Vilas, Levi Baker 1811 - 1879
Vilas, Town of, Langlade Co.
Vilas, William Freeman 1840 - 1908
Villa Louis
Villa Louis (Historic Marker Erected 1953)
Village of Cooksville (Historic Marker Erected 199
Village of Dover (Historic Marker Erected 1953)
Village of Neshonoc (Historic Marker Erected 1997)
Village of Potosi (Historic Marker Erected 1996)
Village of Waucoma (Historic Marker Erected 1996)
Ville-Marie
Vimont, Fr. Barthélemy, 1594-1667
Vinette, Bruno 1836 - 1923
Vineyard, James Russell 1804 - 1863
Vinje, Aad John 1857 - 1929
Vinland, Town of, Winnebago Co.
Vinnie Ha Ha, Jefferson Co.
Viola [origin of place name]
Viola, Richland Co.
Viola, Village of, Richland Co.
Viroqua [brief history]
Viroqua [origin of place name]
Viroqua, Town of, Vernon Co.
Viroqua, Vernon Co.
Vits, Henry 1842 - 1921
Vogel, Frederick 1823 - 1892
Vogel, Hugo E. 1888
Vogel, Town of, Iron Co.
Voight, Jack C. 1945
Voigt, Edward 1873 - 1934
Volk Field (military installation)
Volk, John 1915
Vollrath, Jacob J. 1824 - 1898
Voltaire, 1694-1778.
Von Cotzhausen, Frederick William 1838 - 1924
Voree [origin of place name]
voyageur (Fr.)
Vrakas, Daniel P. 1955
Vruwink, Amy Sue 1975
Vukmir, Leah 1958
W.C.T.U.
Wabashaw Prairie
Wabeno [origin of place name]
Wabeno, Forest Co.
Wabeno, Town of, Forest Co.
Waboo Creek [origin of place name]
Wackett, Byron F. 1912
Wade House
Wagner, George 1873 - 1954
Wagner, Marinette Co.
Wagner, Mary K. 1949
Wagner, Town of, Marinette Co.
Wah-pel-lo, Sauk chief, 1787?-1842
Wahner, James W. 1939
Waino, Douglas Co.
Walders, Town of, Manitowoc Co.
Waldo [origin of place name]
Waldo, Sheboygan Co.
Waldo, Village of, Sheboygan Co.
Waldwick, Iowa Co.
Waldwick, Town of, Iowa Co.
Wales, Julia Grace
Wales, Village of, Waukesha Co.
Wales, Waukesha Co.
Walhain, Kewaunee Co.
Walker, George H. 1811 - 1866
Walker, Isaac Pigeon 1813 - 1872
Walker, Scott K. 1967
Walker, Wood Co.
wall rock (mining)
Wallber, Emil 1841 - 1923
walleye
Walling, Esther K. 1940
Walsh, Marinette Co.
Walworth County Ploughboys (Civil War)
Walworth County [origin of place name]
Walworth, John 1804 - 1895
Walworth, Town of, Walworth Co.
Walworth, Village of, Walworth Co.
Walworth, Walworth Co.
Wanagan (logging)
Wandawega Lake
Wanderoos, Polk Co.
Waneka [origin of place name]
War of 1812
War of 1812 (Historic Marker Erected 1964)
Ward, Col. Lyman M. (1836-1909)
Ward, David W. 1953
Ward, Jr., Walter L. 1943
Ward, William W. 1903
Warga, Andrew F. 1919
Warner's Mill, Election precinct of, Grant Co.
Warner, Arthur Pratt 1870 - 1957
Warner, Town of, Clark Co.
Warren, Earl W. 1902
Warren, Lyman Marquis 1794 - 1847
Warren, Robert W. 1925
Warren, Town of, St. Croix Co.
Warren, Town of, Waukesha Co.
Warren, Town of, Waushara Co.
Warren, Truman d. 1825
Warrens, Monroe Co.
Warrens, Village of, Monroe Co.
Warrentown, Pierce Co.
Wartime Shipbuilding (Historic Marker Erected 1990
Wartinbee, D. Russell 1903
Wascott, Douglas Co.
Wascott, Town of, Douglas Co.
Washburn County [origin of place name]
Washburn [origin of place name]
Washburn, Bayfield Co.
Washburn, Gov. Cadwallader Colden (1818-1882)
Washburn, Town of, Bayfield Co.
Washburn, Town of, Clark Co.
Washington Avenue Historic District (Historic Mark
Washington County [origin of place name]
Washington Island
Washington Island [origin of place name]
Washington, Door Co.
Washington, Town of, Door Co.
Washington, Town of, Eau Claire Co.
Washington, Town of, Green Co.
Washington, Town of, La Crosse Co.
Washington, Town of, Rusk Co.
Washington, Town of, Sauk Co.
Washington, Town of, Shawano Co.
Washington, Town of, Vilas Co.
Washington, Town of, Washington Co.
Wasserman, Sheldon A. 1961
Waterbury, Jackson Co.
Waterford, Racine Co.
Waterford, Town of, Racine Co.
Waterford, Village of, Racine Co.
Waterloo Rifles (Civil War)
Waterloo [origin of place name]
Waterloo, Jefferson Co.
Waterloo, Town of, Grant Co.
Waterloo, Town of, Jefferson Co.
Waters, Wilmer R. 1914
waterspout (meteorology)
Watertown German Volunteers (Civil War)
Watertown Irish Company (Civil War)
Watertown Plank Road (Historic Marker Erected 1955
Watertown Rifles (Civil War)
Watertown [brief history]
Watertown [origin of place name]
Watertown, Jefferson Co.
Watertown, Town of, Jefferson Co.
Waterville, Town of, Pepin Co.
Waterville, Waukesha Co.
Watrous, Jerome Anthony 1840 - 1922
Watson, George Earl 1897
Watterstown, Town of, Grant Co.
wattle (farming)
Watts, Oliver Patterson 1865 - 1953
Wau [origin of place name]
Waubasha, Sioux chief, ca. 1777 - 1836
Waubeek [origin of place name]
Waubeek, Town of, Pepin Co.
Waubeesee Lake [origin of place name]
Waubeka, Ozaukee Co.
Waucedah, Town of, Juneau Co.
Waucousta, Fond du Lac Co.
Waukau [origin of place name]
Waukau, Sarah 1947
Waukau, Winnebago Co.
Waukechon [origin of place name]
Waukechon, Town of, Shawano Co.
Waukeesha Lake, Racine Co.
Waukesha County [origin of place name]
Waukesha Minute Men (Civil War)
Waukesha Union Guard (Civil War)
Waukesha [brief history]
Waukesha [origin of place name]
Waukesha, Town of, Waukesha Co.
Waukesha, Waukesha Co.
Waumandee, Buffalo Co.
Waumandee, Town of, Buffalo Co.
Waunakee [origin of place name]
Waunakee, Dane Co.
Waunakee, Village of, Dane Co.
Waupaca County [origin of place name]
Waupaca [brief history]
Waupaca, Town of, Waupaca Co.
Waupaca, Waupaca Co.
Waupacca and Portage County Union Rifles (Civil Wa
Waupakun
Waupee, Town of, Oconto Co.
Waupun Light Guard (Civil War)
Waupun Rifles (Civil War)
Waupun [brief history]
Waupun [origin of place name]
Waupun, Fond du Lac Co.
Waupun, Town of, Fond du Lac Co.
Wausau Junction, Marathon Co.
Wausau [brief history]
Wausau [origin of place name]
Wausau, Marathon Co.
Wausau, Town of, Marathon Co.
Wausaukee [origin of place name]
Wausaukee, Marinette Co.
Wausaukee, Town of, Marinette Co.
Wausaukee, Village of, Marinette Co.
Waushara County [origin of place name]
Waushara, Town of, Dodge Co.
Waushara, Town of, Waushara Co.
Wautoma [origin of place name]
Wautoma, Town of, Waushara Co.
Wautoma, Waushara Co.
Wauwatosa [brief history]
Wauwatosa [origin of place name]
Wauwatosa, Milwaukee Co.
Wauwatosa, Town of, Milwaukee Co.
Wauzeka [origin of place name]
Wauzeka, Crawford Co.
Wauzeka, Town of, Crawford Co.
Wauzeka, Village of, Crawford Co.
Waverly Beach, Winnebago Co.
Waverly, Pierce Co.
Waxdale, Racine Co.
way car (railroads)
Wayne, Anthony, 1745-1796
Wayne, Town of, Lafayette Co.
Wayne, Town of, Lafayette Co.
Wayne, Town of, Washington Co.
Wayne, Washington Co.
Wayside, Brown Co.
wear [weir] (farming)
Weas
weather deck (maritime)
Webb Lake, Burnett Co.
Webb Lake, Town of, Burnett Co.
Webb, William Walter 1857 - 1933
Weber, Becky 1954
Weber, Frank J. 1849 - 1943
Weber, Marathon Co.
Weblake [origin of place name]
Webster Township [origin of place name]
Webster [origin of place name]
Webster, Burnett Co.
Webster, Joseph Philbrick 1819 - 1875
Webster, Town of, Vernon Co.
Webster, Village of, Burnett Co.
Weeden, Timothy L. 1951
Weedens, Sheboygan Co.
Weelaune, Town of, Winnebago Co.
Wehrwein, George Simon 1887 - 1945
Weirgor, Sawyer Co.
Weirgor, Town of, Sawyer Co.
Weisensel, Russel R. 1931
Weisse, Charles Herman 1866 - 1919
Welch Point (historical), Dunn Co.
Welch, Robert T. 1958
Welcome, Outagamie Co.
Wellcome, Henry Soloman, Sir (1853-1936)(Historic
Welles, Edward Randolph 1830 - 1888
Welles, Orson, 1915-1985
Welling Beach, Fond du Lac Co.
Wellington, Town of, Monroe Co.
Wells, Daniel Jr. 1808 - 1902
Wells, Horatio Nelson 1808 - 1858
Wells, Manitowoc Co.
Wells, Oliver Elwin 1853 - 1922
Wells, Owen Augustine 1844 - 1935
Wells, Town of, Monroe Co.
Welsh in Wisconsin
Wentworth, Douglas Co.
Wequiock [origin of place name]
Wequiock, Brown Co.
Werley [origin of place name]
Werley, Grant Co.
Werra, Conrad 1868 - 1939
Wertheimer, Monroe A. 1863 - 1939
Werwath, Oscar 1880 - 1948
Wesacota River
Wescott, Glenway 1901 - 1987
Wescott, Town of, Shawano Co.
West Allis [brief history]
West Allis, Milwaukee Co.
West Almond, Portage Co.
West Bancroft, Portage Co.
West Baraboo, Sauk Co.
West Baraboo, Village of, Sauk Co.
West Bend [brief history]
West Bend [origin of place name]
West Bend, Town of, Washington Co.
West Bend, Washington Co.
West Bloomfield, Waushara Co.
West De Pere, Brown Co.
West Denmark, Polk Co.
West Eau Claire, Town of, Eau Claire Co.
West Granville, Milwaukee Co.
West Kewaunee, Town of, Kewaunee Co.
West Kraft, Lincoln Co.
West La Crosse, La Crosse Co.
West Lima, Richland Co.
West Marshland, Town of, Burnett Co.
West Middleton, Dane Co.
West Milwaukee, Milwaukee Co.
West Milwaukee, Village of, Milwaukee Co.
West Point [origin of place name]
West Point, Town of, Columbia Co.
West Prairie, Trempealeau Co.
West Prairie, Vernon Co.
West Rosendale, Fond du Lac Co.
West Salem, La Crosse Co.
West Salem, Village of, La Crosse Co.
West Sweden, Polk Co.
West Sweden, Town of, Polk Co.
West, Edward 1818 - 1903
West, George Arbor 1859 - 1938
Westboro [origin of place name]
Westboro, Taylor Co.
Westboro, Town of, Taylor Co.
Westbrook, Town of, Adams Co.
Westby [origin of place name]
Westby, Vernon Co.
Western Escape (Historic Marker Erected 1998)
Westfield [origin of place name]
Westfield, Marquette Co.
Westfield, Town of, Marquette Co.
Westfield, Town of, Sauk Co.
Westfield, Village of, Marquette Co.
Westford, Town of, Dodge Co.
Westford, Town of, Richland Co.
Weston, Dunn Co.
Weston, Marathon Co.
Weston, Town of, Clark Co.
Weston, Town of, Dunn Co.
Weston, Town of, Marathon Co.
Weston, Village of, Marathon Co.
Westport [origin of place name]
Westport, Richland Co.
Westport, Town of, Dane Co.
Weyauwega [origin of place name]
Weyauwega, Town of, Waupaca Co.
Weyauwega, Waupaca Co.
Weyerhaeuser, Frederick 1834 - 1914
Weyerhaeuser, Rusk Co.
Weyerhaeuser, Village of, Rusk Co.
wheat cultivation
Wheatland [origin of place name]
Wheatland, Kenosha Co.
Wheatland, Town of, Kenosha Co.
Wheatland, Town of, Vernon Co.
Wheaton, Town of, Chippewa Co.
wheel (maritime)
Wheeler, Dunn Co.
Wheeler, Ezra 1820 - 1871
Wheeler, Leonard Hemenway 1811 - 1872
Wheeler, Town of, Oconto Co.
Wheeler, Village of, Dunn Co.
wheelsman (maritime)
whey (farming)
Whiffletree-neckyoke (logging)
Whig Party
Whirling Thunder, Ho-Chunk chief
Whiskey-jack (logging)
Whispering Pines, Outagamie Co.
Whitaker Guards (Civil War)
Whitbeck, Ray Hughes 1871 - 1939
Whitcomb, Shawano Co.
White City, Ashland Co.
White City, Vernon Co.
White Corners, Crawford Co.
White Creek, Adams Co.
White Creek, Town of, Adams Co.
White Crow, Ho-Chunk chief
White Lake, Langlade Co.
White Lake, Village of, Langlade Co.
White Oak Springs [origin of place name]
White Oak Springs, Town of, Lafayette Co.
White Oak, Lafayette Co.
White Pillars (Historic Marker Erected 1980)
White Pine Haven, Marinette Co.
White Pines (Historic Marker Erected 1976)
White River, Ashland Co.
White River, Town of, Ashland Co.
White's Prairies [origin of place name]
White, Joe (Gishkitawag, "Cut Ear") ca. 1838-1894
White, Philo 1796 - 1883
White, William Monroe 1871 - 1949
Whitefish Bay [origin of place name]
Whitefish Bay, Door Co.
Whitefish Bay, Milwaukee Co.
Whitefish Bay, Village of, Milwaukee Co.
Whitefish Lake [origin of place name]
Whitehall [origin of place name]
Whitehall, Trempealeau Co.
Whitehead, John Meek 1852 - 1924
Whitelaw, Manitowoc Co.
Whitelaw, Village of, Manitowoc Co.
Whitestown [origin of place name]
Whitestown, Town of, Vernon Co.
Whitewater (Civil War)
Whitewater Co. No. 3 (Civil War)
Whitewater [brief history]
Whitewater [origin of place name]
Whitewater, Town of, Walworth Co.
Whitewater, Walworth Co.
Whitford, William Clarke 1828 - 1902
Whiting, George Albert 1849 - 1930
Whiting, Portage Co.
Whiting, Village of, Portage Co.
Whitney, Daniel 1795 - 1862
Whiton, Edward Vernon 1805 - 1859
Whittet, Lawrence Clarke 1871 - 1954
Whittlesey [origin of place name]
Whittlesey, Charles 1808 - 1886
Whittlesey, Taylor Co.
Whittow, Wayne F. 1933
Whyte, William Foote 1851 - 1926
Wickhem, John Dunne 1888 - 1949
Wickware, Barron Co.
Widow-maker (logging)
Wieckert, Steve 1954
Wien, Marathon Co.
Wien, Town of, Marathon Co.
Wight, William Ward 1849 - 1931
Wilcox, Ella Wheeler 1850 - 1919
Wilcox, Fred M. 1870 - 1944
Wilcox, Jon P. 1936
Wilcox, Marinette Co.
Wilcox, Roy Porter 1873 - 1946
Wilcox, Town of, Brown Co.
wild cats
wild rice
Wild Rose, Richland Co.
Wild Rose, Village of, Waushara Co.
Wild Rose, Waushara Co.
Wilder, Amos Parker 1862 - 1936
Wilder, Laura Ingalls (1867-1957)(Historic Marker
Wilder, Laura Ingalls, 1867-1957
Wilder, Michael O. 1941
Wilder, Thornton 1897 - 1975
Wilderness, Battle of the
Wildwood, St. Croix Co.
Wiley, Alexander 1884
Wilger, Clarence J. 1909
Wilkie, Harold Mclean 1890 - 1950
Wilkie, Horace W. 1917
Wilkinson, Town of, Rusk Co.
Willard, Clark Co.
Willard, Frances, 1839-1898
Willard, Town of, Rusk Co.
Williams Bay [origin of place name]
Williams Bay, Village of, Walworth Co.
Williams Bay, Walworth Co.
Williams, Annette P. 1937
Williams, Charles Grandison 1829 - 1892
Williams, Eleazer 1788 - 1858
Williams, Mary 1949
Williamsburg (historical), Trempealeau Co.
Williamstown Township [origin of place name]
Williamstown Union Rifles (Civil War)
Williamstown, Town of, Dodge Co.
Willkom, Terry A. 1943
Willow Creek, Washington Co.
Willow River, Town of, St. Croix Co.
Willow Springs, Town of, Lafayette Co.
Willow Springs, Waukesha Co.
Willow, Town of, Richland Co.
Wills, Bayfield Co.
Wilmoore Heights, Fond du Lac Co.
Wilmot [origin of place name]
Wilmot, Kenosha Co.
Wilson [origin of place name]
Wilson's Creek [origin of place name]
Wilson, Alexander 1833 - 1888
Wilson, Eau Claire Co.
Wilson, St. Croix Co.
Wilson, Town of, Dunn Co.
Wilson, Town of, Eau Claire Co.
Wilson, Town of, Lincoln Co.
Wilson, Town of, Rusk Co.
Wilson, Town of, Sheboygan Co.
Wilson, Village of, St. Croix Co.
Wilton, Monroe Co.
Wilton, Town of, Monroe Co.
Wilton, Village of, Monroe Co.
Wimmer, Joseph E. 1934
Winans, John 1831 - 1907
winch (maritime)
Winchester, Town of, Vilas Co.
Winchester, Town of, Winnebago Co.
Winchester, Vilas Co.
Winchester, Winnebago Co.
Wind Lake, Racine Co.
Wind Point, Racine Co.
Wind Point, Village of, Racine Co.
Wind-fall (logging)
Windesheim, Gustav 1854 - 1946
windlass (farming)
windlass (maritime)
Windsor [origin of place name]
Windsor, Dane Co.
Windsor, Town of, Dane Co.
Winegar [origin of place name]
Wineke, Joseph S. 1957
Winfield [origin of place name]
Winfield, Town of, Sauk Co.
Wing, Jerry J. 1923
Wing-dam (logging)
Wing-ding (logging)
Wing-jam (logging)
Wingra Lake [origin of place name]
Wingville, Town of, Grant Co.
Winnebago
Winnebago County [origin of place name]
Winnebago Heights, Fond du Lac Co.
Winnebago Indian School, Neillsville, Wis.
Winnebago Indians (Historic Marker Erected 1973)
Winnebago Lake [origin of place name]
Winnebago Mission, Jackson Co.
Winnebago Park, Fond du Lac Co.
Winnebago Portage, Election precinct of, Columbia
Winnebago Portage, Election precinct of, Portage C
Winnebago Portage, Town of, Columbia Co.
Winnebago Rapids
Winnebago War (1827)
Winnebago, Lake
Winnebago, Town of, Winnebago Co.
Winnebago, Winnebago Co.
Winneboujou, Douglas Co.
Winneconne [origin of place name]
Winneconne, Town of, Winnebago Co.
Winneconne, Village of, Winnebago Co.
Winneconne, Winnebago Co.
Winneshiek Landing [origin of place name]
Winooski [origin of place name]
Winslow, John Bradley 1851 - 1920
Winter, Sawyer Co.
Winter, Town of, Sawyer Co.
Winter, Village of, Sawyer Co.
Winther, Martin Phillip 1889 - 1982
Winton, Charles Joel 1862 - 1934
Wiota, Lafayette Co.
Wiota, Town of, Lafayette Co.
Wirch, Robert W. 1943
Wisconsin (oldest cities and towns)
Wisconsin (state)
Wisconsin (statistics)
Wisconsin (territory)
Wisconsin Blue Book
Wisconsin Central Railroad (Historic Marker Erecte
Wisconsin Chair Co.
Wisconsin Dairymen's Association
Wisconsin Dance Bands
Wisconsin Dells (Historic Marker Erected 1961)
Wisconsin Dells [origin of place name]
Wisconsin Dells, Columbia Co.
Wisconsin Emigrant Agency
Wisconsin Equal Rights Law (1921)
Wisconsin Federation of Women's Clubs (WFWC)
Wisconsin Home for Women (Taycheedah Correctional
Wisconsin Idea
Wisconsin Junction, Forest Co.
Wisconsin Lead Region (Historic Marker Erected 195
Wisconsin Light Guard (Civil War)
Wisconsin Military Reservation (Historic Marker Er
Wisconsin Progressive Party (Historic Marker Erect
Wisconsin Rapids [origin of place name]
Wisconsin Rapids, Wood Co.
Wisconsin River
Wisconsin River Headwaters (Historic Marker Erecte
Wisconsin River pinery
Wisconsin state fair
Wisconsin State Fair Park (Historic Marker Erected
Wisconsin State Federation of Labor
Wisconsin State flag
Wisconsin State Prison (Waupun Correctional Instit
Wisconsin Territory (Historic Marker Erected 1964)
Wisconsin Union Riflemen (Civil War)
Wisconsin Veterans' Home (Waupaca)
Wisconsin Yagers (Civil War)
Wisconsin [origin of place name]
Wisconsin's Dairy Industry (Historic Marker Erecte
Wisconsin's First 4-H Club (Historic Marker Erecte
Wisconsin's First Aviator (Historic Marker Erected
Wisconsin's First Home-Built Flying Machine (Histo
Wisconsin's First Iron Smelter (Historic Marker Er
Wisconsin's First School For The Deaf (Historic Ma
Wisconsin's German Settlers (Historic Marker Erect
Wisconsin's Greater Prairie Chicken (Tympanuchus c
Wisconsin's Invisible Industry (Historic Marker Er
Wisconsin's Lime Industry (Historic Marker Erected
Wisconsin's Luxembourgers (Historic Marker Erected
Wisconsin's Maritime Industries (Historic Marker E
Wisconsin's Oldest Newspaper: The Milwaukee Sentin
Wisconsin's Tobacco Land (Historic Marker Erected
Wisconsin, Election precinct of, Iowa Co.
Wisconsin, State of, Wood Co.
Wisconsinapolis
Withee, Clark Co.
Withee, Town of, Clark Co.
Withee, Village of, Clark Co.
withers (farming)
Withrow, Gardner R. 1892
Witness-tree (logging)
Witte, Edwin 1887 - 1960
Wittenberg, Shawano Co.
Wittenberg, Town of, Shawano Co.
Wittenberg, Village of, Shawano Co.
Wittman, S.J. - Aircraft Designer, Race Pilot, Inv
Witwen, Sauk Co.
wobbly
Wolcott, Erastus B., M.D. (1804-1880) (Historic M
Wolcott, Erastus Bradley 1804 - 1880
Wolcott, Laura [Ross] 1834 - 1915
Wolf Creek, Polk Co.
Wolf River
Wolf River pinery
Wolf River [origin of place name]
Wolf River, Town of, Langlade Co.
Wolf River, Town of, Langlade Co.
Wolf River, Town of, Winnebago Co.
Wolf, Town of, Kewaunee Co.
Wolf, William Henry 1828 - 1901
Wolfe, Town of, Washburn Co.
Woll, Fritz Wilhelm 1865 - 1922
Wolter, Joseph 1857 - 1929
woman suffrage movement
Woman's Christian Temperance Union
Wonewoc [origin of place name]
Wonewoc, Juneau Co.
Wonewoc, Town of, Juneau Co.
Wonewoc, Village of, Juneau Co.
Wood County [origin of place name]
Wood Lake [origin of place name]
Wood Lake, Town of, Burnett Co.
Wood Protectors (Civil War)
Wood River, Town of, Burnett Co.
Wood, Jeffrey 1969
Wood, Joseph 1811 - 1890
Wood, Town of, Wood Co.
Wood, Wayne W. 1930
Woodboro, Oneida Co.
Woodboro, Town of, Oneida Co.
Wooddale, Sawyer Co.
Woodford, Lafayette Co.
Woodhull, Fond du Lac Co.
Woodland culture (archaeology)
Woodland Corner, Burnett Co.
Woodland [origin of place name]
Woodland, Dodge Co.
Woodland, Town of, Sauk Co.
Woodlawn, Forest Co.
Woodman, Cyrus 1814 - 1889
Woodman, Grant Co.
Woodman, Town of, Grant Co.
Woodman, Village of, Grant Co.
Woodmohr, Town of, Chippewa Co.
Woodruff, Oneida Co.
Woodruff, Town of, Oneida Co.
Woods, Mattiebelle 1902 - 2005
Woodstock, Richland Co.
Woodville [origin of place name]
Woodville, St. Croix Co.
Woodville, Town of, Calumet Co.
Woodville, Village of, St. Croix Co.
Woodward, Gilbert Motier 1835 - 1914
Woodworth, Kenosha Co.
Worcester, Price Co.
Worcester, Town of, Price Co.
Worden (historical), Clark Co.
Worden, Town of, Clark Co.
works (Civil War)
World War I (Historic Marker Erected 1991)
World War II (Historic Marker Erected 1991)
World War One (1914-1918)
World War Two (1939-1945)
World's Columbian Exposition
World's First Hydroelectric Central Station (Histo
worm gear (maritime)
WPA (in Wisconsin)
Wright's Corners [origin of place name]
Wright, Albert Orville 1842 - 1905
Wright, Frank Lloyd (1867-1959)(Historic Marker Er
Wright, Frank Lloyd, 1867-1959
Wright, Hiram A. 1823 - 1855
Wright, Theodore Lyman 1858 - 1926
Wright, Town of, Washington Co.
Wrights Corners, Trempealeau Co.
Wrightstown [origin of place name]
Wrightstown, Brown Co.
Wrightstown, Town of, Brown Co.
Wrightstown, Village of, Brown Co.
Wuabeka [origin of place name]
Wuertsburg, Marathon Co.
Wyalusing [origin of place name]
Wyalusing, Grant Co.
Wyalusing, Town of, Grant Co.
Wyandot
Wyeville, Monroe Co.
Wyeville, Village of, Monroe Co.
Wylie Guards (Civil War military unit)
Wyman, Town of, Forest Co.
Wyman, William W. 1800 - 1864
Wynbrooke, Dane Co.
Wyocena [origin of place name]
Wyocena, Columbia Co.
Wyocena, Town of, Columbia Co.
Wyocena, Village of, Columbia Co.
Wyoming, Iowa Co.
Wyoming, Town of, Iowa Co.
Wyoming, Town of, Waupaca Co.
X Y Z Company
Yahara River Parkway (HIstoric Marker Erected 1996
Yahara River, Dane Co.
Yankees in Wisconsin
yard (maritime)
yard (railroads)
Yarnell, Sawyer Co.
Yawkey, Cyrus Carpenter 1862 - 1943
yawl (maritime)
Yellow Banks
yellow dogs
Yellow Lake, Burnett Co.
Yellow River (Historic Marker Erected 1968)
Yellow River, Town of, Burnett Co.
Yellow-dog contracts
Yellowlake [origin of place name]
Yellowstone, Election precinct of, Iowa Co.
Yellowstone, Lafayette Co.
York Center, Dane Co.
York Island [origin of place name]
York Township [origin of place name]
York, Dwight A. 1939
York, Jackson Co.
York, Stanley 1931
York, Town of, Clark Co.
York, Town of, Dane Co.
York, Town of, Green Co.
York, Town of, Sauk Co.
Yorkville, Racine Co.
Yorkville, Town of, Racine Co.
You-know (logging)
Youmans, Henry Mott 1851 - 1931
Youmans, Theodora Winton, 1863 - 1932
Young America, Washington Co.
Young, Leon D. 1967
Young, Rebecca 1934
Yuba [origin of place name]
Yuba, Richland Co.
Yuba, Village of, Richland Co.
Zablocki, Clement J. 1912
Zaborski, Richard J. 1927
Zachow, Shawano Co.
Zamarripa, JoCasta b. 1976
Zander, Manitowoc Co.
Zeidler, Carl Frederick (1908-1942) (Historic Mark
Zeidler, Carl Frederick 1908 - 1942
Zeidler, Frank 1912 - 2006
Zellinger, Vincent J. 1902
Zenda, Walworth Co.
Zepnick, Josh 1968
Zeuske, Cathy S. 1958
Ziegelbauer, Bob 1951
Zien, David A. 1950
Zillier, Carl 1838 - 1914
Zimmerman, Fred R. 1880 - 1954
Zimmerman, Robert C. 1910
Zion, Winnebago Co.
Zittau, Winnebago Co.
Zoar, Menominee Co.
Zoldoske Case
Zouaves (Civil War)
Zukowski, Robert K. 1930
Zweck, Brad 1958
"Been through the mill" (Civil War)
"Bragg's Body Guard" (Civil War)
"Bragg's Body Guard" (Civil War)
"Bragg's Body Guard" (Civil War)
"Bragg's Body Guard" (Civil War)
"Buttermilk Cavalry" (Civil War)
"Company Q" (Civil War)
"Top Rail" (Civil War)