Dictionary Home | Advanced Search | About the Dictionary | Abbreviations | Turning Points | Suggestions?
Dictionary of Wisconsin History
Search Results for: Keyword: 'la follette'
Term: Gale, Zona 1874 - 1938
Definition: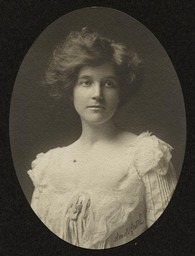 Undated portrait of Zona Gale WHI-11760
author, b. Portage. She graduated from the Univ. of Wisconsin (B.L., 1895; M.L., 1899). From 1895 to 1901 she worked as a writer for various Milwaukee newspapers, and from 1901 to 1904 was connected with the New York Evening World and did freelance writing in New York. She returned to Portage in 1905 to devote herself to independent writing, but was also active in public service, was a member of the Univ. of Wisconsin board of regents (1923-1929), and served on the Wisconsin Free Library Commission (1923-1938). An active campaigner for progressivism, she was an enthusiastic supporter of the La Follettes, although in 1937 she vigorously protested the dismissal of university president Glenn Frank (q.v.) by Governor Philip La Follette. A nationally acclaimed author of articles, short stories, novels, and plays, she used a Wisconsin background for most of her writing. Although her most popular novels were those in the "Friendship Village" series, she received greater critical recognition for such books as Birth (1918), Miss Lulu Bett (1920), Preface to a Life (1926), Portage, Wisconsin, and Other Essays (1928), and Bridal Pond (1930). She received the Pulitzer Prize in 1921 for her play, Miss Lulu Bett. She was married in 1928 to William L. Breese of Portage. View more information. Dict. Amer. Biog., Suppl. 2; N.Y. Times, Dec. 28, 1938; Madison Wis. State Journal, Dec. 28, 1938; Who's Who in Amer., 20 (1938); A. W. Derleth, Still Small Voice (New York, 1940); Z. Gale Papers.
The Wisconsin Historical Society has manuscripts related to this topic. See the catalog description of the Zona Gale Papers for details.
View a related article at Wisconsin Magazine of History Archives.
View newspaper clippings at Wisconsin Local History and Biography Articles.
[Source: Dictionary of Wisconsin biography]