Dictionary Home | Advanced Search | About the Dictionary | Abbreviations | Turning Points | Suggestions?
Dictionary of Wisconsin History
Search Results for: Term Type: 'People'
Term: Harriman, Col. Samuel (1826-1897)
Definition: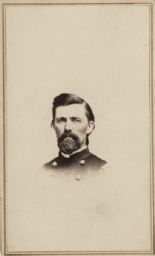 Col. Samuel Harriman
b. Orland, Maine, 1826
d. Hot Springs, Arkansas, August, 25, 1897
Samuel Harriman was colonel of the 37th Wisconsin Infantry and a founder of the town of Somerset, in St. Croix County, Wisconsin.
Early Years
Harriman was born in Orland, Maine, in 1826. He spent four years in the California gold fields before coming to Wisconsin in 1856. With his brother, he platted the village of Somerset where they operated a lumber mill, a farm, and several small businesses that kept him from enlisting when war broke out in April 1861.
Military Service in Wisconsin
Once Harriman's business interests were in order, he recruited a company from St. Croix and Polk Counties (Co. A, 30th Infantry) and on August 25, 1862, was elected its captain. To his disappointment, the company was assigned to the home front enforcing the draft rather than being assigned to the South.
He spent almost two years policing the home front. According to Gen. Augustus Gaylord, Harriman once commented, "Some day when the war is over I'll be riding in the cars with some one-legged veteran talking of the war, and he'll ask me 'were you in it?' And I'll have to say 'Me? Oh, yes, I was in it, standing guard at Camp Randall over recruits, conscripts and deserters.'"
Battle of the Crater
On March 7, 1864, Harriman was appointed colonel of the 37th Wisconsin Infantry and soon saw his share of combat. His new regiment arrived in Virginia at the start of the Siege of Petersburg and fought at the Battle of the Crater on July 30. Harriman and his troops were among the men ordered into the crater left when the Confederate fort was blown up. Pinned down by Confederate crossfire, his regiment lost 155 of its 250 men that day.
The 37th continued to help besiege Petersburg until the city fell. During the final battle on April 2, 1865, the 37th and 38th Wisconsin infantry regiments stormed Ft. Mahone, seized its artillery, and repulsed six attempts by Confederate troops to recapture it. Harriman was brevetted brigadier general for his role in that assault. He was mustered out several weeks later and returned to Wisconsin.
Postwar Life
After the Civil War, Harriman returned to Somerset and resumed his business life. His farm possessed 555 acres and his mill cut 3,000,000 feet of lumber per year. In 1887, he moved to Hot Springs, Arkansas, where he died on August 25, 1897.
Links to Learn More
E.B. Quiner's history of the 37th Infantry in his book, "Military History of Wisconsin" (Chicago, 1866)
William D. Love's account of the Battle of the Crater in his book, "Wisconsin in the War of the Rebellion" (Madison, 1866)
View original documents related to Col. Harriman
[Source: Dictionary of Wisconsin Biography; Love, William Wisconsin in the War of the Rebellion (Chicago, 1866); Quiner, E.B. The Military History of Wisconsin (Madison, 1866); Wisconsin State Journal, Sept. 16, 1897.]
2497 records found
Abbot, Edwin Hale 1834 - 1927
Abert, George 1817 - 1890
Abimiek
Abraham, Harvey R. 1895
Abraham, Henry William 1866 - 1920
Abrahams, Jim 1944 -
Abrahamson, Shirley S. 1933
Abrahamson, Theodore 1900
Adams, Charles Kendall 1835 - 1902
Adams, Henry Cullen 1850 - 1906
Adams, Thomas Sewall 1873 - 1933
Adams, William 1813 - 1897
Adelman, Lynn S. 1939 -
Adler, David 1821 - 1905
Adler, Solomon 1816 - 1890
Adventists in Wisconsin
Ager, Waldemar Theodor 1869 - 1941
Aikens, Andrew Jackson 1830 - 1909
Ainsworth, Ellen 1918 - 1944
Ainsworth, John H. 1940
Aionez
Akeley, Carl Ethan 1864 - 1926
Albee, George Sumner 1837 - 1898
Albers, Sheryl K. 1954
Alberts, John M. 1933
Albrecht, Max John Frederick 1861 - 1943
Alexander, Alexander Septimus 1860 - 1935
Alexander, Lewis Miller 1858 - 1934
Alexander, Walter 1849 - 1926
Alfonsi, Paul R. 1908
Algonquins
Alimiwec
Allen, Carolyn Blanchard 1921
Allen, Charles Herman(?) 1828 - 1904
Allen, Col. Thomas S. (1825-1905)
Allen, Hiram Storrs 1806 - 1886
Allen, William 1825 - 1883
Allen, William Francis 1830 - 1889
Allis, Charles 1853 - 1918
Allis, Edward Phelps 1824 - 1889
Allis, Louis 1866 - 1950
Allouez, Claude Jean 1622 - 1689
Ameche, Don 1908 - 1993
Ameringer, Oscar 1870 - 1943
Ames, Jesse Hazen 1875 - 1957
Ames, Merlin Mcmain 1879 - 1950
Amikouets
Andastoeronnons
Andatahouats
Anderson, Canute 1830 - 1893
Anderson, Gerald K. 1921
Anderson, John 1872 - 1929
Anderson, Lyman F. 1926
Anderson, Norman C. 1928
Anderson, Rasmus Born 1846 - 1936
Anderson, Thomas Carl 1865 - 1948
Anderson, Wendell Abraham 1840 - 1929
Andrea, Joseph F. 1927
Andrews, Frank Edmund 1874 - 1947
Andrews, Roy Chapman (1884 - 1960)
Angelo, Thomas St. 1889
Anishinabe
Anneke, Fritz 1818 - 1872
Anneke, Mathilde Franziska (Giesler) 1817 - 1884
Annieronnon
Ansley, John D.
Anson, Leonard Niles 1848 - 1927
Antaramian, John M. 1954
Antes, Robert Manning 1863 - 1949
Appleby, John Francis 1840 - 1917
Armitagi, William Edmond 1830 - 1873
Armour, Philip Danforth 1832 - 1901
Armsby, Henry Prentiss 1853 - 1921
Armstrong, Benjamin Green 1820 - 1900
Arndt, Charles C. P. , died 1842
Arndt, John Penn 1780 - 1861
Arnold, Alexander Ahab 1833 - 1915
Arnold, Jonathan Earle 1814 - 1869
Ashley, William Bliss 1811 - 1893
Ashum, David W. 1854 - 1927
Aspin, Leslie, 1938-1995.
Assenipoëls
Assistagueronons
Astor, John Jacob , 1763-1848
Atkinson, Henry, 1782-1842
Atkinson, Percy C[Hristopherson] 1867 - 1941
Atkinson, William P. 1901
Atwood, David 1815 - 1889
Ausman, La Verne 1930
Austrians in Wisconsin
Aweatsiwaenr-rhonons
Ayoës, Ayowois
Azim, Jr., James N. 1936
Babbitt, Clinton 1831 - 1907
Babbitt, Marvin E. 1902
Babcock, Joseph Weeks 1850 - 1909
Babcock, Stephen Moulton 1843 - 1931
Bablitch, William A. 1941
Bach, Christopher 1835 - 1927
Bache, Soren 1814 - 1890
Bacon, Edward Payson 1834 - 1916
Bading, Gerhard Adolph 1870 - 1946
Baensch, Emil 1857 - 1939
Baetz, Henry 1830 - 1910
Bailey, Col. Joseph (1826-1867)
Bailey, William Francis 1842 - 1915
Baird, Elizabeth Therese 1810 - 1890
Baird, Henry Samuel 1800 - 1875
Baker, Charles Minton 1804 - 1872
Baker, Joseph 1806 - 1873
Baker, Joseph Stannard 1838 - 1912
Baker, Ray Stannard [David Grayson] 1870 - 1946
Baker, Robert Hall 1839 - 1882
Balatka, Hans 1826 - 1899
Baldus, Alvin 1926
Baldwin, Tammy 1962
Ballou, Daniel W["Ilber","Jr."?] 1824 - 1876
Balow, Larry C. 1943
Bancroft, Levi Horace 1861 - 1948
Banta, George Sr. 1857 - 1935
Banzaf, Henry Leo 1865 - 1951
Baptists in Wisconsin
Barabe, Robert F. 1917
Baraga, Frederic 1797 - 1868
Baran, Felix 1870 - 1942
Barbee, Lloyd A. 1925 - 2003
Barber, George 1805 - 1881
Barber, Joel Allen 1809 - 1881
Barber, Lucius Israel 1806 - 1889
Barca, Peter W. 1955
Barczak, Gary J. 1939
Bardeen, Charles Russell 1871 - 1935
Bardeen, Charles Valdo 1850 - 1903
Bardon, Thomas 1848 - 1923
Barland, Thomas H. 1930
Barlow, Elmer Elbert 1887 - 1948
Barlow, Stephen Steele 1818 - 1900
Barnard, Henry 1811 - 1900
Barnes, John 1859 - 1919
Barnes, Lyman Eddy 1855 - 1904
Barney, Samuel Stebbins 1846 - 1919
Barrett, Thomas M. 1953
Barron, Henry Danforth 1833 - 1882
Barron, Michael J. 1933
Barry, Alfred Constantine 1815 - 1888
Barry, Jonathan B. 1945
Barstow, William Augustus 1813 - 1865
Bartlett, John Knowlton 1816 - 1889
Bartlett, Tommy 1914 - 1998
Barton, Albert Olaus 1870 - 1947
Barwig, Charles 1837 - 1912
Bascom, John 1827 - 1911
Bashford, Coles 1816 - 1878
Bashford, Robert Mckee 1845 - 1911
Baumgart, James R. 1938
Bayfield, Henry Wolsey 1795 - 1885
Beal, Polly W. 1942
Beall, Samuel Wooton[?] 1807 - 1868
Bean, Jacob Linsley 1809 - 1855
Bear, Peter D. 1952
Beauharnais, Charles, Marquis de
Beauharnois de la Boische, Charles de, Marquis de
Beaumont, William, 1785-1853.
Beck, Joseph David 1866 - 1936
Becker, Dismas 1936
Becker, Washington 1847 - 1929
Beggs, John Irvin 1847 - 1925
Behnke, Robert E. 1932
Beier, Augustus Leon 1884 - 1940
Beilfuss, Bruce F. 1915
Belden, Ellsworth Burnett 1866 - 1939
Belgians in Wisconsin
Bell, Jeannette 1941
Bellante, Jr., Joseph F. 1932
Belting, George B. 1914
Beneworth, James 1816 - 187?
Bennett, Elhanen Winchester ("Chet") 1832 - 1909
Bennett, Henry Hamilton 1843 - 1908
Benson, John T. 1937
Benson, Taylor
Berceau, Terese 1950
Berger, David G. 1946
Berger, Meta 1873-1944
Berger, Victor Louis [Luitpold] 1860 - 1929
Bergh, Johan Arndt 1847 - 1927
Berigan, Bunny 1908 - 1942
Berndt, William F. 1956
Bertram, Col. Henry (1825-1878)
Best, Jacob Sr. 1786 - 1861
Best, Phillip 1814 - 1869
Bice, Raymond C. 1896
Bidwell, Everett V.
Bies, Garey 1946
Billinghurst, Charles 1818 - 1865
Bingham, Delbert Elisha 1873 - 1947
Bintliff, Col. James (1824-1901)
Bird, Ada 1859 - 1914
Bird, Augustus A. 1802 - 1870
Bird, Claire Brayton 1868 - 1954
Bird, Harlan Page 1838 - 1912
Birge, Edward Asahel 1851 - 1950
Black Bird, Sauk chief, ca. 1734-?
Black Hawk 1767 - 1838
Black, John 1827 - 1899
Black, Spencer 1950
Blackbird, 18th-c. Ojibwe chief
Blackstock, Thomas M. 1834 - 1913
Blaine, John James 1873 - 1934
Blair, Emma Helen 1851 - 1911
Blake, Thomas E. 1902 - 1994
Blanchard, Alvin 1830 - 1910
Blaska, Jerome L. 1919 - 2000
Blatz, Valentin 1826 - 1894
Bleyer, Willard Grosvenor 1873 - 1935
Bliss, Howard Festes 1844 - 1919
Boardman, Charles Ruggles 1860 - 1950
Boardman, Maj. Frederick A. (1832-1863)
Boche, Robert M. 1921
Bock, Peter E. 1948
Boeckmann, Vernon R. 1927
Boeppler, William 1863 - 1928
Boilvin, Nicolas 1761 - 1827
Bolens, Harry Wilbur 1864 - 1944
Bolle, Dale J. 1923
Bolles, Stephen 1866 - 1941
Bond, Josiah 1819 - 1891
Bong, Richard Ira 1920 - 1945
Booth, Charles Asa 1840 - 1913
Booth, Sherman Miller 1812 - 1904
Borcherdt, Frederick 1811 - 1877
Borden, James Benjamin 1869 - 1939
Borg, George M. (1934 - 1971)
Borup, Charles Williamwulff 1806 - 1859
Bosshard, Otto 1876 - 1943
Bouchard, Charles J. 1911
Bouck, Gabriel 1828 - 1904
Bovay, Alvan E[arl] 1818 - 1903
Bovee, Marvin Henry 1827 - 1888
Bowman, Francis Favill 1872 - 1952
Boyd, Belle, 1844 - 1900
Boyd, Charles Samuel 1871 - 1952
Boyle, Frank 1945
Bracklin, James 1839 - 1900
Braddock, Edward, 1695?-1755.
Bradford, Mary Davison 1856 - 1943
Bradley, Ann Walsh 1950
Bradley, Charles Trueworth 1818 - 1893
Bradley, Gordon R. 1921
Bradley, Lucas 1809 - 1889
Bradley, Lynde 1878 - 1942
Bradley, William Cyrus 1858 - 1924
Bradley, William Henry 1838 - 1902
Bragg, Gen. Edward Stuyvesant (1827-1912)
Brancel, Ben 1950
Brand, Sebastian 1830 - 1908
Brandel, John Christian (1842 - 1919)
Brandel, Mary Margaret (1907 - 1993)
Brandemuehl, David A. 1931
Brandenburg, Oscar Dalzelle 1858 - 1930
Brannon, Melvin Amos 1865 - 1950
Braun, Warren D. 1934
Bravo, Ellen Leslie b. March 25th, 1944
Brayton, Aaron Martin 1872 - 1949
Breck, James Lloyd 1818 - 1876
Breese, Llywelyn 1833 - 1922
Brennan, James J. 1926
Bresette, Walter 1947 - 1999
Breske, Roger M. 1938
Brevoort, Maj. Henry B.
Brickner, George H. 1834 - 1904
Brier, Warren Judson 1850 - 1928
Briggs, Jason W. 1821 - 1899
Brigham, Ebenezer 1789 - 1861
Brigham, Jerome Ripley 1825 - 1897
Brinton, Beulah (nee Tobey) 1836 - 1928
Brisay de Denonville, Jacques-René, Marquis de Den
Brisbois, Michael [Michel] 1760 - 1837
Brist, Steven C. 1954
Britt, Oren E. 1826 - 1901
Brittingham, Thomas Evans 1860 - 1924
Broadfoot, Grover L. 1892
Brockhausen, Frederick Carl Jr. 1858 - 1929
Brodhead, Edward Hallock 1809 - 1890
Broek, Theodore [Theodorus] van den, 1783-1851
Brookes, Samuel Marsden 1816 - 1892
Brookmire, Emma F. 1893 - 1944
Brooks, Peter Anthony 1893 - 1948
Brothertown Indians
Broughton, Charles Elmer 1873 - 1956
Brown [Willis], Olympia 1835 - 1926
Brown, Beriah 1815 - 1900
Brown, Charles E. (Charles Edward), 1872-1946.
Brown, Edward Dexter 1824 - 1898
Brown, Emma, 1827-1889
Brown, James Sproat 1824 - 1878
Brown, John Henryhobart 1831 - 1888
Brown, Manny S. 1917
Brown, Neal 1856 - 1917
Brown, Olympia, 1835-1926
Brown, Ron 1946
Brown, Thurlow Weed 1819 - 1866
Brown, Timothy 1889
Browne, Edward L. 1830 - 1925
Browne, Thomas H. 1920
Brownell, Joseph Daniel 1880 - 1949
Broydrick, William B. 1948
Bruce, William George 1856 - 1949
Bruhy, Bill B. 1916
Brule, Etienne, 1592?-1632
Brumder, George 1839 - 1910
Bruncken, Ernest 1865 - 1933
Brunet, Jean 1791 - 1877
Brunson, Alfred 1793 - 1882
Bryant, Edwin Eustace 1835 - 1903
Bryant, George Edwin 1832 - 1907
Buade de Frontenac et de Pallau, Louis de, Comte d
Bubolz, Gordon A. 1905 - 1990
Buchli, Milton S. 1910
Buck, James Smith 1812 - 1892
Buck, Philo Melvin Jr. 1877 - 1950
Buckley, James P. 1933
Buckner, Walker Sr. 1838 - 1901
Buckstaff, Florence Griswold [Mrs. George A.] 1866
Buckstaff, John Jr. 1823 - 1900
Buell, Charles Edwin 1855 - 1938
Buettner, Carol A. 1948
Buffington, Byron A. 1852 - 1929
Bull, Ole Borneman 1810 - 1880
Bull, Stephen 1822 - 1913
Bultman, Glenn E. 1940
Bunn, Romanzo 1829 - 1909
Bunyan, Paul
Burchard, George Washington 1835 - 1921
Burchard, Samuel Dickinson 1836 - 1901
Burgess, Charles Frederick 1873 - 1945
Burke, Brian B. 1958
Burke, Michael Edmund 1863 - 1918
Burke, Timothy 1886 - 1926
Burleson, Solomon Stevens 1833 - 1897
Burmaster, Elizabeth 1954
Burnett, Thomas Pendleton 1800 - 1846
Burnham, George 1816 - 1889
Burnham, Guy Miles 1860 - 1939
Burnham, Jonathan Levi 1818 - 1891
Burns, Timothy 1820 - 1853
Burrowes, Alexander J. 1853 - 1927
Busby, Allen J. 1900
Bushnell, Allen Ralph 1833 - 1909
Buslett, Ole Amundsen 1855 - 1924
Butler, Henry Sigourney 1854 - 1938
Butler, James Davie 1815 - 1905
Button, Henry Harrison 1818 - 1890
Byers, Mark Rhea 1892 - 1950
Byrnes, John W. 1913
Cadle, Richard Fish 1796 - 1857
Cadotte, Michel 1764 - 1837
Cahokias
Callahan, John 1865 - 1956
Callow, William G. 1921
Calvert, Walter B. 1904
Cameron, Angus 1826 - 1897
Cameron, Howard W. 1915
Camp, Hoel Hinman 1822 - 1909
Campbell, Henry Colin 1862 - 1923
Campbell, James 1814 - 1883
Campbell, William James 1871 - 1956
Candrian, Adolph 1850 - 1929
Cane, Arnold J. 1914
Cannon, Raymond Joseph 1894 - 1951
Carey, Eben James 1889 - 1947
Cargill, William Wallace 1844 - 1909
Carhart, John W. 1834 - 1914
Carheil, Fr, Étienne de, 1633-1726
Carpenter, Matthew Hale [B. "Carpenter","Decatur M
Carpenter, Stephen Decatur 1821 - 1906
Carpenter, Tim
Carr, Ezra Slocum 1819 - 1894
Carr, Peter P.
Carron, Thomas 1752 - 1817
Carter, Homer Wright 1847 - 1933
Carter, William Edward 1833 - 1905
Carver, Jonathan 1710 - 1780
Cary, Charles Preston 1856 - 1943
Cary, John Watson 1817 - 1895
Cary, William Joseph 1865 - 1934
Case, Jerome Increase 1819 - 1891
Caspar Partridge case, 1850-1855
Cass, Lewis, 1782-1866.
Cassoday, John B. 1830 - 1907
Castleman, Alfred Lewis 1808 - 1877
Caswell, Lucien Bonaparte 1827 - 1919
Cate, George Washington 1824 - 1905
Cates, Richard L. 1925
Catholics in Wisconsin
Catlin, George 1796 - 1872
Catlin, John 1803 - 1874
Ceci, Louis J. 1927
Celichowski, Bronislaus 1872 - 1951
Cha-wa-non, Menominee leader, died ca. 1826
Chadbourne, Paul Ansel 1823 - 1883
Chafin, Eugene Wilder 1852 - 1920
Chamberlin, Thomas Chrowder 1843 - 1928
Champlain, Samuel de, 1567-1635.
Chaouanons
Chapelle, Dickey 1919 - 1965
Chapin, Aaron Lucius 1817 - 1892
Chapman, Chandler Burnell 1815 - 1877
Chapman, Chandler Pease 1844 - 1897
Chapman, Silas 1813 - 1899
Chapple, John Crockett 1876 - 1946
Charlevoix, Fr., Pierre François Xavier de, 1682-1
Charneski, James R. 1935
Chase, Enoch 1809 - 1892
Chase, Warren 1813 - 1891
Cheveux Releves
Chilsen, Walter J. 1923
Choate, Leander 1834 - 1909
Christian Science in Wisconsin
Christinos
Christopherson, Jr., Frank W. 1927
Church of Jesus Christ of Latter Day Saints in Wis
Churchill, Frank Flanders 1865 - 1938
Chvala, Chuck 1954
Chynoweth, Edna Phillips, 1852-1950
Chynoweth, Herbert William 1848 - 1906
Chynoweth, Mary Hayes (1825-1905)
Cinagos
Cirilli, Arthur A. 1914
Clarenbach, David E. 1953
Clark, Charles Benjamin 1844 - 1891
Clark, John 1797 - 1854
Clark, Julius Taylor 1814 - 1908
Clark, Satterlee [Jr.?] 1816 - 1881
Clark, William Walter 1885
Clark, William, 1770-1838.
Clark-Halyard, Ardie 1896 - 1989
Clarke, Bascom B., 1851 - 1929
Clary, Dexter 1798 - 1874
Classon, David Guy 1870 - 1930
Clausen, Claus Lauritz 1820 - 1892
Clausen, Frederick Harold 1875 - 1944
Clausing, Alice 1944
Cleary, Michael Joseph 1876 - 1947
Clemens, Harold W. 1918
Clements, Sylvester G. 1936
Clermont, Alexis 1808 - 1898
Clifford, Gerald Francis 1889 - 1952
Cobb, Amasa 1823 - 1905
Coburn, Frank Potter 1858 - 1932
Cochran, Joseph William 1842 - 1914
Codding, Ichabod 1810 - 1866
Coe, Edwin Delos 1840 - 1909
Coffey, John L. 1922
Coggs, G. Spencer 1949
Coggs, Isaac N. 1920
Coggs, Marcia P. 1928
Colby, Gardner 1810 - 1879
Cole, Azel Dow 1818 - 1885
Cole, Harry Ellsworth 1861 - 1928
Cole, Leon Jacob 1877 - 1948
Cole, Orsamus 1819 - 1903
Coleman, Charles W.
Coleman, William 1878 - 1933
Coleman, William Werner 1835 - 1888
Collie, George Lucius 1857 - 1954
Collins, Robert A. 1924
Colman, Charles Lane 1826 - 1901
Colman, Henry Root 1800 - 1895
Colnik, Cyril 1871 - 1958
Colon, Pedro 1968
Commons, John Rogers 1862 - 1945
Comstock, George Cary 1855 - 1934
Conkey, Theodore 1819 - 1880
Connor, William Duncan 1864 - 1944
Conrad, William Harrison 1888 - 1951
Conradt, Ervin W. 1916
Conta, Dennis J. 1940
Cook, Samuel Andrew 1849 - 1918
Cooley, Robert Lawrence 1869 - 1944
Coon, Frederick William 1850 - 1919
Coon, John Williams 1860 - 1934
Cooper, Henry Allen 1850 - 1931
Corby, Ellen 1913 - 1999
Cornell, Robert J. 1919
Cornish in Wisconsin
Cosgrove, Frank J. 1914
Cothren, Montgomery Morrison 1819 - 1888
Cover, Joseph Carmen 1819 - 1872
Cowie, Robert Somerville 1873 - 1951
Cowles, Robert L. 1950
Crabtree, James William 1864 - 1945
Craig, Alexander J. 1823 - 1870
Cramer, William Edward 1817 - 1905
Crandall, George Humphrey 1869 - 1938
Crane, Frederika (1854-1930)
Crawford, George 1849 - 1927
Crawford, John S. 1923
Crawford, Samuel 1820 - 1861
Crawford, Thomas James 1952
Creager, Marvin H. 1882 - 1954
Crelie, Joseph 1773 - 1866
Creviere, John A. 1886 - 1964
Creviere, Marie Schmitt, 1924 - 2002
Creviere, Paul John, Sr. 1924 - 2008
Croatians in Wisconsin
Crocker, Hans 1815 - 1889
Crooks, N. Patrick 1938
Crooks, Ramsay, 1787-1859
Cross, James B. 1819 - 1876
Crowe, Mickey (1958 - )
Crownhart, Charles Henry 1863 - 1930
Cubans in Wisconsin
Cudahy, John 1887 - 1943
Cudahy, Patrick 1849 - 1919
Cullen, David A. 1960
Cunningham, Thomas Jefferson 1852 - 1941
Curley, Robert M. 1922
Currie, George R. 1900
Curry, John Steuart 1897 - 1946
Curtis, Alice B., 1866-1936
Cushing, Lt. Alonzo H. (1841-1863)
Cutler, Gen. Lysander (1808-1866)
Cutler, Harry Henderson 1859 - 1933
Cynagos
Cyrak, Mel J. 1936
Czarnezki, Joseph J. 1954
Czechs in Wisconsin
Czerwinski, Joseph C. 1944
Dablon (D'Ablon), Fr. Claude, 1619-1697.
Dafoe, Willem 1955 -
Daggett, Samuel Slater 1812 - 1868
Dahl, Andreas Larsen, 1844-1923
Dahl, Ole Rasmussen, 1817 - 1882
Dahl, Theodor Halvorson 1845 - 1923
Dahle, Herman Bjorn 1855 - 1920
Dailey, Jr., Paul 1915
Dailey, Lt. Col. Dennis B. (1840-1898)
Daland, William Clifton 1860 - 1921
Daly, Tyne 1946 -
Damann, Theodore 1869 - 1946
Damon, Harold E. 1885
Dandeneau, Marcel 1931
Dane, Nathan, 1752-1835.
Danes in Wisconsin
Daniells, William Willard 1840 - 1912
Daniels, Edward 1828 - 1916
Daniels, Newell 1828 - 1904
Dankoler, Harry Edward 1863 - 1955
Darling, Alberta 1944
Darling, Mason C. 1801 - 1866
Darms, John Martin George 1873 - 1946
Davidson, James Henry 1858 - 1918
Davidson, James O. 1854 - 1922
Davidson, John Nelson 1848 - 1945
Davidson, Thomas 1828 - 1895
Davidson, William Fuson ["Commodore"] 1825 - 1887
Davies, John Eugene 1839 - 1900
Davis, Glenn R. 1914 - 1988
Davis, J. Mac 1952
Davis, Jefferson (in Wisconsin)
Davis, John Jefferson 1852 - 1937
Dawes, Col. Rufus R. (1838-1899)
Day, Laurence J. 1913
Day, Roland B. 1919
De Groat, Col. Charles H. (1838-1904)
de Langlade, Charles
De Peyster, Arent Schuyler, 1736 - 1822
De Weerdt, Esther Hurley [Mrs. Ole N.] 1892 - 1953
Dean, Robert W. 1923
Dearholt, Hoyt E. 1879 - 1939
Decker, Russell S. 1953
Decorah family
Decorah, Old, 1746?-1836, Ho-Chunk chief
Decorah, One-Eyed, 1772?-1864, Ho-Chunk chief
Decorah, Spoon, 1730?-1816?, Ho-Chunk chief
Decorah, Waukon, 1780?-1868, Ho-Chunk chief
Deer, Ada, 1935 --
Deering, A.A. 1888
Deininger, David G. 1947
Deitz (Dietz), John F. 1861 - 1924
Dekoven, James 1831 - 1879
Delong, Delmar E. 1931
Delwiche, Edmond Joseph 1874 - 1950
Dempsey, Chester E. 1896
Dempsey, Edward Joseph 1878 - 1956
Densmore, James 1820 - 1889
Derenthal, Oderic Ignaz 1856 - 1934
Derleth, August, 1909 - 1971
Desmond, Humphrey Joseph 1858 - 1932
Dessert, Joseph 1819 - 1910
Deuster, Peter Victor 1831 - 1904
Devitt, James C. 1929
Dewey, Nelson 1813 - 1889
Dicke, Peter Henry 1822 - 1911
Dickson, Robert 1765 - 1823
Dieterich, William Herbert 1897
Dietrichson, Johannes Wilhelm Christian 1815 - 188
Dietz, Carl [Petrius?] 1875 - 1957
Dilweg, Gary T. 1937
Dingee, William W. 1831 - 1919
Dionesopulos, Frank G. 1935
Disciples of Christ in Wisconsin
Dixon, Luther Swift 1825 - 1891
Doar, William Thomas 1882 - 1952
Dobyns, John P. 1944
Dodd, John Morris 1866 - 1950
Dodge, Henry 1782 - 1867
Dodge, Joseph Thompson 1823 - 1904
Dodge, Joshua Eric 1854 - 1921
Doe, Joseph Bodwell 1855 - 1925
Doer, Clifford E. 1920
Doerfler, Christian 1862 - 1934
Doll, William De Berge 1897 - 1945
Domschke, Bernard ["Domschcke","Bernhard"] 1827 -
Donald, John Sweet 1869 - 1934
Donnelly, Davis A. 1927
Donoghue, Sheehan 1943
Donohue, Jerry Jr. 1885 - 1943
Doolittle, James Rood 1815 - 1897
Dorff, Eugene 1930
Dorman, Henry
Dorr, Clifford E. 1920
Doty, James Duane 1799 - 1865
Doud, Reuben G. 1830 - 1877
Doudna, Edgar George 1877 - 1948
Dousman, Hercules Louis 1800 - 1868
Dousman, John Barrickman 1807 - 1868
Downer, Jason 1813 - 1883
Doyle, Jessica Laird, 1945-
Doyle, Jim 1945
Draheim, William A. 1898
Draper, Lyman Copeland 1815 - 1891
Dreyfus, Lee Sherman 1926-2008
Drzewiecki, Gary F. 1954
Dubay [Dube), John Baptiste 1810 - 1887
Dubuque, Julien, 1762-1810
Ducharme, Dominique 1765 - 1853
Dudgeon, Matthew Simpson 1871 - 1949
Dueholm, Robert M. 1945
Duff, Marc C. 1961
Duffey, Thomas J. 1927
Dugdale, Robert Iliff 1868 - 1956
Duggar, Benjamin Minge 1872 - 1956
Duluth [Dulhut], Daniel Greysolon Sieur 1636 - 171
Dunn, Charles 1799 - 1872
Duren, Joanne M. 1931
Durkee, Charles 1805 - 1870
Durward, Bernard Isaac 1817 - 1902
Dutch in Wisconsin
Dutton, Brother Joseph 1843 - 1931
Dwinnell, Soloman Ashley 1812 - 1879
Dykstra, Clarence Addison 1883 - 1950
Earl, Anthony S. 1936
Earles, William Henry 1852 - 1908
Earling, Albert John 1848 - 1925
Early, Michael P. 1918
Earnest, James Harrison 1818 - 1900
Eastern Orthodox in Wisconsin
Eastman, Ben C. 1812 - 1856
Eastman, George Burden 1811 - 1892
Eastman, Seth 1808 - 1875
Eaton, Edward Dwight 1851 - 1942
Eaton, Samuel Witt 1820 - 1905
Edgerton, Benjamin Hyde 1811 - 1886
Edgerton, Elisha W. 1815 - 1904
Edwards, Benjamin Eugene 1845 - 1916
Edwards, Ira 1893 - 1943
Ehle, Ida Pope
Eielsen, Elling 1804 - 1883
Eikenberry, Jill 1947 -
Ekern, Herman Lewis 1872 - 1954
Ela, Richard Emerson 1812 - 1888
Elconin, Michael H. 1953
Eldred, Anson 1820 - 1895
Eldredge, Charles Augustus 1820 - 1896
Elfers, Earl H. 1913
Ellis, Albert Gallatin 1800 - 1885
Ellis, Michael G. 1941
Ellsworth, Lemuel 1836 - 1898
Ely, Richard Theodore 1854 - 1943
Emery, John Quincy 1843 - 1928
Enderis, Dorothy 1880 - 1952
Engeleiter, Susan Shannon 1952
Engelmann, Peter 1823 - 1874
English immigrants in Wisconsin
Episcopals in Wisconsin
Ernst, August Frederic 1841 - 1924
Erpenbach, Jon B. 1961
Erskine, Manessa Berthier 1819 - 1894
Esch, John Jacob 1861 - 1941
Eschweiler, Alexander Chadbourne 1865 - 1940
Eschweiler, Franz Chadbourne 1863 - 1929
Essie, Patrick 1953
Estabrook, Charles Edward 1847 - 1918
Estabrook, Experience 1813 - 1894
Esterly, George 1809 - 1893
Estonians in Wisconsin
Etherington, George, ca. 1722-1802.
Evangelicals in Wisconsin
Evans, Curtis Alban 1879 - 1947
Evans, Evan Alfred 1876 - 1948
Evans, Joseph Spragg 1875 - 1948
Everest, David Clark 1883 - 1955
Everett, Charles Horatio 1855 - 1947
Everson, Harland E. 1917
Evinrude, Ole 1877 - 1934
Evjue, William T., 1882-1970
Ewing, Mark Clayton 1869 - 1922
Faast, Benjamin F. 1884 - 1948
Fairchild, Col. Cassius (1829–1868)
Fairchild, Gov. Lucius (1831-1896)
Fairchild, Hiram Orlando 1845 - 1925
Fairchild, Jairus Cassius 1801 - 1862
Fairchild, Thomas E. 1912
Falge, Louis 1861 - 1918
Falk, Franz Lorenz 1824 - 1882
Falk, Harold Sands 1883 - 1957
Fallows, Samuel 1835 - 1922
Farley, Chris 1964 - 1997
Farnsworth, William 1796 - 1860
Farrar, Charles Samuel 1826 - 1903
Farrington, Edward Holyoke 1860 - 1934
Farrow, Margaret A. 1934
Farwell, Leonard James 1819 - 1889
Fassett, Norman Carter 1900 - 1954
Father Solanus Casey (1870 - 1957)
Favill, Stephen 1823 - 1906
Faville, John 1847 - 1927
Favre, Brett Lorenzo, 1969 -
Feinberg, Milton
Feingold, Russell D. 1953
Felder, Emma 1927 - 2008
Fenenga, Melmon Jacob 1858 - 1933
Ferber, Edna, 1885-1968
Fergus, Scott C. 1955
Ferrall, R. Michael 1936
Ferry, George Bowman 1851 - 1918
Fiedler, Otho August 1873 - 1948
Fields, Daniel B. 1952
Fifield, Samuel S. 1839 - 1915
Fillmore, John Comfort 1843 - 1898
Finch, Asahel Jr. 1809 - 1883
Fink, Albert 1867 - 1950
Finney, Frederick Norton 1832 - 1916
Finns in Wisconsin
Fire Nation
Fischer, Daniel 1952
Fish, Carl Russell 1876 - 1932
Fish, Irving Andrews 1881 - 1948
Fish, Ody J., 1925 --
Fisk, Theodore 1859 -
Fitch, Charles W. 1819 - 1899
Fitch, Grant 1859 - 1940
Fitzgerald, Jeff 1966
Fitzgerald, Scott L. 1963
Five Nations Confederacy
Flannigan, Allen J. 1909
Flemish Bastard
Flintrop, Richard A. 1945
Flynn, Gerald T. 1910
Flynn, James T. 1944
Fogo, William Montgomery 1841 - 1903
Folle Avoines, Fol Avoine, Folle Avoine
Fontanne, Lynn 1887 - 1983
Ford, Winifred 1876 - 1957
Forsyth, Thomas, 1771-1833.
Fortis, Louis G. 1947
Foster, Carlton 1826 - 1901
Foster, Edward Augustus 1829 - 1902
Foster, Nathaniel Caldwell 1834 - 1923
Foti, Steven M. 1958
Four Legs, Ho-Chunk chief, dates unverified
Fourier, Charles, 1772-1837
Fowler, Chester Almeron 1862 - 1948
Fox Indians
Fox, Albert Charles 1878 - 1934
Fox, Thomas P. 1946
Frackelton, Susan, 1848 - 1932
Frame, Andrew Jay 1844 - 1932
Frank, Glenn 1887 - 1940
Frank, Kurt A. 1945
Frank, Louis Frederick 1857 - 1918
Frank, Michael 1804 - 1894
Frankfurth, William 1829 - 1891
Franks, Jacob 1760 - 1840
Fraser, Thomas 1820 - 1893
Fratney, Frederick 1815 - 1855
Frear, James Archibald 1861 - 1939
Freehoff, William Adolph 1889 - 1950
Freese, Stephen J. 1960
Freethinkers in Wisconsin
French in Wisconsin
Frey, Frank Jacob 1859 - 1937
Frick, William Keller 1850 - 1918
Friedman, Oliver Albert 1893 - 1957
Friend, Jacob Elias 1857 - 1912
Frisby, Leander Franklin 1825 - 1889
Friske, Donald 1961
Fritschel, Herman Lawrence 1869 - 1957
Froehlich, Harold V. 1932
Frost, William Dodge 1867 - 1957
Fry, Rupert F. 1871 - 1935
Fuller, Margaret, 1810-1850
Fuller, Oliver Clyde 1860 - 1942
Fullsavoines
Fusseder, Francis 1825 - 1888
Gaar, John 1887 - 1973
Gaenslen, Frederick Julius 1877 - 1937
Gagen, Daniel 1835 - 1908
Gagin, William P. 1916
Gale, George 1816 - 1868
Gale, Zona 1874 - 1938
Galli, G. Fred 1902
Gallun, August Frederick 1834 - 1912
Galpin, Charles Josiah 1864 - 1947
Ganfield, William Arthur 1873 - 1940
Gard, John 1963
Garland, Hamlin 1860 - 1940
Garrison, Frank 1852 - 1905
Garth, Schuyler Edward 1898 - 1947
Gates, James Leslie 1850 - 1911
Gaulke, Ellsworth K. 1925
Gaylord, Adj. Gen. Augustus (1826-1901)
Gee, Harvey F. 1908
Gehrmann, Bernard E. 1920
Gein, Edward 1906 - 1984
Geist, Walter 1894 - 1951
Gelatt, Roland Bernard 1856 - 1917
Gens de Mer
Genzmer, Elmer L. 1903
George, Gary R. 1954
Gerlach, Chester A. 1947
Germans in Wisconsin
Geske, Janine P. 1949
Gessert, Harry L.
Gettelman, Adam 1847 - 1925
Geuder, William 1852 - 1903
Gibson, Lawrence R. 1912
Gielow, Curt 1945
Giese, Kenyon E. 1933
Gilbert, Edward Martinius 1875 - 1956
Gilbert, Frank Lynch 1864 - 1930
Gilbert, William 1827 - 1900
Gill, Col. Charles R. (1830–1883)
Gill, Thomas Henry A. 1858 - 1940
Gillespie, Ezekiel (1818-1892)
Gilmore, Eugene Allen 1871 - 1953
Gilson, Earl 1923
Gilson, Norman Shepard 1839 - 1914
Gimmestad, Lars Monsen 1868 - 1943
Ginty, George Clay 1840 - 1890
Glidden, Carlos 1834 - 1877
Glode, Menominee leader, d. 1804
Glory of the Morning, Ho-chunk peace chief, dates
Glover, Arthur James 1873 - 1949
Glover, Joshua
Goethel, Karl J. 1930
Goetsch, Robert G. 1933
Goetz, George Washington 1856 - 1897
Gonski, Casimir 1869 - 1946
Goodell, Rhoda Livinia 1839 - 1880
Goodland, Walter Samuel 1862 - 1947
Goodrich, Albert Edgar 1826 - 1885
Goodrich, Joseph 1800 - 1867
Goodrich, Patricia A. 1933
Gordon, Myron L. 1918
Gordon, Philip 1886 - 1948
Gorrell, James, dates unverified
Goss, Benjamin Franklin 1823 - 1893
Gottlieb, Mark 1956
Gower, John C. 1941
Goyke, Gary R. 1947
Graass, Frank N. 1885
Grabner [Graebner], August Lawrence 1849 - 1904
Grady, Daniel Henry 1872 - 1954
Grady, Warren A. 1924
Graham, Heather 1970 -
Graham, Robert 1826 - 1892
Grant, Albert Weston 1856 - 1930
Grant, Alexander R. 1925
Grant, Bud (Harold Peter Grant, Jr.) 1920 -
Gratiot, Henry 1789 - 1836
Gray, Hamilton Hunter 1827 - 1902
Gray, John R. 1925
Great Buffalo (Ke-Che-Waish-Ke Or Bezhike) 1759 -
Greco, Angelo F. 1925
Greeks in Wisconsin
Green, Mark A. 1960
Green, William T. 1860 - 1911
Greene, Thomas Arnold 1827 - 1894
Greene, Walter S. 1834 - 1891
Gregory, Charles Noble 1851 - 1932
Gregory, Horace 1898 - 1982
Gregory, John Goadby 1856 - 1947
Greider, Gerald A. 1923
Greulich, August 1813 - 1893
Griffin, Ezra Leonard 1821 - 1892
Griffin, Michael 1842 - 1899
Grignon, Augustin, 1780-1860.
Grignon, Charles Augustin, 1808 - 1862
Grignon, Pierre Sr. 1740 - 1795
Griswold, Harry Wilbur 1886 - 1939
Griswold, Hattie [Tyng] 1840 - 1909
Grobschmidt, Richard A. 1948
Gronemus, Barbara 1931
Gronouski, John A., 1919-
Groppi, Father James, 1930-1985
Groseilliers, Medard Chouart, Sieur Des 1618 - 168
Groshek, Leonard A. 1913
Grothman, Glenn 1955
Grottkau, Paul 1846 - 1898
Grover, Herbert J. 1937
Gruszynski, Stan 1949
Guenther, Richard William 1845 - 1913
Guiles, Jon R. 1945
Gunderson, Scott L. 1956
Gunderson, Steven 1951
Gundrum, Mark 1970
Gunther, Theodore (1826 0 1885)
Guppey, Gen. Joshua J. (1820-1893)
Gurley, Zenas Hovey 1801 - 1871
Haan, William George 1863 - 1924
Haas, Carl De 1816 - 1875
Haas, Francis Joseph 1889 - 1953
Haase, Robert D. 1923
Hadley, Jackson 1815 - 1867
Hagerman, James John 1838 - 1909
Hahn, Eugene 1929
Haight, Theron Wilber 1840 - 1913
Haldimand, Frederick, 1718-1791
Hall, Albert, 1881 - 1936
Hall, Arnold Bennett 1881 - 1936
Hall, Deirdre 1947 -
Hall, Sherman 1800 - 1879
Hallows, E. Harold 1904
Hambrecht, George Philip 1871 - 1943
Hamilton, Gen. Charles Smith (1822-1891)
Hamilton, James Edward 1852 - 1940
Hamilton, Leo Richard 1927
Hamilton, William Stephen 1797 - 1850
Hanaway, Donald J. 1933
Hanchett, Luther 1825 - 1862
Handley, John Joseph 1876 - 1941
Handrick, Joseph W. 1965
Hanks, Lucien Mason 1868 - 1950
Hanks, Stanley Charles 1872 - 1945
Hanley, Leo B. 1908
Hanley, Miles Lawrence 1893 - 1954
Hanna, Daniel D. 1923
Hannan, John Joseph 1866 - 1946
Hansen, Conner T. 1913
Hansen, Dave 1947
Hansen, John R. 1917
Hansen, Robert W. 1911
Hansen, William C. 1891
Hanson, Doris
Hanson, Magnus (1822-1881)
Haraszthy [De Moksca), Agoston 1812 - 1869
Hardie, Keith 1910
Harer, Robert W. 1941
Harnack, Mildred Fish 1902-1943
Harnden, Henry 1823 - 1900
Harnischfeger, Henry 1855 - 1930
Harper, Cornelius Allen 1864 - 1951
Harper, Hugh A. 1885
Harriman, Col. Samuel (1826-1897)
Harrington, Timothy Louis 1866 - 1947
Harris, Charles Kassell 1865 - 1930
Harris, Joseph Sr. 1813 - 1889
Harrison, Mark Robert 1819 - 1894
Harsdorf, Sheila E. 1956
Hart, Edwin Bret 1874 - 1953
Harvey, Cordelia (1824–1895)
Harvey, Gov. Louis P. (1820-1862)
Harvey, Lorenzo Dow 1848 - 1922
Harwood, Frank James 1855 - 1940
Hasenohrl, Donald W. 1935
Haskell, Col. Frank A. (1828-1864)
Haskins, Charles H. 1830 - 1910
Haskins, Herbert Eugene 1869 - 1953
Hastings, Edwin George 1872 - 1953
Hastings, Samuel Dexter 1816 - 1903
Hatlestad, Oil Jensen 1823 - 1892
Hatton, William H. 1856 - 1937
Haugen, Nils Pederson 1849 - 1931
Haugh, Paul 1896
Hauke, Thomas A. 1938
Hauser, Jacob 1845 - 1931
Haven, Spencer 1868 - 1938
Hawley, Col. William (1824-1873)
Hayes, William Arthur 1866 - 1942
Hazeltine [Haseltine], Ira Sherwin 1821 - 1899
Hazeltine, Mary Emogene 1868 - 1949
Hazelton, George Cochrane 1832 - 1922
Hazelton, Gerry Whiting 1829 - 1920
Hazen, Chester 1824 - 1900
Heath, Frederick Faries 1864 - 1954
Hebl, Tom 1945
Hecht, Ben 1894 - 1964
Heffernan, Nathan S. 1920
Heg, Col. Hans Christian (1829-1863)
Heg, Even Hansen 1790 - 1850
Heil, Julius Peter 1876 - 1949
Heileman, Gottlieb 1824 - 1878
Heine, Freidrich Wilhelm 1845 - 1921
Heinemann, Benjamin 1850 - 1919
Heinzen, Raymond F. 1918
Heiss, Michael 1818 - 1890
Helbach, David 1948
Held, James E. 1938
Hempsted, Henry N. 1830 - 1898
Hendee, Kirby 1923
Hengell, Henry Charles 1877 - 1937
Hennepin, Louis, 1640-1705?
Henni, John Martin 1805 - 1881
Henry, Glenn L. 1921
Henry, Joseph, 1797-1878
Henry, Marguerite 1902 - 1997
Henry, William 1794 - 1853
Henry, William Arnon 1850 - 1932
Hephner, Gervase A. 1936
Hicks, Emmett Reuben 1854 - 1925
Hicks, John 1847 - 1917
Hiles, George 1825 - 1896
Hill, Charles Lewis 1869 - 1957
Hill, Horatio 1815 - 1867
Hill, Rosa Minoka 1876 - 1952
Hill, Warren Brown 1861 - 1934
Hillemann, Henry A. 1928
Hines, Edward 1863 - 1931
Hines, J.A. 1927
Hinkfuss, Rosemary T. 1931
Hinkley, George Madison 1832 - 1905
Hinz, Emil A. 1889
Hipke, Gilbert J. 1898
Hiroquois
Hirshheimer, Albert 1840 - 1924
Hirst, Arthur Roscoe 1881 - 1932
Hispanic Americans in Wisconsin
Hisrich, Joseph C. 1942
Hitt, Henry D. 1823 - 1907
Hixon, Gideon Cooley 1826 - 1892
Hixson, Hiram Frank 1858 - 1894
Ho-Chunk Indians
Hoan, Daniel W., 1881-1961.
Hoard, Halbert Louis 1861 - 1933
Hoard, William Dempster 1836 - 1918
Hobart, Col. Harrison C. (1815-1902)
Hobbins, Joseph 1816 - 1894
Hochkammer, Jon H. 1956
Hodgson, Albert James 1858 - 1943
Hohlfeld, Alexander Rudolf 1865 - 1956
Hollander, Walter G. 1896
Holmes, Frederick Lionel 1883 - 1946
Holperin, James C. 1950
Holschbach, Vernon W. 1926
Holt, Frank Oscar 1883 - 1948
Holt, William Arthur 1865 - 1953
Holton, Edward Dwight 1815 - 1892
Holzhuber, Franz, 1826 - 1898
Homme, Even Johnson 1843 - 1903
Honadel, Mark R. 1956
Hooper, Jessie Annette Jack [Mrs. Ben Hooper] 1865
Hooper, Moses 1835 - 1932
Hopkins, Benjamin Franklin 1829 - 1870
Hopkins, David R. 1938
Hopkins, James Campbell 1819 - 1877
Horlick, William 1846 - 1936
Horn, Frederick William 1815 - 1893
Horner, John Scott 1802 - 1883
Horton, Alonzo E. 1813 - 1909
Hotchkiss, William Otis 1878 - 1954
Houdini, Harry 1874 - 1926
Hough, Maxine 1961
Houser, Walter L. 1855 - 1928
Hoven, Timothy T. 1963
Howe, James Henry 1827 - 1893
Howe, Timothy Otis 1816 - 1883
Hoxie, Vinnie Ream 1847 - 1914
Hoy, Philo Romayne 1816 - 1892
Hoyme, Gjermund 1847 - 1902
Hoyt, Edith Evans [Mrs. Judson E.] 1862 - 1951
Hoyt, John Wesley 1831 - 1912
Hubbell, Levi 1808 - 1876
Huber, Gregory B. 1956
Huber, Henry Allen 1869 - 1933
Hubler, Mary 1952
Hudd, Thomas Richard 1835 - 1896
Hudnall, George B[Rinton?] Mcclellan 1864 - 1936
Huebsch, Michael D. 1964
Huebschmann, Franz 1817 - 1880
Huelsman, Joanne B. 1938
Huibregtse, Harold F. 1907
Hulce, Tom 1953 -
Hull, Merlin 1870 - 1953
Hulst, Nelson Powell 1842 - 1923
Humphrey, George Colvin 1875 - 1947
Humphrey, Herman Leon 1830 - 1902
Hundertmark, Jean L. 1954
Hungarians in Wisconsin
Hunt, W. Ben 1888 – 1970
Hunt, Walter Henry 1868 - 1942
Hunter, Jeffrey 1926 - 1969
Hurley, Michael Angelo 1840 - 1917
Hurons
Husting, Paul Oscar Adolph 1866 - 1917
Hutchins, Frank Avery 1851 - 1914
Hutchison, David E. 1943
Hutnik, Willis J. 1915
Hutter, William Herman 1875 - 1951
Hyer, George 1819 - 1872
Icelanders in Wisconsin
Ihde, Herman 1877 - 1943
Ilsley, Charles Ferdinand 1827 - 1904
Inama, Adelbert 1798 - 1879
Ingersoll, Chalmers 1838 - 1908
Ingram, Orrin Henry 1830 - 1918
Iometah, Menominee leader, c. 1772-1867
Ireland, Walter J. F. 1923
Irish in Wisconsin
Irvin, David 1794 - 1872
Irvine, Thomas 1841 - 1930
Irvine, William 1851 - 1927
Irving, Roland Duer 1847 - 1888
Irwin, Robert, jr.
Islinois
Italians in Wisconsin
Iverson, Andreas Michael 1823 - 1907
Iverson, Donald L. 1923
Jackamonis, Ed G. 1939
Jackson, James Albert 1840 - 1921
Jackson, Joseph 1812 - 1881
Jackson, Jr., Robert L. 1936
Jackson, Mortimer Melville 1809 - 1889
Jacobs, Herbert Henry 1864 - 1948
Jacobs, William Henry 1831 - 1882
Jahnke, Franklin M. 1900
James, Ada Lois 1876 - 1952
James, Edwin, 1797-1861 
Janssen, Edward H. 1815 - 1877
Jaronitzky, June 1938
Jarreau, Al 1940 -
Jastrow, Joseph 1863 - 1944
Jauch, Robert 1945
Jefferson, Thomas (descendants in Wisconsin)
Jeffery, Thomas B. 1845 - 1910
Jenkins, James Graham 1834 - 1921
Jenkins, John James 1843 - 1911
Jens, Salome 1935 -
Jensen, Scott R. 1960
Jeskewitz, Suzanne 1942
Jewett, Milo Parker 1808 - 1882
Jews in Wisconsin
Jogues, Fr. Isaac, 1607-1646
Johnson, Alfred Stanley, jr. 1863 - 1932
Johnson, Burdette Jay 1826 - 1902
Johnson, Daniel Harris 1825 - 1900
Johnson, Gary K. 1939
Johnson, Jay W. 1943
Johnson, John Anders 1832 - 1901
Johnson, John, dates unverified
Johnson, Lawrence H. 1908
Johnson, Lester R. 1901
Johnson, Raymond C. 1936
Johnson, Robert I. 1928
Johnson, Samuel Curtis 1833 - 1919
Johnson, Warren S. 1847 - 1911
Johnson, William A. 1922
Johnsrud, Duwayne 1943
Johnston, Kirsten 1967 -
Johnston, Robert Alexander 1846 - 1907
Johnston, Robert G. 1957
Johnston, Rod
Joliet, Louis
Jolliet, Louis 1645 - 1700
Jonas, Charles 1840 - 1896
Jones, Benjamin 1795 - 1881
Jones, Burr W. 1846 - 1935
Jones, Chester Lloyd 1881 - 1941
Jones, George W. (1853 - 1935)
Jones, George Wallace 1804 - 1896
Jones, Granville Duane 1856 - 1924
Jones, James Monroe 1824 - 1898
Jones, Jenkin Lloyd 1843 - 1918
Jones, John Reynolds (1851 - 1928)
Jones, Joseph E. 1914
Jones, Lewis Ralph 1864 - 1945
Jones, Milo Cornelius 1849 - 1919
Jones, Nellie [Sawyer] Kedzie 1858 - 1956
Jones, William Arthur 1844 - 1912
Joss, Addie 1880 - 1911
Juday, Chancey 1871 - 1944
Judd, Truman H. 1817 - 1884
Juneau, Solomon 1793 - 1856
Jung, Phillip 1845 - 1911
Junkermann, Otto C.
Jussen, Edmund 1830-1891
Kabler, Beatrice Ann Parks. 1928-
Kaczmarek, Jane
Kading, Charles August 1874 - 1956
Kafka, Lawrence J. 1898
Kahl, William C. 1908
Kahlenberg, Louis Albrecht 1870 - 1941
Kanavas, Theodore J. 1961
Kander, Lizzie Black, 1858-1940
Kaokias
Karlen, Jacob 1840 - 1920
Kaskaskias
Kasten Jr., Robert W. 1942
Kasten, William A. 1956
Kastenmeier, Robert W. 1924
Katzer, Frederick Xavier 1844 - 1903
Kaufert, Dean R. 1957
Kaufman, Eugene S. 1922
Kaun, Hugo Wilhelm Ludwig 1863 - 1932
Kavanaugh, William C. 1914
Kedrowski, David R. 1942
Kedzie, Neal J. 1956
Keegan, Jr., Earl 1921
Keep, Albert 1826 - 1907
Kellman, Norris J. 1898
Kellogg, Amherst Willoughby 1829 - 1923
Kellogg, Ansel Nash 1832 - 1886
Kellogg, Ansel Wales 1821 - 1870
Kellogg, Col. John A. (1828 - 1883)
Kellogg, Louise Phelps 1862 - 1942
Kellogg, Rufus Bela 1837 - 1891
Kelly, Patrick 1792 - 1858
Kelly, Patrick H. 1890
Kelso, Carol 1945
Kemper, Jackson 1789 - 1870
Kempster, Walter 1841 - 1918
Kendziorski, Casimir 1898
Kennan, Kossuth Kent (1852-1933)
Kennan, Thomas Lathrop 1827 - 1920
Kenyon, (Charles) Kyle (1924-1996)
Keokuk, Sauk chief, 1780?-1848.
Keppler, Ernest C. 1918
Kerkman, Samantha 1974
Kerwin, James Charles 1850 - 1921
Kessler, Frederick P. 1940
Kestell, Steve 1955
Keyes, Elisha Williams 1828 - 1910
Kickapoo Indians
Kickbush, August 1828 - 1901
Kieckhefer, Ferdinand August William 1852 - 1919
Kiekhoefer, William Henry 1883 - 1951
Kikapous
Kilataks
Kilbourn, Byron 1801 - 1870
Kilgore, Damon Y[Oung?] 1827 - 1888
Kimball, Alanson Mellen 1827 - 1913
Kimberly, John Alfred 1838 - 1928
Kincaid, Lloyd H. 1925
Kind, Ron 1963
King, Charles 1844 - 1933
King, Franklin Hiram 1848 - 1911
King, Gen. Rufus (1814-1876)
Kinney, Kathy 1954 -
Kinsman, Delos Oscar 1868 - 1948
Kintz, Milford C. 1903
Kinzie, John Harris 1803 - 1865
Kinzie, Juliette Augusta, 1806-1870
Kirby, Michael G. 1952
Kiskaouets
Kissel, Louis 1839 - 1908
Kitchigamick Indians
Kittle, William 1861 - 1942
Kleczka, Gerald D. 1943
Kleczka, Jerry 1943
Klicka, George H. 1934
Klingler, Emil F. (1887 - ?)
Klug, Scott L. 1953
Klusman, Judith 1956
Knapp, Gilbert 1798 - 1887
Knapp, John Holly [Jr.] 1825 - 1888
Kneeland, James 1816 - 1899
Kneeland, Moses 1809 - 1864
Knight, John Henry 1836 - 1903
Knowles, Robert P. 1916
Knowles, Warren P. 1908
Knowlton, James H. 1813 - 1879
Knowlton, Wiram 1816 - 1863
Knox, Randall S. 1949
Knutson, Milo G. 1918
Koenig, Joseph 1858 - 1929
Koeppen, George 1833 - 1897
Kohl, Herbert H. 1935
Kohler, John Michael 1844 - 1900
Kohler, Marie Christine 1876 - 1943
Kohler, Ruth Miriam [De Young] 1906 - 1953
Kohler, Walter Jodok 1875 - 1940
Kordus, Robert P. 1939
Korpela, Ernest J. 1936
Koss, Rudolph Alexander 1823 - 1894
Kostuck, John T. 1892
Kraut, Hans Baptiste 1881 - 1947
Krautbauer, Francis Xavier 1824 - 1885
Krawczyk, Judy 1939
Kreibich, Robin G. 1959
Kremers, Edward 1865 - 1941
Kreul, Richard 1924
Kreuser, James E. 1961
Kreutzer, Andrew Laurence 1862 - 1944
Krez, Conrad 1828 - 1897
Kronshage, Theodore Jr. 1869 - 1934
Krosnicki, Kathleen A. 1950
Krueger, Clifford W. 1918
Krug, Shirley 1958
Krumrey, Henry 1852 - 1922
Krusick, Peggy 1956
Kruszka, Michael 1860 - 1918
Kryszak, Mary [Olszewski] 1876 - 1945
Kumlien, Thure Ludwig Theodore 1819 - 1888
Kunde, Kenneth 1916
Kundig, Martin 1805 - 1879
Kunicki, Walter J. 1958
Kurz, Henry 1826 - 1906
Kustermann, Gustav 1850 - 1919
Kuypers, John Anton 1869 - 1940
La Fave, John 1949
La Follette, Belle Case, 1859-1931
La Follette, Bronson C. 1936
La Follette, Douglas J.
La Follette, Philip Fox, 1897-1965
La Follette, Robert Marion Sr. 1855 - 1925
La Follette, Robert Marion, Jr., 1895 - 1953
La Grange, Col. Oscar H. (1837-1915)
La Ronde, Louis Denis De 1675 - 1741
Laatsch, James F. 1940
Lacher, John Henry Alois 1856 - 1936
Ladd, Azel Parkhurst 1811 - 1854
Ladwig, Bonnie L. 1939
Lahontan, Baron, (Lom D'Arce De Lahontan, Louis Ar
Laird, Melvin R. 1922 -
Lalemant, Fr. Jérôme (Hierosme), 1593-1673
Lallensack, Francis J. 1916
Lalumiere, Stanislaus Petty 1822 - 1895
Lamb, Eugene M. 1910
Lamoreux, Silas Wright 1843 - 1909
Lampert, Florian 1863 - 1930
Landreth, Albert 1858 - 1899
Lange, Louie Augustus 1854 - 1917
Langeland, Knud 1813 - 1888
Langenberg, Conrad (1830-1899)
Langlade, Charles Michel 1729 - 1801
Langner, Arnold W. F. 1925
Laper, Jr., Oscar A. 1915
Lapham, Increase Allen 1811 - 1875
Larrabee, Charles Hathaway 1820 - 1883
Larsen, Lawrence R. 1897
Larsen, Marty 1905
Larsen, [Peter) Laur[Entius] 1833 - 1915
Larson, Gustus Ludvig 1881 - 1953
Larson, Ludvig Conrad 1899 - 1953
Larson, Robert J. 1932
LaSalle, Robert Rene Cavelier, sieur de, 1643 - 16
Lasee, Alan J. 1937
Lasee, Frank G. 1961
Lassa, Julie M. 1970
Lathan, Raymond Lee 1915
Lathrop, John Hiram 1799 - 1866
Lathrop, Stephen Pearl 1816 - 1854
Latin, Jacquelyn J. 1952
Lato, Stanley J. 1924
Latvians in Wisconsin
Laubenheimer, Jacob George 1874 - 1936
Laun, Jr., Alfred A. 1905
Lauri, Carl E. 1924
Lautenschlager, Peggy A. 1955
Law, James Richard 1885 - 1952
Lawe, George William 1810 - 1895
Lawe, John 1780 - 1846
Lawler, John 1832 - 1891
Lawson, Alfred W. (1869 - 1954)
Lawson, Publius Virgilius 1853 - 1920
Lawton, Barbara 1951
Layton, Frederick 1827 - 1919
Lazich, Mary A. 1952
Le Jeune, Fr. Paul, 1591-1664
Le Marchand de Lignery, Constant c.1663 - 1731
Le Marchand de Lignery, François-Marie, 1703 -1759
Le Mercier, Fr., 1604-1690
Le Sueur, Pierre 1657 - 1705
Leach, Eugene Walter 1857 - 1938
Lean, John S. 1851 - 1948
Lee, Joseph 1942
Lee, Mordecai 1948
Leean, Joseph 1942
Legler, Henry Eduard 1861 - 1917
Lehman, John W. 1945
Lehman, Michael A. 1943
Leibham, Joseph K. 1969
Leidersdorf, Bernhard 1837 - 1912
Leith, Charles Kenneth 1875 - 1956
Lemahieu, Daniel R. 1946
Lenroot, Irvine Luther 1869 - 1949
Leonard, Jerris 1931
Leonard, William Ellery 1876 - 1944
Leopold, Stephen R. 1944
Leopold, [Rand] Aldo 1887 - 1948
Lepak, David J. 1959
Lester, Charles Stanley 1846 - 1913
Lester, Clarence Brown 1877 - 1951
Levalley, Christopher Warren 1833 - 1918
Levander, Harry O. 1901
Leverich, James Earl
Levitan, Solomon 1862 - 1940
Levy, John Meyer 1820 - 1910
Lewis, Gov. James Taylor (1819-1904)
Lewis, James Otto 1799 - 1858
Lewis, James R. 1936
Lewis, Margaret S. 1954
Lewis, Theodore Gorman 1890 - 1934
Lewison, Bernard
Liberace 1919 - 1987
Lien, Edgar E. 1936
Lindsay, Edmond James 1838 - 1924
Lingren, Ronald H. 1935
Liniwek
Linton, Barbara J. 1952
Linton, Ralph 1893 - 1953
Lipscomb, Jr., Mark G. 1935
Lithuanians in Wisconsin
Litscher, Leroy "Pete" 1939
Little Priest, Ho-Chunk chief
Lochner, John Frederick Carl 1822 - 1902
Lockwood, James Henry 1793 - 1857
Loeffelholz, Gabe 1940
Loevenhart, Arthur Solomon 1878 - 1929
Logan, Ben 1920 -
Lombardi, Vincent Thomas 1913 - 1970
Loomis, Orland Steen 1893 - 1942
Lord, Clifford Lee, 1912 - 1980
Lorenz, Richard 1858 - 1915
Lorge, William D. 1960
Lorman, Barbara K. 1932
Lorman, Milton 1927
Lothian, Thomas A. 1928
Lotto, Myron P. 1925
Lotz, Oscar 1880 - 1953
Loucks, Steven 1961
Louis, Theodore 1829 - 1907
Lourigan, Joseph 1901
Louvigny, Louis de la Porte de,
Love, William De Loss 1819 - 1898
Lovejoy, Allen Perry 1825 - 1904
Low Cloud, Charles Round 1872 - 1949
Lucey, Patrick J. 1918
Luckhardt, Esther Doughty
Ludington, Harrison 1812 - 1891
Ludington, Nelson 1818 - 1883
Luebke, William 1906
Luedke, Herman August 1850 - 1917
Luedtke, Paul A. 1888
Lummpkin, Hope Henry 1882 - 1932
Lund, Einer Peter 1903
Luning, Frederick August 1811 - 1861
Lunt, Alfred 1893 - 1977
Luther, Ernest Leonard 1868 - 1953
Lutherans in Wisconsin
Luxembourgers in Wisconsin
Lynch, Richard J. 1921
Lynch, Thomas 1844 - 1898
Lynde, William Pitt 1817 - 1885
Lynn, James J. 1916
Lyon, Lucius, 1800-1851
Lyon, William Penn 1822 - 1913
Lysne, Per 1880 - 1947
Macalister, James 1840 - 1913
Macfayden, Alexander 1879 - 1936
Mack, John Givan Davis 1867 - 1924
MacMurray, Fred 1908 - 1991
Macquarrie, Gordon 1900 - 1956
Macy, John B. 1799 - 1856
Magnuson, Sue R. 1952
Magoon, Henry Sterling 1832 - 1889
Maier, Henry W. 1918
Main, Angie Kumlien [Mary Angela (Kumlien) Main] 1
Malhominis
Malhonmines
Manders, Adrian J. 1912
Manders, Verna M. 1920
Manel, Francis 1864 - 1928
Mangekekias
Manske, John T. 1952
Mantouechs
Manville, Charles Brayton 1834 - 1927
Mapes, David Parshall 1798 - 1890
Marchetti, Louis 1846 - 1931
Marcklein, Bernhard Gustav 1848 - 1915
Marin, Joseph, dates unverified
Marin, Paul, 1692-1753
Marinette, Queen [Marinette Chevalier Jacobs] 1793
Marks, Solon 1827 - 1914
Marlatt, Abby Lillian 1869 - 1943
Marlatt, Walter Thomas 1874 - 1925
Marotz, Robert G. 1921
Maroumine
Marquette, Jacques 1637 - 1675
Marr, Carl Von 1858 - 1936
Marsh, Cutting 1800 - 1873
Marshall, Rouget De Lisle 1847 - 1922
Marshall, Samuel 1820 - 1907
Martin, David O. 1931
Martin, Deborah Beaumont 1858 - 1931
Martin, James Baynard 1814 - 1878
Martin, Jerome A. 1908
Martin, John E. 1891
Martin, Joseph 1878 - 1946
Martin, Morgan Lewis 1805 - 1887
Mascoutins
Maskoutech
Math, Richard P. 1932
Mathews, Vincent R. 1912
Mathie, Karl 1866 - 1938
Mato, Louis V. 1903
Matty, Richard P. 1932
Maurer, Irving 1879 - 1942
Maurer, John J. 1922
Mauthe, William 1873 - 1942
Maxfield, John B. (1818-1906)
Maxon, Densmore William 1820 - 1887
Mayer, Stephan F. 1854 - 1935
Mazzuchelli, Samuel Charles 1806 - 1864
Mcarthur, Arthur 1815 - 1896
McArthur, Gen. Arthur (1845-1912)
Mccallum, Scott 1950
Mccann, James A. 1924
Mccanna, Charles B. 1851 - 1913
Mccarthy, Charles 1873 - 1921
McCarthy, Joseph, 1908 - 1957
Mccaskill, Virgil Everett 1866 - 1922
Mcclain, Edward F. 1935
McCloy, William Ashby, 1913-2000
Mccord, Myron Hawley 1840 - 1908
Mccormick, John E. 1924
Mccormick, Robert Laird 1847 - 1911
Mccormick, Terri
Mccoy, Robert Bruce 1867 - 1926
McCracken, Guy (ca. 1861 - 1931)
Mccreery, Maud [Leonard] 1883 - 1938
Mcdill, Alexander Stuart 1822 - 1875
Mcdill, John Rich 1860 - 1934
Mcdougal, Milton 1917
Mcessy, Earl F.
Mcewen, John L. 1928
Mcgavick, Alexander Joseph 1863 - 1948
Mcglachlin, Edward 1840 - 1931
Mcgovern, Francis Edward 1866 - 1946
Mcgregor, Duncan 1836 - 1921
Mcindoe, Walter Duncan 1819 - 1872
Mckay, J. Curtis 1926
McKay, William
McKee, Lt. Col. David (1828-1862)
Mckenna, Dale T. 1937
Mclenegan, Charles Edward 1858 - 1920
McMynn, John Gibson 1824 - 1900
Mcparland, Leland S. 1896
McVicar, Angus Boyd, 1903 - 1964
Mead, Daniel Webster 1862 - 1948
Meanwell, Walter Ernest 1884 - 1953
Mears, Helen Farnsworth 1872 - 1916
Meaux, Thomas W. 1954
Medinger, John Donald 1948
Meeker, Moses 1790 - 1865
Meeuwsen, Terry Anne (born 1949)
Meir, Golda, l898-1978.
Melms, Edmund [Ludwig Robert Paul) Theodore 1874 -
Melvin, Thomas T. 1937
Menard, Fr. Rene, 1605-1661
Menard, Mary Ann, early 19th c.
Menominee Indians
Menos, Gus G. 1920
Merkel, Kenneth J. 1926
Merkt, John L. 1946
Merriam, Williah R. 1894
Merrill, Sherburn Sanborn 1818 - 1885
Merriman, William Edward 1825 - 1892
Mertz, Edward F. 1890
Merz, Louis L. 1908
Meskwaki Indians
Mesquakie Indians
Messmer, Sebastian Gebhard 1847 - 1930
Metoxen, John 1770 - 1858
Metz, Sharon 1934
Meunier, Alex J. 1897
Mexicans in Wisconsin
Meyer, Balthasar Henry 1866 - 1954
Meyer, Dan 1949
Meyer, Mark 1963
Meyerhofer, Lee P. 1964
Miamis
Mielke, Janet Soergel 1937
Miller, Andrew Galbraith 1801 - 1874
Miller, Frederick 1824 - 1888
Miller, Frederick Charles 1906 - 1954
Miller, George Peckham 1858 - 1931
Miller, Jess 1884
Miller, Lucas Mitiades 1824 - 1902
Miller, Marjorie "Midge" 1922
Miller, Mark 1943
Miller, Roswell 1843 - 1913
Miller, Wesson Gage 1822 - 1893
Miller, William Snow 1858 - 1939
Mills, Charles Henry 1873 - 1937
Mills, Joseph Trotter 1811 - 1897
Mills, Simeon, 1810 - 1895
Minahan, Robert Emmet 1858 - 1935
Minahan, Victor Ivan 1881 - 1954
Minandeau, Jean Baptiste
Miner, Henry Austin 1829 - 1932
Minor, Edward Sloman 1840 - 1924
Mireau, George 1888
Missisakis
Mitchell, Alexander 1817 - 1887
Mitchell, John Lendrum 1842 - 1904
Mitchell, William, 1879 - 1936
Mittness, Lewis T. 1929
Mix, Edward Townsend 1831 - 1890
Moeller, Gustave 1881 - 1931
Moen, Rodney C. 1937
Mogilka, David R. 1915
Mohican
Mohn, Leo O. 1925
Moingwenas
Mole Lake Ojibwe
Molepske, Jr., Louis John 1974
Molinaro, George 1902
Monahan, James Gideon 1855 - 1923
Monberg, Lawrence 1900 - 1983
Montgomery, Phil 1957
Moody, Jim 1935
Moon, Delos Rensselaer 1835 - 1898
Moore, Annie Aubertine [Woodward] 1841 - 1929
Moore, Benjamin Franklin 1819 - 1904
Moore, Gwendolynne S. 1951
Moore, Ransom Asa 1861 - 1941
Moore, William (1827-1862)
Morand, first name unverified
Moravians in Wisconsin
Morehouse, Frederic Cook 1868 - 1932
Morgan, Richard Thomas 1829 - 1905
Morris, Johnnie Elaine 1951
Morris, Lucy E. Smith, 1850-1935
Morrison, Kathryn 1942
Morse, Elmer Addison 1870 - 1945
Mortimer, Mary 1816 - 1877
Morton, Earl D. 1918
Moser, William R. 1927
Mosse, George Lachmann 1918 - 1999
Moyer, Raymond J. 1926
Mueller, Alexander 1872 - 1935
Mueller, Ervin 1904
Mueller, John Gottlieb 1813 - 1893
Muir, John 1838 - 1914
Mulder, Leland E. 1925
Munh, Emanuel 1806 - 1899
Munro, Dana Carleton 1866 - 1933
Munsee Indians
Munson, Oliver Goldsmith 1856 - 1933
Munts, Mary Lou 1924
Murat, William M. 1957
Murphy, James William 1858 - 1927
Murphy, John T. 1860 - 1932
Murphy, Roger P. 1923
Murray, Eldon 1930 - 2007
Murray, Reid Fred 1887 - 1952
Murray, Thomas B. 1938
Musquakies
Musser, Terry M. 1947
Myhra, Norman L. 1925
Mylrea, William Henry 1853 - 1916
Myrick, Harry Pierce 1857 - 1916
Myrick, Nathan 1822 - 1903
Nadoneceronon
Nadouaichs
Nadouaissioux
Nager, Edward 1927
Naleid, Roy E. 1901
Namewilinis
Nansouaketons
Nash, Charles Dennis 1819 - 1897
Nash, Charles W. 1864 - 1948
Nash, Philleo 1909
Nash, William Francis 1847 - 1916
Nass, Stephen L. 1952
Nattestad, Ole Knudsen 1807 - 1886
Nelsen, Betty Jo 1935
Nelson, Adolphys Peter 1872 - 1927
Nelson, Gaylord A. 1916-2005
Nelson, George Bliss 1876 - 1943
Nelson, John Mandt 1870 - 1955
Neopit, Menominee leader, ?-1913
Neopope, Sauk warrior, dates unverified
Nepiciriniens
Nepissings
Neubauer, Jeffrey A. 1955
Neumann, Mark W. 1954
Neville, Arthur Courtenay 1850 - 1929
Nevin, James 1854 - 1921
New York Indians
Newhall, Daniel 1821 - 1895
Newman, Alfred William 1834 - 1898
Nicholson, Isaac Lea 1884 - 1906
Nicholson, Kenneth 1901
Nickels, Justin Michael, 1987-
Nicolet, Jean 1598 - 1642
Niebler, John H. 1941
Niedecker, Lorine, 1903-1970
Nieman, Lucius William 1857 - 1935
Nikolay, Frank L. 1922
Nipisiriniens
Nischke, Ann 1951
Nitschke, Elmer C. 1911
Nohl, Mary Louise 1914 - 2001
Nohr, Harry 1897 - 1976
Nolen, John 1869 - 1937
Noonan, Josiah A. 1813 - 1882
Noquets
Noquias
Nordberg, Bruno Victor 1858 - 1924
Norquist, John O. 1949
North, Sterling, 1906-1974
Norwegians in Wisconsin
Notestein, Barbara 1949
Nowakowski, Richard C. 1933
Noyes, George Henry 1849 - 1916
Nugent, William P. 1917
Nuttelman, Norbert 1911
Nutter, Edmondson John Masters 1879 - 1953
Nye, Edgar Wilson ("Bill Nye") 1850 - 1896
O'Brien, Leo P. 1893
O'Connor, James L. 1859 - 1931
O'Keefe, Georgia (1887 - 1996)
O'Konski, Alvin E. 1904
O'Malley, David D. 1912
O'Neill, James 1810 - 1882
O'Shea, Michael Vincent 1866 - 1932
Oberle, Eugene W. 1929
Obey, David R. (b. 1938)
Octanaks
Odell, Emery Alvin 1871 - 1953
Oelhafen, John 1836 - 1923
Oestreicher, John C. 1936 - 2011
Offner, Paul 1942
Ogg, Frederick Austin 1878 - 1951
Ohl, Henry Jr. 1873 - 1940
Ojatinons
Ojibwe Indians
Olbrich, Michael Balthasar 1881 - 1929
Old Chief, Menominee leader, d. 1826
Olin, John Myers 1851 - 1924
Olsen, Luther S. 1951
Olson, Jack B. 1920
Olson, Julius Emil 1858 - 1944
Olson, Russell A. 1924
Omernick, Raymond J. 1923
Oneida Indians
Onnontaeronnons or Ontationoué
Opitz, David W. 1945
Ordway, Moses 1788 - 1870
Orlich, Sam L. 1939
Orton, Harlow South 1817 - 1895
Osborn, Joseph Horatio 1822 - 1892
Oschwald, Ambrose 1801 - 1873
Oshkosh, Menominee chief, 1795 - 1858
Otchagra
Otjen, Theobald 1851 - 1924
Otonkah
Ott, Alvin R. (Al) 1949
Ottawa Indians
Otte, Clifford 1933
Otter People
Otteson, Jakob Aall 1825 - 1904
Ouiatenons
Ouinibegouc
Ouinibegoutz
Oumiamis
Oumiamiwek
Ourada, Thomas D. 1958
Ousakis
Outagamis
Outaouak
Outaoüas
Owen, David Dale 1807 - 1860
Owen, Walter Cecil 1868 - 1934
Owen, William E. 1888
Owens, Carol 1931
Owens, Richard Griffith 1811 - 1882
Pabst, Frederick 1836 - 1904
Pabst, Gustave G. 1866 - 1943
Pabst, Norman W. 1905 - 1989
Pabst, Richard E. 1933
Packard, Wesley L. 1918
Padway, Joseph Arthur 1891 - 1947
Paeschke, Charles August 1857 - 1935
Paine, Byron 1827 - 1871
Paine, Col. Halbert E. (1826-1905)
Paine, Edward Lathrop 1801 - 1893
Palmer, Henry 1827 - 1895
Palmer, Henry L. 1819 - 1909
Palmer, William Fink 1855 - 1933
Panys
Panzer, Frank E. 1890
Panzer, Mary E. 1951
Paquette, Pierre 1799? - 1836
Park, Byron Beach 1858 - 1939
Park, Roswell 1807 - 1869
Parker, George Safford 1863 - 1937
Parkhurst, Helen 1887 - 1973
Parkin, John 1918
Parkinson, Daniel Morgan 1790 - 1868
Parys, Ronald G. 1938
Patton, James Edward 1832 - 1904
Patzer, Conrad E. 1862 - 1932
Paul, George Howard 1826 - 1890
Paul, Les 1915 - 2009
Paulson, David E. 1931
Paxson, Frederick Logan 1877 - 1948
Payne, Henry Clay 1843 - 1904
Peabody, Arthur 1858 - 1942
Peavey [Peavy], Hubert Haskell 1881 - 1937
Peck, George Wilbur 1840 - 1916
Peck, Roseline [Willard] [Mrs. Eben Peck) 1808 - 1
Peckham, Elizabeth Maria Gifford 1854 - 1940
Peckham, Elizabeth ["Lila"] 1843 - 1871
Peckham, George Williams 1845 - 1914
Pelecky, Stan T. 1934
Pellant, Howard F. 1911
Peloquin, Bruce S. 1936
Pennings, Bernard Henry 1861 - 1955
Peorias
Pepikokias
Perala, Reino A. 1915
Percival, James Gates 1795 - 1856
Perrot, Nicolas 1644 - 1717
Perry, Melvin Withington 1864 - 1951
Petak, George 1949
Peter, George 1859 - 1950
Peterson, Francis L. 1904
Peterson, James D.H. 1894
Peterson, Merlin J. 1901
Peterson, Richard E. 1920
Petri, Thomas E. 1940
Petrowski, Jerry 1950
Pettis, Mark L. 1950
Petuns
Pfister, Charles [Frederick] 1859 - 1927
Pfister, Guido 1818 - 1889
Philipp, Emanuel Lorenz 1861 - 1925
Phillips, Vel 1924
Piankeshaws
Pickard, Josiah Little 1824 - 1914
Pier, Kate [Hamilton] 1845 - 1925
Pierce, Solon Wesley 1831 - 1903
Pinney, Silas U. 1833 - 1899
Pious, Lois 1938
Pitt, Yvonne (Yvonnie, Vonnie) Jean b. 1928-
Plache, Kimberly M. 1961
Plale, Jeffrey T. 1968
Plankinton, John 1820 - 1891
Plantz, Samuel 1859 - 1924
Plewa, John R. 1945
Plombon, David 1961
Plouff, Joe 1950
Pocan, Mark 1964
Poles in Wisconsin
Pomeroy, Marcus Mills ["Brick"] 1833 - 1896
Pommerening, Glen E. 1927
Pond, James Burton 1838 - 1903
Pontiac, Ottawa Chief, 1720?-1769
Pope-Roberts, Sondy 1950
Poplawski, Stephen J. 1885 - 1956
Porlier, Jacques 1765 - 1839
Porter, Cloyd A. 1935
Potawatomi Indians
Potter, Calvin 1945
Potter, John Fox 1817 - 1899
Potter, John M. 1924
Potter, Rosemary 1952
Pound, Thaddeus Coleman 1833 - 1914
Powell, David Franklin ["White Beaver"] 1847 - 190
Power, Frederick Belding 1853 - 1927
Powers, Mike 1962
Pratt, Morris (1820-1902)
Presbyterians in Wisconsin
Preus, Adolph Carl 1814 - 1878
Preus, Herman Amberg 1825 - 1894
Price, William Thompson 1824 - 1886
Priebe, Kenneth E. 1912
Pritchard, John 1884
Pritzlaff, Fred C. 1861 - 1931
Pritzlaff, John 1820 - 1900
Prophet, The (Shawnee), 1768-1834
Prophet, The (Winnebago)
Prosser, Jr., David T. 1942
Protheroe, Daniel 1866 - 1934
Prown, Katherine Hemple 1963 -
Proxmire, William 1915-
Puelicher, John Huegin 1869 - 1935
Puerto Ricans in Wisconsin
Purdy, William T. 1882 - 1918
Putnam, Henry Cleveland 1832 - 1912
Quackenbush, Robert L. 1923
Quarles, Joseph Very 1843 - 1911
Quarlls (Quarrels, Quarles), Caroline, (ca. 1824 -
Quick, William F. 1909
Quiner, Edwin Bryant (1816-1868)
Quiner, Emily (or Emelie) 1839 - 1919
Quinn, Jerome
Quinney, Electa, 1802-1885
Quinney, John W. 1797 - 1855
Race, John A. 1914
Radcliffe, John Q. 1920
Radcliffe, Margaret Porter
Radisson, Pierre Esprit 1636 - 1710
Radosevich, Michele G. 1947
Radtke, Randall J. 1951
Rafn, Carl Christian, 1795-1864
Ragueneau, Fr. Paul, 1608-1680
Randall, Clifford Ellsworth 1876 - 1934
Randall, Gov. Alexander W. (1819-1872)
Rankin, Joseph 1833 - 1886
Rankin, Walter Laurie 1841 - 1910
Raskin, Ellen 1928 - 1984
Rasmusen, Holger B. 1894
Read, Sister Joel (Janice) 1926 -
Reaume, Charles 1752 - 1821
Reber, Louis Ehrhart 1858 - 1948
Red Bird, Ho-Chunk chief, 1788 - 1828
Reed, Curtis 1815 - 1895
Reed, George 1807 - 1883
Reed, Harrison 1813 - 1899
Reed, William W. 1825 - 1916
Reese, Oliver William, 1924 - 2005
Reformed Churches in Wisconsin
Reger, Fred C. 1916
Rehnquist, William H., 1924-2005
Reich, Frank Albert 1884 - 1946
Reid, Alexander James 1846 - 1910
Reilly, Michael Kieran 1869 - 1944
Reinsch, Paul Samuel 1869 - 1923
Reuss, Henry S. 1912-2002
Rexford, Eben Eugene 1848 - 1916
Reymert, James De Noon 1821 - 1896
Reynolds, Edwin 1831 - 1909
Reynolds, John W. 1921
Reynolds, Martin L. 1950
Reynolds, Tom 1956
Rhoades, Kitty 1951
Rhode, Paul Peter 1871 - 1945
Rice, Ora R. 1885
Rich, Martin 1835 - 1915
Richards, Harry Sanger 1868 - 1929
Richards, Jon 1963
Richardson, Robert Kimball 1876 - 1952
Riddles, Libby (born 1956)
Riehle, Ben A. 1897
Rigaud de Vaudreuil de Cavagnial, Pierre de, Marqu
Rigaud de Vaudreuil, Philippe de, Marquis de Vaudr
Riley, Antonio R. 1963
Rincker, Leroy Carl 1896 - 1953
Rindisbacher, Peter 1806 - 1834
Ringling [Rungeling], Albert 1852 - 1916
Risser, Fred 1927
Roberts, Virgil 1922
Robertson, Alan S. 1941
Robinson, Charles D. 1822 - 1886
Robinson, John H. 1955
Robinson, Robert P. 1884 - 1953
Robson, Judith Biros
Roessler, Carol A. 1948
Roethe, Henry Edgar 1866 - 1939
Rogers, William J. 1930
Roggensack, Patience Drake 1940
Rohan, Sue 1952
Rohl, Edwin C. 1908
Rohner, Henry 1919
Rolette, [Jean] Joseph 1781 - 1842
Rolle, Dale J. 1923
Rolle, Everett E. 1919
Romell, Louis C. 1899
Rooney, James F. 1935
Root, Eleazer 1802 - 1887
Rose, David Stuart 1856 - 1932
Roseleip, Gordon W. 1912
Rosenzweig, Peggy A. 1936
Roshell, Marvin J. 1932
Ross, Edward Allsworth 1866 - 1951
Ross, John Donald 1841 - 1917
Ross, William 1888 - 1951
Roth, Toby 1938
Rothwell, Angus B. 1905
Rountree, John Hawkins 1805 - 1890
Rubin, Ben 1887 - 1942
Rublee, Horace 1829 - 1896
Rude, Brian D. 1955
Rueping [Ruping], William ["Heinrich","Wilhelm"] 1
Ruger, Gen. Thomas H. (1833-1907)
Rusk, Gov. Jeremiah M. (1830-1893)
Russell, Harry Luman 1866 - 1954
Russians in Wisconsin
Rusy, Benjamin Franklin 1894 - 1953
Rutkowski, James A. 1942
Ryan, Edward George 1810 - 1880
Ryan, Mark W. 1924
Ryan, Paul 1970
Ryan, Samuel [Jr.] 1824 - 1907
Ryba, John Joseph 1929
Ryczek, Ervin John 1909
Sabin, Ellen Clara 1850 - 1949
Salisbury, Rollin D. 1858 - 1922
Salomon, Col. Charles Eberhardt (1824-1881)
Salomon, Gen. Frederick (1826-1897)
Salomon, Gov. Edward (1828-1909)
Salzmann, Joseph 1819 - 1874
Sampson, William Harkness 1808 - 1892
Sanasarian, Harout O. 1944
Sanborn, Albert Whittemore 1853 - 1937
Sanborn, Arthur Loomis 1850 - 1920
Sanders, Charles R. 1950
Sanders, Col. Horace T. (1820-1865)
Sanderson, William E. 1902 - 1952
Sanford, Albert Hart 1866 - 1956
Satherley, Arthur E., 1889 - 1986
Sauerhering, Edward 1864 - 1924
Sawyer, Philetus 1816 - 1900
Schadeberg, Henry C. 1913
Schaeffer, Jr., Frank E. 1905
Schafer, Chuck 1963
Schafer, Joseph 1867 - 1941
Schandein, Emil 1840 - 1888
Schaus, Thomas M. 1937
Schilling, Robert 1843 - 1922
Schinner, Augustine Francis 1863 - 1937
Schlesinger, Ferdinand 1851 - 1921
Schlitz, Joseph 1831 - 1875
Schlueter, Fred W. 1895
Schmedeman, Albert George 1864 - 1946
Schmeichel, Ewald J. 1889
Schmidt, Carl Henry 1835 - 1888
Schmidt, Charles J. 1907
Schmidt, Earl William 1936
Schmidt, Gary J. 1947
Schmidt, Robert 1913
Schneeberg, Ervin F. 1919
Schneider, George John 1877 - 1939
Schneider, Joseph 1845 - 1927
Schneider, Marlin D. 1942
Schneiders, Lolita 1931
Schober, John C. 1951
Schoeffler, Moritz 1813 - 1875
Schooff, Dan 1971
Schoolcraft, Henry Rowe, 1793 - 1864
Schorer, Mark 1908 - 1977
Schowalter, Elmer J. 1894
Schowalter, Herbert J. 1927
Schreiber, Martin J. 1939
Schricker, Kenneth 1921
Schroeder, Frederick C. 1910
Schuele, Wilfred 1906
Schuette, J[Oachim] H[Einrich] 1821 - 1908
Schultz, Dale W. 1953
Schurz, Carl (1829-1906)
Schurz, Margarethe [Meyer] (Mrs. Carl Schurz) 1833
Schwartz, Jerome T. 1951
Schwebach, James 1847 - 1921
Schwefel, William S. 1902
Scocos, John A. 1956
Scofield, Edward 1842 - 1925
Scotch Giant (F.W. Shadick)
Scots in Wisconsin
Scott, Almere L. 1877 - 1946
Scott, Thomas B. 1829 - 1886
Scott, Walter E. 1911 - 1983
Scott, William Amasa 1862 - 1944
Seaman, Gilbert Edmund 1869 - 1941
Seaman, William Henry 1842 - 1915
Searing, Edward 1835 - 1898
Seery, Thomas 1945
Seide, Herman Otto 1886 - 1943
Seidel, Emil 1864 - 1947
Sell, Hildegarde, 1906 - 2005
Sell, Ronald A. 1945
Sensenbrenner Jr., F. James 1943
Sensenbrenner, Frank Jacob 1864 - 1952
Seratti, Lorraine M. 1949
Serbians in Wisconsin
Severance, Juliet H. 1833 - 1919
Severson, Herman John 1869 - 1950
Shabaz, John C. 1931
Shannon, Susan Jane 1952
Shaw, Daniel 1813 - 1881
Shaw, George Bullen 1854 - 1894
Sheehan, James Patrick 1866 - 1936
Sheldon, John P. 1792 - 1871
Shepard, Eugene S. 1854 - 1923
Sherman, Benjamin Franklin 1836 - 1915
Sherman, Gary E. 1949
Sherry, Laura [Case] 1873 - 1947
Shibilski, Kevin 1961
Shilling, Jennifer 1969
Shipman, Stephen Vaughn 1825 - 1905
Shoemaker, Richard A. 1951
Sholes, Charles Clark 1816 - 1867
Sholes, Christopher Latham 1819 - 1890
Showerman, Grant 1870 - 1935
Shurbert, Floyd E. 1900
Sicula, Paul E. 1939
Siebecker, Robert George 1854 - 1922
Siggenauk, Ojibwe chief
Silbaugh, Rudy 1930
Simmons, Zalmon Gilbert 1828 - 1910
Sinicki, Christine 1960
Skavlem, Halvor Lars 1846 - 1939
Skindrud, Richard A. 1944
Skinner, Ernest Brown 1863 - 1935
Slaby, John W. 1934
Slaughter, Moses Stephen 1860 - 1923
Slichter, Charles Sumner 1864 - 1946
Sloan, Andrew Scott 1820 - 1895
Sloan, Ithamar Conkey 1822 - 1898
Slovaks in Wisconsin
Slovenians in Wisconsin
Smith, "Red" (Walter W.) 1905 - 1982
Smith, Abraham Hyatt 1814 - 1892
Smith, Abram Daniel 1811 - 1865
Smith, Arthur Oliver 1859 - 1913
Smith, Augustus Ledyard 1833 - 1902
Smith, Charles P. 1926
Smith, Dena A. 1899
Smith, Erastus Gilbert 1855 - 1937
Smith, George Baldwin 1823 - 1879
Smith, Henry Jr. 1838 - 1916
Smith, Hiram 1817 - 1890
Smith, Hiram 1829 - 1900
Smith, John Melgar 1872 - 1947
Smith, Jr., Charles F. 1918
Smith, Patricia Spafford 1925
Smith, Reeder 1804 - 1892
Smith, Walter Mcmynn 1869 - 1938
Smith, Warren Robert 1889 - 1957
Smith, William E. 1824 - 1883
Smith, William Rudolph 1787 - 1868
Smith, Winfield 1827 - 1899
Snell, Mariette Huntly
Snow, Benjamin Warner 1860 - 1928
Snyder, Harry G. 1938
Sobocinski, Sherman R. 1927
Soglin, Paul, 1945 -
Soik, Nile W. 1923
Sokolowski, George 1917
Solie, Denise L. 1954
Somers, Peter J. 1850 - 1924
Soucie, Kevin 1954
Souligny, 18th-c. French trader
Souligny, Menominee leader, 1785-1864
Southerners in Wisconsin
Sowinski, Sylvester J. 1923 - 1986
Spahn, Warren Edward 1921 - 2003
Spillner, Joan Wade 1962
Spooner, John Coit 1843 - 1919
Spooner, Wyman 1795 - 1877
Spotted Arm (Broken Arm), Ho-Chunk chief
Springer, Thomas J. 1968
St. Clair, Arthur, 1734-1818
St. Cosme, Fr. Jean François Buisson de, dates unv
St. Martin, Alexis
Stack, Edward 1918
Stafford, William Henry 1869 - 1957
Stalbaum, Lynn E. 1920
Stalbaum, Merrill 1911
Stambaugh, Samuel C.
Stanley, Lemuel Castle 1828 - 1909
Starbuck, Frank Washburn 1845 - 1929
Starkweather, John Converse 1830 - 1890
Starr, Elisha 1806 - 1893
Staskunas, Anthony J. 1961
Stauffer, Christ M. 1896
Stearns, John William 1839 - 1909
Stearns, Lutie Eugenia 1866 - 1943
Steiger, William Albert, 1938-1978.
Steinbrink, John P. 1949
Steinhilber, Jack D. 1931
Steinmetz, Donald W. 1924
Stephenson, Isaac 1829 - 1918
Stepp, Cathy 1963
Sterling, John Whelan 1816 - 1885
Stevens, Brooks 1911-1995
Stevens, Edmond Ray 1869 - 1930
Stevens, John 1840 - 1920
Stevenson, Leslie R. 1915
Stewart, Alexander 1829 - 1912
Stewart, Alva 1821 - 1889
Stewart, James M. 1936
Stitt, Donald K. 1944
Stoddard, Thomas Benton 1800 - 1876
Stone, Jeff 1961
Stone, Jesse 1836 - 1902
Stone, John Nelson 1835 - 1919
Storrow, Samuel Appleton 1787-1837
Stout, Henry Lane 1814 - 1900
Stout, James Huff 1848 - 1910
Stow, Alexander Wolcott 1805 - 1854
Stowell, John Maxwell 1824 - 1907
Stower, Harvey 1944
Strang, James Jesse 1813 - 1856
Street, Joseph Montfort 1780 - 1840
Strohl, Joseph A. 1946
Strong, Henry Partridge 1832 - 1883
Strong, Marshall Mason 1813 - 1864
Strong, Moses Mccure 1810 - 1894
Struebing, Wilmer H. 1910
Stucki, Jacob 1857 - 1930
Sturdevant, Lafayette Monroe 1856 - 1923
Sturtevant, John Loomis 1865 - 1939
Suder, Scott 1968
Sullivan, William T. 1894
Sumner, Daniel Hadley 1837 - 1903
Sussman, Norman 1905
Suydam, John Voorhees 1810 - 1885
Swan, Monroe 1937
Sweda, Joseph 1926
Swedes in Wisconsin
Sweet, Alanson 1804 - 1891
Sweet, Col. Benjamin (1832-1874)
Swingle, Frank Bell 1874 - 1956
Swiss in Wisconsin
Swoboda, Lary J. 1939
Sykes, Diane S. 1957
Sykora, Tom 1946
Tadych, Albert R. 1932
Tainter, Andrew 1823 - 1899
Tainter, Jeremiah Burnham 1836 - 1920
Tallmadge, Nathaniel Pitcher 1795 - 1864
Talon, Jean, comte d'Orsainville (c.1625-1694)
Talsky, George J. 1899
Tamms, Erwin G. 1931
Tank, Nils Otto 1800 - 1864
Tanner, Herbert Battles 1859 - 1933
Tatum, Arthur Lawrie. 1884 - 1955
Taylor, David 1818 - 1891
Taylor, Horace Adolphus 1837 - 1910
Taylor, Lena C. 1966
Taylor, William Robert 1820 - 1909
Te Winkle, William P. 1954
Teasdale, Howard (1855 - 1936)
Tecumseh, Shawnee War Chief (c.1768-1813)
Tehan, Robert, 1905-1975.
Tenney, Horace Addison 1820 - 1906
Terry, Earle Melvin 1879 - 1929
Terry, Walter E.
Tesmer, Louise M.
Thayer, Eugene Butler 1853 - 1931
Thayer, Jesse B. 1845 - 1910
The Smoker, Ho-Chunk chief
Theno, Daniel U. 1947
Thomas, Ormsby Brunson 1832 - 1904
Thompson, Barbara 1924
Thompson, Carl W. 1914
Thompson, George 1918
Thompson, John C[Ameron] 1872 - 1934
Thompson, Robert M. 1927
Thompson, Tommy G. 1941
Thomson, Alexander Mcdonald 1822 - 1898
Thomson, Vernon W. 1905
Thorp, Joseph G. 1812 - 1895
Thunder, Betsy
Thwaites, Reuben Gold 1853 - 1913
Timlin, William Henry 1852 - 1916
Timme, Ernst Gerhardt 1843 - 1923
Timmerman, Lawrence W. 1910
Tittemore, James Nelson 1864 - 1949
Titus, William Albert 1868 - 1951
Tobiasz, Raymond J. 1916
Tomah, Menominee leader, ca. 1752 - 1818
Towns, Debi 1956
Townsend, John F. 1938
Tracy, Clarissa Tucker 1818 - 1905
Trane, Reuben Nicholas 1886 - 1954
Travis, David M. 1948
Tregoning, Joseph E. 1941
Tremain, Ben 1888
Treutel, Arthur H. 1897
Trever, Albert Augustus 1874 - 1940
Trinke, William F. 1897
Tropman, Peter J. 1944
Tuczynski, Phillip James 1947
Turba, Wilfrid J. 1928
Turneaure, Frederick Eugene 1866 - 1951
Turner, Andrew Jackson 1832 - 1905
Turner, Frederick Jackson 1861 - 1932
Turner, Robert L. 1947
Tweedy, John Hubbard 1814 - 1891
Uehling, Robert O. 1915
Uihlein, August 1842 - 1911
Ulichny, Barbara L. 1947
Ulrich, John 1828 - 1894
Underheim, Gregg 1950
Unitarians in Wisconsin
United Brethrens in Wisconsin
Universalists in Wisconsin
Unonius, Gustaf Elias Marius 1810 - 1902
Upham, Don Alonzo Joshua 1809 - 1877
Upham, William Henry 1841 - 1924
Urban, Frank H. 1930
Usher, Ellis Baker 1852 - 1931
Utley, William L. 1814 - 1887
Utopians in Wisconsin
Valentine, Richard 1847 - 1925
Van Akkeren, Terry 1954
Van Dreel, Mary Lou E. 1935
Van Dyke, John Henry 1823 - 1909
Van Gorden, Heron A. "Pink" 1926
Van Hise, Charles Richard 1857 - 1918
Van Hollen, John C. 1933
Van Kooy, Cornelia 1885 - 1945
Van Meter, Abraham Chenoweth ["Abe C."] 1842 - 189
Van Pelt, William K. 1905
Van Roy, Karl 1938
Van Schaick, Isaac W. 1817 - 1901
Van Sistine, Jerome 1926
Van Vechten, Helen Bruneau
Vander Loop, William N. 1932
Vanderperren, Cletus 1912
Vandewalker, Nina Catherine 1857 - 1934
Vang, Chia Y. b. 1971
Veblen, Thorstein 1857-1929
Vergeront, Susan B. 1945
Verwyst, Chrysostom Adrian 1841 - 1925
Victoria, Sr. Mary 1868-1962
Vieau, Jacques 1757 - 1852
Vieux Caron, Menominee leader, died ca. 1780
Vilas, Joseph, Jr. 1832 - 1905
Vilas, Levi Baker 1811 - 1879
Vilas, William Freeman 1840 - 1908
Vimont, Fr. Barthélemy, 1594-1667
Vinette, Bruno 1836 - 1923
Vineyard, James Russell 1804 - 1863
Vinje, Aad John 1857 - 1929
Vits, Henry 1842 - 1921
Vogel, Frederick 1823 - 1892
Vogel, Hugo E. 1888
Voight, Jack C. 1945
Voigt, Edward 1873 - 1934
Volk, John 1915
Vollrath, Jacob J. 1824 - 1898
Voltaire, 1694-1778.
Von Cotzhausen, Frederick William 1838 - 1924
Vrakas, Daniel P. 1955
Vruwink, Amy Sue 1975
Vukmir, Leah 1958
Wackett, Byron F. 1912
Wagner, George 1873 - 1954
Wagner, Mary K. 1949
Wah-pel-lo, Sauk chief, 1787?-1842
Wahner, James W. 1939
Wales, Julia Grace
Walker, George H. 1811 - 1866
Walker, Isaac Pigeon 1813 - 1872
Walker, Scott K. 1967
Wallber, Emil 1841 - 1923
Walling, Esther K. 1940
Walworth, John 1804 - 1895
Ward, Col. Lyman M. (1836-1909)
Ward, David W. 1953
Ward, Jr., Walter L. 1943
Ward, William W. 1903
Warga, Andrew F. 1919
Warner, Arthur Pratt 1870 - 1957
Warren, Earl W. 1902
Warren, Lyman Marquis 1794 - 1847
Warren, Robert W. 1925
Warren, Truman d. 1825
Wartinbee, D. Russell 1903
Washburn, Gov. Cadwallader Colden (1818-1882)
Wasserman, Sheldon A. 1961
Waters, Wilmer R. 1914
Watrous, Jerome Anthony 1840 - 1922
Watson, George Earl 1897
Watts, Oliver Patterson 1865 - 1953
Waubasha, Sioux chief, ca. 1777 - 1836
Waukau, Sarah 1947
Wayne, Anthony, 1745-1796
Webb, William Walter 1857 - 1933
Weber, Becky 1954
Weber, Frank J. 1849 - 1943
Webster, Joseph Philbrick 1819 - 1875
Weeden, Timothy L. 1951
Wehrwein, George Simon 1887 - 1945
Weisensel, Russel R. 1931
Weisse, Charles Herman 1866 - 1919
Welch, Robert T. 1958
Welles, Edward Randolph 1830 - 1888
Welles, Orson, 1915-1985
Wells, Daniel Jr. 1808 - 1902
Wells, Horatio Nelson 1808 - 1858
Wells, Oliver Elwin 1853 - 1922
Wells, Owen Augustine 1844 - 1935
Welsh in Wisconsin
Werra, Conrad 1868 - 1939
Wertheimer, Monroe A. 1863 - 1939
Werwath, Oscar 1880 - 1948
Wescott, Glenway 1901 - 1987
West, Edward 1818 - 1903
West, George Arbor 1859 - 1938
Weyerhaeuser, Frederick 1834 - 1914
Wheeler, Ezra 1820 - 1871
Wheeler, Leonard Hemenway 1811 - 1872
Whirling Thunder, Ho-Chunk chief
Whitbeck, Ray Hughes 1871 - 1939
White Crow, Ho-Chunk chief
White, Joe (Gishkitawag, "Cut Ear") ca. 1838-1894
White, Philo 1796 - 1883
White, William Monroe 1871 - 1949
Whitehead, John Meek 1852 - 1924
Whitford, William Clarke 1828 - 1902
Whiting, George Albert 1849 - 1930
Whitney, Daniel 1795 - 1862
Whiton, Edward Vernon 1805 - 1859
Whittet, Lawrence Clarke 1871 - 1954
Whittlesey, Charles 1808 - 1886
Whittow, Wayne F. 1933
Whyte, William Foote 1851 - 1926
Wickhem, John Dunne 1888 - 1949
Wieckert, Steve 1954
Wight, William Ward 1849 - 1931
Wilcox, Ella Wheeler 1850 - 1919
Wilcox, Fred M. 1870 - 1944
Wilcox, Jon P. 1936
Wilcox, Roy Porter 1873 - 1946
Wilder, Amos Parker 1862 - 1936
Wilder, Laura Ingalls, 1867-1957
Wilder, Michael O. 1941
Wilder, Thornton 1897 - 1975
Wiley, Alexander 1884
Wilger, Clarence J. 1909
Wilkie, Harold Mclean 1890 - 1950
Wilkie, Horace W. 1917
Willard, Frances, 1839-1898
Williams, Annette P. 1937
Williams, Charles Grandison 1829 - 1892
Williams, Eleazer 1788 - 1858
Williams, Mary 1949
Willkom, Terry A. 1943
Wilson, Alexander 1833 - 1888
Wimmer, Joseph E. 1934
Winans, John 1831 - 1907
Windesheim, Gustav 1854 - 1946
Wineke, Joseph S. 1957
Wing, Jerry J. 1923
Winslow, John Bradley 1851 - 1920
Winther, Martin Phillip 1889 - 1982
Winton, Charles Joel 1862 - 1934
Wirch, Robert W. 1943
Withrow, Gardner R. 1892
Witte, Edwin 1887 - 1960
Wolcott, Erastus Bradley 1804 - 1880
Wolcott, Laura [Ross] 1834 - 1915
Wolf, William Henry 1828 - 1901
Woll, Fritz Wilhelm 1865 - 1922
Wolter, Joseph 1857 - 1929
Wood, Jeffrey 1969
Wood, Joseph 1811 - 1890
Wood, Wayne W. 1930
Woodman, Cyrus 1814 - 1889
Woods, Mattiebelle 1902 - 2005
Woodward, Gilbert Motier 1835 - 1914
Wright, Albert Orville 1842 - 1905
Wright, Frank Lloyd, 1867-1959
Wright, Hiram A. 1823 - 1855
Wright, Theodore Lyman 1858 - 1926
Wyman, William W. 1800 - 1864
Yankees in Wisconsin
Yawkey, Cyrus Carpenter 1862 - 1943
York, Dwight A. 1939
York, Stanley 1931
Youmans, Henry Mott 1851 - 1931
Youmans, Theodora Winton, 1863 - 1932
Young, Leon D. 1967
Young, Rebecca 1934
Zablocki, Clement J. 1912
Zaborski, Richard J. 1927
Zamarripa, JoCasta b. 1976
Zeidler, Carl Frederick 1908 - 1942
Zeidler, Frank 1912 - 2006
Zellinger, Vincent J. 1902
Zepnick, Josh 1968
Zeuske, Cathy S. 1958
Ziegelbauer, Bob 1951
Zien, David A. 1950
Zillier, Carl 1838 - 1914
Zimmerman, Fred R. 1880 - 1954
Zimmerman, Robert C. 1910
Zukowski, Robert K. 1930
Zweck, Brad 1958