Dictionary Home | Advanced Search | About the Dictionary | Abbreviations | Turning Points | Suggestions?
Dictionary of Wisconsin History
Search Results for: Keyword: 'Milwaukee'
Term: Greenfield, Milwaukee Co. [origin of place name]
Definition: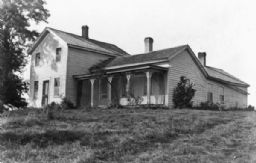 Huntington House, Greenfield, Wis., ca. 1909 (WHI-32022)
In 1839 Olney Harrington, a newly-arrived attorney from New York, was appointed postmaster of the first post office in the newly-organized Town of Kinnickinnic; he submitted the post office name as "Greenfield" and citizens so liked the name that the Town was renamed "Greenfield" on February 19, 1841;when the town incorporated as a city on February 14, 1957, it retained the name.
[Source: www.ci.greenfield.wi.us; Robert Roesler, President Greenfield Hist Society]
Map It!
Google Map
1363 records found
Abbot, Edwin Hale 1834 - 1927
Abbotsford [origin of place name]
Abert, George 1817 - 1890
abolition
Abrahams, Jim 1944 -
Adams, Walworth Co.
Adams, William 1813 - 1897
Adelman, Lynn S. 1939 -
Adler, David 1821 - 1905
Adler, Solomon 1816 - 1890
Adventists in Wisconsin
Aikens, Andrew Jackson 1830 - 1909
Akeley, Carl Ethan 1864 - 1926
Albrecht, Max John Frederick 1861 - 1943
Allen, William 1825 - 1883
Allis, Charles 1853 - 1918
Allis, Edward Phelps 1824 - 1889
Allis, Louis 1866 - 1950
American Bowling Congress
American Revolution (in Wisconsin)
Ameringer, Oscar 1870 - 1943
Ames, Jesse Hazen 1875 - 1957
Anderson, John 1872 - 1929
Anneke, Fritz 1818 - 1872
Anneke, Mathilde Franziska (Giesler) 1817 - 1884
Arabs in Wisconsin
Armitagi, William Edmond 1830 - 1873
Armour, Philip Danforth 1832 - 1901
Army Lake (historical), Walworth Co.
Arnold, Jonathan Earle 1814 - 1869
Art Deco (architecture)
Arte Moderne (architecture)
Arts and Crafts (architecture)
Ashley, William Bliss 1811 - 1893
Atkinson, William P. 1901
Auburn, Town of, Fond du Lac Co.
Audubon Society, Wisconsin
Austrians in Wisconsin
aviation in Wisconsin
Aztalan, Jefferson Co.
Babbitt, Clinton 1831 - 1907
Babcock, Joseph Weeks 1850 - 1909
Bach, Christopher 1835 - 1927
Bacon, Edward Payson 1834 - 1916
badger [origin of name]
Bading, Gerhard Adolph 1870 - 1946
Baetz, Henry 1830 - 1910
Bailey, Col. Joseph (1826-1867)
Baird, Elizabeth Therese 1810 - 1890
Baird, Henry Samuel 1800 - 1875
Baker, Robert Hall 1839 - 1882
Bakers Corners, Dane Co.
Balatka, Hans 1826 - 1899
Bancroft, Levi Horace 1861 - 1948
Bank Riot (1861)
Banzaf, Henry Leo 1865 - 1951
Baptists in Wisconsin
Baraga, Frederic 1797 - 1868
Baran, Felix 1870 - 1942
Barbee, Lloyd A. 1925 - 2003
Barber, George 1805 - 1881
Barber, Lucius Israel 1806 - 1889
Barca, Peter W. 1955
Barczak, Gary J. 1939
Bardeen, Charles Russell 1871 - 1935
Barnes, John 1859 - 1919
Barrett, Thomas M. 1953
Barron, Michael J. 1933
Barry, Jonathan B. 1945
Barstow, William Augustus 1813 - 1865
Bartlett, John Knowlton 1816 - 1889
Barwig, Charles 1837 - 1912
Bashford, Robert Mckee 1845 - 1911
Bay View Rolling Mill (Historic Marker Erected 198
Bay View Tragedy
Bay View's Immigrants (Historic Marker Erected 199
Bayside, Milwaukee Co.
Bayside, Village of, Milwaukee Co.
Beal, Polly W. 1942
Beall, Samuel Wooton[?] 1807 - 1868
Bean, Jacob Linsley 1809 - 1855
Beaux Arts (architecture)
Beaver Dam [brief history]
Beaver Dam, Dodge Co.
Becker, Dismas 1936
Becker, Washington 1847 - 1929
beer in Wisconsin
Beggs, John Irvin 1847 - 1925
Behnke, Robert E. 1932
Belgians in Wisconsin
Bell, Jeannette 1941
Bellante, Jr., Joseph F. 1932
Bennett, Elhanen Winchester ("Chet") 1832 - 1909
Benson, Taylor
Berger, David G. 1946
Berger, Meta 1873-1944
Berger, Victor Louis [Luitpold] 1860 - 1929
Bergh, Johan Arndt 1847 - 1927
Berlin, Green Lake Co.
Best, Jacob Sr. 1786 - 1861
Best, Phillip 1814 - 1869
Big Boy (restaurant)
Bird, Augustus A. 1802 - 1870
Black Hawk War (1832)
Black, John 1827 - 1899
Blackbird, 18th-c. Ojibwe chief
Blaine, John James 1873 - 1934
Blair, Emma Helen 1851 - 1911
Blake, Thomas E. 1902 - 1994
Blatz, Valentin 1826 - 1894
Bleyer, Willard Grosvenor 1873 - 1935
Bliss, Howard Festes 1844 - 1919
Blizzard of 1881
Blue Mounds, Village of, Dane Co.
Boardman, Maj. Frederick A. (1832-1863)
Bock, Peter E. 1948
Boeppler, William 1863 - 1928
Bolens, Harry Wilbur 1864 - 1944
Bong, Richard Ira 1920 - 1945
Booth, Sherman Miller 1812 - 1904
Borden, James Benjamin 1869 - 1939
Bouck, Gabriel 1828 - 1904
Bovay, Alvan E[arl] 1818 - 1903
Boyhood Home of Jeremiah Curtin (1835-1906) (Histo
Bradley, Charles Trueworth 1818 - 1893
Bradley, Lynde 1878 - 1942
Bradley, William Henry 1838 - 1902
Brand, Sebastian 1830 - 1908
Brandel, John Christian (1842 - 1919)
Braun, Warren D. 1934
Bravo, Ellen Leslie b. March 25th, 1944
Breck, James Lloyd 1818 - 1876
Brennan, James J. 1926
brewing industry in Wisconsin
brick (architecture)
Bridge War (Milwaukee)
Brier, Warren Judson 1850 - 1928
Brigham, Jerome Ripley 1825 - 1897
Britt, Oren E. 1826 - 1901
Brockhausen, Frederick Carl Jr. 1858 - 1929
Brodhead [origin of place name]
Brodhead, Edward Hallock 1809 - 1890
Brookes, Samuel Marsden 1816 - 1892
Brookfield [brief history]
Brookfield, Town of, Waukesha Co.
Brooks, Peter Anthony 1893 - 1948
Brown Deer, Milwaukee Co.
Brown Deer, Village of, Milwaukee Co.
Brown v. Board of Education (1954)
Brown [Willis], Olympia 1835 - 1926
Brown, Beriah 1815 - 1900
Brown, James Sproat 1824 - 1878
Brown, Thurlow Weed 1819 - 1866
Brown, Timothy 1889
Browne, Edward L. 1830 - 1925
Broydrick, William B. 1948
Bruce, William George 1856 - 1949
Brule [origin of place name]
Brumder, George 1839 - 1910
Bruncken, Ernest 1865 - 1933
Buck, James Smith 1812 - 1892
Buckner, Walker Sr. 1838 - 1901
Bull, Stephen 1822 - 1913
Bultman, Glenn E. 1940
bungalow (architecture)
Bunn, Romanzo 1829 - 1909
Bunyan, Paul
Burke, Brian B. 1958
Burleson, Solomon Stevens 1833 - 1897
Burnett [origin of place name]
Burnett, Thomas Pendleton 1800 - 1846
Burnham, George 1816 - 1889
Burnham, Jonathan Levi 1818 - 1891
Burns, Timothy 1820 - 1853
Burrowes, Alexander J. 1853 - 1927
Busby, Allen J. 1900
Button, Henry Harrison 1818 - 1890
Callahan, John 1865 - 1956
Camp Harvey (Historic Marker Erected 1992)
Camp Scott
Camp, Hoel Hinman 1822 - 1909
Campbell, Henry Colin 1862 - 1923
Campbell, James 1814 - 1883
Campbell, William James 1871 - 1956
canals in Wisconsin
Cannon, Raymond Joseph 1894 - 1951
Capital, Attempted Removal of.
Capitol fire (1904)
Carey, Eben James 1889 - 1947
Carhart, John W. 1834 - 1914
Carl Sandburg Hall (Historic Marker Erected 1975)
Carpenter, Matthew Hale [B. "Carpenter","Decatur M
Carpenter, Stephen Decatur 1821 - 1906
Carpenter, Tim
Carrollville, Milwaukee Co.
Carter, William Edward 1833 - 1905
Cary, Charles Preston 1856 - 1943
Cary, John Watson 1817 - 1895
Cary, William Joseph 1865 - 1934
Cascade, Village of, Sheboygan Co.
Case, Jerome Increase 1819 - 1891
Caspar Partridge case, 1850-1855
Castleman, Alfred Lewis 1808 - 1877
Catholics in Wisconsin
Catlin, John 1803 - 1874
Ceci, Louis J. 1927
Cedarburg [brief history]
Celichowski, Bronislaus 1872 - 1951
cement industry in Wisconsin
Chamberlin, Thomas Chrowder 1843 - 1928
Chapelle, Dickey 1919 - 1965
Chapin, Aaron Lucius 1817 - 1892
Chapman, Silas 1813 - 1899
Chase, Enoch 1809 - 1892
cheesehead
Christian Science in Wisconsin
Christmas tree ship
Civil Rights Movement in Wisconsin
Civil War, Wisconsin troops
Civil War: 1st Infantry
Civil War: 9th Infantry
Civil War: 10th Infantry
Civil War: 18th Infantry
Civil War: 1st Heavy Artillery
Civil War: 24th Infantry
Civil War: 26th Infantry
Civil War: 27th Infantry
Civil War: 28th Infantry
Civil War: 35th Infantry
Civil War: 39th Infantry
Civil War: 41st Infantry
Civil War: 43rd Infantry
Civil War: 48th Infantry
Civil War: 51st Infantry
Civil War: 13th Light Artillery
Civil War: 2nd Cavalry
Civil War: 3rd Cavalry
Civil War: Battle Flags
Civil War: Camp Holton (Historic Marker Erected 1
Civil War: draft riots (1862)
Civil War: home front
Clark, Charles Benjamin 1844 - 1891
Clark-Halyard, Ardie 1896 - 1989
Classon, David Guy 1870 - 1930
Clausen, Frederick Harold 1875 - 1944
Cleary, Michael Joseph 1876 - 1947
Clemens, Harold W. 1918
Cobb, Amasa 1823 - 1905
Codding, Ichabod 1810 - 1866
Coe, Edwin Delos 1840 - 1909
Coffey, John L. 1922
Coggs, G. Spencer 1949
Coggs, Isaac N. 1920
Coggs, Marcia P. 1928
Colby, Gardner 1810 - 1879
Cole, Azel Dow 1818 - 1885
Coleman, Charles W.
Coleman, William 1878 - 1933
Coleman, William Werner 1835 - 1888
Collins, Robert A. 1924
Colman, Henry Root 1800 - 1895
Colnik, Cyril 1871 - 1958
Colon, Pedro 1968
concrete (architecture)
Connor, William Duncan 1864 - 1944
Conta, Dennis J. 1940
Cooley, Robert Lawrence 1869 - 1944
Coon, John Williams 1860 - 1934
Cooper, Henry Allen 1850 - 1931
Corliss [origin of place name]
Cothren, Montgomery Morrison 1819 - 1888
Cramer, William Edward 1817 - 1905
Crandall, George Humphrey 1869 - 1938
Crawford, Thomas James 1952
Creager, Marvin H. 1882 - 1954
Cream City
Creviere, Marie Schmitt, 1924 - 2002
Crib Disaster (Milwaukee)
Croatians in Wisconsin
Crocker, Hans 1815 - 1889
Cross, James B. 1819 - 1876
Cudahy [brief history]
Cudahy, John 1887 - 1943
Cudahy, Milwaukee Co.
Cudahy, Patrick 1849 - 1919
Cullen, David A. 1960
Cunningham, Thomas Jefferson 1852 - 1941
Curley, Robert M. 1922
Curry, John Steuart 1897 - 1946
Curtis, Alice B., 1866-1936
Cutler, Gen. Lysander (1808-1866)
Cutler, Harry Henderson 1859 - 1933
Cyrak, Mel J. 1936
Czarnezki, Joseph J. 1954
Czechs in Wisconsin
Czerwinski, Joseph C. 1944
Dafoe, Willem 1955 -
Daggett, Samuel Slater 1812 - 1868
Dahl, Theodor Halvorson 1845 - 1923
Damann, Theodore 1869 - 1946
Daniels, Edward 1828 - 1916
Daniels, Newell 1828 - 1904
Dankoler, Harry Edward 1863 - 1955
Darling, Alberta 1944
Dartford [origin of place name]
Davidson, John Nelson 1848 - 1945
Davidson, Thomas 1828 - 1895
Dawn Manor-Site of the Lost City of Newport (Histo
Dearholt, Hoyt E. 1879 - 1939
Deerfield, Village of, Dane Co.
Dekoven, James 1831 - 1879
Delafield, Town of, Waukesha Co.
Delafield, Waukesha Co.
Dellton, Sauk Co.
Dempsey, Edward Joseph 1878 - 1956
Densmore, James 1820 - 1889
Derenthal, Oderic Ignaz 1856 - 1934
Desmond, Humphrey Joseph 1858 - 1932
Dessert, Joseph 1819 - 1910
Deuster, Peter Victor 1831 - 1904
Dieterich, William Herbert 1897
Dietz, Carl [Petrius?] 1875 - 1957
Dionesopulos, Frank G. 1935
disasters in Wisconsin
Dodge, Joshua Eric 1854 - 1921
Doe, Joseph Bodwell 1855 - 1925
Doerfler, Christian 1862 - 1934
Doll, William De Berge 1897 - 1945
Domschke, Bernard ["Domschcke","Bernhard"] 1827 -
Donohue, Jerry Jr. 1885 - 1943
Dousman, Hercules Louis 1800 - 1868
Dousman, John Barrickman 1807 - 1868
Downer, Jason 1813 - 1883
Dreyfus, Lee Sherman 1926-2008
Drumlins (Historic Marker Erected 1979)
Dudgeon, Matthew Simpson 1871 - 1949
Duffey, Thomas J. 1927
Duggar, Benjamin Minge 1872 - 1956
Durward, Bernard Isaac 1817 - 1902
Dutch in Wisconsin
Eagle Diamond
Eagle, Town of, Waukesha Co.
Earles, William Henry 1852 - 1908
Earling, Albert John 1848 - 1925
East Troy Railroad (Historic Marker Erected 1973)
East Troy, Village of, Walworth Co.
East Troy, Walworth Co.
Eastern Orthodox in Wisconsin
Edgerton [origin of place name]
Edgerton, Benjamin Hyde 1811 - 1886
Edgerton, Elisha W. 1815 - 1904
Edwards, Benjamin Eugene 1845 - 1916
Edwards, Ira 1893 - 1943
Elconin, Michael H. 1953
Eldred, Anson 1820 - 1895
Elfers, Earl H. 1913
Ellsworth, Lemuel 1836 - 1898
Emery, John Quincy 1843 - 1928
Enderis, Dorothy 1880 - 1952
Engelmann, Peter 1823 - 1874
Episcopals in Wisconsin
Ernst, August Frederic 1841 - 1924
Eschweiler, Alexander Chadbourne 1865 - 1940
Eschweiler, Franz Chadbourne 1863 - 1929
Estabrook, Charles Edward 1847 - 1918
Estonians in Wisconsin
Evangelicals in Wisconsin
Evans, Curtis Alban 1879 - 1947
Evans, Evan Alfred 1876 - 1948
Everest, David Clark 1883 - 1955
Evinrude, Ole 1877 - 1934
Fairchild, Col. Cassius (1829–1868)
Fairchild, Gov. Lucius (1831-1896)
Fairchild, Jairus Cassius 1801 - 1862
Fairchild, Thomas E. 1912
Falk, Franz Lorenz 1824 - 1882
Falk, Harold Sands 1883 - 1957
Falling Waters, Battle of
Farrar, Charles Samuel 1826 - 1903
Farwell, Leonard James 1819 - 1889
Father Caspar Rehrl (Historic Marker Erected 1991)
Father Solanus Casey (1870 - 1957)
Faville, John 1847 - 1927
Feinberg, Milton
Feingold, Russell D. 1953
Felder, Emma 1927 - 2008
Ferrall, R. Michael 1936
Ferry, George Bowman 1851 - 1918
Fillmore, John Comfort 1843 - 1898
Finch, Asahel Jr. 1809 - 1883
Fink, Albert 1867 - 1950
Finney, Frederick Norton 1832 - 1916
Finns in Wisconsin
fires in Wisconsin
First African American Church Built in Wisconsin (
First Milwaukee Cargo Pier (Historic Marker Erecte
first school in Wisconsin
firsts
Fish, Irving Andrews 1881 - 1948
Fitch, Grant 1859 - 1940
Flannigan, Allen J. 1909
Flintrop, Richard A. 1945
floods in Wisconsin
Florence County [origin of place name]
Flynn, James T. 1944
Fond du Lac County [origin of place name]
forest fires in Wisconsin
Fort Koshkonong (Historic Marker Erected 1966)
Fortis, Louis G. 1947
Foster, Edward Augustus 1829 - 1902
Fox Point, Milwaukee Co.
Fox Point, Village of, Milwaukee Co.
Fox River (SE Wisconsin and NE Illinois)
Fox, Albert Charles 1878 - 1934
Frackelton, Susan, 1848 - 1932
Frank, Kurt A. 1945
Frank, Louis Frederick 1857 - 1918
Frankfurth, William 1829 - 1891
Franklin [brief history]
Franklin, Milwaukee Co.
Franklin, Town of, Milwaukee Co.
Fratney, Frederick 1815 - 1855
Freehoff, William Adolph 1889 - 1950
Freethinkers in Wisconsin
French in Wisconsin
Frey, Frank Jacob 1859 - 1937
Frick, William Keller 1850 - 1918
Friedman, Oliver Albert 1893 - 1957
Friend, Jacob Elias 1857 - 1912
Fritschel, Herman Lawrence 1869 - 1957
Fry, Rupert F. 1871 - 1935
Fuller, Oliver Clyde 1860 - 1942
Fusseder, Francis 1825 - 1888
Gaar, John 1887 - 1973
Gaenslen, Frederick Julius 1877 - 1937
Gale, Zona 1874 - 1938
Gallun, August Frederick 1834 - 1912
Gard, John 1963
Garth, Schuyler Edward 1898 - 1947
Gates, James Leslie 1850 - 1911
Geist, Walter 1894 - 1951
General Mitchell Field (Historic Marker Erected 19
Genesee, Town of, Waukesha Co.
Genzmer, Elmer L. 1903
George, Gary R. 1954
Gerlach, Chester A. 1947
German Renaissance Revival (architecture)
German-English Academy
Germans in Wisconsin
Gettelman, Adam 1847 - 1925
Geuder, William 1852 - 1903
Gibbsville, Sheboygan Co.
Gielow, Curt 1945
Gill, Thomas Henry A. 1858 - 1940
Gillespie, Ezekiel (1818-1892)
Gilson, Norman Shepard 1839 - 1914
Ginty, George Clay 1840 - 1890
Glendale, Milwaukee Co.
Glidden, Carlos 1834 - 1877
Glover, Joshua
Goetz, George Washington 1856 - 1897
Gogebic Boom (mining)
Gold Lake, Jefferson Co.
Gonski, Casimir 1869 - 1946
Goodell, Rhoda Livinia 1839 - 1880
Goodland, Walter Samuel 1862 - 1947
Goodrich, Albert Edgar 1826 - 1885
Gordon, Myron L. 1918
Goss, Benjamin Franklin 1823 - 1893
Gottlieb, Mark 1956
Governor Rusk (Historic Marker Erected 1958)
Grabner [Graebner], August Lawrence 1849 - 1904
Graham, Heather 1970 -
Grand Army Home (Historic Marker Erected 1988)
Granville, Milwaukee Co.
Granville, Town of, Milwaukee Co.
Gray, Hamilton Hunter 1827 - 1902
Great Divide (Historic Marker Erected 1979)
Greco, Angelo F. 1925
Greeks in Wisconsin
Green Bay Packers (Historic Marker Erected 1977)
Green Lake, Green Lake Co.
Green, William T. 1860 - 1911
Greendale, Milwaukee Co.
Greendale, Village of, Milwaukee Co.
Greene, Thomas Arnold 1827 - 1894
Greenfield [brief history]
Greenfield, Milwaukee Co.
Greenfield, Milwaukee Co. [origin of place name]
Greenfield, Town of, Milwaukee Co.
Greenfield: The Last Town in Milwaukee County (His
Gregory, Horace 1898 - 1982
Gregory, John Goadby 1856 - 1947
Greulich, August 1813 - 1893
Griffin, Michael 1842 - 1899
Grobschmidt, Richard A. 1948
Groppi, Father James, 1930-1985
Grothman, Glenn 1955
Grottkau, Paul 1846 - 1898
Guenther, Richard William 1845 - 1913
Gugler Lithographic Company
Gundrum, Mark 1970
Gunther, Theodore (1826 0 1885)
Haan, William George 1863 - 1924
Haas, Francis Joseph 1889 - 1953
Hadley, Jackson 1815 - 1867
Hagerman, James John 1838 - 1909
Hahn, Eugene 1929
Haight, Theron Wilber 1840 - 1913
Hales Corners, Milwaukee Co.
Hales Corners, Village of, Milwaukee Co.
Hall, Deirdre 1947 -
Hallows, E. Harold 1904
Hambrecht, George Philip 1871 - 1943
Hamilton, Gen. Charles Smith (1822-1891)
Hamilton, James Edward 1852 - 1940
Handley, John Joseph 1876 - 1941
Hanley, Leo B. 1908
Hanna, Daniel D. 1923
Hannan, John Joseph 1866 - 1946
Hansen, Robert W. 1911
Harnack, Mildred Fish 1902-1943
Harnischfeger, Henry 1855 - 1930
Harrington, Timothy Louis 1866 - 1947
Harris, Charles Kassell 1865 - 1930
Hartford [brief history]
Hartland, Village of, Waukesha Co.
Hartland, Waukesha Co.
Harvey, Cordelia (1824–1895)
Harvey, Cordelia (Historic Marker Erected 1991)
Harvey, Lorenzo Dow 1848 - 1922
Harwood, Frank James 1855 - 1940
Haskins, Charles H. 1830 - 1910
Hatlestad, Oil Jensen 1823 - 1892
Hatton, William H. 1856 - 1937
Hayes, William Arthur 1866 - 1942
Hazelton, Gerry Whiting 1829 - 1920
Heath, Frederick Faries 1864 - 1954
Heil, Julius Peter 1876 - 1949
Heileman, Gottlieb 1824 - 1878
Heine, Freidrich Wilhelm 1845 - 1921
Heiss, Michael 1818 - 1890
Held, James E. 1938
Hempsted, Henry N. 1830 - 1898
Hendee, Kirby 1923
Hengell, Henry Charles 1877 - 1937
Henni, John Martin 1805 - 1881
Henry, Marguerite 1902 - 1997
Hicks, Emmett Reuben 1854 - 1925
Hiles, George 1825 - 1896
Hill, Horatio 1815 - 1867
Hill, Warren Brown 1861 - 1934
Hinkfuss, Rosemary T. 1931
Hinkley, George Madison 1832 - 1905
Hispanic Americans in Wisconsin
Historic Oosterburg (Historic Marker Erected 1997)
Hmong
Hoan, Daniel W., 1881-1961.
Hoard, Halbert Louis 1861 - 1933
Hobart, Col. Harrison C. (1815-1902)
Holt, William Arthur 1865 - 1953
Holton, Edward Dwight 1815 - 1892
Holzhuber, Franz, 1826 - 1898
Honadel, Mark R. 1956
Horlick, William 1846 - 1936
Horn, Frederick William 1815 - 1893
Horton, Alonzo E. 1813 - 1909
Hotchkiss, William Otis 1878 - 1954
Houdini, Harry 1874 - 1926
Hoven, Timothy T. 1963
Howe, Timothy Otis 1816 - 1883
Hoyme, Gjermund 1847 - 1902
Hoyt, John Wesley 1831 - 1912
Hubbell, Levi 1808 - 1876
Huber, Henry Allen 1869 - 1933
Hudd, Thomas Richard 1835 - 1896
Hudnall, George B[Rinton?] Mcclellan 1864 - 1936
Huebsch, Michael D. 1964
Huebschmann, Franz 1817 - 1880
Hulst, Nelson Powell 1842 - 1923
Hundertmark, Jean L. 1954
Hungarians in Wisconsin
Hunter, Jeffrey 1926 - 1969
Hustisford, Dodge Co.
Hustisford, Village of, Dodge Co.
Hyer, George 1819 - 1872
ice harvesting industry in wisconsin
Icelanders in Wisconsin
Ilsley, Charles Ferdinand 1827 - 1904
Industrial School for Girls
International Style (architecture)
Interurban Bridge (Historic Marker Erected 1997)
Invention of the Typewriter (Historic Marker Erect
Irish in Wisconsin
Iron Ridge, Dodge Co.
Iron Ridge, Village of, Dodge Co.
Italians in Wisconsin
Iverson, Andreas Michael 1823 - 1907
Jackson, Jr., Robert L. 1936
Jackson, Mortimer Melville 1809 - 1889
Jacobs, Herbert Henry 1864 - 1948
Jacobs, William Henry 1831 - 1882
James, Ada Lois 1876 - 1952
Janesville, Rock Co.
Janssen, Edward H. 1815 - 1877
Jarreau, Al 1940 -
Jeffery, Thomas B. 1845 - 1910
Jenkins, James Graham 1834 - 1921
Jenkins, John James 1843 - 1911
Jennings [origin of place name]
Jens, Salome 1935 -
Jesuits
Jewett, Milo Parker 1808 - 1882
Jews in Wisconsin
Johnson, Burdette Jay 1826 - 1902
Johnson, Daniel Harris 1825 - 1900
Johnson, Samuel Curtis 1833 - 1919
Johnson, Warren S. 1847 - 1911
Johnson, William A. 1922
Johnston, Kirsten 1967 -
Johnston, Robert Alexander 1846 - 1907
Johnston, Rod
Johnstown Center, Rock Co.
Jonas, Charles 1840 - 1896
Jones, James Monroe 1824 - 1898
Jones, William Arthur 1844 - 1912
Judd, Truman H. 1817 - 1884
Juneau County [origin of place name]
Juneau [origin of place name]
Juneau, Solomon 1793 - 1856
Jung, Phillip 1845 - 1911
Junkermann, Otto C.
Kaczmarek, Jane
Kander, Lizzie Black, 1858-1940
Kasten Jr., Robert W. 1942
Katzer, Frederick Xavier 1844 - 1903
Kaun, Hugo Wilhelm Ludwig 1863 - 1932
Keegan, Jr., Earl 1921
Keep, Albert 1826 - 1907
Kellogg, Amherst Willoughby 1829 - 1923
Kellogg, Louise Phelps 1862 - 1942
Kelly, Patrick 1792 - 1858
Kelly, Patrick H. 1890
Kempster, Walter 1841 - 1918
Kendziorski, Casimir 1898
Kennan, Kossuth Kent (1852-1933)
Kennan, Thomas Lathrop 1827 - 1920
Kenosha County [origin of place name]
Kenosha [brief history]
Kenosha, Kenosha Co.
Kerwin, James Charles 1850 - 1921
Kessler, Frederick P. 1940
Kickbush, August 1828 - 1901
Kieckhefer, Ferdinand August William 1852 - 1919
Kilbourn [origin of place name]
Kilbourn, Byron 1801 - 1870
Kilbourntown (Historic Marker Erected 1998)
Kilbourntown (Historic Marker Erected 1998)
Kimberly, John Alfred 1838 - 1928
King, Charles 1844 - 1933
King, Gen. Rufus (1814-1876)
Kinnikinnic, Town of, Milwaukee Co.
Kirby, Michael G. 1952
Kleczka, Gerald D. 1943
Kleczka, Jerry 1943
Klicka, George H. 1934
Klug, Scott L. 1953
Kneeland, James 1816 - 1899
Kneeland, Moses 1809 - 1864
Knights of St. Crispin
Knowlton, James H. 1813 - 1879
Koenig, Joseph 1858 - 1929
Koeppen, George 1833 - 1897
Kohl, Herbert H. 1935
Kohler, Ruth Miriam [De Young] 1906 - 1953
Kordus, Robert P. 1939
Koss, Rudolph Alexander 1823 - 1894
Krautbauer, Francis Xavier 1824 - 1885
Kreiter Piano Company
Kremers, Edward 1865 - 1941
Krez, Conrad 1828 - 1897
Kronshage, Theodore Jr. 1869 - 1934
Krosnicki, Kathleen A. 1950
Krug, Shirley 1958
Krumrey, Henry 1852 - 1922
Krusick, Peggy 1956
Kruszka, Michael 1860 - 1918
Kryszak, Mary [Olszewski] 1876 - 1945
Ku Klux Klan in Wisconsin
Kumlien, Thure Ludwig Theodore 1819 - 1888
Kundig, Martin 1805 - 1879
Kunicki, Walter J. 1958
Kurz, Henry 1826 - 1906
La Crosse, La Crosse Co.
La Fave, John 1949
La Grange, Col. Oscar H. (1837-1915)
labor movement in Wisconsin
Ladwig, Bonnie L. 1939
Lady Elgin (shipwreck, 1860)
Lake, Town of, Milwaukee Co.
Lalumiere, Stanislaus Petty 1822 - 1895
Lamb, Eugene M. 1910
Lamoreux, Silas Wright 1843 - 1909
Lampert, Florian 1863 - 1930
Lancaster [brief history]
land office
Lapham, Increase Allen 1811 - 1875
Larsen, Marty 1905
Lathan, Raymond Lee 1915
Latvians in Wisconsin
Laubenheimer, Jacob George 1874 - 1936
Laun, Jr., Alfred A. 1905
Lawler, John 1832 - 1891
Lawson, Alfred W. (1869 - 1954)
Lawton, Barbara 1951
Layton, Frederick 1827 - 1919
Lazich, Mary A. 1952
Leach, Eugene Walter 1857 - 1938
Lean, John S. 1851 - 1948
Lee, Mordecai 1948
Legler, Henry Eduard 1861 - 1917
Leidersdorf, Bernhard 1837 - 1912
Lemahieu, Daniel R. 1946
Leonard, Jerris 1931
Leopold, Stephen R. 1944
Lepak, David J. 1959
Lesbian, Gay, Bisexual and Transgender (LGBT) Righ
Lester, Charles Stanley 1846 - 1913
Levalley, Christopher Warren 1833 - 1918
Levitan, Solomon 1862 - 1940
Lewis, Gov. James Taylor (1819-1904)
Lewis, James R. 1936
Lien, Edgar E. 1936
Lincoln, Abraham (in Wisconsin)
Lindsay, Edmond James 1838 - 1924
Lingren, Ronald H. 1935
Linton, Ralph 1893 - 1953
Lipscomb, Jr., Mark G. 1935
Liquor Riot (1850)
Lisbon, Town of, Waukesha Co.
Lithuanians in Wisconsin
Lochner, John Frederick Carl 1822 - 1902
Lorenz, Richard 1858 - 1915
Lotz, Oscar 1880 - 1953
Louis, Theodore 1829 - 1907
Love, William De Loss 1819 - 1898
Ludington, Harrison 1812 - 1891
Ludington, Nelson 1818 - 1883
Luebke, William 1906
Luedke, Herman August 1850 - 1917
Lummpkin, Hope Henry 1882 - 1932
Luning, Frederick August 1811 - 1861
Lunt, Alfred 1893 - 1977
Lutherans in Wisconsin
Luxembourgers in Wisconsin
Lynch, Richard J. 1921
Lynch, Thomas 1844 - 1898
Lynde, William Pitt 1817 - 1885
Lynn, James J. 1916
Lyon, William Penn 1822 - 1913
Macalister, James 1840 - 1913
Macarthur Square (Historic Marker Erected 1979)
Macfayden, Alexander 1879 - 1936
Macquarrie, Gordon 1900 - 1956
Magoon, Henry Sterling 1832 - 1889
Maier, Henry W. 1918
Manders, Adrian J. 1912
Manders, Verna M. 1920
Manel, Francis 1864 - 1928
Manitowoc [brief history]
Manitowoc, Manitowoc Co.
Manville, Charles Brayton 1834 - 1927
Mapes, David Parshall 1798 - 1890
Marcklein, Bernhard Gustav 1848 - 1915
Marinette [brief history]
Marks, Solon 1827 - 1914
Marr, Carl Von 1858 - 1936
Marsh, Cutting 1800 - 1873
Marshall, Samuel 1820 - 1907
Martin, Deborah Beaumont 1858 - 1931
Martin, James Baynard 1814 - 1878
Martin, John E. 1891
Martin, Morgan Lewis 1805 - 1887
Mass transportation in Wisconsin
Maxfield, John B. (1818-1906)
Maxon, Densmore William 1820 - 1887
Mazomanie (Historic Marker Erected 1996)
Mazomanie [origin of place name]
Mcarthur, Arthur 1815 - 1896
McArthur, Gen. Arthur (1845-1912)
Mccann, James A. 1924
Mccormick, John E. 1924
Mccormick, Robert Laird 1847 - 1911
Mccoy, Robert Bruce 1867 - 1926
McCracken, Guy (ca. 1861 - 1931)
Mccreery, Maud [Leonard] 1883 - 1938
Mcdill, John Rich 1860 - 1934
Mcglachlin, Edward 1840 - 1931
Mcgovern, Francis Edward 1866 - 1946
Mcgregor, Duncan 1836 - 1921
Mclenegan, Charles Edward 1858 - 1920
McMynn, John Gibson 1824 - 1900
Mcparland, Leland S. 1896
Meadowmere (Historic Marker Erected 1955)
Mears, Helen Farnsworth 1872 - 1916
meat packing industry
Meaux, Thomas W. 1954
Meeuwsen, Terry Anne (born 1949)
Meir, Golda (1898-1978) (Historic Marker Erected 1
Meir, Golda, l898-1978.
Melms, Edmund [Ludwig Robert Paul) Theodore 1874 -
Menominee Treaty of 1831
Menomonee Falls, Menomonee River
Menomonee, Town of, Waukesha Co.
Menos, Gus G. 1920
Mentor, Town of, Milwaukee Co.
Mequon River
Mequon [brief history]
Merkt, John L. 1946
Merrill Park (Historic Marker Erected 1997)
Merrill [brief history]
Merrill [origin of place name]
Merrill, Sherburn Sanborn 1818 - 1885
Merriman, William Edward 1825 - 1892
Mertz, Edward F. 1890
Merz, Louis L. 1908
Messmer, Sebastian Gebhard 1847 - 1930
Mexicans in Wisconsin
military road
Miller, Andrew Galbraith 1801 - 1874
Miller, Frederick 1824 - 1888
Miller, Frederick Charles 1906 - 1954
Miller, George Peckham 1858 - 1931
Miller, Lucas Mitiades 1824 - 1902
Miller, Roswell 1843 - 1913
Miller, Wesson Gage 1822 - 1893
Mills Law
Milton, Rock Co.
Milwaukee & Horicon Railroad
Milwaukee & Missississippi Railroad
Milwaukee & Watertown Railroad
Milwaukee 14
Milwaukee and Rock River Canal
Milwaukee Braves
Milwaukee Brewers
Milwaukee Bucks
Milwaukee County
Milwaukee County [origin of place name]
Milwaukee County's First Airport (Historic Marker
Milwaukee Downer College (Historic Marker Erected
Milwaukee German Turners (Civil War)
Milwaukee Handicraft Project
Milwaukee Interurban Terminal (Historic Marker Ere
Milwaukee Light Guard (Civil War)
Milwaukee Regiment (Civil War)
Milwaukee Riflemen (Civil War)
Milwaukee Union Rifles (Civil War)
Milwaukee United School Integration Committee (MUS
Milwaukee Zouaves (Civil War)
Milwaukee [brief history]
Milwaukee [origin of place name]
Milwaukee, Town of, Milwaukee Co.
Milwaukee-Downer College
Minahan, Robert Emmet 1858 - 1935
Minandeau, Jean Baptiste
Mineral Point, Iowa Co.
Minor, Edward Sloman 1840 - 1924
Mitchell, Alexander 1817 - 1887
Mitchell, John Lendrum 1842 - 1904
Mitchell, William, 1879 - 1936
Mix, Edward Townsend 1831 - 1890
Moeller, Gustave 1881 - 1931
Mogilka, David R. 1915
Monona [brief history]
Moody, Jim 1935
Moore, Gwendolynne S. 1951
Moravians in Wisconsin
Morehouse, Frederic Cook 1868 - 1932
Morris, Johnnie Elaine 1951
Mortimer, Mary 1816 - 1877
Moser, William R. 1927
Moyer, Raymond J. 1926
Mueller, Alexander 1872 - 1935
Mueller, Ervin 1904
Mueller, John Gottlieb 1813 - 1893
Mukwonago, Town of, Waukesha Co.
Mukwonago, Village of, Waukesha Co.
Mukwonago, Waukesha Co.
Munh, Emanuel 1806 - 1899
Murray, Eldon 1930 - 2007
Muskego [brief history]
Muskego, Town of, Waukesha Co.
Myhra, Norman L. 1925
Myrick, Harry Pierce 1857 - 1916
Nash, Charles Dennis 1819 - 1897
Nash, Charles W. 1864 - 1948
National Soldiers' Home (Historic Marker Erected 1
National Soldiers' Home (Milwaukee)
Nekimi, Town of, Winnebago Co.
Nelson, Adolphys Peter 1872 - 1927
Nemahbin, Town of, Milwaukee Co.
Neshkoro, Marquette Co.
Neshkoro, Village of, Marquette Co.
Neshonoc [origin of place name]
Neville, Arthur Courtenay 1850 - 1929
New Berlin, Town of, Waukesha Co.
New Richmond tornado (1899)
Newark, Town of, Washington Co.
Newburg, Village of, Washington Co.
Newburg, Washington Co.
Newhall House fire (1883)
Newhall, Daniel 1821 - 1895
Newton Corners, Jefferson Co.
Nicholson, Isaac Lea 1884 - 1906
Niebler, John H. 1941
Nieman, Lucius William 1857 - 1935
Nischke, Ann 1951
Nohl, Mary Louise 1914 - 2001
Noonan, Josiah A. 1813 - 1882
Nordberg, Bruno Victor 1858 - 1924
Norquist, John O. 1949
Notestein, Barbara 1949
Nowakowski, Richard C. 1933
Noyes, George Henry 1849 - 1916
O'Connor, James L. 1859 - 1931
Oak Creek [brief history]
Oak Creek, Milwaukee Co.
Oak Creek, Town of, Milwaukee Co.
Oakwood, Milwaukee Co.
Oconomowoc [brief history]
Oconomowoc, Town of, Waukesha Co.
Oconomowoc, Waukesha Co.
Odell, Emery Alvin 1871 - 1953
Oelhafen, John 1836 - 1923
Ohl, Henry Jr. 1873 - 1940
Old North Point Water Tower (Historic Marker Erect
Oneida Street Station, T.M.E.R. and L. Co. (Histor
Orlich, Sam L. 1939
Orton, Harlow South 1817 - 1895
Otjen, Theobald 1851 - 1924
Ottawa, Town of, Waukesha Co.
Owens, Richard Griffith 1811 - 1882
Pabst Theater (Historic Marker Erected 1992)
Pabst, Frederick 1836 - 1904
Pabst, Frederick, Captain (1836-1904) (Historic Ma
Pabst, Gustave G. 1866 - 1943
Pabst, Richard E. 1933
Padway, Joseph Arthur 1891 - 1947
Paeschke, Charles August 1857 - 1935
Paine, Byron 1827 - 1871
Paine, Col. Halbert E. (1826-1905)
Paine, Edward Lathrop 1801 - 1893
Palmer, Henry L. 1819 - 1909
Palmyra, Jefferson Co.
Palmyra, Village of, Jefferson Co.
paper industry in Wisconsin
Pardeeville [origin of place name]
Parkman Club
Parys, Ronald G. 1938
Patton, James Edward 1832 - 1904
Patzer, Conrad E. 1862 - 1932
Paul, George Howard 1826 - 1890
Payne, Henry Clay 1843 - 1904
Peck, George Wilbur 1840 - 1916
Peck, Roseline [Willard] [Mrs. Eben Peck) 1808 - 1
Peckham, Elizabeth Maria Gifford 1854 - 1940
Peckham, Elizabeth ["Lila"] 1843 - 1871
Peckham, George Williams 1845 - 1914
Pelecky, Stan T. 1934
Pellant, Howard F. 1911
Pennings, Bernard Henry 1861 - 1955
Peter, George 1859 - 1950
Pewaukee [brief history]
Pewaukee, Town of, Waukesha Co.
Pewaukee, Village of, Waukesha Co.
Pewaukee, Waukesha Co.
Pfister, Charles [Frederick] 1859 - 1927
Pfister, Guido 1818 - 1889
Philipp, Emanuel Lorenz 1861 - 1925
Phillips, Vel 1924
Pier, Kate [Hamilton] 1845 - 1925
Pierce, Solon Wesley 1831 - 1903
Pious, Lois 1938
Pishtaka River, Racine Co. [origin of place name]
Plale, Jeffrey T. 1968
plank road
Plankinton, John 1820 - 1891
plants, native
Plewa, John R. 1945
Plombon, David 1961
Poles in Wisconsin
Pomeroy, Marcus Mills ["Brick"] 1833 - 1896
Pommerening, Glen E. 1927
Port Washington [brief history]
Port Washington, Ozaukee Co.
Potter, John Fox 1817 - 1899
Potter, Rosemary 1952
pottery and earthenware industry in Wisconsin
Pound, Thaddeus Coleman 1833 - 1914
Powell, David Franklin ["White Beaver"] 1847 - 190
Prairie Village, Town of, Milwaukee Co.
Prairieville
Prairieville, Town of, Waukesha Co.
Preus, Adolph Carl 1814 - 1878
Preus, Herman Amberg 1825 - 1894
prisons in Wisconsin
Pritzlaff, Fred C. 1861 - 1931
Pritzlaff, John 1820 - 1900
Prospect, Waukesha Co.
Prosser, Jr., David T. 1942
Protheroe, Daniel 1866 - 1934
Proxmire, William 1915-
Puelicher, John Huegin 1869 - 1935
Puerto Ricans in Wisconsin
Putnam, Henry Cleveland 1832 - 1912
Quarles, Joseph Very 1843 - 1911
Quarlls (Quarrels, Quarles), Caroline, (ca. 1824 -
Quick, William F. 1909
Quiner, Edwin Bryant (1816-1868)
Quiner, Emily (or Emelie) 1839 - 1919
Quinney, John W. 1797 - 1855
Racine County [origin of place name]
Racine [brief history]
Racine, Racine Co.
Radcliffe, Margaret Porter
Radtke, Randall J. 1951
railroad disasters in Wisconsin
railroads in Wisconsin
Raimey, Mabel Wanda (1895-1986) (Historic Marker E
Randall, Gov. Alexander W. (1819-1872)
Raskin, Ellen 1928 - 1984
Read, Sister Joel (Janice) 1926 -
Recall Elections (in Wisconsin)
Reed, Curtis 1815 - 1895
Reed, George 1807 - 1883
Reed, Harrison 1813 - 1899
Reedsville [origin of place name]
Rehnquist, William H., 1924-2005
Reich, Frank Albert 1884 - 1946
Reinsch, Paul Samuel 1869 - 1923
Reuss, Henry S. 1912-2002
Reymert, James De Noon 1821 - 1896
Reynolds, Edwin 1831 - 1909
Reynolds, Tom 1956
Rhinelander [origin of place name]
Rhode, Paul Peter 1871 - 1945
Richards, Jon 1963
Richardsonian Romanesque revival (architecture)
Riding the Interurban (Historic Marker Erected 199
Rietbrock [origin of place name]
Riley, Antonio R. 1963
Rincker, Leroy Carl 1896 - 1953
River Hills, Milwaukee Co.
River Hills, Village of, Milwaukee Co.
roads in Wisconsin (early)
Rochester, Village of, Racine Co.
Rock County [origin of place name]
Romanesque revival (architecture)
Roosevelt, Theodore (assassination attempt)
Root River, Racine Co. [origin of place name]
Rose, David Stuart 1856 - 1932
Rosenzweig, Peggy A. 1936
Ross, William 1888 - 1951
Rouse Simmons (ship)
Rubin, Ben 1887 - 1942
Rublee, Horace 1829 - 1896
Rueping [Ruping], William ["Heinrich","Wilhelm"] 1
Rusk County [origin of place name]
Rusk, Gov. Jeremiah M. (1830-1893)
Russians in Wisconsin
Rutkowski, James A. 1942
Ryan, Edward George 1810 - 1880
Ryan, Mark W. 1924
Ryczek, Ervin John 1909
Sabin, Ellen Clara 1850 - 1949
Saint Francis [brief history]
Saint Francis, Milwaukee Co.
Saint John's Infirmary (Historic Marker Erected 19
Saint Martins, Milwaukee Co.
Salomon, Gen. Frederick (1826-1897)
Salomon, Gov. Edward (1828-1909)
Salzmann, Joseph 1819 - 1874
Sampson, William Harkness 1808 - 1892
Sanasarian, Harout O. 1944
Sauerhering, Edward 1864 - 1924
Schaeffer, Jr., Frank E. 1905
Schandein, Emil 1840 - 1888
Schaus, Thomas M. 1937
Schilling, Robert 1843 - 1922
Schinner, Augustine Francis 1863 - 1937
Schleisingerville, Washington Co. [origin of place
Schlesinger, Ferdinand 1851 - 1921
Schlitz, Joseph 1831 - 1875
Schmedeman, Albert George 1864 - 1946
Schmidt, Charles J. 1907
Schmidt, Robert 1913
Schneeberg, Ervin F. 1919
Schneider, Joseph 1845 - 1927
Schoeffler, Moritz 1813 - 1875
Schowalter, Herbert J. 1927
Schreiber, Martin J. 1939
Schuele, Wilfred 1906
Schwebach, James 1847 - 1921
Scofield, Edward 1842 - 1925
Scots in Wisconsin
Scott, Almere L. 1877 - 1946
Seaman, Gilbert Edmund 1869 - 1941
Second Empire (architecture)
Seery, Thomas 1945
Seide, Herman Otto 1886 - 1943
Seidel, Emil 1864 - 1947
Sensenbrenner Jr., F. James 1943
Sensenbrenner, Frank Jacob 1864 - 1952
Serbians in Wisconsin
Severance, Juliet H. 1833 - 1919
Shabaz, John C. 1931
Shannon, Susan Jane 1952
Sheboygan Falls, Sheboygan Co.
Sheboygan [brief history]
Sheboygan, Sheboygan Co.
Sheehan, James Patrick 1866 - 1936
Shepard, Eugene S. 1854 - 1923
Sherman, Benjamin Franklin 1836 - 1915
Sherry, Laura [Case] 1873 - 1947
shipbuilding in Wisconsin
Shipman, Stephen Vaughn 1825 - 1905
shipwrecks in Wisconsin
Sholes, Charles Clark 1816 - 1867
Sholes, Christopher Latham 1819 - 1890
Shorewood Armory (Historic Marker Erected 1998)
Shorewood High School (Historic Marker Erected 199
Shorewood Village Hall (Historic Marker Erected 19
Shorewood, Milwaukee Co.
Shorewood, Village of, Milwaukee Co.
Sicula, Paul E. 1939
Sinicki, Christine 1960
Sinking of the Lady Elgin (Historic Marker Erected
Sioux Uprising (1862)
Sloan, Andrew Scott 1820 - 1895
Sloan, Ithamar Conkey 1822 - 1898
Slovaks in Wisconsin
Slovenians in Wisconsin
Smith, "Red" (Walter W.) 1905 - 1982
Smith, Abram Daniel 1811 - 1865
Smith, Arthur Oliver 1859 - 1913
Smith, Augustus Ledyard 1833 - 1902
Smith, Dena A. 1899
Smith, Erastus Gilbert 1855 - 1937
Smith, Henry Jr. 1838 - 1916
Smith, Warren Robert 1889 - 1957
Smith, William E. 1824 - 1883
Smith, Winfield 1827 - 1899
Sobocinski, Sherman R. 1927
socialism in Milwaukee
Soik, Nile W. 1923
Sokolowski, George 1917
Solie, Denise L. 1954
Somers, Peter J. 1850 - 1924
Soucie, Kevin 1954
South Milwaukee, Milwaukee Co.
Sowinski, Sylvester J. 1923 - 1986
Spahn, Warren Edward 1921 - 2003
Spooner, John Coit 1843 - 1919
Spring Street (Milwaukee) [origin of place name]
St. Cosme, Fr. Jean François Buisson de, dates unv
Stafford, William Henry 1869 - 1957
Starkweather, John Converse 1830 - 1890
Starr, Elisha 1806 - 1893
Staskunas, Anthony J. 1961
Stearns, John William 1839 - 1909
Stearns, Lutie Eugenia 1866 - 1943
Steinmetz, Donald W. 1924
Stephenson, Isaac 1829 - 1918
Stevens, Brooks 1911-1995
Stitt, Donald K. 1944
Stoddard, Thomas Benton 1800 - 1876
Stone, Jeff 1961
Stone, Jesse 1836 - 1902
Stone, John Nelson 1835 - 1919
Stoughton, Dane Co.
Stout, James Huff 1848 - 1910
Stow, Alexander Wolcott 1805 - 1854
Stowell, John Maxwell 1824 - 1907
Strohl, Joseph A. 1946
Strong, Moses Mccure 1810 - 1894
Sturdevant, Lafayette Monroe 1856 - 1923
Summerville, Rock Co.
Summit, Town of, Waukesha Co.
Sumner, Daniel Hadley 1837 - 1903
Sun Prairie [origin of place name]
Sussex, Village of, Waukesha Co.
Sussex, Waukesha Co.
Sussman, Norman 1905
Swan, Monroe 1937
Sweet, Alanson 1804 - 1891
Swiss in Wisconsin
Swoboda, Lary J. 1939
Sykes, Diane S. 1957
Tadych, Albert R. 1932
Tallmadge, Nathaniel Pitcher 1795 - 1864
Talsky, George J. 1899
Tamms, Erwin G. 1931
Tank, Nils Otto 1800 - 1864
Tanner, Herbert Battles 1859 - 1933
tanning and leather processing
Taylor, Lena C. 1966
Te Winkle, William P. 1954
Tehan, Robert, 1905-1975.
temperance movement in Wisconsin
Tesmer, Louise M.
Thayer, Jesse B. 1845 - 1910
The Cobban Bridge (Historic Marker erected 1986)
The Homme Homes (Historic Marker Erected 1973)
The Medal of Honor (Historic Marker Erected 1990)
The Saukville Trails (Historic Marker Erected 1998
The Solomon Juneau House (Historic Marker Erected
The University of Wisconsin-Milwaukee (Historic Ma
theaters in Wisconsin
Theresa [origin of place name]
Theresa, Dodge Co.
Theresa, Village of, Dodge Co.
Third Ward fire (Milwaukee, 1892)
Third Ward Fire: 1892 (Historic Marker Erected 199
Thomson, Alexander Mcdonald 1822 - 1898
timeline of Wisconsin history, 1622-1699
timeline of Wisconsin history, 1700-1749
timeline of Wisconsin history, 1750-1783
timeline of Wisconsin history, 1784-1835
timeline of Wisconsin history, 1836-1899
timeline of Wisconsin history, 1900 -1999
Timlin, William Henry 1852 - 1916
Timmerman, Lawrence W. 1910
Titanic (Wisconsin passengers)
Tittemore, James Nelson 1864 - 1949
Tobiasz, Raymond J. 1916
Towns, Debi 1956
trade unions in Wisconsin
Travis, David M. 1948
Tropman, Peter J. 1944
Tuczynski, Phillip James 1947
Turner, Andrew Jackson 1832 - 1905
Tweedy, John Hubbard 1814 - 1891
typewriter
Uihlein, August 1842 - 1911
Ulichny, Barbara L. 1947
underground railroad in Wisconsin
unions in Wisconsin
Unitarians in Wisconsin
Universalists in Wisconsin
university lands
Upham, Don Alonzo Joshua 1809 - 1877
Urban, Frank H. 1930
Usher, Ellis Baker 1852 - 1931
Utopians in Wisconsin
Valentine, Richard 1847 - 1925
Van Dyke, John Henry 1823 - 1909
Van Kooy, Cornelia 1885 - 1945
Van Schaick, Isaac W. 1817 - 1901
Van Sistine, Jerome 1926
Vandewalker, Nina Catherine 1857 - 1934
Vang, Chia Y. b. 1971
Veblen, Thorstein 1857-1929
Vergeront, Susan B. 1945
Vernon, Town of, Waukesha Co.
Vieau, Jacques 1757 - 1852
Vilas, Joseph, Jr. 1832 - 1905
Vilas, William Freeman 1840 - 1908
Village of Neshonoc (Historic Marker Erected 1997)
Vogel, Frederick 1823 - 1892
Voigt, Edward 1873 - 1934
Vollrath, Jacob J. 1824 - 1898
Von Cotzhausen, Frederick William 1838 - 1924
Vukmir, Leah 1958
Wahner, James W. 1939
Walker, George H. 1811 - 1866
Walker, Isaac Pigeon 1813 - 1872
Walker, Scott K. 1967
Wallber, Emil 1841 - 1923
Ward, Jr., Walter L. 1943
Warren, Town of, Waukesha Co.
Washington County [origin of place name]
Wasserman, Sheldon A. 1961
Waterford, Village of, Racine Co.
Watertown Plank Road (Historic Marker Erected 1955
Watertown [brief history]
Watertown, Jefferson Co.
Watrous, Jerome Anthony 1840 - 1922
Watson, George Earl 1897
Wau [origin of place name]
Waukesha County [origin of place name]
Waukesha [brief history]
Waukesha, Waukesha Co.
Wauwatosa [brief history]
Wauwatosa, Milwaukee Co.
Wauwatosa, Town of, Milwaukee Co.
Webb, William Walter 1857 - 1933
Weber, Frank J. 1849 - 1943
Welch, Robert T. 1958
Welles, Edward Randolph 1830 - 1888
Wells, Daniel Jr. 1808 - 1902
Wells, Horatio Nelson 1808 - 1858
Werra, Conrad 1868 - 1939
Werwath, Oscar 1880 - 1948
West Allis [brief history]
West Allis, Milwaukee Co.
West Bend [brief history]
West Bend [origin of place name]
West Bend, Washington Co.
West Granville, Milwaukee Co.
West Milwaukee, Milwaukee Co.
West Milwaukee, Village of, Milwaukee Co.
West, Edward 1818 - 1903
West, George Arbor 1859 - 1938
Wheeler, Leonard Hemenway 1811 - 1872
White, Philo 1796 - 1883
White, William Monroe 1871 - 1949
Whitefish Bay, Milwaukee Co.
Whitefish Bay, Village of, Milwaukee Co.
Whitehead, John Meek 1852 - 1924
Whitewater [brief history]
Whitewater, Walworth Co.
Whitford, William Clarke 1828 - 1902
Whittet, Lawrence Clarke 1871 - 1954
Whittow, Wayne F. 1933
Wickhem, John Dunne 1888 - 1949
Wight, William Ward 1849 - 1931
Wilcox, Ella Wheeler 1850 - 1919
Wilkie, Harold Mclean 1890 - 1950
Williams, Annette P. 1937
Williams, Charles Grandison 1829 - 1892
Wilson, Alexander 1833 - 1888
Wing, Jerry J. 1923
Winslow, John Bradley 1851 - 1920
Wisconsin (oldest cities and towns)
Wisconsin Chair Co.
Wisconsin Dance Bands
Wisconsin state fair
Wisconsin State Fair Park (Historic Marker Erected
Wisconsin State Federation of Labor
Wisconsin's German Settlers (Historic Marker Erect
Wisconsin's Lime Industry (Historic Marker Erected
Wisconsin's Oldest Newspaper: The Milwaukee Sentin
Wolcott, Erastus B., M.D. (1804-1880) (Historic M
Wolcott, Erastus Bradley 1804 - 1880
Wolcott, Laura [Ross] 1834 - 1915
Wolf, William Henry 1828 - 1901
Wolter, Joseph 1857 - 1929
Woods, Mattiebelle 1902 - 2005
WPA (in Wisconsin)
Wright, Albert Orville 1842 - 1905
Yankees in Wisconsin
York, Stanley 1931
Youmans, Henry Mott 1851 - 1931
Young, Leon D. 1967
Zablocki, Clement J. 1912
Zaborski, Richard J. 1927
Zamarripa, JoCasta b. 1976
Zeidler, Carl Frederick (1908-1942) (Historic Mark
Zeidler, Carl Frederick 1908 - 1942
Zeidler, Frank 1912 - 2006
Zepnick, Josh 1968
Ziegelbauer, Bob 1951
Zimmerman, Fred R. 1880 - 1954