Dictionary Home | Advanced Search | About the Dictionary | Abbreviations | Turning Points | Suggestions?
Dictionary of Wisconsin History
Search Results for: the letter 'B', Term Type: 'People'
Term: Baird, Elizabeth Therese 1810 - 1890
Definition: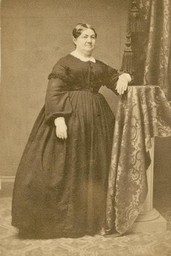 Elizabeth Baird, 1879 (WHi-5210)
b. Prairie du Chien, settled with her mother in Mackinac in 1812. After marrying Henry S. Baird in 1824, she acted as an interpreter for his French clientele and, because of her wide knowledge of the area and its inhabitants, contributed greatly to his success in law and politics. A woman of great personal charm and intelligence, her home was a center of Green Bay society for many years. Their reminiscences and memoirs have provided a rich source of knowledge of early Wisconsin history. The Wisconsin Historical Society possesses manuscripts of Henry Baird; view more information about them online.  
Colls. State Hist. Soc. Wis., 7 (1876), 9 (1882), 14 (1898), 15 (1900); P. M. Reed, Bench and Bar of Wis. (Milwaukee, 1882); H. S. Baird Papers; Madison Wis. State journal, Feb. 17, 1876; Green Bay Daily State Gazette, Nov. 11, 1890; WPA MS.
The Wisconsin Historical Society has manuscripts related to this topic. See the catalog description of the Henry and Elizabeth Baird Papers  for details.
View Baird's recollections at Wisconsin Historical Collections.
View newspaper clippings at Wisconsin Local History and Biography Articles.
[Source: Dictionary of Wisconsin Biography]