Dictionary Home | Advanced Search | About the Dictionary | Abbreviations | Turning Points | Suggestions?
Dictionary of Wisconsin History
Search Results for: the letter 'G', Term Type: 'People'
Term: Gaylord, Adj. Gen. Augustus (1826-1901)
Definition: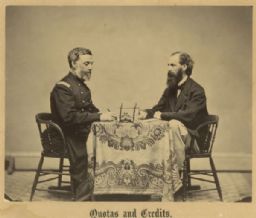 Gen. Gaylord (right) with Col. Fairchild
b. Torrington, Connecticut, Feb. 7, 1826
d. New York, New York, March 30, 1901
Augustus Gaylord served as Adjutant General of Wisconsin during the Civil War. As the state's top-ranking military official (after the governor), he was responsible for recruiting troops, appointing officers, and supplying forces with everything needed to fight in the war.
Early Life
Gaylord was born in Connecticut but moved to New York at age 20 as a clerk for a manufacturer. He rose steadily in the business world until health problems led him to leave the city for Wisconsin in 1857. He settled in St. Croix Falls on the northwest logging frontier and opened a general store, became active in politics, and was elected county treasurer in 1859. In 1860, when Louis P. Harvey was elected Secretary of State, he hired Gaylord to be his confidential clerk, and Gaylord relocated to Madison.
Civil War Service
When Harvey became governor in January 1861, he immediately consolidated all aspects of military affairs into the office of adjutant general and appointed Gaylord to the post. Every subsequent governor during the war years retained Gaylord's services.
Recruiting, training, and equipping troops, running their camps, appointing their officers, and overseeing their transportation to and from the front was an enormous task. Gaylord formed dozens of regiments and saw more than 90,000 men enlisted, cared for, and mustered out during his tenure. His activities are discussed at length in the opening chapters of E.B. Quiner's book, The Military History of Wisconsin (Chicago, 1866).
Postwar Years
Gaylord resigned his position on May 1, 1866, and returned to private life. In 1872 he moved back to New York and resumed his manufacturing career. He was the head of the Ammunition Manufacturers' Association until 1898 and died in New York City on March 30, 1901.
Links to Learn More
Biographical sketch by E.B. Quiner in his book, The Military History of Wisconsin (Chicago, 1866)
Chapters discussing Gaylord's wartime work in Quiner's Military History of Wisconsin.
View original documents related to Adj. Gen. Gaylord
[Source: Quiner, E.B. The Military History of Wisconsin (Chicago, 1866); Janesville Gazette, May 30, 1866; New York Times, March 31, 1901.]
115 records found
Gaar, John 1887 - 1973
Gaenslen, Frederick Julius 1877 - 1937
Gagen, Daniel 1835 - 1908
Gagin, William P. 1916
Gale, George 1816 - 1868
Gale, Zona 1874 - 1938
Galli, G. Fred 1902
Gallun, August Frederick 1834 - 1912
Galpin, Charles Josiah 1864 - 1947
Ganfield, William Arthur 1873 - 1940
Gard, John 1963
Garland, Hamlin 1860 - 1940
Garrison, Frank 1852 - 1905
Garth, Schuyler Edward 1898 - 1947
Gates, James Leslie 1850 - 1911
Gaulke, Ellsworth K. 1925
Gaylord, Adj. Gen. Augustus (1826-1901)
Gee, Harvey F. 1908
Gehrmann, Bernard E. 1920
Gein, Edward 1906 - 1984
Geist, Walter 1894 - 1951
Gelatt, Roland Bernard 1856 - 1917
Gens de Mer
Genzmer, Elmer L. 1903
George, Gary R. 1954
Gerlach, Chester A. 1947
Germans in Wisconsin
Geske, Janine P. 1949
Gessert, Harry L.
Gettelman, Adam 1847 - 1925
Geuder, William 1852 - 1903
Gibson, Lawrence R. 1912
Gielow, Curt 1945
Giese, Kenyon E. 1933
Gilbert, Edward Martinius 1875 - 1956
Gilbert, Frank Lynch 1864 - 1930
Gilbert, William 1827 - 1900
Gill, Col. Charles R. (1830–1883)
Gill, Thomas Henry A. 1858 - 1940
Gillespie, Ezekiel (1818-1892)
Gilmore, Eugene Allen 1871 - 1953
Gilson, Earl 1923
Gilson, Norman Shepard 1839 - 1914
Gimmestad, Lars Monsen 1868 - 1943
Ginty, George Clay 1840 - 1890
Glidden, Carlos 1834 - 1877
Glode, Menominee leader, d. 1804
Glory of the Morning, Ho-chunk peace chief, dates
Glover, Arthur James 1873 - 1949
Glover, Joshua
Goethel, Karl J. 1930
Goetsch, Robert G. 1933
Goetz, George Washington 1856 - 1897
Gonski, Casimir 1869 - 1946
Goodell, Rhoda Livinia 1839 - 1880
Goodland, Walter Samuel 1862 - 1947
Goodrich, Albert Edgar 1826 - 1885
Goodrich, Joseph 1800 - 1867
Goodrich, Patricia A. 1933
Gordon, Myron L. 1918
Gordon, Philip 1886 - 1948
Gorrell, James, dates unverified
Goss, Benjamin Franklin 1823 - 1893
Gottlieb, Mark 1956
Gower, John C. 1941
Goyke, Gary R. 1947
Graass, Frank N. 1885
Grabner [Graebner], August Lawrence 1849 - 1904
Grady, Daniel Henry 1872 - 1954
Grady, Warren A. 1924
Graham, Heather 1970 -
Graham, Robert 1826 - 1892
Grant, Albert Weston 1856 - 1930
Grant, Alexander R. 1925
Grant, Bud (Harold Peter Grant, Jr.) 1920 -
Gratiot, Henry 1789 - 1836
Gray, Hamilton Hunter 1827 - 1902
Gray, John R. 1925
Great Buffalo (Ke-Che-Waish-Ke Or Bezhike) 1759 -
Greco, Angelo F. 1925
Greeks in Wisconsin
Green, Mark A. 1960
Green, William T. 1860 - 1911
Greene, Thomas Arnold 1827 - 1894
Greene, Walter S. 1834 - 1891
Gregory, Charles Noble 1851 - 1932
Gregory, Horace 1898 - 1982
Gregory, John Goadby 1856 - 1947
Greider, Gerald A. 1923
Greulich, August 1813 - 1893
Griffin, Ezra Leonard 1821 - 1892
Griffin, Michael 1842 - 1899
Grignon, Augustin, 1780-1860.
Grignon, Charles Augustin, 1808 - 1862
Grignon, Pierre Sr. 1740 - 1795
Griswold, Harry Wilbur 1886 - 1939
Griswold, Hattie [Tyng] 1840 - 1909
Grobschmidt, Richard A. 1948
Gronemus, Barbara 1931
Gronouski, John A., 1919-
Groppi, Father James, 1930-1985
Groseilliers, Medard Chouart, Sieur Des 1618 - 168
Groshek, Leonard A. 1913
Grothman, Glenn 1955
Grottkau, Paul 1846 - 1898
Grover, Herbert J. 1937
Gruszynski, Stan 1949
Guenther, Richard William 1845 - 1913
Guiles, Jon R. 1945
Gunderson, Scott L. 1956
Gunderson, Steven 1951
Gundrum, Mark 1970
Gunther, Theodore (1826 0 1885)
Guppey, Gen. Joshua J. (1820-1893)
Gurley, Zenas Hovey 1801 - 1871