Dictionary Home | Advanced Search | About the Dictionary | Abbreviations | Turning Points | Suggestions?
Dictionary of Wisconsin History
Search Results for: the letter 'F', Term Type: 'things'
Term: Fort Howard, Brown Co.
Definition: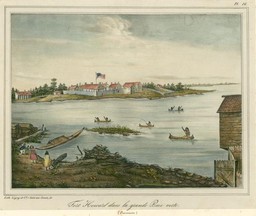 Ft. Howard, 1842 WHI-3773
1) an American military post built in 1816, on the west bank of Fox River at Green Bay, occupied until 1852; view more information on our Web page about Wisconsin forts at http://www.wisconsinhistory.org/archaeology/forts.asp.
2) a community in the same location. Description from John W. Hunt's 1853 Wisconsin Gazetteer: "FORT HOWARD, Village, is situated on the west side of the Fox river, near its mouth, opposite to the old town of Green Bay. The site of the village of Fort Howard was purchased and surveyed into village lots by Joel S. Fisk and the Hon. Uriah H. Peak, in the spring of 1850, since which there has been a rapid growth and settlement of the place, and it bids fair to become one of considerable commercial importance. It derived its name from being situated immediately in the vicinity of Old Fort Howard, a military post of considerable notoriety. The village contains some four or five hundred inhabitants; it has several stores, three public houses, a large foundry and machine shop which gives employment to some thirty or forty workmen; there is also in the course of erection two steam sawmills, together with shops for various mechanical purposes. The soil on which the village is located is alluvial, on a clay subsoil, and is well adapted to gardening and the growth of fruit trees and shrubs; it possesses a back country of very considerable extent, which is rapidly filling up with an intelligent, industrious and go-a-head population; and although the pioneer settler is under the necessity of undergoing the fatigue and labor incident to the settlement and clearing up of a heavy timbered country, yet when it is brought under a state of proper cultivation it will not be surpassed by any section of the state in fertility of soil, and all the other appendages which make a country desirable for farming purposes."
View a related article at Wisconsin Magazine of History Archives.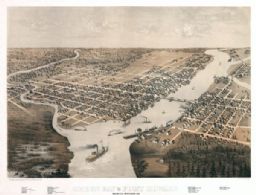 Green Bay and Fort Howard (at right), 1867 WHI-11416
[Source: Cultural Resource Management in Wisconsin (Madison: State Historical Society of Wisconsin, 1986).]