Dictionary Home | Advanced Search | About the Dictionary | Abbreviations | Turning Points | Suggestions?
Dictionary of Wisconsin History
Search Results for: the letter 'B', Term Type: 'people'
Term: Black Hawk 1767 - 1838
Definition: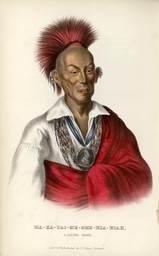 Black Hawk, ca. 1833 (WHi-3772)
war chief (Ma-ka-tai-me-she-kia-kiak, "Black Sparrow Hawk"), b. Saukenuk, near Rock Island, III. His antagonism toward the Americans grew out of old loyalties and mutual misunderstandings which were largely a result of the Sauk-Fox Confederacy land cession in the Treaty of 1804, reaffirmed in 1816. During the War of 1812 Black Hawk participated on the British side as a member of the Indian Confederacy led by the Shawnee chief, Tecumseh. During the 1820's leadership of the Sauk tribe, based on prestige and influence, was contested between the peaceful and pro-American Chief Keokuk and the aging Black Hawk. In 1830 when the tribe was ordered to abandon its lands on the Rock River, Keokuk complied, but for a time Black Hawk refused and his antagonism increased when encroaching settlers destroyed Indian crops and burial grounds. Unequipped to fight for his lands, Black Hawk was soon forced to join the rest of the Sauk in Iowa, where the old chief's dislike of Keokuk and sense of injustice was played upon by the followers of a Winnebago spiritual leader known as White Cloud, or The Prophet. On Apr. 6, 1832, Black Hawk, with his entire band including women and children, re-crossed the Mississippi. Apparently one of his intentions was to plant and harvest a corn crop, but he was influenced by The Prophet, who assured him that a great Indian Confederacy would form behind him as it had done under the leadership of Tecumseh. Proceeding up the Rock River, Black Hawk defied government orders to turn back and the Illinois and Wisconsin area was soon rife with tales of Indian war. With resistance forming against him, it soon became apparent to Black Hawk that The Prophet's assurances of Indian and British support were mythical, and he prepared to turn back. So far no blood had been shed, but on May 14, 1832, Black Hawk's flag of truce was violated by a party of volunteers near Dixon, Ill.; the Indians returned the fire and the volunteers fled in panic. Reports of this affair led to an Indian scare that bordered on hysteria. Black Hawk, at first encouraged by this easy victory, took refuge in the Rock River swamps near Beloit. Several weeks later the Indian band, pursued by militia, volunteers, and regular army troops, began a flight northward through Wisconsin in a desperate attempt to recross the Mississippi. In this chase, which lasted for over Sauk two months, several skirmishes were fought, but eventually many of the Indians succeeded in at the Indian village of reaching the Mississippi near the mouth of the Bad Axe River. On Aug. 1, 1832, they attempted to cross the Mississippi but were driven back by the arrival of the steamboat, "Warrior." Although the Indians attempted to surrender, they were met with cannon and rifle fire. The following day the pursuing land forces arrived and the Indians were completely crushed, more than 300 being killed or drowned. Black Hawk managed to escape, but was captured later near Wisconsin Dells. After a brief imprisonment and a trip to the East to impress him with the strength of the government, Black Hawk was settled in Iowa. In 1833 he dictated his autobiography to an interpreter at Rock Island. Dict. Amer. Biog.; C. Cole, I Am a Man (Iowa City, 1938); W. T. Hagan, Black Hawk's Route through Wis. (Madison, 1949); Wis. Mag. Hist., 40; WPA MS.
View pictures relating to Sauk Indians at Wisconsin Historical Images.
View newspaper clippings at Wisconsin Local History and Biography Articles.
[Source: Dictionary of Wisconsin biography]