Dictionary Home | Advanced Search | About the Dictionary | Abbreviations | Turning Points | Suggestions?
Dictionary of Wisconsin History
Search Results for: Keyword: 'doty'
Term: Doty, James Duane 1799 - 1865
Definition: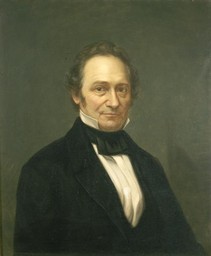 James Duane Doty ca. 1858, by William Cogswell (WHi-2617)
judge, Congressional delegate, territorial governor, Congressman, land speculator, b. Salem, N.Y. He spent his youth at Martinsburg, and in 1818 went to Detroit. A protege of Governor Lewis Cass, he was soon admitted to the bar, served as secretary on the exploratory expedition of 1820, and in 1823 was appointed judge of the federal "additional court," with jurisdiction from Mackinac to the Mississippi. His rulings brought law and order to the crude frontier, but they were considered discriminatory and in 1832 he lost his position. He served in the Michigan territorial legislature (1833-1835), as delegate in Congress from Wisconsin Territory (1838-1841), and was agent for John Jacob Astor in promoting the village of Astor (Green Bay). As agent for capitalists or for co-operative investment companies, Doty bought heavily at public-land sales, laying out towns and planning a system of canals to enhance the value of lands thus acquired. At Belmont in 1836 he managed to have Madison elected as the Wisconsin capital, and himself made a building commissioner. But the panic of 1837 and a hostile legislature, led by Governor Henry Dodge (q.v.), ruined his elaborate promotional schemes. The Whig victory of 1840 put Doty in the Governor's chair for a stormy term (1841-1844). In 1845 he moved to Doty Island (Neenah) and, with his son Charles, promoted the townsite of Menasha. He was delegate to the first constitutional convention, and served two terms (1849-1853) in Congress, where he opposed Clay's compromise plan and worked to get government aid for building railroads in Wisconsin and to the Pacific. From the shifting political alignments of the decade, Doty tried vainly to win election to the Senate. In 1861 Lincoln appointed him to the difficult post of superintendent of Indian affairs for Utah Territory. Backed by federal troops, Doty negotiated treaties with the Shoshone and established amicable relations with the Mormons. In 1863 he was promoted to the governorship of Utah Territory and died there. Dict. Amer. Biog.; WPA MS; A. E. Smith, J. D. Doty (Madison, [1954]).
The Wisconsin Historical Society has manuscripts related to this topic. See the catalog description of the James Duane Doty Papers for details.
View a related article at Wisconsin Magazine of History Archives.
View Doty's published papers at Wisconsin Historical Collections.
View newspaper clippings at Wisconsin Local History and Biography Articles.
[Source: Dictionary of Wisconsin biography]
45 records found
Awishtoyou
Baird, Henry Samuel 1800 - 1875
Baldwin, Tammy 1962
Barber, Lucius Israel 1806 - 1889
Bird, Augustus A. 1802 - 1870
Brunson, Alfred 1793 - 1882
Clark, Julius Taylor 1814 - 1908
Dane County [origin of place name]
Darling, Mason C. 1801 - 1866
Decorah family
Dodge, Henry 1782 - 1867
Doty's Island
Doty, James Duane 1799 - 1865
Doty, Town of, Oconto Co.
Dotyville, Fond du Lac Co.
Fond du Lac [brief history]
Fox River (east-central Wisconsin)
Glory of the Morning, Ho-chunk peace chief, dates
governors
Jackson, Mortimer Melville 1809 - 1889
Jones, George Wallace 1804 - 1896
Lake Winnebago
Lockwood, James Henry 1793 - 1857
Mabel Tainter Memorial (Historic Marker Erected 19
Madison [brief history]
Madison, Dane Co.
Maiden Rock (Historic Marker Erected 1966)
Martin, Morgan Lewis 1805 - 1887
Menasha [brief history]
Menasha [origin of place name]
Neenah [brief history]
Neenah [origin of place name]
Oshkosh, Menominee chief, 1795 - 1858
Poynette [origin of place name]
Red Bird, Ho-Chunk chief, 1788 - 1828
Reed, Curtis 1815 - 1895
Rock River
Sabin, Ellen Clara 1850 - 1949
Suydam, John Voorhees 1810 - 1885
Taycheedah [origin of place name]
territorial governor
timeline of Wisconsin history, 1750-1783
timeline of Wisconsin history, 1784-1835
timeline of Wisconsin history, 1836-1899
Wisconsin [origin of place name]