Dictionary Home | Advanced Search | About the Dictionary | Abbreviations | Turning Points | Suggestions?
Dictionary of Wisconsin History
Search Results for: the letter 'I', Term Type: 'things'
Term: Iron Brigade
Definition: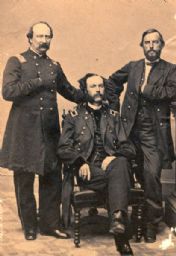 Iron Brigade officers, Nov. 1863 (WHI-1993)
Civil War unit composed of Wisconsin's 2nd Infantry, 6th Infantry, 7th Infantry, and the 19th Indiana Infantry, 24th Michigan Infantry, and Battery B of the 4th U.S. Light Artillery; saw action at Bull Run, Antietam, Gettysburg and other major battles. This was the only brigade made up chiefly of Wisconsin men, and no Wisconsin regiments suffered more heavy losses or were more widely known. The name "Iron Brigade" came from a remark made by General McClellan when he saw the brigade advancing under a murderous fire. He was told "It is Gibbon's Wisconsin brigade." "They must be made of iron," he replied.
Learn much more about the Iron Brigade at our digital collection, "Wisconsin in the Civil War"
View pictures of the Civil War at Wisconsin Historical Images.
View related articles at Wisconsin Magazine of History Archives.
[Source: Wyman, Mark. The Wisconsin Frontier (Bloomington, 1998); Wisconsin: comprising sketches of counties, towns, events, institutions, and persons... (Madison, 1906).]