Dictionary Home | Advanced Search | About the Dictionary | Abbreviations | Turning Points | Suggestions?
Dictionary of Wisconsin History
Search Results for: Keyword: 'la follette'
Term: La Follette, Belle Case, 1859-1931
Definition: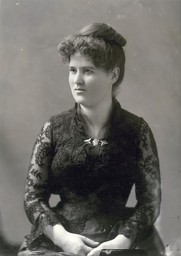 Belle Case La Follette, ca. 1885 (WHI-3841)
attorney, legal adviser and editor, b. Juneau County Apr. 21, 1859. A classmate of Robert M. La Follette, she graduated from the Univ. of Wisconsin (B.A., 1879). She was the mother of four children: Fola (1882), Robert M., Jr. (1895), Philip (1897), and Mary (1899). The first woman to receive a law degree (LL.B., 1885) from the University Law School, she did not practice but advised her husband on cases, legislation, and politics, and was described as "the sane, farsighted counselor of the little group of Progressives throughout all of the Wisconsin campaigns." She became first editor of the Home and Educational Departments of La Follette's Magazine in 1909. She was a lifelong worker for woman suffrage and equal woman's rights, but she declined an invitation at her husband's death to become a candidate to fill his unexpired term in the Senate. She undertook to write the biography of Robert M. La Follette, Sr., but completed only part of the work before her death. Robert M. La Follette, La Follette's Autobiography . . . (Madison, 1913); View more information on our Topics page. Belle Case La Follette and Fola La Follette, Robert M. La Follette (New York, 1953); Robert S. Maxwell, La Follette and the Rise of the Progressives . . . [Madison, 1956]; Dict. Amer. Biog.; Edward N. Doan, The La Follettes and the Wisconsin Idea (New York, 1947).
The Wisconsin Historical Society has manuscripts related to this topic. See the catalog description of Belle: The Life and Writings of Belle Case La Follette for details.
View newspaper clippings at Wisconsin Local History and Biography Articles.
[Source: Dictionary of Wisconsin biography]