Dictionary Home | Advanced Search | About the Dictionary | Abbreviations | Turning Points | Suggestions?
Dictionary of Wisconsin History
Search Results for: the letter 'B', Term Type: 'Things'
Term: Bad Axe, Battle of
Definition: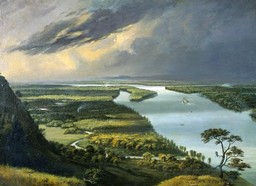 Bad Axe Battleground, 1856 (WHi-2531)
the concluding engagement of the Black Hawk War, on Aug. 2, 1832, during which American troops fired indiscriminately on men, women and children trapped between a gunboat in the Mississippi and soldiers on the bluffs above it, near the mouth of the Bad Axe River.
View a related article at Wisconsin Magazine of History Archives.
[Source: Wyman, Mark. The Wisconsin Frontier (Bloomington: Indiana University Press, 1998).]