Dictionary Home | Advanced Search | About the Dictionary | Abbreviations | Turning Points | Suggestions?
Dictionary of Wisconsin History
Search Results for: Keyword: 'Governor'
Term: La Crosse, La Crosse Co.
Definition: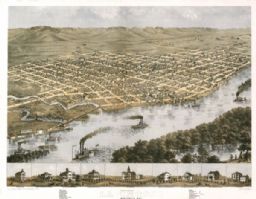 Bird's-eye view of La Crosse, 1867 (WHI-11427)
A community in La Crosse Co. at latitude 434805N and longitude 0911422W; county seat of La Crosse Co. 
Description from John W. Hunt's 1853 Wisconsin Gazetteer: "LA CROSSE, P. V. and C. H., in town and county of same name, on section 31, town 16 N., of range 7 W., 130 miles northwest from Madison. It is situated on a prairie 5 miles long and 3 wide, on the Mississippi river, immediately below the mouth of the Black and La Crosse rivers, and about equidistant between Galena and St. Paul. The prairie is high enough from the river to be free from all danger of innundation, and as a site for a village or city, is unsurpassed by beauty and natural advantages by any spot on the river. The first claim was made by H. J. B. Miller and Nathan Myrick, who took up their residence in 1842. The Government survey was not made until 1847; John A. Levy opened a store in 1846, and the next year erected the first hotel. Nothing was done towards laying out the town until after the advent of Timothy Burns, now Lieutenant Governor of the State, to whom it is largely indebted for its present progress. A post office was established in 1844. The plat was surveyed in May 1851. In the second year of its organization, the town paid into the State treasury over $900. The population in March, 1853, in the village, was 543. It contains 4 stores of general assortment, 1 drug, 1 hardware, 1 furniture, 1 stove and tin, 3 groceries, 1 bakery, 1 livery stable, 1 harness, 4 tailor, 3 shoemaker shops, and mechanics of every description; 6 physicians, 6 lawyers, 4 clergymen, 3 religious societies, a division of the Sons of Temperance, a Free Masons' lodge, 1 church edifice, court house, steam saw mill and grist mill, and 5 hotels. La Crosse, from the advantages of its position, cannot fail to become one of the largest and most important places in the Northwest. The large extent of excellent farming land in the river vallies, and the extensive pine country bordering on the Black river, will always furnish a large amount of business which will concentrate at this point, in addition to which, it is the natural depot through which the immense business of the Upper Mississippi must naturally pass. It has been selected as the terminus of a railroad from Milwaukee, and the route selected is the most feasible one from Lake Michigan to the Mississippi, north of Dubuque. Minnesota already contains a population of many thousands, and is settling rapidly. The large tract of lands recently acquired by treaty from the Sioux Indians, is situated directly opposite La Crosse, on the Minnesota side of the river, and possesses advantages for emigrants unsurpassed by any section of the country now open for settlement."
View historic pictures of this community at Wisconsin Historical Images.
View related articles at Wisconsin Magazine of History Archives.
View newspaper clippings at Wisconsin Local History and Biography Articles.
[Source: U.S. Geographic Names Information Server]
Map It!
Google Map