Dictionary Home | Advanced Search | About the Dictionary | Abbreviations | Turning Points | Suggestions?
Dictionary of Wisconsin History
Search Results for: the letter 'B', Term Type: 'things'
Term: beer in Wisconsin
Definition: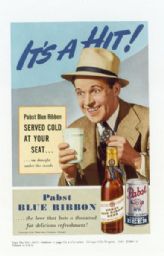 Pabst Blue Ribbon beer advertisement, 1940 (WHi-56371)
German immigrants brought a heritage of beer making to Wisconsin, and brewing rapidly became an important state industry. Wisconsin boasted nearly 160 breweries by the Civil War. Milwaukee earned a reputation as "the beer capital of the world," the home of such prominent companies as Miller, Pabst, and Schlitz. Today, the Milwaukee Brewers baseball team pays homage to the local brewing tradition. Wisconsin also has a strong association with beer drinking. Beer is a staple of many community events throughout the state, and in 1999, Wisconsin ranked third in the nation in per capita beer consumption. View more information elsewhere at wisconsinhistory.org.
View pictures relating to brewing at Wisconsin Historical Images.
[Source: "Beer Capital" in Icon Wisconsin, an online exhibit at http://www.wisconsinhistory.org/iconwisconsin/]