Dictionary Home | Advanced Search | About the Dictionary | Abbreviations | Turning Points | Suggestions?
Dictionary of Wisconsin History
Search Results for: Keyword: 'la follette'
Term: Capitol fire (1904)
Definition: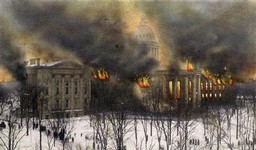 Postcard depicting the fire of February 26-27, 1904 (WHi-23250)
On February 26-27, 1904, the Wisconsin State Capitol, a building with a state-of-the-art fire fighting system, was destroyed by fire. A gas jet in the closet on the second floor next to the assembly postoffice set fire to the wood-work at about 2:30 a. m, on February 27, 1904. Madison firefighters, with the help of two Milwaukee companies, fought the blaze for 18 hours. Governor La Follette personally directed the saving of documents and correspondence files and the precious law library. Lost to the flames were the Grand Army records and the stuffed form of "Old Abe," Wisconsin's Ci'til War Eagle. Loss was estimated at between $800,000 and one million dollars, but no one died in the fire.
Only temporary repairs were made on the capitol after the fire. In the fall of 1906 construction was begun on the present structure. The old capitol was wrecked by sections as progress on the new statehouse required. Two workers lost their lives in the building of the $7,500,000 edifice: one workman met his death when he was hurled to the ground as a row of stone fell from the top of the west end of the west wing, and another fell from the top of the dome to the bottom in the central portion after the iron work had been erected. As far as the toll of human life went, it was more costly to build the new capitol than it was to burn the old one.
View more information elsewhere at wisconsinhistory.org.
[Source: "Up in Smoke: The Story of the Capitol Fire of 1904" at Wisconsin Historical Images; WHS Library reference file]