Dictionary Home | Advanced Search | About the Dictionary | Abbreviations | Turning Points | Suggestions?
Dictionary of Wisconsin History
Search Results for: Keyword: 'Roads'
Term: Civil War: home front
Definition: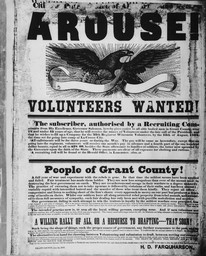 Recruitment poster from Grant Co., Wis., 1862 (WHi-11475)
The war brought prosperity to people who stayed behind in Wisconsin. Railroads were overwhelmed with business, farmers faced labor shortages that increased wages for hired hands, crop prices multiplied as the demand for wheat skyrocketed, and the need for agricultural products caused a boom in the manufacture of farming equipment. Some Wisconsin residents opposed the war: many Democrats thought state's rights should prevail, or that the nation had been taken over by Republican extremists; the draft that began in 1862 sparked riots in Port Washington, Milwaukee, and West Bend. Meanwhile, Wisconsin women organized aid societies that improved living conditions among soldiers and sent supplies to the frontlines and to hospitals. View more information elsewhere at wisconsinhistory.org.
View related articles at Wisconsin Magazine of History Archives.
[Source: Turning Points in Wisconsin History]
172 records found
1888 Bohemian Schoolhouse (Historic Marker)
Abert, George 1817 - 1890
Ameche, Don 1908 - 1993
Bacon, Edward Payson 1834 - 1916
ballast (railroads)
bank (railroads)
Barron, Henry Danforth 1833 - 1882
Bashford, Coles 1816 - 1878
Bay View Rolling Mill (Historic Marker Erected 198
Belgian Settlement in Wisconsin (Historic Marker E
Bluffton, Marquette Co.
bobber (railroads)
boiler (railroads)
boxcar (railroads)
brakeman (railroads)
branch line (railroads)
Brandemuehl, David A. 1931
Breske, Roger M. 1938
broad gauge (railroads)
Brookfield [brief history]
Browne, Edward L. 1830 - 1925
Buffalo City [brief history]
Burnham, George 1816 - 1889
Burnham, Jonathan Levi 1818 - 1891
caboose (railroads)
cant (railroads)
Carhart, John W. 1834 - 1914
Carpenter, Matthew Hale [B. "Carpenter","Decatur M
Civil War: 29th Infantry
Civil War: 43rd Infantry
Civil War: home front
Colby, Gardner 1810 - 1879
Commons, John Rogers 1862 - 1945
conductor (railroads)
Cooper, Henry Allen 1850 - 1931
coupler (railroads)
Crocker, Hans 1815 - 1889
Cross, James B. 1819 - 1876
crummy (railroads)
Davidson, James Henry 1858 - 1918
De Pere [brief history]
dead man's handle (railroads)
Dheinsville Settlement (Historic Marker Erected 19
Doty, James Duane 1799 - 1865
Edgerton, Benjamin Hyde 1811 - 1886
Eldred, Anson 1820 - 1895
Esch, John Jacob 1861 - 1941
express train (railroads)
facing (railroads)
fettle, fettling (railroads)
firebox (railroads)
fireman (railroads)
First Rural Zoning Ordinance (Historic Marker Erec
flatcar (railroads)
floods in Wisconsin
flying junction (railroads)
Fond du Lac [brief history]
Foster, Nathaniel Caldwell 1834 - 1923
four-foot (railroads)
gandy dancer (railroads)
Garland, Hamlin 1860 - 1940
gauge (railroads)
gondola (railroads)
Good Roads Movement
grab bar (railroads)
Granger Movement
Green Bay [brief history]
Guppey, Gen. Joshua J. (1820-1893)
hack (railroads)
Hasenohrl, Donald W. 1935
Hatton, William H. 1856 - 1937
Hayward [brief history]
Highway Marking (Historic Marker Erected 1956)
Hirst, Arthur Roscoe 1881 - 1932
Hoard, William Dempster 1836 - 1918
hogger (railroads)
Holmes, Frederick Lionel 1883 - 1946
Holton, Edward Dwight 1815 - 1892
hotels in Wisconsin
island platform (railroads)
Janesville, Rock Co.
Jefferson, Jefferson Co.
Johnstown Center, Rock Co.
Jones, Burr W. 1846 - 1935
junction (railroads)
Juneau, Solomon 1793 - 1856
Keep, Albert 1826 - 1907
Kenosha [brief history]
Keyes, Elisha Williams 1828 - 1910
Kilbourn, Byron 1801 - 1870
Kincaid, Lloyd H. 1925
Kneeland, Moses 1809 - 1864
La Crosse [brief history]
La Follette, Robert Marion Sr. 1855 - 1925
Lasee, Alan J. 1937
Lawe, George William 1810 - 1895
Lawler, John 1832 - 1891
level junction (railroads)
Lime industry in Wisconsin
local train (railroads)
long lots
Ludington, Harrison 1812 - 1891
Mack, John Givan Davis 1867 - 1924
Madison, Dane Co.
mainline (railroads)
Manitowoc, Manitowoc Co.
Mapes, David Parshall 1798 - 1890
Marin, Paul, 1692-1753
Mcdougal, Milton 1917
meat packing industry
Miller, Roswell 1843 - 1913
Mohrsville [origin of place name]
narrow gauge (railroads)
North Freedom [origin of place name]
Omro, Winnebago Co.
pantograph (railroads)
per diem (railroads)
Pewaukee [brief history]
Philipp, Emanuel Lorenz 1861 - 1925
piston (railroads)
Plache, Kimberly M. 1961
plank road
Potter Law (1874)
Price, William Thompson 1824 - 1886
Putnam, Henry Cleveland 1832 - 1912
quarrying industry in Wisconsin
Racine [brief history]
Racine, Racine Co.
railroads in Wisconsin
Reed, George 1807 - 1883
Rest Areas on the I-Roads (Historic Marker Erected
Ringling [Rungeling], Albert 1852 - 1916
Road gang (logging)
road monkey (logging)
roads in Wisconsin (early)
roads in Wisconsin (modern)
rolling stock (railroads)
Rustic Road (Historic Marker Erected 1976)
Sanders, Col. Horace T. (1820-1865)
Shaw, Daniel 1813 - 1881
Sheboygan, Sheboygan Co.
shoofly (railroads)
siding (railroads)
six-foot (railroads)
standard gauge (railroads)
Stevens Point [brief history]
Stone, Jeff 1961
swamper (logging)
switchman (railroads)
Taylor, William Robert 1820 - 1909
Teasdale, Howard (1855 - 1936)
ten-foot (railroads)
The "Dinky" (Historic Marker Erected 1989)
The Point of Beginning (Historic Marker Erected 19
The Saukville Trails (Historic Marker Erected 1998
The Upper Mississippi (Historic Marker Erected 198
Thompsonville, Racine Co.
through platform (railroads)
timeline of Wisconsin history, 1900 -1999
Tittemore, James Nelson 1864 - 1949
trainman (railroads)
turntable (railroads)
Van Hise Rock (Historic Marker Erected 1997)
Vanderperren, Cletus 1912
Village of Cooksville (Historic Marker Erected 199
Washburn, Gov. Cadwallader Colden (1818-1882)
Watertown, Jefferson Co.
Wauwatosa, Milwaukee Co.
way car (railroads)
wheat cultivation
WPA (in Wisconsin)
yard (railroads)