Dictionary Home | Advanced Search | About the Dictionary | Abbreviations | Turning Points | Suggestions?
Dictionary of Wisconsin History
Search Results for: the letter 'C', Term Type: 'things'
Term: Civil War, Wisconsin troops
Definition: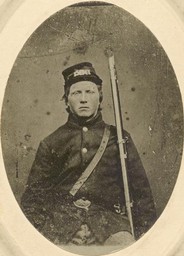 Knut Larson Gjermo, Company H, 15th Wisconsin Infantry (WHi-25425)
Wisconsin soldiers fought in every major battle of the Civil War. By the end of the war, 91,327 men had served in fifty-six regiments. Recruits were trained in Milwaukee, Fond du Lac, Racine, and Madison. Camp Randall, Wisconsin's major training facility in Madison, also housed Confederate prisoners. Many of Wisconsin's regiments were composed primarily of single ethnic groups: the 9th, 26th, 27th, and 45th were mainly German, while Norwegians filled the ranks of the 15th regiment. The 8th Wisconsin became known as the "Eagle Regiment" because of a pet bald eagle, named Old Abe, that they carried into battle on a perch with an American flag. 12,301 Wisconsin soldiers died, and thousands more were wounded or confined in Southern military prisons. View more information elsewhere at wisconsinhistory.org.
View pictures of the Civil War at Wisconsin Historical Images.
View related articles at Wisconsin Magazine of History Archives.
[Source: Estabrook, Charles. Records and sketches of military organizations... (Madison, 1914?); Adjutant-General's Office. Roster of Wisconsin volunteers..., 1861-1865 (Madison, 1886); Wisconsin Census Enumeration 1895 (Madison, 1896).]
233 records found
cabin (maritime)
caboose (railroads)
cache (Fr.)
Cahokia
calcareous rocks (mining)
Calking-iron (logging)
Calks (logging)
calumet
Calumet and Manitowoc Invincibles (Civil War milit
camber (maritime)
Camp Randall
Camp Scott
Camp Utley
Camp-inspector (logging)
Camp-robber (logging)
canals in Wisconsin
canot (Fr.)
cant (railroads)
cant frames (maritime)
Cant-dog (logging)
Canthook (logging)
capital punishment
Capital, Attempted Removal of.
Capitol collapse disaster (1883)
Capitol fire (1904)
capstan (maritime)
Captain (Civil War)
Caron, or Carron
Carriage (Civil War)
carriage and wagon industry in Wisconsin
Carver Grant
caseous (farming)
casse-tete (Fr.)
cassock
castor (Fr.)
Catamaran (logging)
Catarakouy, Fort
cathead (maritime)
Catlin Act
catlinite
cattle, wild
cavalry (Civil War)
cdm links
ceiling (maritime)
cement industry in Wisconsin
Center-jam (logging)
centerboard (maritime)
Central-Verein
centrifuga (maritime)
Ceresco
Chagouamikon
Chagouemig
chain locke (maritime)
chain plate (maritime)
Champion Hill, Battle of
Chancellorsville, Battle of
chandler (maritime)
charivari
Chattanooga, Battle of
cheese
cheese in Wisconsin
cheesehead
cheesemaking in Wisconsin
Chequamegon
Chequamegon Bay
Chickadee (logging)
Chickamauga, Battle of
child of the devil
chord (maritime)
Chore-boy (logging)
Christmas tree ship
Church of Jesus Christ of Latter-day Saints in Wis
churning (dairy)
Circus World Museum
Citizens' Guard (Civil War)
Civil Rights Movement in Wisconsin
Civil War, statistics and sources
Civil War, Wisconsin troops
Civil War: 1st Light Artillery
Civil War: 1st Infantry
Civil War: 2nd Infantry
Civil War: 3rd Infantry
Civil War: 4th Infantry
Civil War: 5th Infantry
Civil War: 6th Infantry
Civil War: 7th Infantry
Civil War: 8th Infantry
Civil War: 9th Infantry
Civil War: 10th Infantry
Civil War: 11th Infantry
Civil War: 12th Infantry
Civil War: 13th Infantry
Civil War: 14th Infantry
Civil War: 15th Infantry
Civil War: 16th Infantry
Civil War: 17th Infantry
Civil War: 18th Infantry
Civil War: 19th Infantry
Civil War: 1st Heavy Artillery
Civil War: 1st U.S. Sharpshooters, Co. G
Civil War: 20th Infantry
Civil War: 21st Infantry
Civil War: 22nd Infantry
Civil War: 23rd Infantry
Civil War: 24th Infantry
Civil War: 25th Infantry
Civil War: 26th Infantry
Civil War: 27th Infantry
Civil War: 28th Infantry
Civil War: 29th Infantry
Civil War: 29th Infantry, U.S. Colored Troops, Co
Civil War: 2nd Light Artillery
Civil War: 30th Infantry
Civil War: 31st Infantry
Civil War: 32nd Infantry
Civil War: 33rd Infantry
Civil War: 34th Infantry
Civil War: 35th Infantry
Civil War: 36th Infantry
Civil War: 37th Infantry
Civil War: 38th Infantry
Civil War: 39th Infantry
Civil War: 3rd Light Artillery
Civil War: 40th Infantry
Civil War: 41st Infantry
Civil War: 42nd Infantry
Civil War: 43rd Infantry
Civil War: 44th Infantry
Civil War: 45th Infantry
Civil War: 46th Infantry
Civil War: 47th Infantry
Civil War: 48th Infantry
Civil War: 49th Infantry
Civil War: 4th Light Artillery
Civil War: 50th Infantry
Civil War: 51st Infantry
Civil War: 52nd Infantry
Civil War: 53rd Infantry
Civil War: 5th Light Artillery
Civil War: 6th Light Artillery
Civil War: 7th Light Artillery
Civil War: 8th Light Artillery
Civil War: 9th Light Artillery
Civil War: 10th Light Artillery
Civil War: 11th Light Artillery
Civil War: 12th Light Artillery
Civil War: 13th Light Artillery
Civil War: 1st Cavalry
Civil War: 2nd Cavalry
Civil War: 3rd Cavalry
Civil War: 4th Cavalry
Civil War: African American troops
Civil War: Battle Flags
Civil War: draft riots (1862)
Civil War: home front
Civilian Conservation Corps (CCC) in Wisconsin
clan
clergy and chaplains (Civil War)
clipper (maritime)
coaming (maritime)
Coat of Arms, Wisconsin's
cobblestone (architecture)
cofering (mining)
Cold War
Colonel (Civil War)
Colonial Revival (architecture)
colonialism
colter (farming)
Columbia Rifles (Civil War)
combination (maritime)
Come-and-get-it (logging)
commercial fruit production
Commercial or Chicago Style (architecture)
commercial vegetable processing
commissioned officer (Civil War)
Company (Civil War)
company (military)
Company man
Company of One Hundred.
Comrade (Civil War)
concrete (architecture)
conductor (railroads)
conglomerate, crag or puddingstone (mining)
conscript (Civil War)
conservation movement
consort (maritime)
Constitution of 1846
Constitution of 1848
contraband (Civil War)
Copperhead (Civil War)
corbeau (Fr.)
Corduroy road (logging)
core (mining)
Corinth, Second Battle of
Corinth, Siege of
Corner-post (survey)
Cornish
Corporal (Civil War)
Corregidor
costeaning (mining)
coulee (Fr.)
counties in Wisconsin
Country Life Movement
coupler (railroads)
coureurs de bois (Fr.)
court martials (Civil War)
Cousin Jack
Coutume de Paris
covered-dish meal (food)
covering board (maritime)
cranberry industry in Wisconsin
cravat
Crawford County
Cream City
Crib (logging)
Crib Disaster (Milwaukee)
Crib logs (logging)
cross (mining)
cross bracing (maritime)
Crown-fire (logging)
Cruise (logging)
crummy (railroads)
crushing (mining)
culm (farming)
curd (farming)
curd separation (dairy)
curlew
Cut (logging)
Cut-away-dam (logging)
cut-over
cutover
cutwater (maritime)
czarnina (food)