Dictionary Home | Advanced Search | About the Dictionary | Abbreviations | Turning Points | Suggestions?
Dictionary of Wisconsin History
Search Results for: the letter 'C'
Term: Cold War
Definition: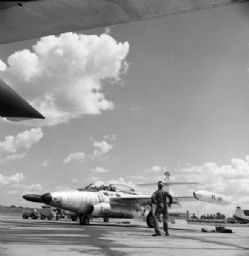 A Wisconsin Air National Guard F-89 Scorpion at Truax Field, Madison, ca. 1954 (WHi-11721)
struggle for power and prestige between the Western powers and the Communist bloc from the end of World War II until 1989; characterized in the U.S. by strong anti-communist rhetoric (epitomized in the career of Wisconsin senator Joseph McCarthy) and military or covert interventions against communist influence in the Third World, such as the wars in Korea and Vietnam. View more information elsewhere at wisconsinhistory.org.
[Source: Columbia Encyclopedia]
868 records found
cabin (maritime)
Cable, Bayfield Co.
Cable, Town of, Bayfield Co.
caboose (railroads)
cache (Fr.)
Caddie Woodlawn (Historic Marker Erected 1970)
Cadiz, Town of, Green Co.
Cadle, Richard Fish 1796 - 1857
Cadott [origin of place name]
Cadott, Chippewa Co.
Cadott, Village of, Chippewa Co.
Cadotte, Michel 1764 - 1837
Cady, Town of, St. Croix Co.
Cahokia
Cahokias
Cahoon Mine [origin of place name]
Cainsville [origin of place name]
Cainville, Rock Co.
Calamine, Lafayette Co.
Calamus, Town of, Dodge Co.
calcareous rocks (mining)
Caldwell Prairie [origin of place name]
Caldwell, Racine Co.
Caledonia [origin of place name]
Caledonia, Racine Co.
Caledonia, Town of, Columbia Co.
Caledonia, Town of, Racine Co.
Caledonia, Town of, Trempealeau Co.
Caledonia, Town of, Waupaca Co.
Calhoun, Waukesha Co.
Caliminee, Election precinct of, Green Co.
Calking-iron (logging)
Calks (logging)
Callahan, John 1865 - 1956
Callon, Marathon Co.
Callow, William G. 1921
calumet
Calumet and Manitowoc Invincibles (Civil War milit
Calumet County [origin of place name]
Calumet Harbor, Fond du Lac Co.
Calumet, Town of, Fond du Lac Co.
Calumetville, Fond du Lac Co.
Calvary, Fond du Lac Co.
Calvert, La Crosse Co.
Calvert, Walter B. 1904
camber (maritime)
Cambria [origin of place name]
Cambria, Columbia Co.
Cambria, Village of, Columbia Co.
Cambridge [origin of place name]
Cambridge, Jefferson Co.
Cambridge, Village of, Jefferson Co.
Cameron, Angus 1826 - 1897
Cameron, Barron Co.
Cameron, Howard W. 1915
Cameron, Town of, Wood Co.
Cameron, Village of, Barron Co.
Camp Douglas (military installation).
Camp Douglas, Juneau Co.
Camp Douglas, Village of, Juneau Co.
Camp Harvey (Historic Marker Erected 1992)
Camp Lake, Kenosha Co.
Camp Randall
Camp Randall (Historic Marker Erected 1961)
Camp Scott
Camp Utley
Camp Whitcomb, Waukesha Co.
Camp Williams (military installation)
Camp, Hoel Hinman 1822 - 1909
Camp-inspector (logging)
Camp-robber (logging)
Campbell, Henry Colin 1862 - 1923
Campbell, James 1814 - 1883
Campbell, Town of, La Crosse Co.
Campbell, William James 1871 - 1956
Campbellsport, Fond du Lac Co.
Campbellsport, Village of, Fond du Lac Co.
Campia, Barron Co.
canals in Wisconsin
Candrian, Adolph 1850 - 1929
Cane, Arnold J. 1914
Cannon Stone (Historic Marker Erected 1979)
Cannon, Raymond Joseph 1894 - 1951
canot (Fr.)
cant (railroads)
cant frames (maritime)
Cant-dog (logging)
Canthook (logging)
Canton, Barron Co.
Canton, Town of, Buffalo Co.
capital punishment
Capital, Attempted Removal of.
Capitol collapse disaster (1883)
Capitol fire (1904)
Capitols (buildings) in Wisconsin
capstan (maritime)
Captain (Civil War)
Car-Ferry Service (Historic Marker Erected 1964)
Carbon, Town of, Washington Co.
Carcajou, Jefferson Co.
Carey, Eben James 1889 - 1947
Carey, Town of, Iron Co.
Cargill, William Wallace 1844 - 1909
Carhart, John W. 1834 - 1914
Carheil, Fr, Étienne de, 1633-1726
Carl Sandburg Hall (Historic Marker Erected 1975)
Carlsville, Door Co.
Carlton, Town of, Kewaunee Co.
Carmel, Waupaca Co.
Carnegie, Douglas Co.
Carnot, Door Co.
Carol Beach, Kenosha Co.
Caroline, Shawano Co.
Caron, or Carron
Carpenter, Matthew Hale [B. "Carpenter","Decatur M
Carpenter, Stephen Decatur 1821 - 1906
Carpenter, Tim
Carpenter, Town of, Langlade Co.
Carr Creek [origin of place name]
Carr Valley [origin of place name]
Carr, Ezra Slocum 1819 - 1894
Carr, Peter P.
Carramana [origin of place name]
Carriage (Civil War)
carriage and wagon industry in Wisconsin
Carroll College (Historic Marker Erected 1972)
Carrollville, Milwaukee Co.
Carron, Thomas 1752 - 1817
Carson, Town of, Portage Co.
Carter, Forest Co.
Carter, Homer Wright 1847 - 1933
Carter, Iron Co.
Carter, William Edward 1833 - 1905
Cartwright [origin of place name]
Cartwright's Mills [origin of place name]
Carver Grant
Carver, Jonathan 1710 - 1780
Cary, Charles Preston 1856 - 1943
Cary, John Watson 1817 - 1895
Cary, Town of, Wood Co.
Cary, William Joseph 1865 - 1934
Caryville, Dunn Co.
Cascade [origin of place name]
Cascade, Sheboygan Co.
Cascade, Village of, Sheboygan Co.
Casco Junction, Kewaunee Co.
Casco, Kewaunee Co.
Casco, Town of, Kewaunee Co.
Casco, Village of, Kewaunee Co.
Case, Jerome Increase 1819 - 1891
caseous (farming)
Casey, Town of, Washburn Co.
Cashman, Town of, Forest Co.
Cashton [origin of place name]
Cashton, Monroe Co.
Cashton, Village of, Monroe Co.
Casimir, Portage Co.
Caspar Partridge case, 1850-1855
Cass, Lewis, 1782-1866.
casse-tete (Fr.)
Cassel, Town of, Marathon Co.
Cassell Prairie [origin of place name]
Cassell [origin of place name]
Cassell, Iowa Co.
Cassian, Town of, Oneida Co.
cassock
Cassoday, John B. 1830 - 1907
Cassville [origin of place name]
Cassville, Grant Co.
Cassville, Town of, Grant Co.
Cassville, Village of, Grant Co.
Castle Rock (Historic Marker Erected 1967)
Castle Rock [origin of place name]
Castle Rock, Town of, Grant Co.
Castleman, Alfred Lewis 1808 - 1877
castor (Fr.)
Caswell, Lucien Bonaparte 1827 - 1919
Caswell, Town of, Forest Co.
Catamaran (logging)
Cataract, Monroe Co.
Cataract, Town of, Jackson Co.
Catarakouy, Fort
Catawba, Price Co.
Catawba, Town of, Price Co.
Catawba, Village of, Price Co.
Cate, George Washington 1824 - 1905
Cates, Richard L. 1925
Catfish (historical), Dane Co.
Catfish River, Dane Co.
cathead (maritime)
Catholics in Wisconsin
Catlin Act
Catlin, George 1796 - 1872
Catlin, John 1803 - 1874
catlinite
Cato [origin of place name]
Cato, Manitowoc Co.
Cato, Town of, Manitowoc Co.
Catt, Carrie Chapman (1859-1947) (Historic Marker
cattle, wild
cavalry (Civil War)
Cavour, Forest Co.
Cavour, Town of, Forest Co.
Cayuga [origin of place name]
Cayuga, Ashland Co.
Cazenovia, Richland Co.
Cazenovia, Village of, Richland Co.
cdm links
Ceci, Louis J. 1927
Cecil, Shawano Co.
Cecil, Village of, Shawano Co.
Cedar Creek, Washington Co.
Cedar Falls, Dunn Co.
Cedar Grove [origin of place name]
Cedar Grove, Sheboygan Co.
Cedar Grove, Village of, Sheboygan Co.
Cedar Lake, Town of, Barron Co.
Cedar Lake, Washington Co.
Cedar Park, Racine Co.
Cedar Rapids, Town of, Rusk Co.
Cedar, Iron Co.
Cedarburg [brief history]
Cedarburg [origin of place name]
Cedarburg, Ozaukee Co.
Cedarburg, Town of, Ozaukee Co.
Cedarville, Marinette Co.
ceiling (maritime)
Celichowski, Bronislaus 1872 - 1951
cement industry in Wisconsin
Center Valley, Outagamie Co.
Center, Town of, Outagamie Co.
Center, Town of, Rock Co.
Center-jam (logging)
centerboard (maritime)
Centerville [origin of place name]
Centerville [origin of place name]
Centerville, Election precinct of, Grant Co.
Centerville, Grant Co.
Centerville, St. Croix Co.
Centerville, Town of, Manitowoc Co.
Centerville, Town of, Waupaca Co.
Centerville, Trempealeau Co.
Central-Verein
Centralia Pulp and Paper Mill (Historic Marker Ere
Centralia [origin of place name]
Centralia, Town of, Wood Co.
Centre, Town of, Lafayette Co.
centrifuga (maritime)
Centuria, Polk Co.
Centuria, Village of, Polk Co.
Ceramic Arts Studio of Madison (Historic Marker Er
Ceresco
Ceresco (Historic Marker Erected 1972)
Ceresco [origin of place name]
Ceresco, Town of, Fond du Lac Co.
Cha-wa-non, Menominee leader, died ca. 1826
Chadbourne, Paul Ansel 1823 - 1883
Chaffey, Douglas Co.
Chafin, Eugene Wilder 1852 - 1920
Chagouamikon
Chagouemig
chain locke (maritime)
chain plate (maritime)
Chamberlin, Thomas Chrowder 1843 - 1928
Chambers Island [origin of place name]
Chambers Island, Town of, Door Co.
Champion Hill, Battle of
Champion, Brown Co.
Champlain, Samuel de, 1567-1635.
Chancellorsville, Battle of
chandler (maritime)
Chaouanons
Chapel Ridge, Brown Co.
Chapelle, Dickey 1919 - 1965
Chapin, Aaron Lucius 1817 - 1892
Chapman, Chandler Burnell 1815 - 1877
Chapman, Chandler Pease 1844 - 1897
Chapman, Silas 1813 - 1899
Chapple, John Crockett 1876 - 1946
Chapultepee, Trempealeau Co.
charivari
Charlesburg, Calumet Co.
Charlestown, Town of, Calumet Co.
Charlevoix, Fr., Pierre François Xavier de, 1682-1
Charlie Bluff, Rock Co.
Charme, Crawford Co.
Charneski, James R. 1935
Charter Oak Mills (historical), Jackson Co.
Chase, Enoch 1809 - 1892
Chase, Oconto Co.
Chase, Town of, Oconto Co.
Chase, Town of, Trempealeau Co.
Chase, Warren 1813 - 1891
Chaseburg [origin of place name]
Chaseburg, Vernon Co.
Chaseburg, Village of, Vernon Co.
Chattanooga, Battle of
cheese
cheese in Wisconsin
cheesehead
cheesemaking in Wisconsin
Cheeseville, Washington Co.
Chelsea [origin of place name]
Chelsea, Taylor Co.
Chelsea, Town of, Taylor Co.
Chenequa, Village of, Waukesha Co.
Chenequa, Waukesha Co.
Chequamegon
Chequamegon Bay
Chequamegon [origin of place name]
Cherneyville, Kewaunee Co.
Cherokee [origin of place name]
Cherokee, Marathon Co.
Chester, Town of, Adams Co.
Chester, Town of, Dodge Co.
Chetek [brief history]
Chetek [origin of place name]
Chetek, Barron Co.
Chetek, Town of, Barron Co.
Cheveux Releves
Chicago Corners, Outagamie Co.
Chicago Junction, Washburn Co.
Chicago, Kenosha Co.
Chickadee (logging)
Chickamauga, Battle of
Chicog, Town of, Washburn Co.
Chief Lake, Sawyer Co.
Chief Waupaca (Historic Marker Erected 1957)
Chief Win-No-Shik, the Elder (Historic Marker Erec
child of the devil
Child's Station [origin of place name]
Chili, Clark Co.
Chili, Town of, Fond du Lac Co.
Chilsen, Walter J. 1923
Chilton [origin of place name]
Chilton, Calumet Co.
Chilton, Town of, Calumet Co.
Chimney Rock [origin of place name]
Chimney Rock, Town of, Trempealeau Co.
Chippewa City, Town of, Chippewa Co.
Chippewa County [origin of place name]
Chippewa Falls Mill, Election precinct of, Crawfor
Chippewa Falls [brief history]
Chippewa Falls, Chippewa Co.
Chippewa Falls, Town of, Chippewa Co.
Chippewa River
Chippewa River and Menomonie Railway (Historic Mar
Chippewa Valley White Pine (Historic Marker Erecte
Chippewa, Town of, Ashland Co.
Chippewa, Town of, Chippewa Co.
Chittamo [origin of place name]
Chittamo, Washburn Co.
Choate, Langlade Co.
Choate, Leander 1834 - 1909
chord (maritime)
Chore-boy (logging)
Christian Science in Wisconsin
Christiana [origin of place name]
Christiana [origin of place name]
Christiana, Town of, Dane Co.
Christiana, Town of, Vernon Co.
Christie, Clark Co.
Christilla Heights, Rock Co.
Christinos
Christmas tree ship
Christopherson, Jr., Frank W. 1927
Church of Jesus Christ of Latter Day Saints in Wis
Church of Jesus Christ of Latter-day Saints in Wis
Churchill, Frank Flanders 1865 - 1938
churning (dairy)
Chvala, Chuck 1954
Chynoweth, Edna Phillips, 1852-1950
Chynoweth, Herbert William 1848 - 1906
Chynoweth, Mary Hayes (1825-1905)
Cicero, Outagamie Co.
Cicero, Town of, Outagamie Co.
Cinagos
Circus World Museum
Cirilli, Arthur A. 1914
Citizens' Guard (Civil War)
City of Superior, Census district of, Dane Co.
City of the Four Lakes, Census district of, Dane C
City Point, Jackson Co.
City Point, Town of, Jackson Co.
City View Heights, Dane Co.
Civil Rights Movement in Wisconsin
Civil War, statistics and sources
Civil War, Wisconsin troops
Civil War: 1st Light Artillery
Civil War: 1st Infantry
Civil War: 2nd Infantry
Civil War: 3rd Infantry
Civil War: 4th Infantry
Civil War: 5th Infantry
Civil War: 6th Infantry
Civil War: 7th Infantry
Civil War: 8th Infantry
Civil War: 9th Infantry
Civil War: 10th Infantry
Civil War: 11th Infantry
Civil War: 12th Infantry
Civil War: 13th Infantry
Civil War: 14th Infantry
Civil War: 15th Infantry
Civil War: 16th Infantry
Civil War: 17th Infantry
Civil War: 18th Infantry
Civil War: 19th Infantry
Civil War: 1st Heavy Artillery
Civil War: 1st U.S. Sharpshooters, Co. G
Civil War: 20th Infantry
Civil War: 21st Infantry
Civil War: 22nd Infantry
Civil War: 23rd Infantry
Civil War: 24th Infantry
Civil War: 25th Infantry
Civil War: 26th Infantry
Civil War: 27th Infantry
Civil War: 28th Infantry
Civil War: 29th Infantry
Civil War: 29th Infantry, U.S. Colored Troops, Co
Civil War: 2nd Light Artillery
Civil War: 30th Infantry
Civil War: 31st Infantry
Civil War: 32nd Infantry
Civil War: 33rd Infantry
Civil War: 34th Infantry
Civil War: 35th Infantry
Civil War: 36th Infantry
Civil War: 37th Infantry
Civil War: 38th Infantry
Civil War: 39th Infantry
Civil War: 3rd Light Artillery
Civil War: 40th Infantry
Civil War: 41st Infantry
Civil War: 42nd Infantry
Civil War: 43rd Infantry
Civil War: 44th Infantry
Civil War: 45th Infantry
Civil War: 46th Infantry
Civil War: 47th Infantry
Civil War: 48th Infantry
Civil War: 49th Infantry
Civil War: 4th Light Artillery
Civil War: 50th Infantry
Civil War: 51st Infantry
Civil War: 52nd Infantry
Civil War: 53rd Infantry
Civil War: 5th Light Artillery
Civil War: 6th Light Artillery
Civil War: 7th Light Artillery
Civil War: 8th Light Artillery
Civil War: 9th Light Artillery
Civil War: 10th Light Artillery
Civil War: 11th Light Artillery
Civil War: 12th Light Artillery
Civil War: 13th Light Artillery
Civil War: 1st Cavalry
Civil War: 2nd Cavalry
Civil War: 3rd Cavalry
Civil War: 4th Cavalry
Civil War: African American troops
Civil War: Battle Flags
Civil War: Camp Holton (Historic Marker Erected 1
Civil War: draft riots (1862)
Civil War: home front
Civilian Conservation Corps (CCC) in Wisconsin
Clam Falls [origin of place name]
Clam Falls, Polk Co.
Clam Falls, Town of, Polk Co.
Clam Lake, Ashland Co.
clan
Clarenbach, David E. 1953
Clarence [origin of place name]
Clarence, Town of, Washington Co.
Clark [origin of place name]
Clark, Charles Benjamin 1844 - 1891
Clark, Clark Co.
Clark, John 1797 - 1854
Clark, Julius Taylor 1814 - 1908
Clark, Satterlee [Jr.?] 1816 - 1881
Clark, William Walter 1885
Clark, William, 1770-1838.
Clark-Halyard, Ardie 1896 - 1989
Clarke, Bascom B., 1851 - 1929
Clarks Mills, Manitowoc Co.
Clarks Point, Winnebago Co.
Clarkson, Town of, Dane Co.
Clarno [origin of place name]
Clarno, Green Co.
Clarno, Town of, Green Co.
Clary, Dexter 1798 - 1874
Classon, David Guy 1870 - 1930
Clausen, Claus Lauritz 1820 - 1892
Clausen, Frederick Harold 1875 - 1944
Clausing, Alice 1944
Clay Banks, Town of, Door Co.
Clayton, Polk Co.
Clayton, Town of, Crawford Co.
Clayton, Town of, Polk Co.
Clayton, Town of, Winnebago Co.
Clayton, Village of, Polk Co.
Clear Creek, Town of, Eau Claire Co.
Clear Creek, Town of, Eau Claire Co.
Clear Lake, Polk Co.
Clear Lake, Town of, Polk Co.
Clear Lake, Village of, Polk Co.
Clearfield, Town of, Juneau Co.
Clearwater
Clearwater Lake, Oneida Co.
Clearwater [origin of place name]
Clearwater, Town of, Chippewa Co.
Cleary, Michael Joseph 1876 - 1947
Cleghorn, Eau Claire Co.
Clemens, Harold W. 1918
Clement, Town of, Iron Co.
Clements, Sylvester G. 1936
clergy and chaplains (Civil War)
Clermont, Alexis 1808 - 1898
Cleveland [origin of place name]
Cleveland, Manitowoc Co.
Cleveland, Town of, Chippewa Co.
Cleveland, Town of, Jackson Co.
Cleveland, Town of, Langlade Co.
Cleveland, Town of, Marathon Co.
Cleveland, Town of, Taylor Co.
Cleveland, Village of, Manitowoc Co.
Clifford, Gerald Francis 1889 - 1952
Clifford, Lincoln Co.
Clifton, Dane Co. (obsolete)
Clifton, Monroe Co.
Clifton, Town of, Grant Co.
Clifton, Town of, Monroe Co.
Clifton, Town of, Pierce Co.
Clinton [origin of place name]
Clinton, Rock Co.
Clinton, Town of, Barron Co.
Clinton, Town of, Rock Co.
Clinton, Town of, Vernon Co.
Clinton, Village of, Rock Co.
Clintonville [origin of place name]
Clintonville, Waupaca Co.
clipper (maritime)
Clover, Manitowoc Co.
Clover, Town of, Bayfield Co.
Cloverdale, Juneau Co.
Cloverland, Douglas Co.
Cloverland, Town of, Douglas Co.
Cloverland, Town of, Vilas Co.
Clyde, Iowa Co.
Clyde, Kewaunee Co.
Clyde, Town of, Iowa Co.
Clyman Junction, Dodge Co.
Clyman [origin of place name]
Clyman, Dodge Co.
Clyman, Town of, Dodge Co.
Clyman, Village of, Dodge Co.
coaming (maritime)
Coat of Arms, Wisconsin's
Cobb Town, Waupaca Co.
Cobb, Amasa 1823 - 1905
Cobb, Iowa Co.
Cobb, Village of, Iowa Co.
Cobban, Chippewa Co.
cobblestone (architecture)
Coburn, Frank Potter 1858 - 1932
Cochran, Joseph William 1842 - 1914
Cochrane, Buffalo Co.
Cochrane, Village of, Buffalo Co.
Codding, Ichabod 1810 - 1866
Coddington, Portage Co.
Coe, Edwin Delos 1840 - 1909
cofering (mining)
Coffey, John L. 1922
Coggs, G. Spencer 1949
Coggs, Isaac N. 1920
Coggs, Marcia P. 1928
Colburn, Chippewa Co.
Colburn, Town of, Adams Co.
Colburn, Town of, Chippewa Co.
Colby [origin of place name]
Colby, Clark Co.
Colby, Gardner 1810 - 1879
Colby, Town of, Clark Co.
Cold Spring, Jefferson Co.
Cold Spring, Town of, Jefferson Co.
Cold Springs, La Crosse Co.
Cold Springs, Town of, Buffalo Co.
Cold Springs, Town of, St. Croix Co.
Cold War
Cole Historic District (Historic Marker Erected 19
Cole, Azel Dow 1818 - 1885
Cole, Harry Ellsworth 1861 - 1928
Cole, Leon Jacob 1877 - 1948
Cole, Orsamus 1819 - 1903
Coleman, Charles W.
Coleman, Marinette Co.
Coleman, Town of, Marinette Co.
Coleman, Village of, Marinette Co.
Coleman, William 1878 - 1933
Coleman, William Werner 1835 - 1888
Coles Bashford House (Historic Marker Erected 1975
Colfax [origin of place name]
Colfax, Dunn Co.
Colfax, Town of, Dunn Co.
Colfax, Village of, Dunn Co.
Colgate, Waukesha Co.
Collamer [origin of place name]
Collie, George Lucius 1857 - 1954
Collins, Manitowoc Co.
Collins, Robert A. 1924
Colman, Charles Lane 1826 - 1901
Colman, Henry Root 1800 - 1895
Colnik, Cyril 1871 - 1958
Coloma, Town of, Waushara Co.
Coloma, Village of, Waushara Co.
Coloma, Waushara Co.
Colon, Pedro 1968
Colonel (Civil War)
Colonial Revival (architecture)
colonialism
colter (farming)
Columbia County [origin of place name]
Columbia Rifles (Civil War)
Columbia, Clark Co.
Columbus, Columbia Co.
Columbus, Election precinct of, Portage Co.
Columbus, Town of, Columbia Co.
combination (maritime)
Combined Locks, Outagamie Co.
Combined Locks, Village of, Outagamie Co.
Come-and-get-it (logging)
Comfort, Dunn Co.
commercial fruit production
Commercial or Chicago Style (architecture)
commercial vegetable processing
commissioned officer (Civil War)
Commons, John Rogers 1862 - 1945
Commonwealth, Florence Co.
Commonwealth, Town of, Florence Co.
Como, Walworth Co.
Company (Civil War)
company (military)
Company man
Company of One Hundred.
Comrade (Civil War)
Comstock, Barron Co.
Comstock, George Cary 1855 - 1934
Concord, Jefferson Co.
Concord, Town of, Jefferson Co.
concrete (architecture)
conductor (railroads)
conglomerate, crag or puddingstone (mining)
Conkey, Theodore 1819 - 1880
Connor, William Duncan 1864 - 1944
Connorsville, Dunn Co.
Conover [origin of place name]
Conover, Town of, Vilas Co.
Conover, Vilas Co.
Conrad, William Harrison 1888 - 1951
Conradt, Ervin W. 1916
Conrath, Rusk Co.
Conrath, Village of, Rusk Co.
Conroe, Town of, Manitowoc Co.
conscript (Civil War)
conservation movement
consort (maritime)
Constitution of 1846
Constitution of 1848
Conta, Dennis J. 1940
contraband (Civil War)
Converseville [origin of place name]
Cook, Samuel Andrew 1849 - 1918
Cooks Valley, Town of, Chippewa Co.
Cooksville [origin of place name]
Cooksville, Rock Co.
Cooley, Robert Lawrence 1869 - 1944
Coolidge (historical), Price Co.
Coomer [origin of place name]
Coomer, Burnett Co.
Coon Rock, Iowa Co.
Coon Valley [origin of place name]
Coon Valley, Vernon Co.
Coon Valley, Village of, Vernon Co.
Coon, Frederick William 1850 - 1919
Coon, John Williams 1860 - 1934
Coon, Town of, Vernon Co.
Cooper, Henry Allen 1850 - 1931
Coopers Shores, Rock Co.
Cooperstown [origin of place name]
Cooperstown, Manitowoc Co.
Cooperstown, Town of, Manitowoc Co.
Coppens Corner, Brown Co.
Copper Creek [origin of place name]
Copperhead (Civil War)
Coral City [origin of place name]
Coral City, Trempealeau Co.
corbeau (Fr.)
Corby, Ellen 1913 - 1999
Corduroy road (logging)
core (mining)
Corinth, Marathon Co.
Corinth, Second Battle of
Corinth, Siege of
Corliss [origin of place name]
Cormier, Brown Co.
Cornelia, Grant Co.
Cornell [origin of place name]
Cornell, Chippewa Co.
Cornell, Robert J. 1919
Corner-post (survey)
Corning, Town of, Lincoln Co.
Cornish
Cornish in Wisconsin
Cornucopia, Bayfield Co.
Corporal (Civil War)
Corregidor
Cortland (historical), Trempealeau Co.
Corwin (historical), Richland Co.
Coryville, Town of, Kewaunee Co.
Cosgrove, Frank J. 1914
costeaning (mining)
Cothren, Montgomery Morrison 1819 - 1888
Cottage Grove [origin of place name]
Cottage Grove, Dane Co.
Cottage Grove, Town of, Dane Co.
Cottage Grove, Village of, Dane Co.
Cottage Inn, Lafayette Co.
Cottonville, Adams Co.
Couderay [origin of place name]
Couderay, Sawyer Co.
Couderay, Town of, Sawyer Co.
Couderay, Village of, Sawyer Co.
coulee (Fr.)
Coulee Country (HIstoric Marker Erected 1973)
Council Bay, La Crosse Co.
counties in Wisconsin
Country Life Movement
County Line, Oconto Co.
coupler (railroads)
coureurs de bois (Fr.)
court martials (Civil War)
Court Oreilles (Historic Marker Erected 1955)
Courtes Oreilles Lake [origin of place name]
Courtland, Town of, Columbia Co.
Cousin Jack
Cousins [origin of place name]
Coutume de Paris
Cover, Joseph Carmen 1819 - 1872
covered-dish meal (food)
covering board (maritime)
Cowie, Robert Somerville 1873 - 1951
Cowles, Robert L. 1950
Cozy Corner, Douglas Co.
Crabtree, James William 1864 - 1945
Craig, Alexander J. 1823 - 1870
Cramer, William Edward 1817 - 1905
Cramers Corners [origin of place name]
Cranberry Center, Town of, Juneau Co.
Cranberry Culture (Historic Marker Erected 1958)
cranberry industry in Wisconsin
Cranberry Lake, Jefferson Co.
Cranberry Lake, Price Co.
Cranberry Marsh, Sheboygan Co.
Crandall, George Humphrey 1869 - 1938
Crandon [brief history]
Crandon, Forest Co.
Crandon, Town of, Forest Co.
Crane, Frederika (1854-1930)
Cranmoor, Town of, Wood Co.
Cranmoor, Wood Co.
cravat
Crawford County
Crawford County [origin of place name]
Crawford Crossing, Sauk Co.
Crawford, George 1849 - 1927
Crawford, John S. 1923
Crawford, Samuel 1820 - 1861
Crawford, Thomas James 1952
Creager, Marvin H. 1882 - 1954
Cream - Brick Cottages (Historic Marker Erected 19
Cream Brick (Historic Marker Erected 1998)
Cream City
Cream, Buffalo Co.
Crelie, Joseph 1773 - 1866
Crescent Corner, Oneida Co.
Crescent, Chippewa Co.
Crescent, Town of, Oneida Co.
Crestview, Racine Co.
Crestview, Rock Co.
Creviere, John A. 1886 - 1964
Creviere, Marie Schmitt, 1924 - 2002
Creviere, Paul John, Sr. 1924 - 2008
Crex Meadows (Historic Marker Erected 1976)
Crib (logging)
Crib Disaster (Milwaukee)
Crib logs (logging)
Crivitz, Marinette Co.
Crivitz, Town of, Marinette Co.
Crivitz, Village of, Marinette Co.
Croatians in Wisconsin
Crocker, Hans 1815 - 1889
Crooked Lake, Waukesha Co.
Crooks, N. Patrick 1938
Crooks, Ramsay, 1787-1859
cross (mining)
cross bracing (maritime)
Cross Plains, Dane Co.
Cross Plains, Town of, Dane Co.
Cross Plains, Village of, Dane Co.
Cross, James B. 1819 - 1876
Cross, Town of, Buffalo Co.
Crowe, Mickey (1958 - )
Crown-fire (logging)
Crownhart, Charles Henry 1863 - 1930
Cruise (logging)
crummy (railroads)
crushing (mining)
Crystal Lake, Town of, Barron Co.
Crystal Lake, Town of, Marquette Co.
Crystal, Town of, Washburn Co.
Cuba City [origin of place name]
Cuba City, Grant Co.
Cubans in Wisconsin
Cudahy [brief history]
Cudahy [origin of place name]
Cudahy, John 1887 - 1943
Cudahy, Milwaukee Co.
Cudahy, Patrick 1849 - 1919
Cullen, David A. 1960
Cullen, Oconto Co.
culm (farming)
Cumberland, Barron Co.
Cumberland, Town of, Barron Co.
Cunningham, Thomas Jefferson 1852 - 1941
curd (farming)
curd separation (dairy)
curlew
Curley, Robert M. 1922
Curran, Kewaunee Co.
Curran, Town of, Jackson Co.
Currie, George R. 1900
Curry, John Steuart 1897 - 1946
Curtis, Alice B., 1866-1936
Curtiss, Clark Co.
Curtiss, Village of, Clark Co.
Cushing, Lt. Alonzo H. (1841-1863)
Cushing, Polk Co.
Custer, Portage Co.
Cut (logging)
Cut-away-dam (logging)
cut-over
Cutler, Gen. Lysander (1808-1866)
Cutler, Harry Henderson 1859 - 1933
Cutler, Juneau Co.
Cutler, Town of, Juneau Co.
cutover
Cutter, Douglas Co.
cutwater (maritime)
Cylon, St. Croix Co.
Cylon, Town of, St. Croix Co.
Cynagos
Cyrak, Mel J. 1936
Czarnezki, Joseph J. 1954
czarnina (food)
Czechs in Wisconsin
Czechville, Buffalo Co.
Czerwinski, Joseph C. 1944