Dictionary Home | Advanced Search | About the Dictionary | Abbreviations | Turning Points | Suggestions?
Dictionary of Wisconsin History
Search Results for: Keyword: 'cheese'
Term: dairy industry in Wisconsin
Definition: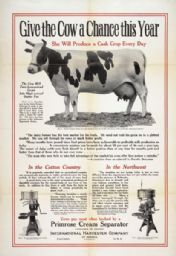 International Harvester Co. poster, 1921 (WHi-9841)
Although many pioneers kept a family cow, the first generations of farmers in Wisconsin considered wheat their main crop. Only after the Civil War, when soil exhaustion, insect infestation, and cheaper wheat from states further west threatened their livelihoods, did most Wisconsin farmers consider dairying. This transformation was championed by William Dempster Hoard (q.v.) and facilitated by the cheese-making traditions of Swiss and German immigrants, the invention of the silo, and the development of refrigerated railroad cars. By 1915 Wisconsin was producing more butter and cheese than any other state. View more information elsewhere at wisconsinhistory.org.
View pictures related to dairying at Wisconsin Historical Images.
View pictures related to cheesemaking at Wisconsin Historical Images.

[Source: Turning Points in Wisconsin History]
50 records found
Antigo [brief history]
Babcock, Stephen Moulton 1843 - 1931
Blanchard, Alvin 1830 - 1910
Buffalo City [brief history]
caseous (farming)
cheese
cheese in Wisconsin
cheesehead
cheesemaking in Wisconsin
Cheeseville, Washington Co.
Cook, Samuel Andrew 1849 - 1918
Cottage Inn, Lafayette Co.
Crandon [brief history]
curd (farming)
curd separation (dairy)
dairy industry in Wisconsin
Denmark (Historic Marker Erected 1998)
Favill, Stephen 1823 - 1906
Galli, G. Fred 1902
Hart, Edwin Bret 1874 - 1953
Hastings, Edwin George 1872 - 1953
Hazen, Chester 1824 - 1900
Hinz, Emil A. 1889
Hutter, William Herman 1875 - 1951
Jaronitzky, June 1938
Johnson, Burdette Jay 1826 - 1902
Jones, Milo Cornelius 1849 - 1919
Karlen, Jacob 1840 - 1920
Krumrey, Henry 1852 - 1922
Mccanna, Charles B. 1851 - 1913
Mireau, George 1888
Monroe [brief history]
New Glarus (Historic Marker Erected 1962)
Oak Creek [brief history]
Odell, Emery Alvin 1871 - 1953
Prohibition
Quarry, Manitowoc Co.
Racine [brief history]
rennet (dairy)
Riehle, Ben A. 1897
Russell, Harry Luman 1866 - 1954
Saint Francis [brief history]
Simmons, Zalmon Gilbert 1828 - 1910
Smith, Hiram 1817 - 1890
The Home of Colby Cheese (Historic Marker Erected
timeline of Wisconsin history, 1836-1899
Watertown [brief history]
whey (farming)
Wisconsin Dairymen's Association
Wisconsin's Dairy Industry (Historic Marker Erecte