Dictionary Home | Advanced Search | About the Dictionary | Abbreviations | Turning Points | Suggestions?
Dictionary of Wisconsin History
Search Results for: Keyword: 'Milwaukee'
Term: Hmong
Definition: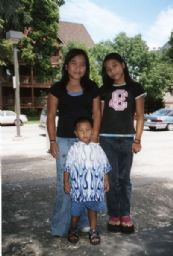 Portrait of three Hmong children, ca. 2004 (WHI-57949)
an Asian people living in the mountains of Laos recruited by the U.S. during the Vietnam War to fight the North Vietnamese; when the U.S. withdrew in 1975, thousands fled to refugee camps in Thailand where resettlement organizations helped many immigrate to the U.S. Today (2005) Wisconsin has the third largest Hmong population in the country, after Minnesota and California; the largest Hmong communities in Wisconsin are in La Crosse, Sheboygan, Green Bay, Wausau, and Milwaukee. View more information elsewhere at wisconsinhistory.org.
[Source: Turning Points in Wisconsin History]